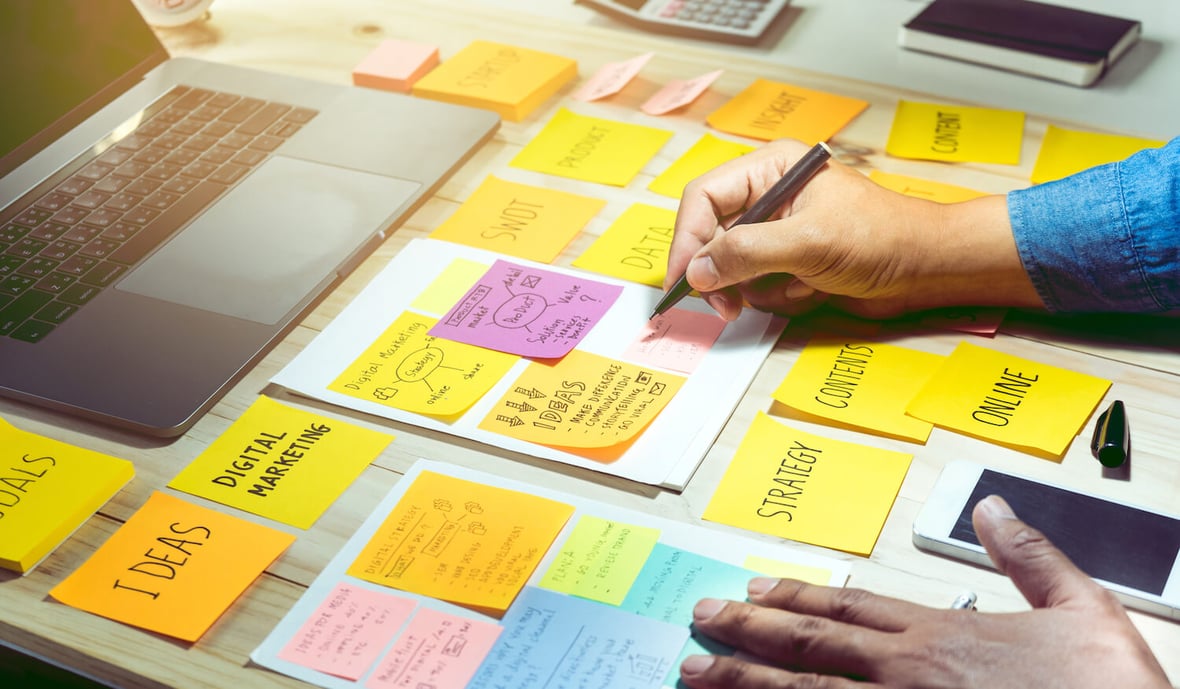 Getting the Most Out of Your Content: Content Promotion and Amplification
May 24, 2018
---
Congratulations! Half the battle is over. You have a beautiful new piece of content. All of the blood, sweat, and tears have finally paid off. But have they really? What happens when no one is finding your content masterpiece? Your content won't help anyone by sitting on the shelf. What do you do? Easy. The answer is content promotion and amplification.
In this post, I will walk you through some tried-and-true ways to get your content in front of your target audience, as well as a few out-of-the-box ideas.
Let's get your content seen!

Email Promotion
Once you have your content the way you want it (don't forget your conversion pah and lead nurturing campaign), it is time to share it with the masses. One of the best ways to do this? A promotion email to your database.
Take some time and think about your content's target audience and their stage of the funnel. Once you know who you are targeting, create a custom list of your database to send your email to.
Pro tip: I create a brand new smart list in Hubspot for every new batch email I send. This way, I'm not relying on any old data in other lists.
In your email, write a few sentences about your offer, why your reader would need it, and how it would benefit them. Be sure to make the email digestible with paragraph spacing and bullets. Also, make sure your email has a strong call to action and links to your content offer. I recommend putting a link in the first sentence of your email. This usually helps with your click-through rate. You can also include an image of your offer to make it even more enticing.
Once you have put the final lipstick on your email, get ready to send.
After a few days, check on the performance of your email and see if there is anything that can be improved upon. For example, if your open rate was low, you may want to make your subject line more compelling.
If there is any opportunity, rework your email and send it to contacts who did not open your first email. Just make sure there is a good delay between the email sends so you are not spamming your database.

Social Media
Social media is a great way to get your content to people who may not know you. There are two different ways to tackle social media. I suggest using a mix of both.

Social Media Posts

Write out about 5-15 social media posts to promote your content. This should include tweets, Facebook posts, LinkedIn posts, and Google Plus posts. Try some different messaging to see what appeals to your audience.
Once you have them written, schedule them into your networks at different times and on different days. I suggest spacing them out over a period of at least three months.
Treat these like a running experiment. Does a certain hashtag work better than others? Share another tweet a month later using the same hashtag. Do Tuesday mornings result in a lot of clicks? Keep sharing on Tuesdays and in the morning.
Learn from your social posts and use this information to continue promoting your content over time.

Social Media Communities
Another great thing about social media is the community aspect of it. Facebook has Facebook groups, LinkedIn has LinkedIn groups, Google Plus has circles, and so on.
Find communities in each social network that apply to your industry, your target audience, and your content. Join them and share according to their standards. Don't be that guy who shares really spammy posts about your content. Share information that will help the other members of the group. Share your content in a post and help answer questions from other members of the group. Become an active member of the community and watch your thought leadership grow.

Paid Media
Paid media can be a way to see quick wins from your content. Take a look at some of the paid media options below and decide which is going to be best for your target audience. Be wise about how you choose to spend your money so you can make sure it pays off.

Pay Per Click
Are you new to the content marketing game? Pay per click advertising is a great way to give your content an initial boost while you wait for your content to rise in organic search results.
Google AdWords is a great place to start. Another option is Bing Advertising. Do some research and see which platform may be better for your target audience.
I recommend creating a cloned landing page to send your PPC traffic to. You will drive a lot of traffic to your landing page that may not convert very well at first. Make adjustments to the landing page with small tests and see what works best for pay per click traffic.

Social Advertising
Another way to give your content a quick boost is by investing in social advertising. LinkedIn, Twitter, and Facebook all have advertising platforms you can take advantage of. Some of these platforms are more expensive than others, but if you hone in on your target audience, you can see some great results.
Again, really think about where your audience is going to be before investing in social advertising.

Native Advertising
Native advertising is another way to get your content in front of more eyes. With native advertising, your content can be served at the bottom of similar content offers. Services like Outbrain allow you to test campaigns yourself without a large investment. Just be sure to track these campaigns with a tracking URL to make sure you know where the traffic and eventual contacts are coming from.

Create More Content and Share
Creating some content teasers to share on social media and through advertising are great ways to get people psyched about your content. Create short videos using a tool like Lumen5, post a slideshare on LinkedIn, or create some quote images to share on social. The possibilities are endless. You have spent so much time creating your masterpiece that you might as well make it work for you. The sky's the limit here. Use your creativity. Start small to see what speaks to your audience and then continue testing with what works.
There are so many ways you can get your content out there. Don't let it go unnoticed!
How else have you promoted your content?
About the author
Brittany Fleck is an Inbound Marketing Senior Specialist based out of Kihei, HI. She started her career as a graphic designer and segued into creating marketing strategies for a B2B financial services company for many years. Read more articles by Brittany Fleck.
Subscribe to get our new blogs delivered right to your inbox
Other insights you might like