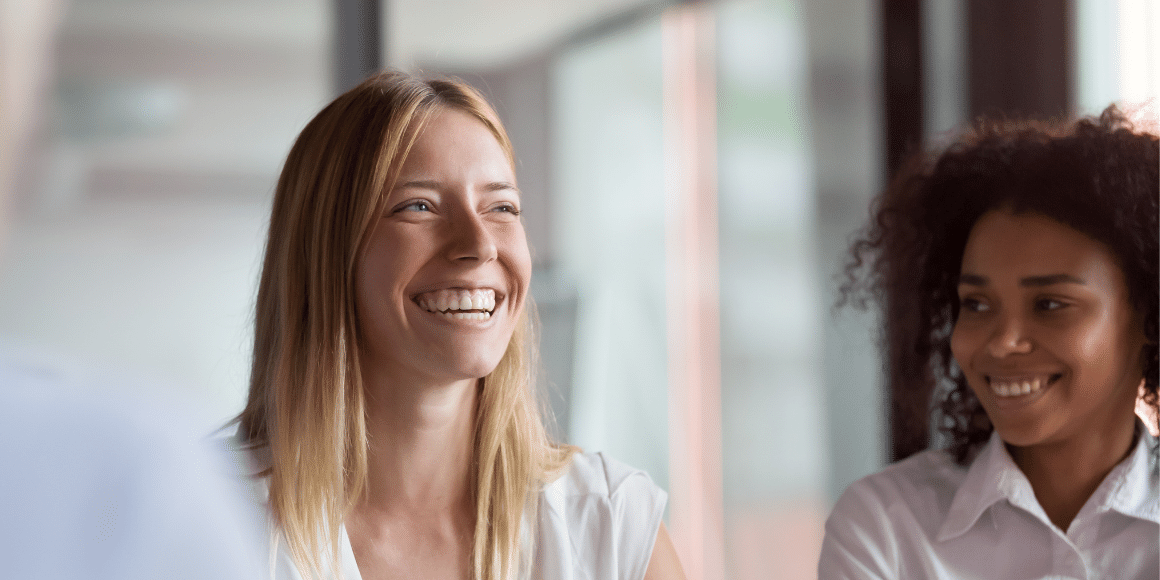 Understanding the Impact of Customer-First Experiences on Today's Customers
June 1, 2022
---
By Patti Myers
Both as a customer and as a marketer, putting your customers first sounds like a no-brainer, particularly when considering that customer-centric companies are 60 percent more profitable than companies that aren't.
But of course, when advocating for your organization to become more customer-centric, you need more than a seemingly obvious (and sometimes abstract) idea. You need to understand and demonstrate the true impact of prioritizing customer-centric experiences.
What Are Customer-Centric Experiences?
Customer-centric experiences mean prioritizing customer delight during all stages of the flywheel. And as with revenue operations, this also means ensuring that all of your departments—marketing, sales, and service—are aligned toward setting and exceeding customer expectations.
A company that is successful at creating a customer-centric experience is one that not only executes customer delight campaigns but also aligns its customer's needs, expectations, and preferences at the center of the culture of the entire organization.
How Do Today's Customers Value Customer-Centricity?
In 2022, customer expectations are high—and for good reason. Although online purchases are certainly nothing new, the online retail expansion in recent years is still significant. From 2020 to 2021, total U.S. e-commerce sales increased 14 percent. B2B markets are impacted by this shift as well: As marketing and customer service evolve, so do our expectations for the kind of service we want when it comes to purchasing for a business need.
So what does this mean for modern consumers? Simply put, they have a choice when it comes to deciding where to spend their (or their organization's) money.
Gone are the days when customers were only looking for the best price or the most accessible solution in their geographic area. Customers not only want but also expect more from brands—impact and sustainability promises, seamless 24/7 omnichannel communication, a mobile-friendly website, frictionless customer service, and the list goes on.
With expectations for brands at an all-time high, customer-centricity is one way that brands are ensuring they focus on what their customers want and need to prevent them from choosing a competitor.
The Impact of Customer-Centricity
Customer-centricity is not just a one-and-done strategy. To be successful, it needs to be woven into the very fabric of your business or organization. As in the case with most business decisions, there is not only the cost of action but also the cost of inaction.
Here are a few statistics that highlight the growing importance of customer-first experiences:
Measuring Customer-Centric Experiences
Once you've established the value of customer-centricity, it's equally as important to set key performance indicators, or KPIs, that align with your organization's customer service goals. Below are some of the key areas to benchmark and measure the true impact of your efforts.
Customer Churn
Measure both the average customer loss you have in a given time period and the associated loss of revenue to benchmark how successfully your organization is retaining clients or customers. Successful customer-first strategies will decrease churn and reduce revenue loss.
Average Customer Lifetime Value (LTV)
Measure the average of your customer's lifetime value. Through customer-centricity, the ideal outcome would be to retain customers longer, and thereby increase the average lifetime value per customer—and ultimately, your long-term profits.
Net Promoter Scores
Net Promoter Scores, while not directly correlated to revenue such as churn and LTV, are important indicators of how satisfactory—and successful—your customer experience strategies are. Plus, knowing that customers are likely to be influenced by peer reviews, they present a clear path for generating referrals and engaging with brand evangelists.
Examples of Customer-Centric Brands
All of this sounds great, but it can be hard to wrap your head around what successful customer-centric experiences look like in practice. If you're looking for inspiration, here are a few examples of brands that are leading the pack in customer centricity:
HubSpot
Ok, we're a HubSpot Elite Partner so we're biased, but Hubspot is a great example of customer-centricity. HubSpot was founded on the principles of inbound: People want to be helped rather than interrupted by marketers or harassed by salespeople.
HubSpot invests in services such as a suite of free courses and certifications in the HubSpot Academy, omnichannel customer service, and nurturing an active community of HubSpotters. By providing helpful resources to their customer community in addition to reliable customer support via phone 24/7 (or by requesting a callback), email, in-platform live chat, community forums, and social media, HubSpot eases friction for their customers, partners, and community members.
Patagonia
When talking about how customers expect more than ever from brands, including value alignment, Patagonia is one to model. With sustainability as a major cornerstone of their value proposition, Patagonia builds trust with their customers by transparently listing their sustainability efforts, including their strictly enforced standards for manufacturing and suppliers.
In addition to this value alignment, Patagonia also introduced "Worn Wear," a set of tools intended to extend product life. They provide instructions on how to repair Patagonia gear, offer repairs at storefronts, or allow you to trade in your gear. This program is not only convenient for the customer, but it also takes their brand values a step further than most other brands to establish trust and transparency with their customers long-term.
LEGO
Did you know that if you find a missing or broken brick in your LEGO set that they will replace it at no cost to you? In fact, LEGO set up a specific frictionless area of their customer service site to make the process as easy as possible.
The most fascinating thing about this tactic is that it is a small piece of a larger customer-centric philosophy that LEGO has coined "freaky" or "FRKE," which stands for fun, reliable, knowledgeable, and engaging. This "freaky" philosophy is built into the wider LEGO culture, which is the key to a successful customer-centric experience. And it pays off: LEGO has a Net Promoter Score of 77, an impressive average.
Customer-Centric Experiences Are the Way of the Future
As new technologies and expectations from customers continue to mature, customer-centricity is a timeless philosophy that can have enormous effects on your business success when implemented correctly.
Ready to take the first step? Learn how to create engagement throughout the customer journey through customer-centricity in our on-demand webinar, How to Create a Unified Customer Journey from Prospect to Renewal.

About the author
Patti Myers Patti is a Marketing Strategist based in Florida. She's passionate about solving problems and reducing friction. Holding a degree in psychology, she also enjoys paying homage to the human aspects of marketing to create effective campaigns. Outside of work, Patti enjoys spending time outdoors, reading, and dancing classical ballet. Read more articles by Patti Myers.
Subscribe to get our new blogs delivered right to your inbox
Other insights you might like