We Hope You Enjoy
How to Create a Unified Customer Journey From Prospect to Renewal
You're here because you know that customer-centricity can grow your business. Learn how to create engagement throughout the customer journey in this on-demand webinar.
Want to know what you'll learn before watching? Scroll down.
Companies that monitor their customer retention rate and engage with their customer through their journey have more visibility into the health of their overall business.

In this webinar, Michael Redbord, General Manager of Service Hub at Hubspot, Kellie Capote, Director of Enterprise Client Outcomes at Gainsight, and Jen Spencer, VP of Sales and Marketing at SmartBug Media™ share how to reduce churn and grow your customers. Watch the on-demand recording above to create a unified and engaging customer journey by aligning with customer success.

In this webinar you'll learn:
Trends around customer success.
Why customer-centricity is a key growth driver.
The key components around the customer journey.
How to engage customers through the customer journey.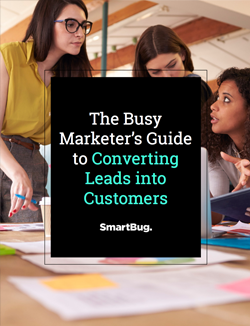 Leads enter your flywheel, then what? Learn how to build an effective lead nurturing campaign and more in:
The Busy Marketer's Guide to Converting Leads into Customers
Check It Out