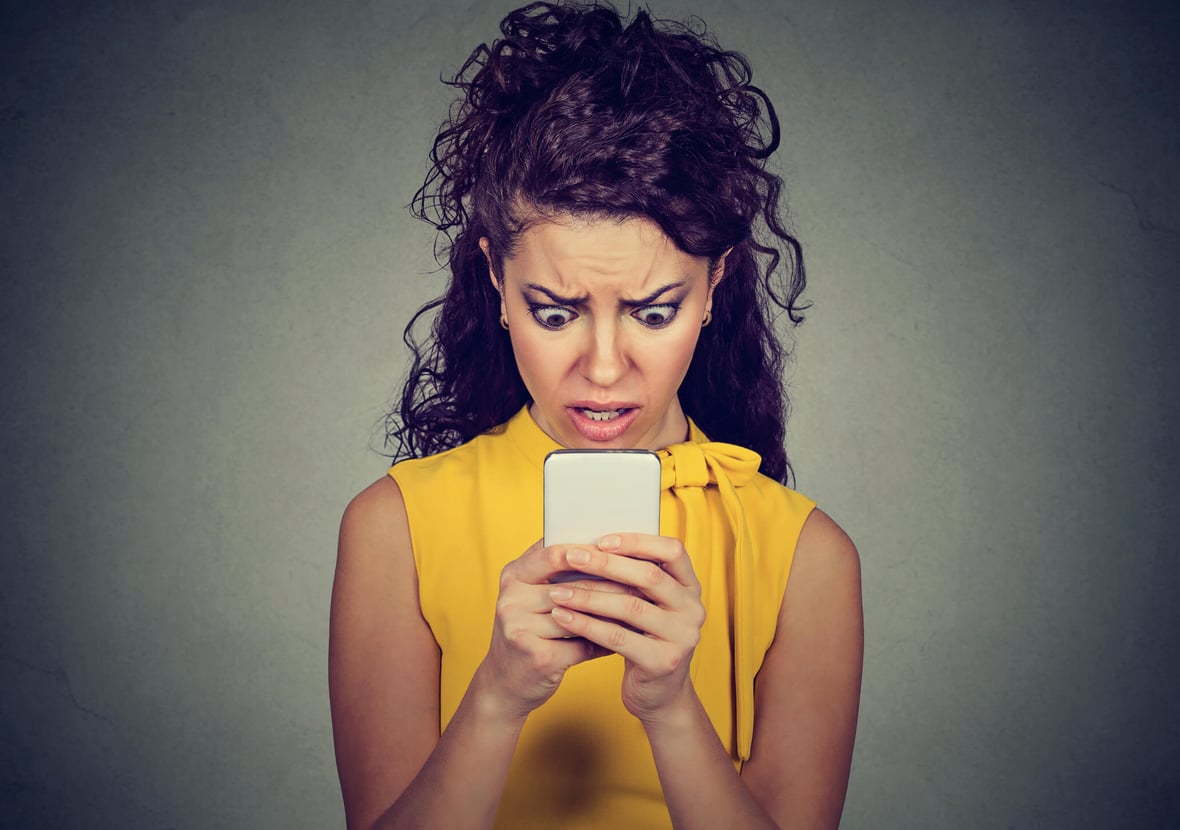 How to Spam-Proof Your Inbound Strategy with Marketing Automation Workflows
April 17, 2018
---
By Jen Spencer
Have you ever ended up on a company's email list and for the life of you couldn't recall ever subscribing or filling out any sort of form on that company's website? Alternatively, have you ever looked at a list of new contacts added to your marketing automation system or CRM and noticed there were new contacts that were added via "offline sources?"
If you're like me, you probably answered "yes" to both of these questions—or perhaps you haven't been paying attention, and answered that you don't know. Here at SmartBug, our marketing strategy is 100% inbound, but that doesn't mean every new person we meet has gone through the ideal process of submitting a form on our site. Here are some typical reasons you might see new contacts pop up from offline sources, even when you're executing true inbound:

You've Been Introduced to a New Member of a Future Customer's Buying Committee.
Say that Steve Smith at ACME Corporation is searching for help that your company can offer, so he fills out a decision-stage form on your website. Before you know it, you've scheduled a meeting to further discuss his needs. However, Steve's not the only person on his team affected by this need, so he invites his marketing colleague, Patti Prince, to the call. Patti joins Steve in his office, chiming in periodically throughout the call, making her an active member of the company's buying committee.
Being a thorough salesperson, you add Patti to the company and the deal in your CRM. Yes, Patti is engaged in the sales process, but her buyer journey is different from Steve's. While Steve may have been nurtured by your marketing programs for the last few months after downloading an e-book or attending a webinar, Patti literally just met you and needs to be treated that way.
Your Tech Stack Is Wicked Smart.
Many tools today, including HubSpot's Sales Hub, have integrations with Gmail and Outlook that allow email communications to be automatically logged on the company, contact, and deal record in your CRM. From a salesperson's or sales leader's perspective, this is awesome. All communications with that future customer are saved in one, easy-to-find place. There's no question of whether you remembered to respond to the customer or vice versa. From a marketing perspective, the only issue is that if an individual who was not already in your database is cc'd on an email, now that person is a new contact in your CRM.
Here's what you'll see if you use HubSpot and drill into original source data of your Contact record:

The same is true for an individual who has used one of your meeting booking links to schedule time on your calendar. Whether you're using HubSpot Meetings, Calendly, or any number of other tools now available that integrate with your Google or Outlook calendar, when an individual books time with you, if you have that calendar integrated with your CRM (and there are countless benefits to doing so), that person is added to your database. Yes, she has agreed to meet with you, but that doesn't mean she's interested in your email newsletter.
Your source data will look like this if someone is added to your CRM via a Meetings link in HubSpot:

Another example of brilliant tech is Sigstr. Here at SmartBug, we've been having a blast testing out prospect, customer, and internal-facing campaigns with Sigstr's HubSpot-integrated platform (more to come on that experiment later). As you can see below, the graphic in my signature line piqued Layla's interest. When we were emailing back and forth about something actually non-business-related, Layla clicked on my signature graphic and was added to our database as a new Subscriber.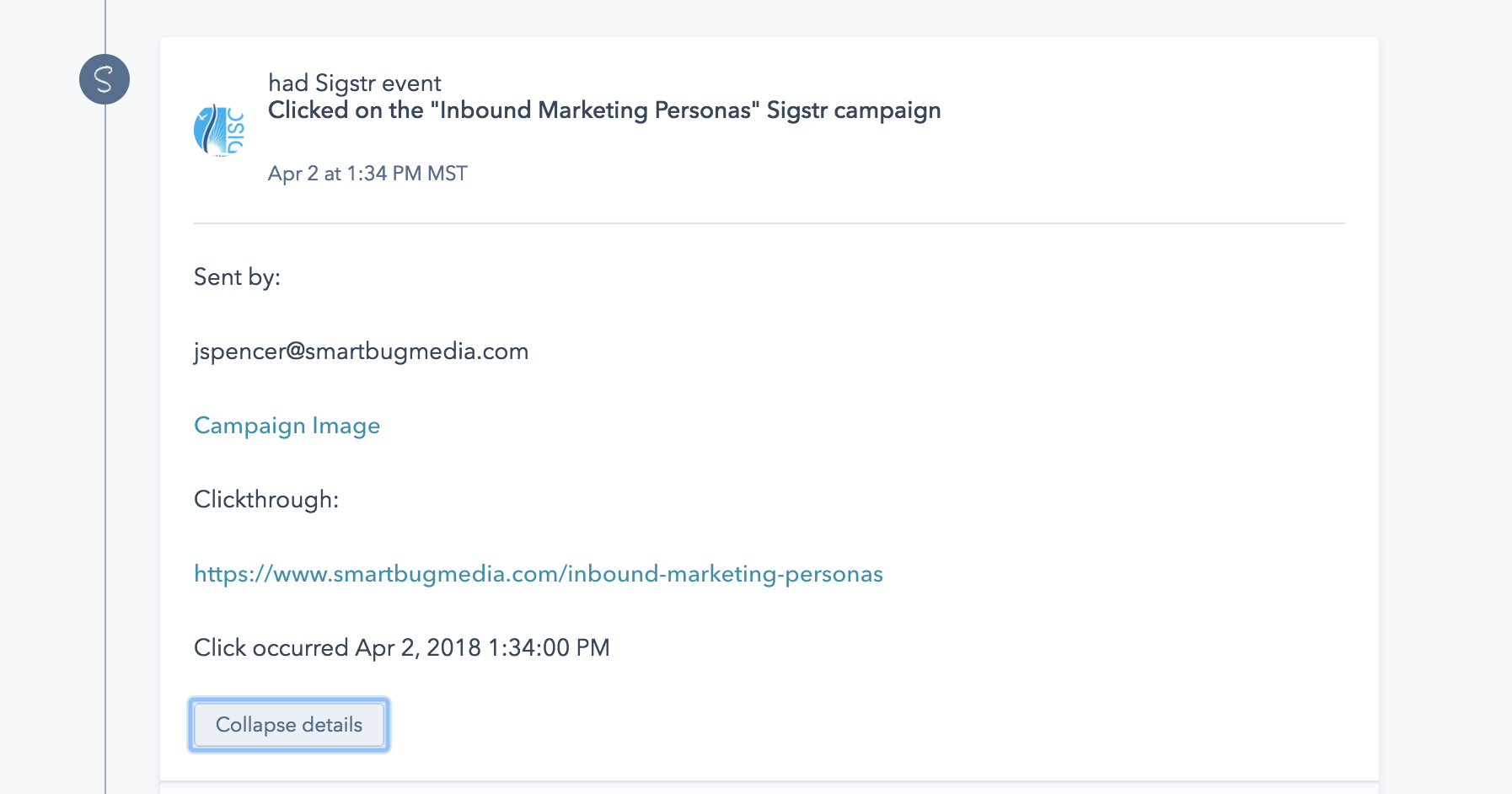 All of these are very honest examples of how someone could experience the feeling of "being spammed," even though you're executing an inbound marketing strategy. Of course, if you've ever purchased an email list, traded a list of leads with a partner, or even manually added your LinkedIn contacts to your CRM so you can keep track of your social selling activities—a person who has connected with you on LinkedIn has not agreed to receive webinar invitations from your marketing team—it's important that these contacts are also suppressed from external marketing automation activities.
So, how do you keep it kosher and ensure you're respecting the rights of your future customers? Marketing automation is a powerful tool, so use it!
First of all, you should be able to automatically suppress out a unique individual or anyone from a specific company by their domain. Here's an example of HubSpot's "Never Log": By using an asterisk followed by an email domain, I can make sure we're not logging every email on staff contact records at SmartBug Media.

Between you and me, I discovered this setting in HubSpot after I inadvertently added a private Google Groups distribution list to our CRM (so embarrassing!!) and was searching for a safety net to ensure it would never happen again.
In addition to the "Never Log," you should use workflows to add specific types of new contacts to suppression lists. In the example shown below, if a new contact is added to the CRM by way of being included on an email via Gmail, or by way of booking a meeting online, that person is added to a smart list called "SUPPRESSION: Added via sales." The marketing team knows to always suppress this list when sending any sort of email campaign.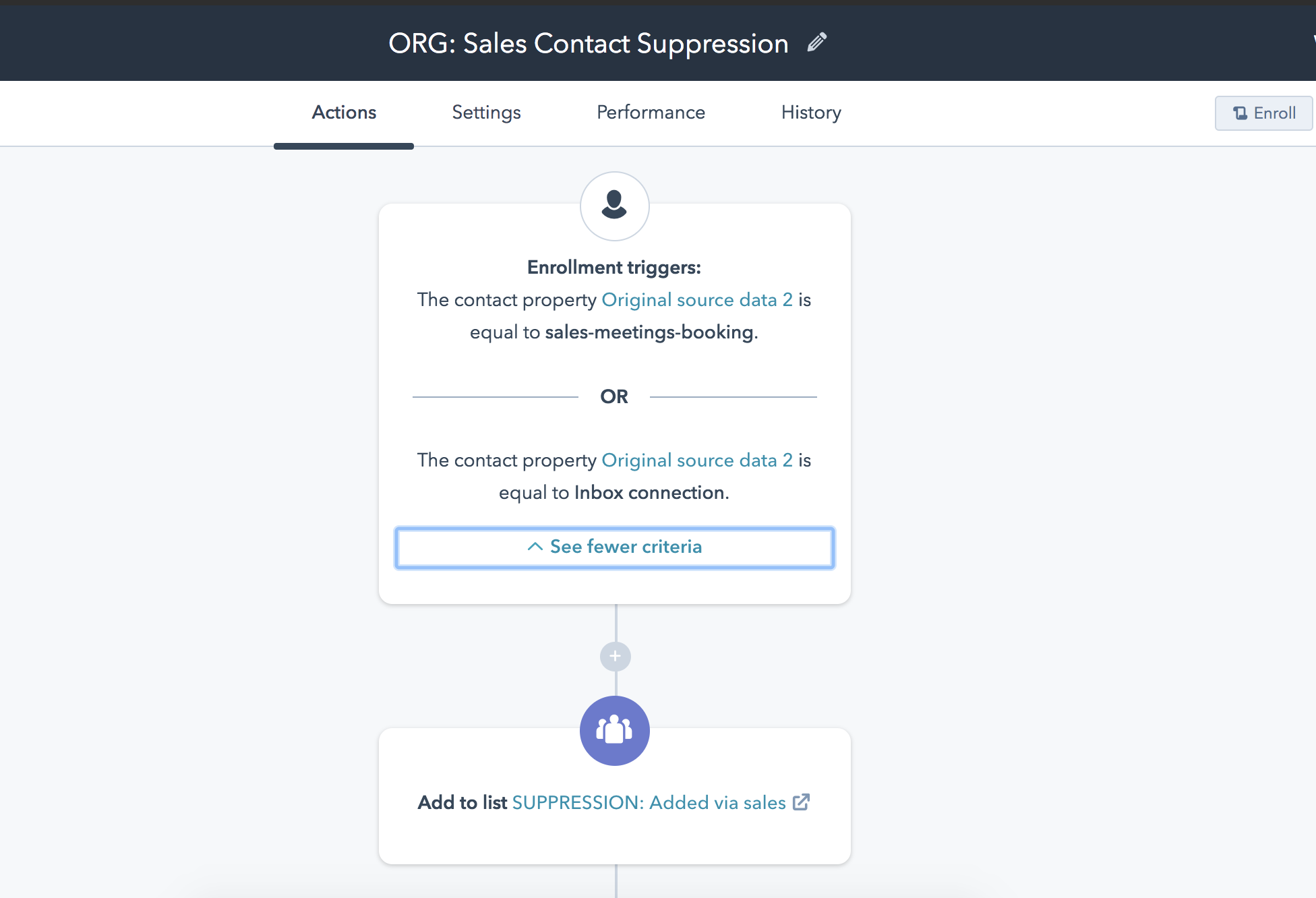 It's also important to ensure that these contacts are not added to any automated lead nurture campaigns. You can do this by removing them from all other workflows, as seen below:



Now that you've spam-proofed your marketing automation platform, you need to use that same powerful system to unlock the gates when a contact organically changes status. In the example shown below, when a member of the suppression list fills out any form on any website page, he is removed from the suppression list and will be nurtured appropriately based on his actions moving forward.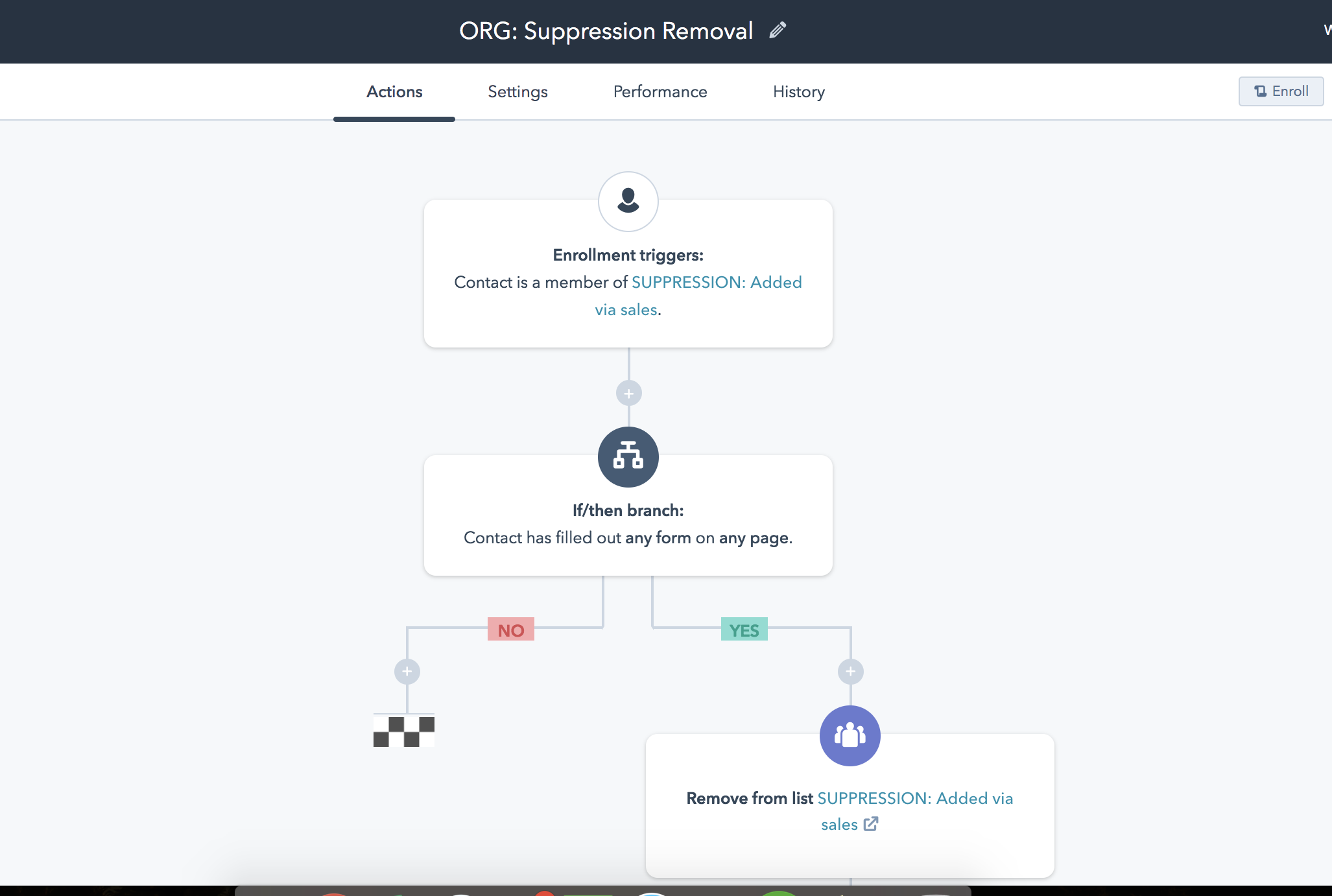 In the "Performance" and "History" tabs on that workflow in HubSpot, you can then see how many of your contacts transitioned from a suppressed to non-suppressed status, and you can drill down to see the activity the contact completed to trigger the suppression list removal, such as registering for a webinar or requesting a consultation.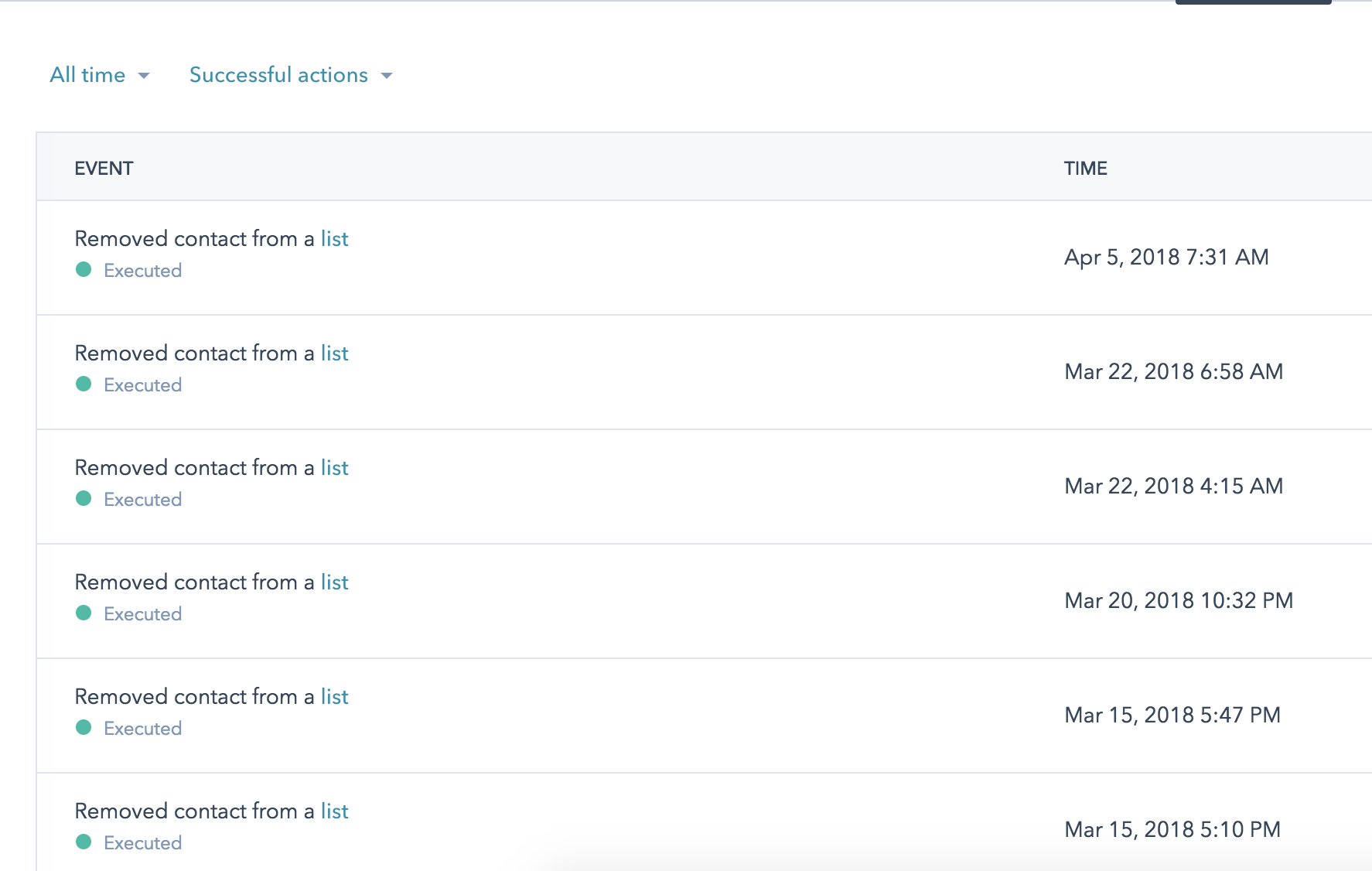 While all of the examples in this blog show you how to manage your database via HubSpot, any marketing automation platform should allow you to do the same—but it likely won't feel as intuitive or look as crisp and clean. I love using HubSpot for its ease of use and logical layout. I was an English major (not a Computer Science major), and I appreciate having the simple power at my fingertips to develop and manage sophisticated sales and marketing processes that ensure I'm keeping my future customers (and not my own conveniences) at the forefront of all of our sales and marketing campaigns.
The beauty of these workflows is once you've established one, you now have a model for other events that will inevitably emerge over time as the sales and martech landscape grows and matures. I'd love to know if you've found yourself in an automation pickle lately that I didn't address in this blog. Send your issues my way!

About the author
Jen Spencer oversees all operations, executing on SmartBug's growth and market expansion strategy, which is focused on delivering superior, cutting-edge service to the company's customers and partners while continuing to invest in the people and culture that make SmartBug® a great place for employees to work and develop their careers. Read more articles by Jen Spencer.
Subscribe to get our new blogs delivered right to your inbox
Other insights you might like