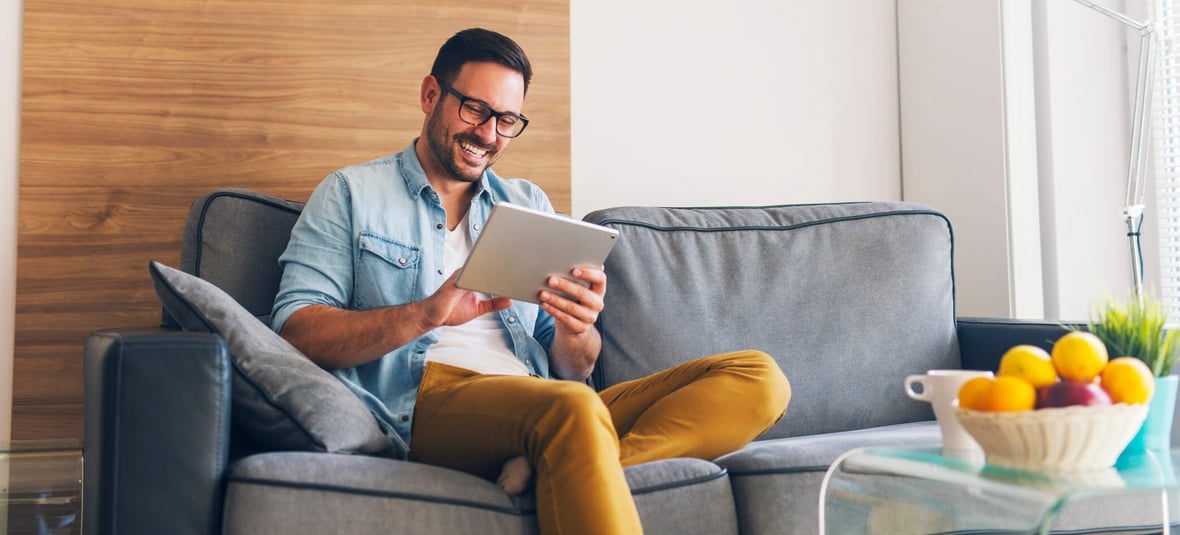 How to Get Started with Website Personalization
March 8, 2019
---
Sitting down to write this blog, it occurs to me that:
I'm listening to my personal "Top Songs of 2018" Spotify playlist.
There's a Starbucks coffee cup on my desk with my name written on it.
I started watching the Netflix show Slobby's World yesterday after it popped up in my recommendations. After a few minutes I realized why it had: the show was filmed a few miles from my house in Tucson (and, yea, I binged-watched it).
What do these things have in common?
Well, it's the personalization of customer experiences! And it's happening because 80 percent of consumers are more likely to make a purchase when brands offer individualized, personal experiences.
While we're talking stats, here are some other eye-opening ones:
Website personalization is a one piece of a holistic, personalized buyer experience; though these stats suggest we marketers need to do a better job of it.
But what exactly is website personalization? What kind of data can you use to create personalized website experiences? What are some areas where website personalization is effective … and others where it isn't? Let's dig in.
What Is Website Personalization?
Marketers have been segmenting their target audiences for a long time. Personalization is essentially segmentation to the extreme: tailoring your messaging down to the individual level.
Within your digital marketing toolbox, your email marketing probably gets the most personalization (all those "Hi [First Name], Hello [First Name], Hey [First Name]" greetings and subject lines). With HubSpot's CMS, you can also update elements of your webpages to be specific to individual visitors. HubSpot calls these personalized elements "Smart Content."


How Does Personalization through Smart Content Work?
Website personalization using Smart Content uses the data that you already know about an individual user and tailors one or more elements of a webpage to better speak to them.
If you're using HubSpot, the user data you can presently use to create smart content are:
Country
Device type
Referral source
Preferred language
Contact list membership
Contact lifecycle stage
Based on these data, you can change these page elements:
CTA buttons/graphics/text
Forms
HTML (including rich text modules)
Website Personalization with CTAs
With Smart CTAs, you can show different offers to different visitors.
For example, if you've done your buyer persona research, you might create a dynamic list of customers who match your top persona and show an offer you know converts especially well with them.
Or you might decide to segment a CTA by lifecycle stage. On your next blog post, you could have one bottom-of-page default CTA linking to a related resource and also create a smart version for opportunity-stage prospects. This one could use a more bottom-of-funnel offer, such as "Schedule a Demo."


Website Personalization with Forms
There are two ways to use personalization with forms:
Use known visitor data to show an entirely different form.
Show only form fields that you don't already know for a given contact. (This is called "progressive profiling" and helps you gather new/more information each time a visitor converts, which in turn gives you more data for later website personalization.)
For example, say that you know paid traffic to your latest e-book landing page is converting poorly. You might create a smart version of the form with fewer fields, but only show it to visitors that come to the page from the paid traffic referral source.
Or maybe you realized that a bunch of your contacts have no value for their industry property. Using progressive profiling, you could replace a field you already know for those contacts with a field for industry. This avoids asking the same contact the same question over and over each time they convert.


Website Personalization with HTML/Rich Text Modules
This type of personalization offers the greatest amount of flexibility. You can update any part of a rich text module (image, header text, subtext, and so forth) to show differently for different visitors.
For example, say you serve several verticals, but your value especially shines with healthcare clients. You might create copy on your services page that speaks specifically to visitors with healthcare listed as their vertical. For other visitors, your default copy could be vertical-neutral.
Membership in contact lists can also be based on past activity, so you can personalize rich text module content based on form submissions, email engagement, visits to other webpages, workflows, and more.


But Before You Get Started …
There's a lot you can do, but before you go smarting up everything, there are a few ground rules to keep in mind:
Set the default content that should show if the personalization criteria is not met (if applicable). Have you ever received an email with a greeting like: "Hi ," There's a big gap after "Hi" because the email sender didn't set a default value for recipients whose first names were unknown. This can also happen on your webpages' Smart Content modules if you don't set a default.
You're limited to the contact information that you have. Before using Smart Content, be sure your contacts actually have the value that triggers the personalization. Otherwise, everyone will just see the default content, speaking of which …
Know why you're using website personalization on this specific element. Just because you can pepper your pages with personalization doesn't mean you should. Instead, HubSpot Academy recommends you use personalization to drive engagement or communicate specifics to an individual. Here's a great blog from my colleague, Evan, on how much content personalization you should be using.
Don't freak out your visitors. Similar to the last point, most people might not find it alarming to see their vertical or city/state included within a paragraph of webpage copy. But when you start in with "Hi Charly, cool that you still have a Samsung S7. I noticed that you drive your 1998 Toyota Camry around Tucson much less since you started at SmartBug Media™," that's going to alarm people and they're going to bounce.

About the author
Charly Mostert was formerly an Inbound Marketing Strategist at SmartBug Media. With diverse in-house and agency experience, he loves researching and spreading the word on the newest inbound marketing best practices. Read more articles by Charly Mostert.
Subscribe to get our new blogs delivered right to your inbox
Other insights you might like