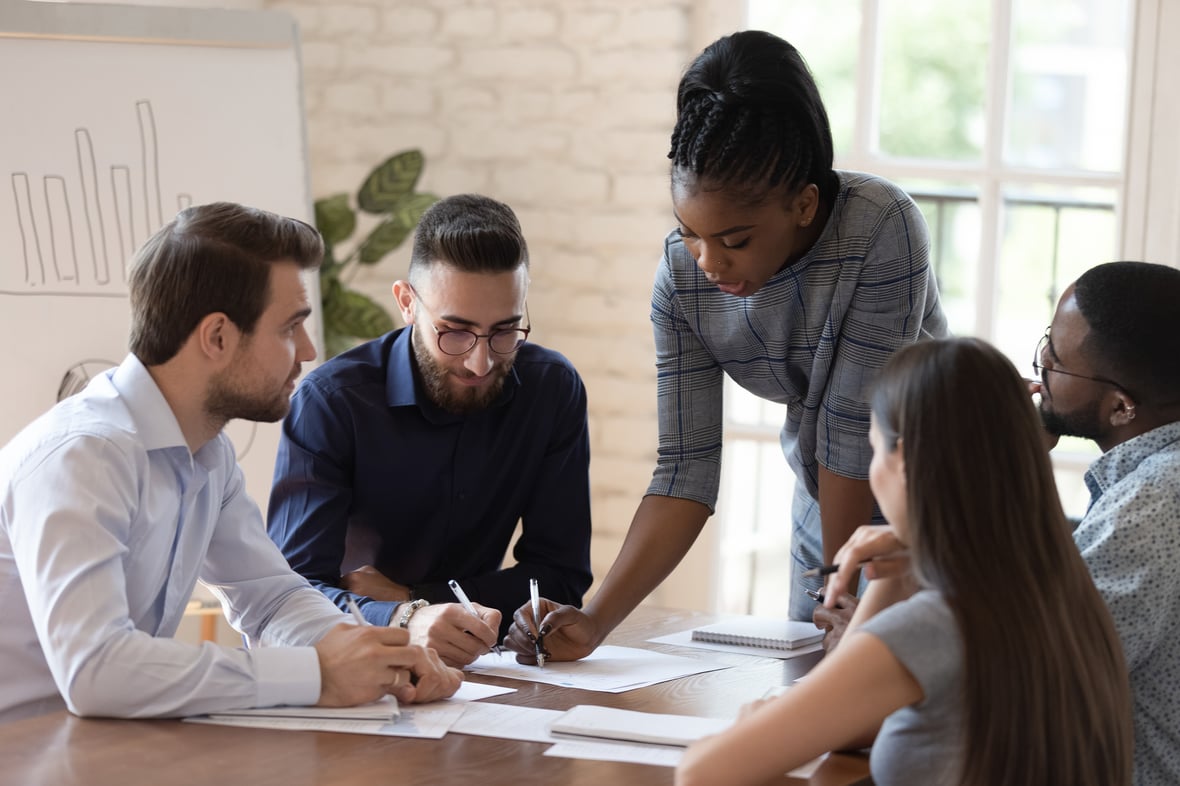 How I Landed My Job as a SmartBug Strategist
January 7, 2022
---
"There are no wrong turns, only unexpected paths." —Mark Nepo
In a world of "career paths," it's easy to think our professional journeys should follow a simple, linear course. But life, including our careers, is rarely a chart that can be meticulously plotted out. And sometimes those unexpected twists and turns off the expected path yield the best surprises. Coming to SmartBug® was like that for me!So how did I land a job as a Marketing Strategist at SmartBug? I thought I'd share my story through the lens of some of the unexpected surprises—and what I've learned along the way.
Find Your Voice (and Share It!)
My professional passion is content marketing, and I spent more than 10 years building a content marketing team and program from the ground up at a B2B SaaS/EdTech company. During that time, I found traditional content marketing frameworks to be lacking and limiting, so I developed my own. (A few whiteboards may have been harmed in the making!)
I was so fortunate to have several bosses and mentors who encouraged me to develop my own vision, implement it, and share the successes we were seeing as a team. One of these bosses eventually encouraged me to accept an invitation for a public speaking opportunity and, to my huge surprise, I really enjoyed it!
Key Learning: Look for ways to bring your unique perspective to the world, whether through social media, guest blogging, internal trainings, or public speaking. You might find that you love it!
Always Be Building Relationships
It was at another speaking opportunity that I met the marketing leader who is now one of my clients at SmartBug. We had a wonderful conversation after my talk about content marketing and her needs. Little did I know that SmartBug was currently looking for a Strategist to own her account. I also had no idea that she passed my name along to SmartBug, and the next thing I knew, I got an email from an agency with a funny name.
Key Learning: Focus on how you can help others in your conversations instead of what they can do for you. That's how meaningful relationships develop—and benefit you in the long run!
Keep an Open Mind
I was looking for a new opportunity, but going to an agency was definitely not at the top of my list. I'd heard horror stories about agencies and insane workloads, late nights, billable hour requirements, and terrible burnout.
But I could tell from my first conversation with CEO Ryan Malone that SmartBug was not that kind of agency. Our conversation, and all the conversations that followed, were full of authenticity, transparency, and a clear desire to foster a great culture and environment for SmartBug employees. I caught the vision.
Key Learning: Even if you think something's not a good fit, what does it hurt to explore it? Keep your mind open to all sorts of opportunities, and if nothing else, you'll get in some extra interview practice!
Put on Your Strategy Hat
I came into the SmartBug interview process with a non-traditional background. I had zero agency experience and no HubSpot experience, either. I met some incredibly smart people and felt totally out of my league (still do some days!).
But at the end of the day, the role of Strategist at SmartBug is all about what it sounds like: guiding marketing strategy for our clients. Here are some of the skills that are most important in landing a strategist role at SmartBug:
You've got a strong understanding of digital marketing practices with a track record of success.
You're great at quickly digging in to identify current state, challenges, and solutions.
You're ROI-focused and experienced at developing goals and key performance indicators (KPIs).
You enjoy digging into the data and creating clear and meaningful reports that tell a story.
You have great people skills and can handle a variety of conversations with your clients.
You're organized and reliable: You follow through on deliverables and keep your word to your team and your clients.
You're

excited to work remotely

and willing to put in the extra effort to engage with your coworkers and clients virtually.
You enjoy mentoring and leading teams and approach every day with a growth mindset.
Thinking you might be a better fit for a Marketing Specialist role? Check out my colleague's post on what that hiring process looked like.
Key Learning: Agency and HubSpot experience will definitely give you a leg up at SmartBug. But if you've got the strategy chops and people skills, you might still be a great fit!
Embrace a Growth Mindset
A decade at an education company instilled in me the tremendous value of a growth mindset, and it's something I try to embrace every day. And, boy, did I have a lot of growing to do when I started at SmartBug!
I won't sugarcoat it: It was a big learning curve for me. But I have been at SmartBug for two years now and enjoyed an incredible journey because of two primary things:
A supportive leadership team that gave me the tools I needed to learn and succeed
An absolutely amazing team of coworkers that will support, help, teach, answer questions, jump on a call, you name it—to help me succeed
I can't say enough about the team here. To rub shoulders with a group this smart and talented and to learn from them every day is a privilege.
Key Learning: Wherever you go next, you'll face a learning curve. It will be overwhelming at first. But each learning curve is your next giant growth opportunity. After a year or two at SmartBug, you won't believe how much you've learned and grown!
Could You Be Our Next Strategist?
I hope my story gave some color to what a path to SmartBug could look like. But as we acknowledged at the outset, every path is different and, often, wildly unexpected. I hope you enjoy and embrace every twist and turn in the wonderful world of marketing that you've chosen!

About the author
Ali Orlando Wert was formerly a Director of Marketing Strategy at SmartBug responsible for the strategy, execution, growth and goal achievement of her key accounts. She leads a cross-functional team of specialists in implementing strategic inbound marketing, digital marketing, marketing automation, paid media, sales enablement, conversion rate optimization, SEO, web development, social media and offline channels. Ali is a winner of CMA's Project of the Year and Best Content Marketing Program as well as a speaker at Content Marketing World and ContentTECH. Read more articles by Ali Orlando Wert.
Subscribe to get our new blogs delivered right to your inbox
Other insights you might like