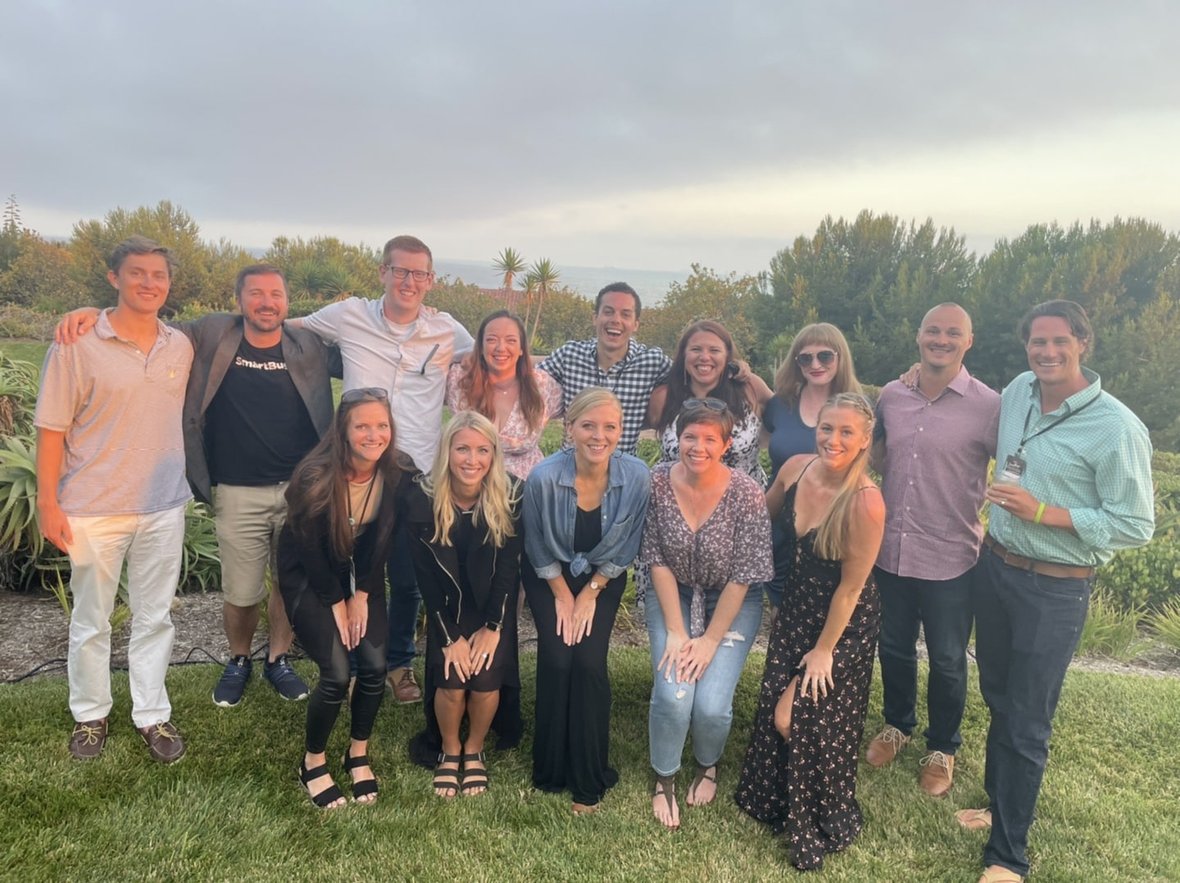 How I Landed My Job as a SmartBug Specialist
December 6, 2021
---
My first experience with SmartBug Media® was as one of SmartBug's clients. I met my then-strategist, who broke down my company's inbound campaigns to a level that I could understand. This was important because I started my career as a teacher and transitioned into a marketing specialist role. Needless to say, I needed some really smart people in my corner to help me understand my new industry.
As a SmartBug Media client, every check-in taught me something new. I felt that my team really understood me, and more importantly, they were experts. With every team sync I attended and every new digital initiative we executed, one thing became clear: This agency knows what they're doing. They're really cool and passionate about what they do. I decided that I had to work for SmartBug Media.
If you're reading this, you might be wondering what the hiring process looks like or what it takes to land a job here. If there's one thing I've learned about interviewing for and working at SmartBug®, it's that your job is not like any other job at any old company. You have to be passionate about marketing and your commitment to growth and show it. In fact, our hiring team hones in on that!
Here's a breakdown of how I got hired at SmartBug and some steps to help guide you through the process.


Step 1: Scour the website ... thoroughly.
I started where anyone would: the company website. I wanted to learn what kind of company SmartBug was. I wasn't looking for buzzworthy employee perks; I needed a company vibe check. Let's be honest: If you're working for a company that doesn't align with your values and work style, that's a lot of time spent (and wasted) to earn a paycheck.
I quickly found SmartBug's Culture page, along with our core values, or seven "rules" of being a SmartBug:
Get it done.
Stay curious.
Have fun.
Innovate, always.
Rock it for the client.
Bend, don't break.
Build belonging.
What I took away from this was that this marketing agency is comprised of brilliant, hardworking Bugs that balance top-notch work with enjoying life. Bonus: The company somehow pulls it off remotely, emphasizes learning with quarterly certification days, and is HubSpot's top agency partner.


Step 2: Check out reviews to get a feel for culture.
I took to SmartBug's Glassdoor reviews to get a picture of who they were based on employee opinions. I filtered out the outlier super positive with no cons and super negative venting reviews to get down into the "real" SmartBug. I saw the usual drawbacks you'd expect from a marketing agency: a lot of work, albeit rewarding, remote work isn't for everyone, and so on.
The one thing I noticed? Every single review (and I mean each one) raved about their coworkers. As a current employee, I can tell you that this tracks. SmartBug employees are some of the smartest and most badass people you will ever meet. (I am pretty biased though, so I recommend checking out Glassdoor and Comparably.)


Just a few 'Bugs at SmartBugPalooza


Step 3: Research job titles and connect with employees on LinkedIn.
My next step was to go back to the SmartBug website and pick the job that best aligned with my skill set. I ultimately decided that a client services role would be a good fit, and since I was a content specialist, I would apply for the inbound specialist position. This leads me to my next piece of advice: Check out SmartBug's employees on LinkedIn. Find the employees whose job titles match the one you're trying to snag. Take note of their employment history, their certifications, and their job descriptions, and connect with them.
I connected with the strategist I had been working with and saw she had a ton of HubSpot certifications plus enough marketing-related work experience that made my imposter syndrome go into overdrive. Full disclosure: I don't have a background in marketing. To even transition from teaching to the marketing industry, I leaned into freelance projects and my transferable skills until I landed a content specialist role. But this was SmartBug! Thinking I wasn't good enough to be considered wasn't going to make me any more qualified, I had to get it done, which leads me to ...


Step 4: Tailor your resume and your presence to align with SmartBug's values.
My approach to getting a job at SmartBug was to make myself the marketable asset. I updated my personal website/portfolio to show some of the freelance and content projects I had completed, plus added a video resume and blog. Then I went to HubSpot Academy and earned the top five certifications I had noticed most SmartBug employees had: Inbound Marketing, Digital Marketing, Content Marketing, Email Marketing, and Social Media Marketing. I published my blogs at a regular cadence with social media promotion to accompany my posts. SmartBug takes pride in a culture of working with great people, so I asked some of my coworkers to add recommendations to my LinkedIn profile.
I took another look at the specialist job description and tailored my resume to align with the responsibilities and requirements. I wanted to send the message that I was already doing the job, just not at SmartBug yet. You need strong writing skills to be a marketing specialist, so I emphasized my content background. Specialists need excellent communication skills and attention to detail, so I highlighted my teaching experience and existing marketing experience to show that even though I wasn't a traditional fit, I did fit.
With all of this groundwork set up, I submitted my resume and a personal statement and let my SmartBug contact know that I had thrown my hat in the ring. Not long after that, SmartBug's HR department called me, and the interview process was underway.


Step 5: Lean into the interview process. It's really fun!
Interview 1: Meet with HR.
My first interview wasn't super interview-ish. I chatted with my HR rep for a little bit. She asked some questions about my experience, but it was more so us getting to know each other. This made sense to me. If you want to work with great people, you have to hire great people. We went back and forth, talking about inbound marketing and if SmartBug is actually as cool as they sound, then I was told I would hear back.
In the meantime, I connected with my HR representative on LinkedIn and followed up with an email letting her know I enjoyed our conversation. I highly recommend doing this no matter where you apply because companies remember the applicants that care.


Interview 2: Meet with client services director.
A few days later, I got an email from HR letting me know that one of the client services directors would be in touch with me. My rep told me I would be talking a bit more about my experience and gave me advice for building rapport with my next interviewer: Be prepared to talk about my experience but in an anecdotal way. She recommended that I prepare my answers using the STAR approach (situation, task, action, and results; check out this article to learn more). Armed with this knowledge, I made a list of my career highlights and created a cheat sheet to help me stay on track. Since I also knew who would be interviewing me next, I took a look at her LinkedIn profile to help me understand who I would be talking to.
My second interview didn't feel like a formal interview either. I was asked how I had solved problems with tricky clients and how I had used different tech stacks to track metrics. I was also asked a lot of situational questions ( i.e., what would you do in X scenario?), but it also felt more like a conversation than anything else. Armed with my trusty sticky note (and just speaking with a really cool person), I had what can best be described as a professional conversation. I knew I had nailed this interview—and created another LinkedIn contact in the process. She let me know I would hear about the next steps.


Interview 3: Meet with client services director (again).
Now here's where my interview process gets a little quirky: Another client services director contacted me and asked to set up an interview. As it turned out, both the first director I spoke with and this director thought I would be a good fit for their teams. Definitely be agile during the interview process—you might be a better fit for roles you hadn't even considered!
I did the same research on this director and had another great conversation with another brilliant SmartBug. Everyone I spoke with thus far was looking for real conversations with a real person—quirks and all. A huge piece of advice I can add here is to be yourself. Don't be afraid to let your personality out. Are you a #DogParent? We love that! Are you calling from your house van out in a national park? We want to see pictures. Do you have big opinions about coffee or bourbon? We do too.
In the practice of radical transparency, the director let me know she thought I would be a great fit for the team. I was asked to provide some writing samples and references before I talked to the head of client services. This was another candid conversation, and then that was it: I got my job offer from SmartBug.

Step 5: You did it!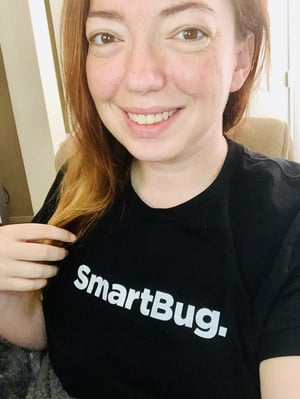 Now I'm not saying you have to do a happy dance or grab a drink to celebrate, but I'm also not not saying that. (I totally did) Remember, the secret to getting hired at SmartBug is to really want to be here. Do your research, create personalized outreach tailored to the role you want, and relax throughout the interview process. I hope this has helped you get a better picture of the hiring process for an inbound specialist role at SmartBug, and truly, thank you for your interest in us.
If any of this resonates with you, check out our careers page. If you have any questions, I'm happy to connect.

About the author
Brittany Glasscock was formerly a Marketing Specialist at SmartBug based in The Woodlands, Texas. She started her career in the K-12 industry and transitioned into content marketing for a B2B SaaS company. When she's not rocking awesome inbound strategies for clients, she runs (poorly), travels as much as possible, and tries not to burn her kitchen down while cooking. Read more articles by Brittany Glasscock.
Subscribe to get our new blogs delivered right to your inbox
Other insights you might like