If you're not sure what growth hacking is, read this post on what growth hacking is and specifically why SaaS companies need to hire a growth hacker. (Brief recap: growth hackers are people who are willing and able to try new things and experiment with both traditional and non-traditional methods in order to grow a company. Their sole focus is that growth.)
So, you're convinced you need to need to learn more about how to become a growth hacker. Where do you turn?
Look no further than the following free digital marketing tools: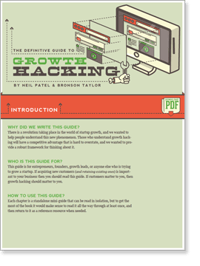 By: Neil Patel and Bronson Taylor, Quick Sprout
This ebook is over 100 pages long, packed full with great advice and practical ways to implement growth hacking at your organization. I highly recommend it!
By: Community of growth hackers
GrowthHackers is a community where users post and respond to articles, ideas, and questions. Powered by like-minded individuals who buy in and believe in "growth hacking," this forum is a great place to get your "growth hacking" sea legs.
By: Sean Ellis, founder & CEO of Qualaroo & GrowthHackers
In 2010, Sean Ellis coined the term "growth hacker" in a blog post on his Startup Marketing blog. While Sean hasn't published on this regularly in recent years, his posts on how to grow companies helped define how and what "growth hacking" is.
By: Jessica Vionas, SmartBug Media
Okay, you've sort of gotten the hang of what growth hacking is and how to do it. Where do you go next to create a plan for the next month or quarter or year? This ebook contains a simple one-page "cheat sheet" to help you on your way.
Other resources
Are there any growth hacking resources you'd recommend for newbies? We'd love to hear about them!