Template
The Lead Nurturing Campaign Planning Workbook
Use this workbook to plan your lead nurturing strategy in minutes.
Get Access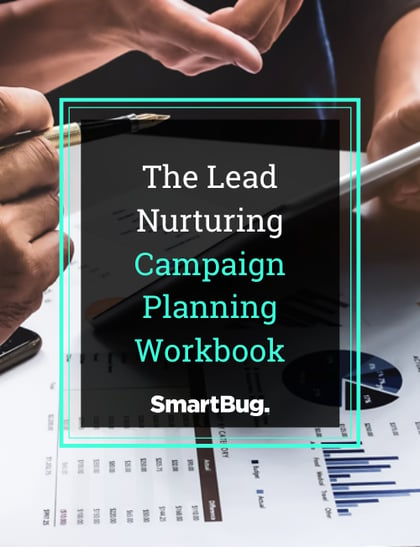 Are you working on building relationships with your personas? Building a relationship with your buyer can't be a one-way street. In order to gain their trust (and eventually a sale), you need to provide something in return. That's where lead nurturing comes in.
Lead nurturing isn't always easy for marketers to plan and implement. Luckily, our team at SmartBug Media® is stepping in to help out with a free lead nurturing planning workbook.
Our Lead Nurturing Campaign Planning Workbook can help you:
Plan your lead nurturing strategy in minutes.
Fill gaps in the Buyer's Journey for each persona.
Plan your workflows for each persona.
Our goal is to provide you with a quick and easy way to implement a lead nurturing campaign. With this workbook, along with other valuable content, you'll be well on your way to increasing the number of lead conversions.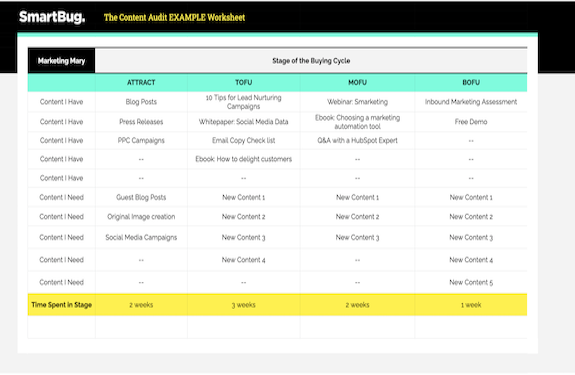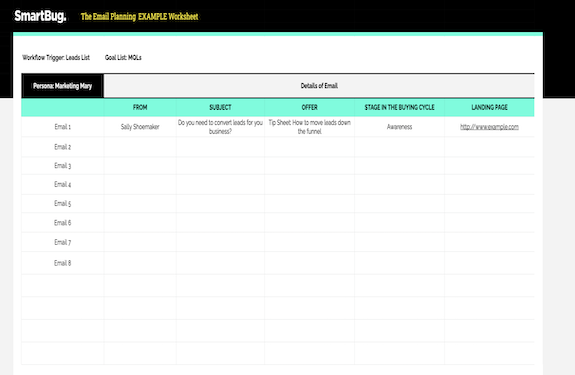 This workbook contains everything you need to set your organization up for lead-nurturing success:
A free content audit worksheet
A free email planning worksheet
Examples of how to use each template
Steps to plan out your lead nurturing campaign
Templates for each stage of the planning process
Why do I need to give my information?
We collect and use information for purposes such as:
Enhancing your experience
Enabling purchases of goods and services
Performing administration and technical support
Sending marketing communications and promotions
Processing product or offer inquiries
Informing you about special offers
Conducting surveys
Enabling you to enter sweepstakes, contests, and other promotions
Creating aggregated information about demographics and usage patterns
Subject to your explicit permission, sharing your information with third parties
What is lead nurturing?
Lead nurturing is the process of cultivating leads that are not yet ready to buy. Successful lead nurturing anticipates the needs of the buyer based on who they are (using profile characteristics, such as title, role, industry, and so on) and where they are in the buying process.
What are the goals of a lead nurturing strategy?
A successful lead nurturing strategy should strive to:
Build trust
Increase brand awareness
Maintain a connection until prospects are ready to purchase
What are the elements of a lead nurturing strategy?
Elements of an effective lead nurturing strategy include:
New content planning
Email and workflow planning
What are the stages in a lead nurturing strategy?
There are a few ways to look at the various stages of the buyer's journey when it comes to your lead nurturing strategy. Most often, we use one of the following to describe the stages a buyer goes through:
How will you use my personal information?
We may use or disclose the personal information we collect for one or more of the following business purposes:
To provide you with information, products, or services that you request from us
To provide you with email alerts, event registration confirmation, and other notices concerning products, services, events, or news that may be of interest to you
To carry out our obligations and enforce our rights arising from any contracts entered into between you and us, including for billing and collections
To carry out our obligations and enforce our rights arising from any contracts entered into with our clients
To improve our website and present its contents to you
For testing, research, analysis, and product development
As necessary or appropriate to protect the rights, property, or safety of us, our clients, or others
To respond to law enforcement requests and as required by applicable law, court order, or governmental regulations
As described to you when collecting your personal information or as otherwise set forth in the CCPA
We will not collect additional categories of personal information or use the personal information we collect for materially different, unrelated, or incompatible purposes without providing you notice.
Ready to start planning?
Fill out the form to get access to your own Lead Nurturing Campaign Planning Workbook.