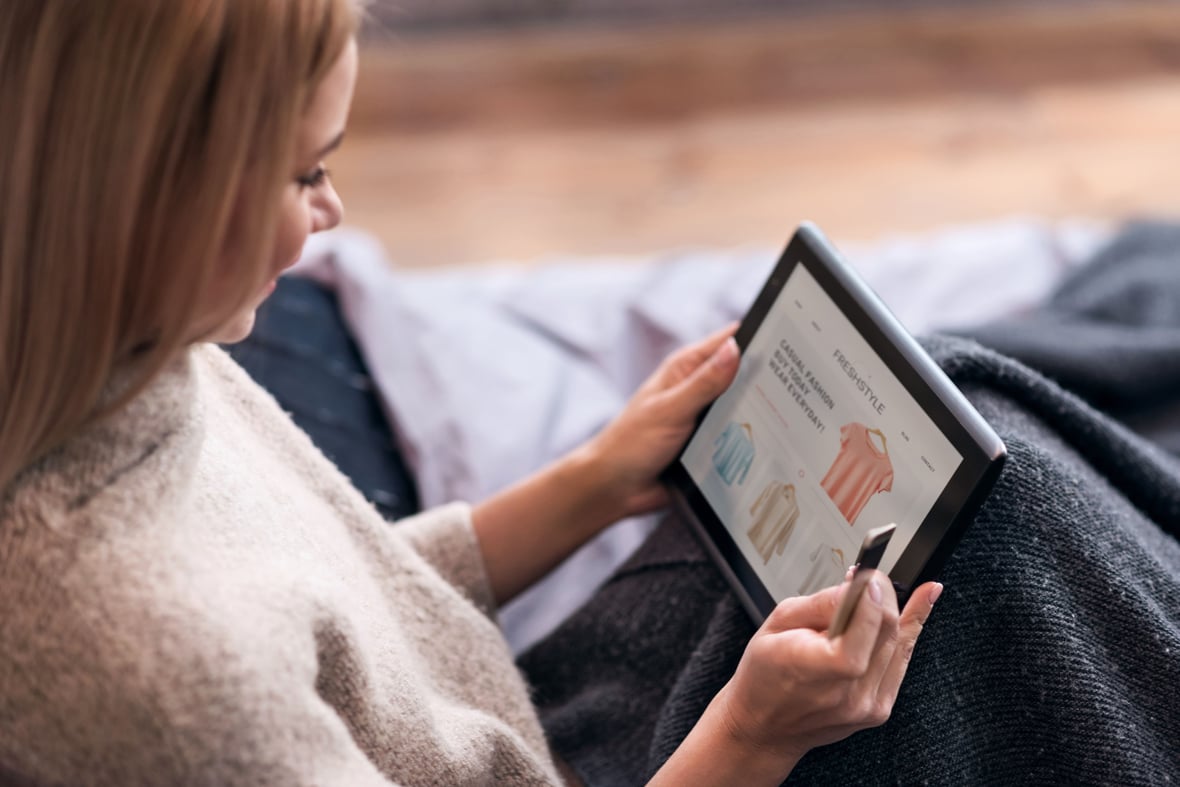 Customer Retention Marketing: Building Loyalty to Grow Your Business
May 15, 2023
---
By Kira Renee
We discussed personalized strategies during our recent Klaviyo SmartTake webinar. Our panel discussion featured Dan Caldwell, tech partnerships team lead at Klaviyo; Kira Renee, e-commerce product marketing manager at SmartBug Media; and Ryan O'Connor, director of e-commerce marketing at SmartBug Media. The three experts shared their strategies and techniques for using Klaviyo to retain customers throughout the customer journey.
Watch the Webinar—SmartTake with Klaviyo: Retention Marketing
Customer acquisition or customer retention marketing? Which should I focus on more?
E-commerce companies have hotly debated this question for quite a while now. Retention marketing can help create a community of customers who are loyal to your brand. By delivering an amazing customer experience, we help them move beyond being intermittent shoppers to becoming committed customers and, eventually, brand advocates. This strategy improves future retention.
Both acquisition and retention marketing have a place in every marketing strategy. These efforts feed into each other, and based on a brand's data, you can determine where you should concentrate your focus.
To determine your unique strategy, first examine your customer acquisition cost. Typically, this ranges from $50-$100 depending on the industry. Depending on your product, profit margin, and marketing budget, prioritizing retention could yield better returns than acquisition efforts.
You should also look at your customer lifetime value.
As Renee explains, "If you have a customer base and you don't see them coming back often for repeat purchases, then this is a good sign that you probably have a leaky bucket. You can spend all the money you want and try filling it up with more customers, but if there's a hole in the bottom, you're never going to be able to fill it." This is when you know a shift in focus on your customer retention is what's needed.
What does the full customer journey look like, and why is this important to understand for customer retention marketing?
The most important thing to understand about the e-commerce customer journey is that it's all connected, as you can see demonstrated in the graphic below.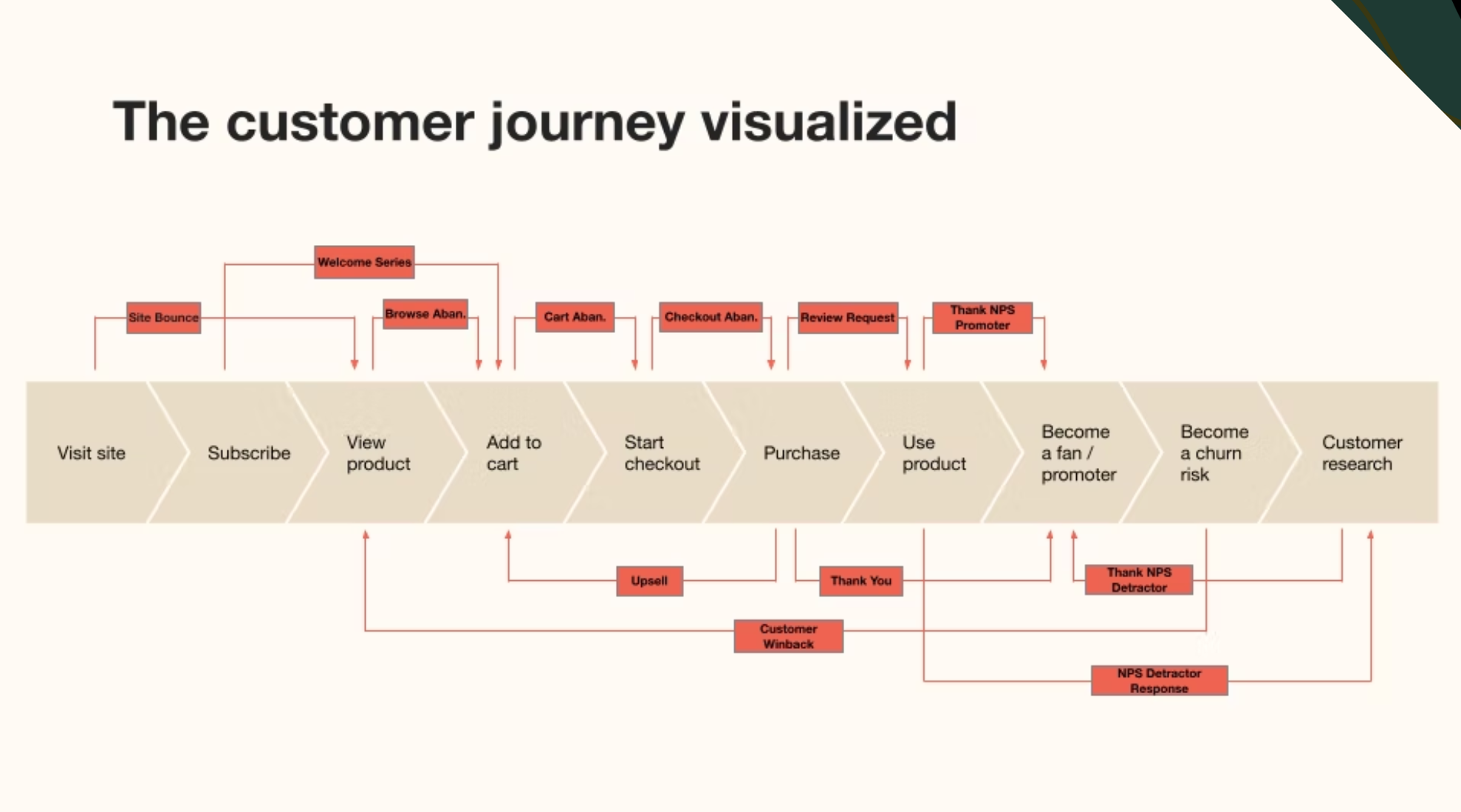 Many brands make the mistake of thinking that retention marketing starts after the purchase has been made. In reality, good retention starts the first time someone visits your site. What happens at the end will be related to the beginning and vice versa.
Now let's dive into each of these stages and discuss what retention strategies you can utilize at each point within the customer journey.
Pre-Purchase Stage
This stage is crucial because it is your brand's first point of contact with potential customers.
It's wise to avoid soliciting too much information too soon because value should be provided first and foremost. That said, there are always opportunities for relationship-building. Start with small things such as offering a promo code in exchange for an email or phone number. This way, you can target them and generate better retention throughout their journey with your brand.
Here's an example Kira shares from a consumer perspective:
Quizzes and surveys can be incredibly engaging and useful tools not only for gathering customer data but also for recommending the best products to meet their unique needs and desires.
For example, if you're running a protein powder company, you might develop a quiz to determine if your customers are primarily interested in your product to build muscle, lose weight, feel more energized, and so on. This valuable data allows you to tailor your marketing efforts and recommend more relevant products to your customers. Your efforts will translate into more sales by ensuring the right products are marketed to the right people.
Caldwell puts it this way: "It's so much easier to increase conversion rates when you understand why that customer is purchasing your product."
Immediately Following the Purchase
Your customer has successfully made it through the checkout process and is now waiting for their order to arrive. It is essential to ensure that your customer has a positive experience waiting for their order to arrive. The period between checkout and delivery should not be overlooked because it can be an important time to establish trust with your customer and encourage them to return in the future. A negative experience during this time frame could damage your reputation and jeopardize your relationship with the customer.
After your customer places an order, they will on the lookout for updates on their order. This is a huge part of the journey; your customer is trusting that you will continue to deliver them a positive experience. You want to make sure your customers are up to date by sending them an order confirmation and any relevant order or shipping updates. These can either be delivered via email or SMS; however, Caldwell makes a case for SMS being a better option for these updates.
Another great strategy we love to use during this stage is using a tool such as Wonderment which integrates with Klaviyo. This integration can automatically send the customer an email that lets them know that their order has shipped and can send them to a landing page to keep them updated on where their order is.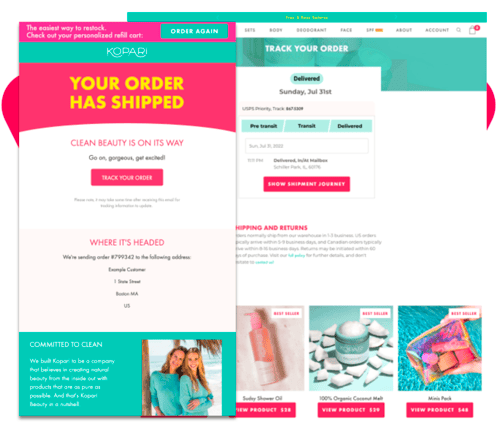 This Wonderment automation presents a huge potential for increasing revenue. According to Caldwell, these order update emails average an 82 percent open rate, which is 23 percent higher than the overall average open rate on emails. You will see a lot more clicks onto these landing pages, which can feature products related to their purchase or other products they were browsing. "It's not just a great way to keep your customers engaged and keep them up to date," says Caldwell, "but also to add a little bit of [lifetime value] on the top as well."
Post-Purchase Stage
In this stage, your customer has completed their order and received their purchase. This is the stage where you get to really nurture your customer and build a relationship with them to increase retention.
But before we jump into sending email campaigns and product recommendations, you want to be mindful of your customers' individual journeys.
For instance, let's say a customer's order was late arriving or damaged in the shipping process. Pushing more marketing communication and asking them to buy from you again won't create a very positive experience if the customer is already frustrated. Take the time to effectively communicate one on one with your customer to resolve any lingering issues and regain their trust.
If your customer is happy with their experience, you can build on that by nurturing your relationship with them. Of course this can include personalized product recommendations, cart abandonment flows, browse abandonment flows, promotions, and more. But there are plenty more ways to foster a lasting relationship with your customer that results in higher lifetime value (LTV).
How do I leverage more after post-purchase?
When you build lasting relationships with your customers and they trust you and your product organically, you create brand advocates. That is why it's so important to pay close attention to the customer journey and ensure they have a positive experience with you in each phase. When a customer becomes an advocate for your brand, your acquisition increases much more organically.
But how do you find brand advocates?
This is another instance in which your Klaviyo data is going to come in handy. Based on zero- and first-party data you gather, you can identify your VIP customers based on one of three segment conditions:
Big spenders: Customers who have spent over X amount of money over Y amount of time
Frequent purchasers: Customers who have purchased X number of products over Y amount of time
Blended: Customers who have purchased X number of products OR spent Y amount of money over Z amount of time
Within these segments, you can dive even deeper with your data to identify advocates for various customer personas. For example, we have different VIP customers who buy our protein powders for muscle building, some for weight loss, and others for vitamin supplements and overall health. You can separate out each of these VIPs to personalize messaging and content to be more relevant to their interests.
Wondering how to turn those VIPs into brand advocates? The answer is simple: Provide them with opportunities to be advocates. Providing multiple options for engagement is a great strategy because some customers may prefer to engage in one way over another.
Let's unpack the best opportunities you can offer your customers.
Loyalty Program
Offering some sort of loyalty or rewards program for your customers has become increasingly popular for e-commerce brands—and for good reason! In a recent survey, 48 percent of participants claimed that they join loyalty programs as a devotion to the brand.
A great loyalty program is customized to your brand and your specific product offerings. Customers join these programs for the added value they receive in return. The idea is that when someone shops with you, they are not only receiving the product they want but also gaining opportunities to use discounts, get free products, or experience other unique benefits.
Influencer Marketing
Many brands see great results with influencer programs, but the caveat is that they need to be authentic and connect with the same audience you're trying to reach.
We recommend using Gatsby for developing these types of influencer programs. With Gatsby, you're not getting macro-influencers or celebrities to post about your brand; rather, it invites advocates you identify to become influencers by offering them incentives to talk about your products on social media. These advocates likely don't have millions of followers, but they are genuinely invested in your brand, so their posts will be authentic. When others see that authenticity, they will be more likely to trust your brand and what you have to offer.
User-Generated Content (UGC) Marketing
This is a different approach to influencer marketing, and it's a strategy that can not only support brand advocacy but also support your content strategy. UGC is content created by your customers that features your brand or your products.
UGC marketing is similar to influencer marketing; the difference is that this content is being created and posted by your brand rather than the customer. This strategy is a great way to create a community around your brand where customers can not only engage but also feel a part of something bigger. Though this content is being posted to your audience, customers featured in this content are more likely to share it with their friends and family.

Increasing revenue starts with retention.
As you can see, customer retention is an important part of any overall marketing strategy. Marketers can foster strong, lasting connections with customers throughout the pre-purchase and post-purchase stages, increasing LTV in the process. Brands can use tools such as Klaviyo to leverage important data points such as customer acquisition cost and customer lifetime value or to send SMS updates on orders to increase revenue from current customers.
To improve customer retention strategies and boost LTV, register now to join our upcoming Klaviyo SmartTake webinar series!

About the author
Kira Renee Kira is our E-Commerce Product Marketing Manager at SmartBug. She believes in a people-first and data-driven marketing approach. Previously working with many reputable e-comm brands, building their online brand presence and teaching companies how to enhance their marketing strategy to be customer-centric. When she's not creating a stellar marketing strategy, you can find her enjoying a crisp sour beer surrounded by her hundreds of plants and receiving cuddles from her Labradoodle. Read more articles by Kira Renee.
Subscribe to get our new blogs delivered right to your inbox
Other insights you might like