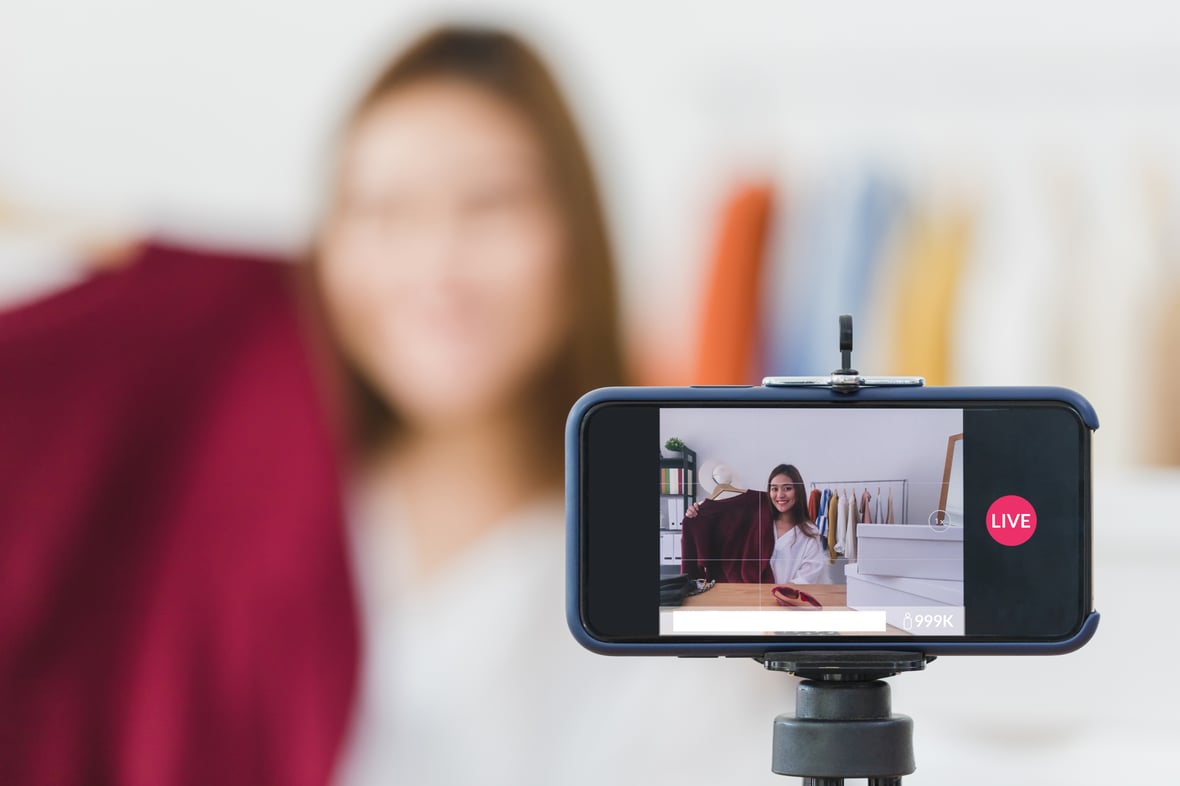 7 Effective Ways to Use Video in Email Marketing
May 18, 2020
---
Guest author Téa Liarokapi is a content strategist for Moosend.
Email marketing and video are two services that can be combined and provide great results, because one is engaging and the other is cost-effective. What's more, email marketing is the most affordable way to reach different audiences, as well as one of the easiest to measure.
There are a lot of different email marketing services—both free and paid—that can offer you the same thing: a way to use video in email marketing.
But just incorporating video into your email marketing efforts isn't enough.
Why Video in Email Marketing?
The obvious answer would be, "Because it's engaging," but is this true?
According to a report published by Forrester, video in email marketing can increase the click-through rate by as much as 300 percent.
Oh, and check this one out: "Marketers who use video grow revenue 49 percent faster than non-video users."
A video increases click-through rate for emails, helps brands grow revenue way faster. What else can it do?
Video can actually influence decision-making. A staggering 48 percent of users want the video to reflect what they're interested in. Imagine segmenting your audience and hitting it with targeted video ads that do exactly that. This is bound to bring back conversion.
The above sources show that video—either on its own or used in email marketing—is effective, provided that you know all of the fruitful ways to use it in an email and the reasons for using it.
But is your business ready for a marketing strategy that includes video marketing? Do you know how to build a video marketing strategy that will pay off? Gauge whether or not you're ready by doing the following:
Determining your goals: Doing this will help you pinpoint the exact type of marketing content—and more specifically the type of video—you need to come up with.
Assessing your existing marketing efforts: Are your current marketing efforts up to par? Videos in email marketing might be gold, but maybe you need to obtain some silver first. Evaluate what you're already doing to see if it's time to add video to the mix.
Familiarizing yourself with video marketing best practices: This is something you need to do before deciding to use video in your marketing strategy.
Now, since you have an idea of how useful video can be when used in your general marketing campaigns, let's go ahead and see how you can implement it in your email marketing campaigns.
Why You Should Use Video in Email Marketing
There are more than a couple of reasons why you should incorporate video in your email marketing strategy. Let's look at what it can get you that a plain old email can't:
1. Engagement
Engagement is one of the most important reasons for using video in your overall marketing strategy—and especially in your email marketing strategy. Video is one of a few things that can be beautiful, engaging, cost-effective, and sales-boosting at the same time. Humans rely on their vision more than any other sense to learn and comprehend things, and video marketing takes advantage of this.
Let's assume that you need to boost your influencer marketing game. Your videos need to be relevant to that goal and short enough for the prospect to actually watch them.
By cutting up your content and the information you need your audience to know, and offering small, bite-sized pieces, you make it easier for them to digest all of the necessary information.
2. Open Communication
Videos can create the impression that there's an open dialogue between the brand and the consumer. Creating, for example, a video showcasing the use of your product or the creative process behind it can make the prospect or the customer feel like they're part of the creative process itself. And who doesn't love to be included?
3. SEO
Another benefit of video marketing—and another reason to use it in your email marketing campaigns—is that videos can do wonders in terms of ranking on search engine results pages.
In other words, with some proper SEO magic, your email marketing campaign and your video in this email marketing campaign could go viral—something that won't happen as easily with a text post, no matter how clever the copy.
Ways to Use Video in Email Marketing
You already know about SMART goals and how you need to study your KPIs before deciding on your marketing efforts. But I need to make sure you understand something very important before moving on:
Not all email providers support video. If your prospect doesn't use a supporting email provider, all they'll see is some fallback text, aka an ugly box with some text explaining why the feature is not working.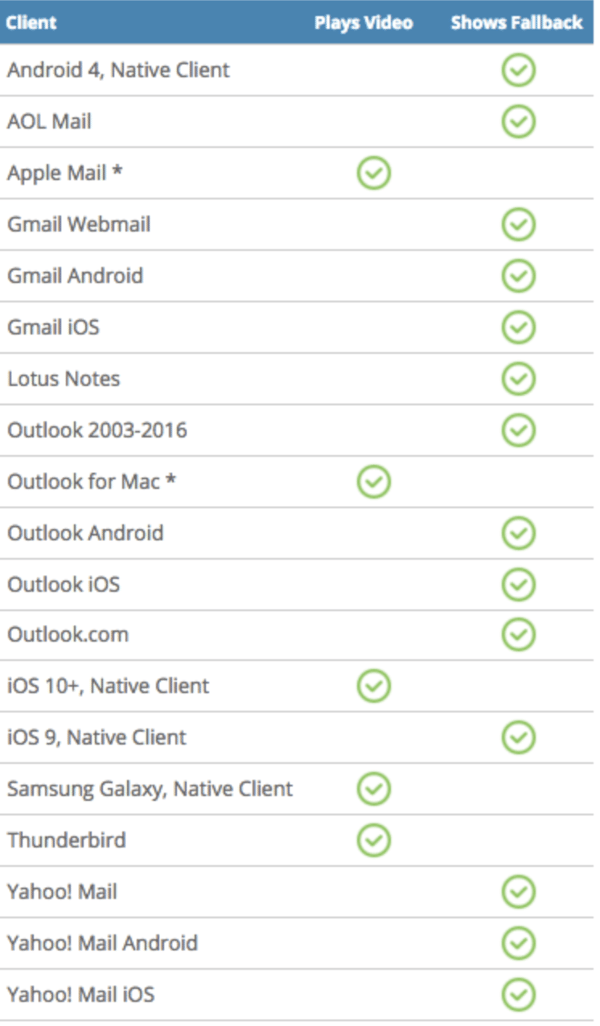 (Source)
Unless you don't mind missing out on a great deal of conversion, don't base your entire campaign off HTML5 (the markup language used to code videos into your emails). Instead, work with the following elements:
1. Use a GIF
One of the best video-in-email-marketing tactics is using an animated GIF. GIFs have been around for quite some time and are supported by pretty much every email client.
There are some email clients that don't support GIFs, so the best thing to do is include all of the information the user needs on the first frame of your GIF. That way, they'll be able to read about the special offers (if there are any), and they'll be enticed to click on your CTA.
After that, if you're pursuing lead generation, you can create a dedicated landing page with some great landing page copy and see your conversion skyrocket!
Pro tip: On your landing page, use the same GIF or something that could be coming after the GIF you used for your email marketing campaign.
2. Use a Play Button
This is one of the easiest ways to "embed" a video into your email marketing campaign and meld video marketing and email marketing together. It's also one of the most rewarding, if you ask me.
The process is fairly simple: You get an image from the video in question, a screenshot, an actual thumbnail of the video—that's totally your call—and then use it in your email marketing campaign. On that image, you'll add a play button element, making the image look like a video that's waiting to be played.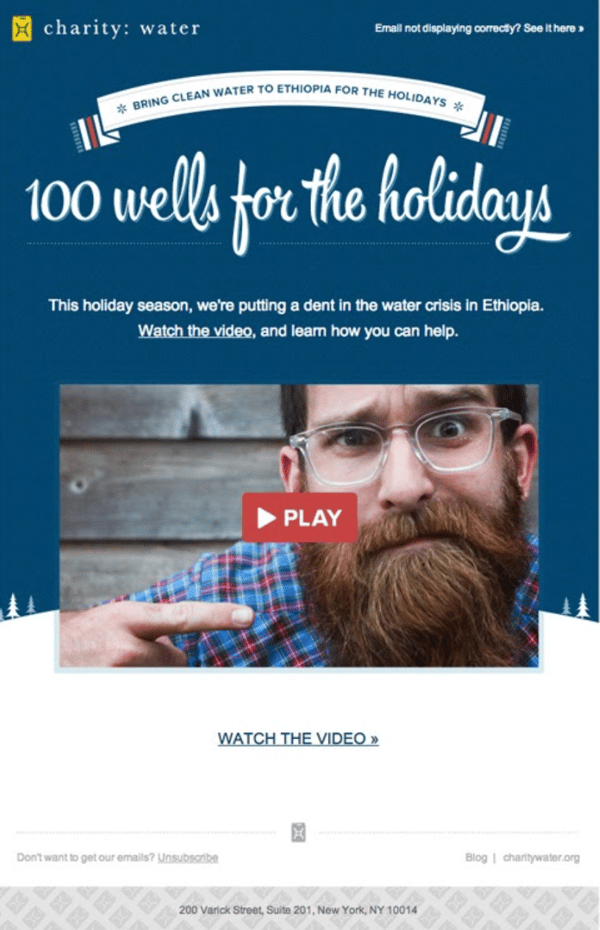 (Source)
You can click on that image or you can click on the "WATCH THE VIDEO" CTA—whatever you prefer. You'll be redirected to the video.
Pro tip: Use autoplay on the landing page. It doesn't make sense for the user to click on a play button twice. However, be mindful of the sound. It's best for the video to be muted, just like the social media videos we bump into on various platforms.
3. Add an Actual Video to Your Email Marketing Campaign
You can always segment and study your data, check the email providers and devices each of your customers use, and in the end, weigh the pros and cons and use an actual video. If, for example, most of the users you need to target for your next email campaign use Apple Mail, go ahead and embed that video.
A word of warning, though: You may miss out on a lot more engagement, and there will be no need for a prospect to spend time on your website because they won't be redirected there.
4. Put a Video in Your Email Marketing Signature
Yes, folks, this is a thing and, honestly, it's interesting!
The setup process doesn't differ from adding a static image and the play button to your email marketing campaign. You'll just need a thumbnail, the play button, and the link for redirecting your prospects.
By adding a video of yourself to your email signature, you can make it seem like your prospects are talking to someone they may have met before. Plus, adding a tone of voice, facial expression, and that "close contact" feeling puts a face to a name.
This is a great way to engage prospects with cold emailing, especially if you use the word "video" in your subject line.
5. Create Video Marketing Testimonials
One of my favorite tactics that you can use to boost your business is customer testimonials.
Both in pure email marketing and in pure video marketing, testimonials can be goldmines for engagement, increased purchases, and helping people become brand ambassadors.
Now, imagine what could happen if you create a video email marketing campaign with testimonials. Testimonials can raise brand awareness with less words than an entire campaign would need.
The fact of the matter, of course, is that testimonial videos are not as cost-effective to create. But if budget is one of your primary concerns, a person talking about how your product made their lives easier—or, better yet, how your product made them into the person they wanted to be—will pay back in full.
6. Produce a Video Marketing Series
You want to tell the story of a person who came across your product and loved everything about it—so much so that they became a repeat customer, joined your customer loyalty program, and so on and so forth.
How are you going to tell their story if it's well over the two-minute mark? By creating an email marketing campaign that splits the video into a series!
This will keep your audience on their toes, engage them, and even have them looking forward to your email. Not to mention that it's a fantastic way to upsell and cross-sell products to your existing customers.

Use your data to segment and see who might be interested in the product in the video campaign you're about to release and … voila! All the prospects interested in the campaign you're planning will be right there and you'll be ready to work your magic!
7. Get the Video Marketing Shares
One of the best things about video, like I mentioned earlier, is that it can go viral in seconds.
OK, seconds may be an overstatement, but you get the gist. A video can go viral easily, making a whole video marketing campaign or email marketing campaign go viral as well. Just make sure your content is shareable, either by making your email shareable or by sharing your content on your social media platforms for maximum engagement and exposure.
While you're at it, think of incentivizing shares. For each share, you could give out a code for a small discount, free shipping, or exclusive insider news about your brand.
Social shares can get you more prospects without you doing anything other than setting up a landing page.
Video in Email Marketing: The Honorable Mentions
There are many more ways to use video in email marketing to get your prospects on board with your product:
If you're a SaaS company, you can use video in your email marketing campaigns to help with your users' onboarding. Just set up the videos, your campaign, and a dedicated page, and you'll be good to go.

If you need to market a location—maybe you're a tourist agency or maybe you're a restaurant in that area—create a newsletter and include a video showcasing all of the fun activities a visitor can do there.
If you're selling a product, you can use video in email marketing campaigns to show your prospects how to use that product.
Is there an event you want to promote? Is there a PR crisis you want to avoid? Or maybe, just maybe, you need to create a digest to keep users on their toes?
There's no better way than creating a video email marketing campaign that showcases how your brand loves its prospects and customers.
The Takeaway
Video in email marketing is beneficial.
Whether you need to create presentations that will give your customers inside information about your product or you need to promote online courses, you can go ahead and create videos to support those needs.

About the author
Téa Liarokapi is a content writer working for email marketing software company Moosend and an obsessive writer in general. In her free time, she tries to find new ways to stuff more books in her bookcase and secure more content ideas—and cats—to play with. Read more articles by Téa Liarokapi.
Subscribe to get our new blogs delivered right to your inbox
Other insights you might like