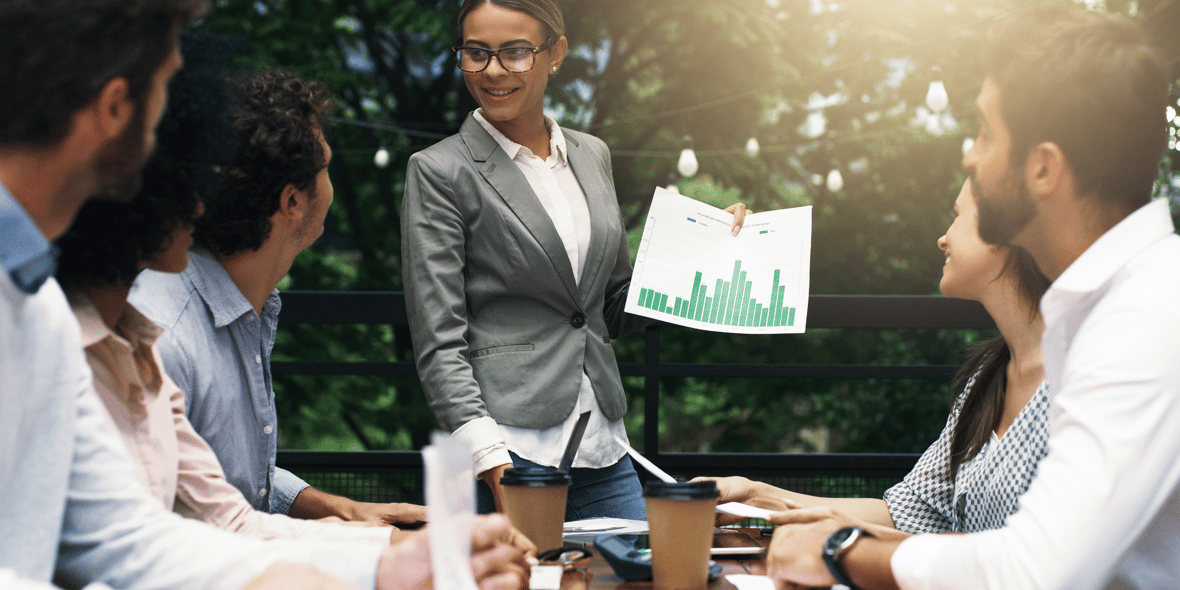 It's difficult to predict with certainty what the trending e-commerce strategies will be in 2023 as the e-commerce industry is constantly evolving and new technologies and trends continue to emerge.
By addressing emerging trends and incorporating them into your business, you can get ahead of the competition, predict customer needs (based on data), explore new opportunities, and—most importantly—stay relevant to existing and potential customers.
Based on current trends and industry expert predictions, here are 16 e-commerce trends in 2023:
1. Increased Use of Artificial Intelligence and Machine Learning
It's not just e-commerce—it seems like every industry is exploring the advantages of artificial intelligence.
For e-commerce companies, artificial intelligence and machine learning help to personalize the shopping experience for customers and improve operational efficiency. For example, a company might use machine learning to create personalized product recommendations for customers based on their demographics or buying habits (if the information is available). We've also seen machine learning used to optimize pricing and inventory management.
2. Continued Growth of Mobile Commerce
Mobile commerce is expected to continue growing in the coming years as more and more consumers use their smartphones to shop online. If you haven't already, it's time to optimize your website and app for mobile devices in order to remain competitive.
SMS marketing efforts are becoming more and more common for similar reasons—smartphones are frequently used, text messaging is a highly personalized channel, and engagement rates tend to be faster.
3. Increased Use of Chatbots and Other Automation Technologies
E-commerce companies may increasingly use chatbots and other automation technologies to provide personalized support to customers and streamline operational processes.
For example, a company might use chatbots to answer frequently asked questions or to provide personalized product recommendations to customers. They're also incredibly useful for sales teams to learn more about prospective customers before engaging with them further.
4. Continued Expansion of Social Media Commerce
Social media platforms such as Facebook, Instagram, and Pinterest are expected to continue expanding their e-commerce offerings, making it easier for businesses to sell products directly on these platforms.
5. Increased Focus on Sustainability
Consumers are becoming more environmentally and socially conscious. In fact, according to research reported by CleanLink, nearly 80 percent of U.S. consumers consider sustainability when making at least some purchases.
E-commerce companies may need to adapt by offering more sustainable products and practices. According to the same research, almost 80 percent of retailers believe their sustainability efforts pay off in increased customer loyalty.
6. Continued Expansion of Global E-Commerce
E-commerce is expected to continue growing globally in the coming years with more businesses entering the market and more consumers shopping online internationally. This may create new opportunities for e-commerce companies to expand their operations and reach new customers.
7. Increased Use of Virtual and Augmented Reality
E-commerce companies may increasingly use virtual and augmented reality technologies to enhance the shopping experience for customers. For example, companies might use virtual reality to:
Allow customers to try on clothes or see how furniture would look in their homes before making a purchase

Create a virtual store that customers can visit from the comfort of their own home

Provide immersive learning experiences
8. Continued Growth of Subscription-Based Models
Subscription-based models, in which customers pay a recurring fee to receive regular shipments of products, are expected to continue growing in popularity. E-commerce companies may need to adapt by offering subscription options for their products.
Ready to learn how our e-comm marketers can help you? Get in touch!
9. Increased Use of Voice Assistants for Shopping
Voice assistants such as Amazon's Alexa and Google Assistant are expected to become more popular for shopping as more and more consumers use these devices to make purchases and get recommendations. E-commerce companies may need to optimize their products and services for voice assistants in order to remain competitive.
10. Continued Expansion of Omnichannel Retail
Omnichannel retail—customers' ability to shop through a variety of channels such as online, in-store, and via mobile apps—is expected to continue growing in popularity. E-commerce companies may need to adapt by offering a seamless shopping experience across all channels.
11. Increased Use of Influencer Marketing
Influencer marketing, in which businesses work with social media influencers to promote their products, is expected to continue growing in popularity. The blend of online sharing and shopping has proven to be incredibly effective for e-commerce businesses.
E-commerce companies may need to adapt by developing influencer marketing strategies in order to reach new customers.
12. Increased Focus on Customer Experience
E-commerce companies are expected to place an increasing emphasis on customer experience, as consumers become more discerning and expect a seamless and personalized shopping experience. Companies may need to invest in technologies such as chatbots and artificial intelligence in order to provide a better customer experience.
13. Customer Service as a Differentiating Factor
Providing exceptional customer service is about availability not only before but after the sale as well. Customer service teams need to be:
Responsive and effective problem solvers

Active listeners to pick up on trends expressed by multiple customers
As we mentioned in the previous section, new technologies such as chatbots have a series of responses that make the customer feel like they are interacting with another person as their issues are resolved.
14. Inflation Impacting Average Order Value
In 2021, the world saw an increase in inflation rates that most countries hadn't experienced in decades. Retailers should play it safe by expecting inflation to affect spending in 2023. More conscious spending might result in lower average order values.
That being said, this moment is a big opportunity to win loyal customers by offering them:
Flexible returns

Exchanges over returns

Budget-conscious options

Bundling products
Sixty-seven percent of shoppers read the returns page before making a purchase, so do your business a favor by creating or updating a returns policy and returns webpage. Without one, you could lose out on sales.
15. Flexibility in Fulfillment
Among the many changes that occurred during the height of the COVID-19 pandemic, online shopping increased drastically. For shoppers who prefer an in-person shopping experience, buy online, pick up in store (BOPIS) will remain a go-to choice.
This option gives customers the convenience of online shopping and the certainty of an in-person shopping experience. This flexibility is an effective way to promote your omnichannel experience.
16. More Payment Options
With the rise in the number of payment options available, retailers that don't offer a variety of payment options risk losing sales. Considering the prediction that 60 percent of the world population is expected to use digital wallets by 2026, your store can get ahead of the curve by offering leading digital wallets such as PayPal, Apple Pay, and Google Pay.
Implement 2023 E-Commerce Trends with SmartBug Marketers
Although we don't have a crystal ball that lets us look into the future, our e-commerce marketers stay up to date on the changes in the industry to deliver the best possible content with the best possible results.
To learn about the strategies we use to help our clients retain customers, read Repeat Customers: How to Get E-Commerce Customers to Swipe Right on Your Business.
Ready to learn how our e-comm marketers can help you? Get in touch!

About the author
Ryan O'Connor was formerly SmartBug's Director of E-commerce Growth, product manager, and sales director. He enjoys helping readers learn how to solve big business challenges through consumer psychology within the constantly evolving e-commerce landscape. Over the past 10 years, Ryan has helped 1000s of DTC brands navigate challenges to grow fast through intelligent marketing. He's not afraid to get his hands dirty, having launched his own e-commerce stores from the ground up. Read more articles by Ryan O'Connor.
Subscribe to get our new blogs delivered right to your inbox
Other insights you might like