It's More Than Designing a Website — It's About Helping People in Pain
---
Overview
Let us introduce you to Donald Berry: father of six, a former competitive weight trainer, and a patient of DISC Sports & Spine Center who had suffered with back pain for many years. He is just one of the five patients that we interviewed during the discovery process to identify buyer personas for the practice's website redesign project. His story was, unfortunately, all too common among those that we spoke to throughout this project. Patients like Donald had been suffering with pain and been misdiagnosed or given incorrect and ineffective information to relieve their pain.


"I've suffered with my back for over 15 years, steadily over the years it grew worse. By the time I got to Dr. Bray (at DISC Sports & Spine Center) I couldn't walk more than a couple hundred feet without pain or numbness. A couple hours after surgery they had me stand up and it was such an amazing difference I actually don't have words for it. The best experience I've ever had medically. Even to this day, I celebrate when I stand up. I use a personal trainer and he is absolutely amazed where I am now. My only regret is not getting to DISC sooner." - Donald Berry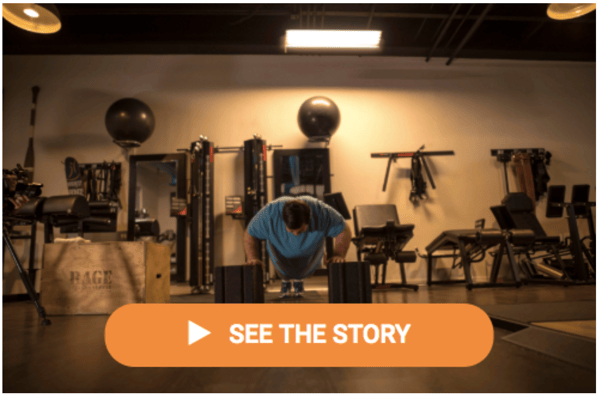 Dr. Robert Bray of DISC Sport & Spine Center is a world-renowned spinal surgeon who came to SmartBug Media® to redesign the company's website on the HubSpot platform, start an inbound marketing program, and help the organization connect with patients like Donald Berry and share those success stories on a new website.
Increase in Visits from Organic Traffic
15
%
Increase in Contacts from Organic Traffic
900
%
Increase in Visits from Social Media
1193
%
Background
DISC Sports & Spine Center was established and founded in 2006 by Dr. Robert Bray Jr., a board certified neurological spine surgeon, who has performed more than 13,000 surgeries, holds more than 27 patents, and has trained more than 25 fellows throughout his career. DISC Sports & Spine Center has two state-of-the-art facilities located in Southern California — one in Marina del Rey and the other in Newport Beach. There are about 40 physicians who focus on these main areas of service:
Spine care

Sports medicine

Orthopedics

Pain management
The old DISC Sports & Spine Center website was built on the WordPress platform and hadn't been updated for many years prior to hiring SmartBug Media. The website looked outdated and was performing poorly when it came to lead generation. There were limited opportunities for visitors to convert on the website because there was only one form to request an appointment as shown below.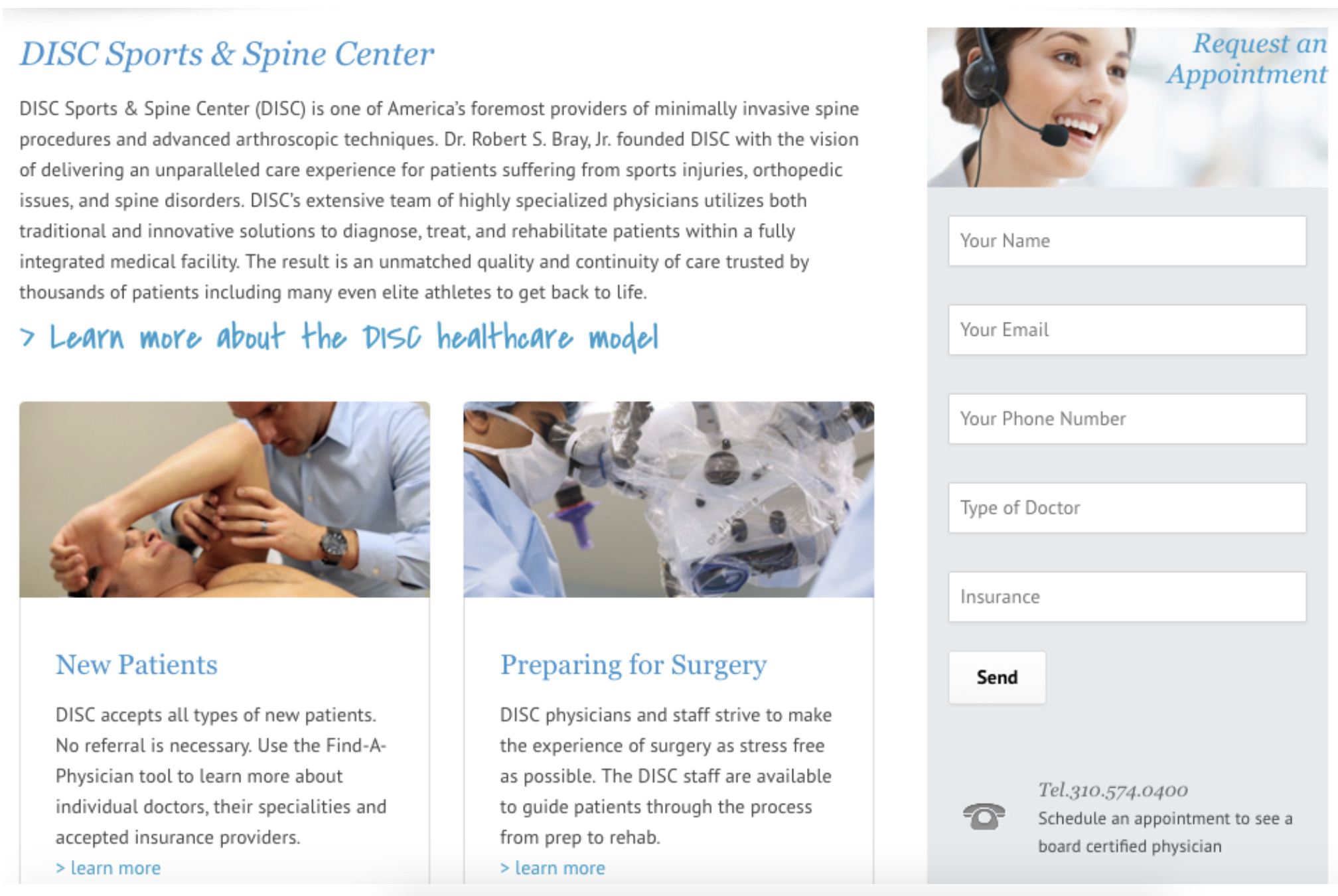 The Problem
Standing Out Among the Crowd
There are hundreds of hospitals, physicians, and healthcare centers in Southern California serving nearly 24 million people and offering spine care, orthopedics, and pain management services. As the competition within the marketplace continued to grow rapidly, DISC Sports & Spine Center knew that it needed to hire a marketing agency to help it stand out from the competition and continue to bring in new patients to the practice. The brand needed to optimize its new website for local SEO and highlight its world renowned specialists, state-of-the-art outpatient surgery centers, promote its Zero Surgical MRSA Infection Rate at the Newport Beach location, and share patient success stories.

DISC Sports & Spine Center believes that in "many orthopedic and spine issues, the most aggressive intervention is not necessarily the most advantageous one." Therefore, it was important to communicate this message throughout the new website and appeal to the brand's buyer personas and target audience in Southern California. DISC Sports & Spine Center also recognized that more and more people, particularly those living in warmer clients such as California, are seeking ways to live a healthier and more active lifestyle. As such, the website needed to target people who were looking to improve their overall well-being, which meant using plenty of health and wellness images.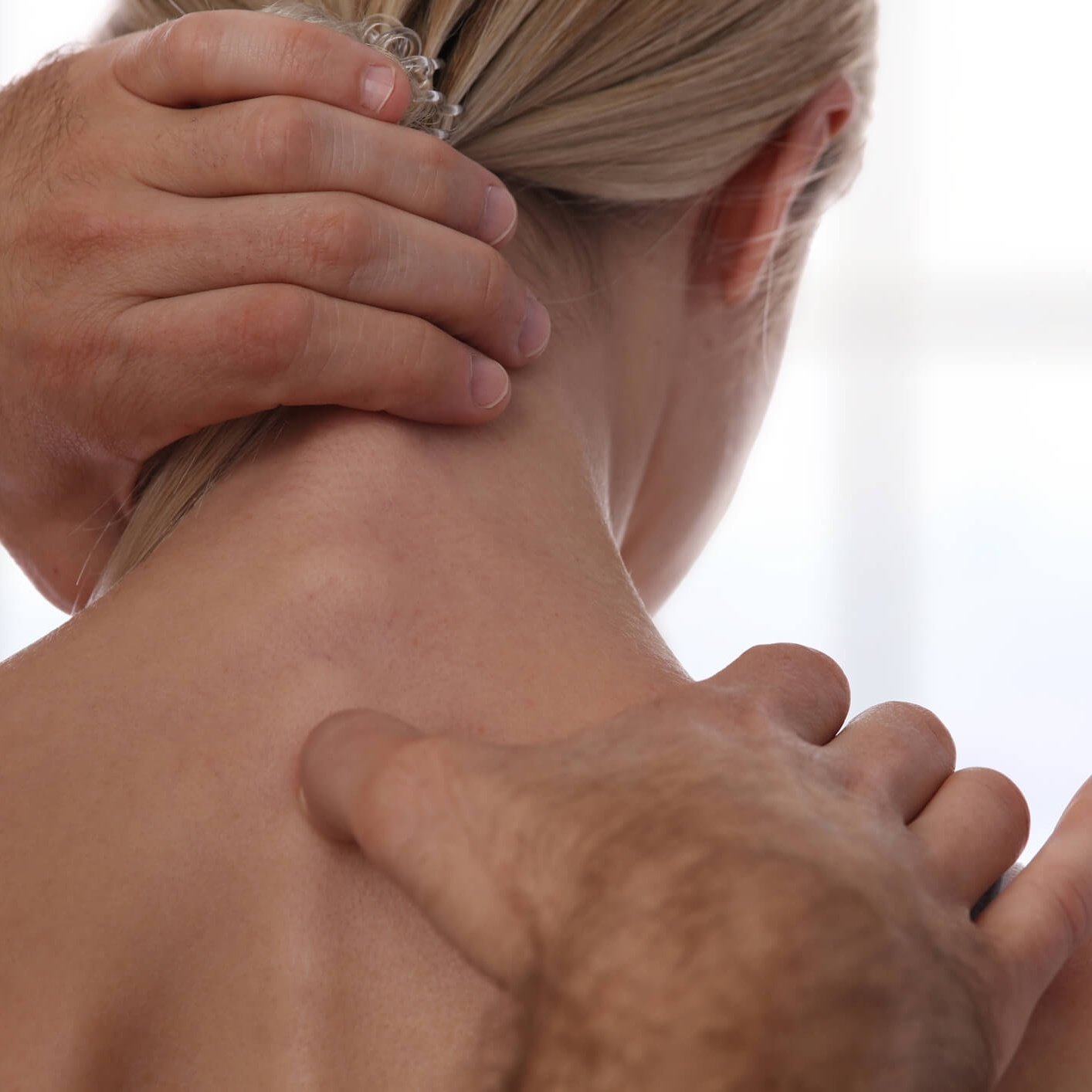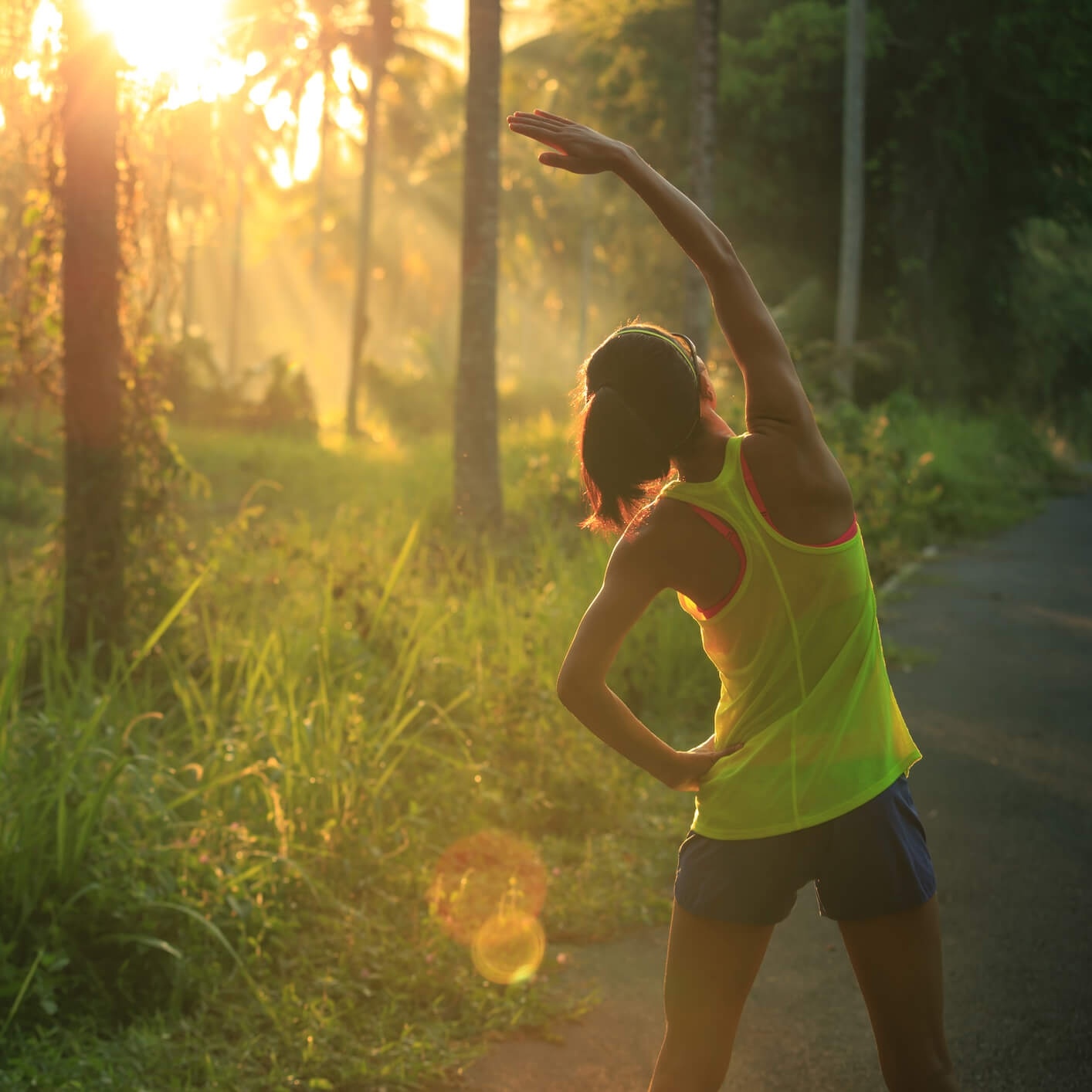 Our Solution
Delivering the Works
Inbound Marketing
HubSpot Implementation
Paid Media Strategy
Website Design
Based on interviews of several patients, we identified that the ideal buyer persona profile consisted of the following traits:
An individual in need of spine surgery
One that has the ability to pay for the surgery/treatment/procedure through insurance and/or out of pocket
Is a resident of Southern California or has the ability to travel to Southern California to one of the two DISC Sports & Spine Center locations
These individuals also wanted to be able to connect with and trust their physician to provide the best care possible. It was important for us to communicate DISC Sports & Spine Center's meaningful value proposition on the website throughout the website copy as outlined in their mission statement:
"DISC Sports & Spine Center is committed to providing personalized, top-quality diagnosis and treatment to patients suffering from sports injuries, orthopedic issues, and spine disorders. To accomplish this mission, DISC has developed a highly integrated approach that customizes care across DISCiplines while embracing minimally and non-invasive techniques."
To appeal to its target audience, we needed to create a new sitemap that outlined the most important information based on the personas' buyer's journey. We created new resources for contacts to download and read about spine care and to assist with lead generation. While designing the new website, DISC Sports & Spine Center developed several new videos to share their patients' stories and to help visitors connect with the physicians. We needed to write and create new support pages and allow the website visitor to tour the facilities while online, too.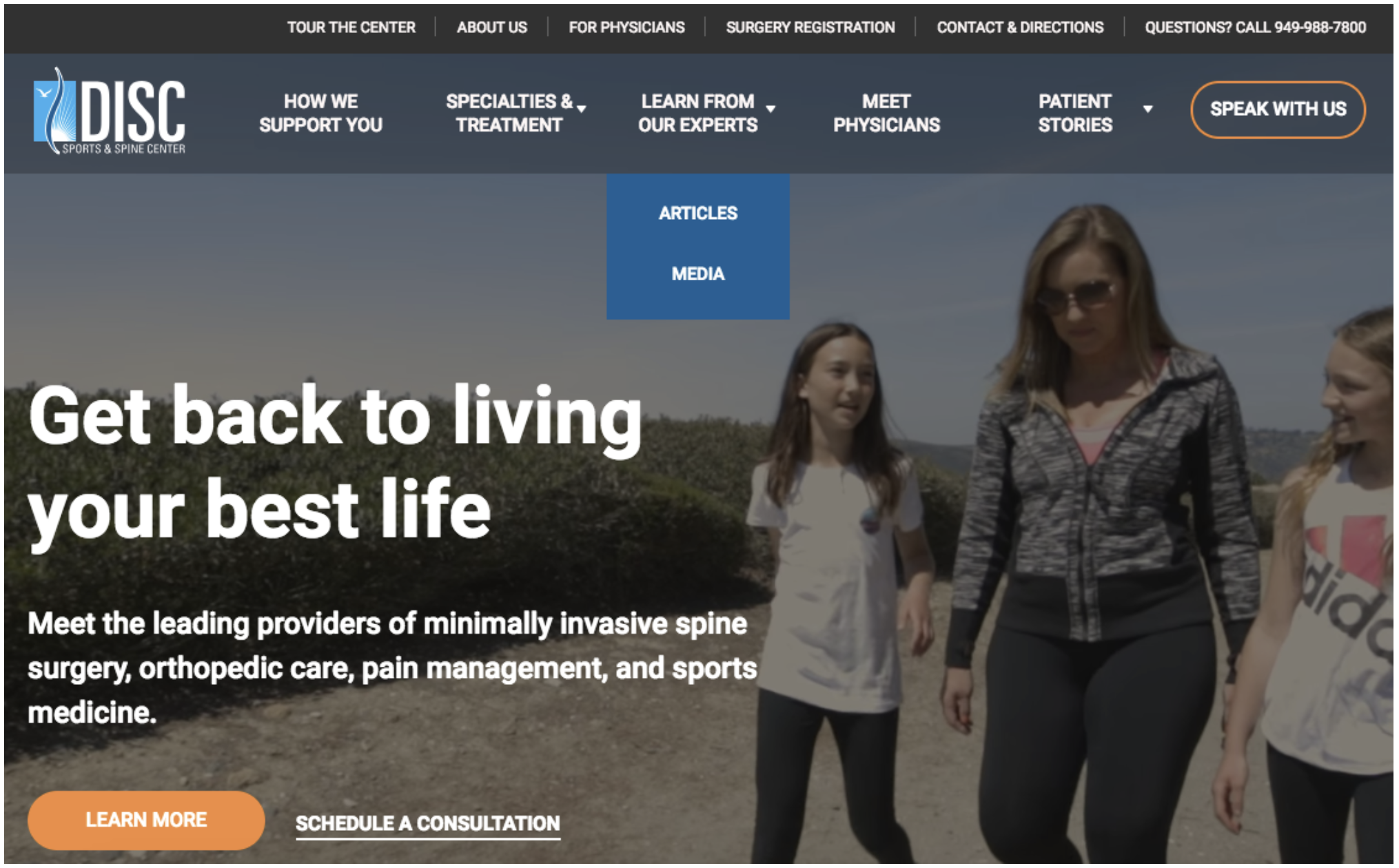 We added additional CTAs in bright orange throughout the website to make it easier for visitors to research information about treatment options, learn about the physicians, and request an appointment or speak with DISC Sports & Spine Center. Throughout the website, we included photos of individuals horseback riding, running, weight lifting, riding bikes, and hiking to appeal to the target audience that is living a more active lifestyle in Southern California.
The Results
Increased Leads, Increased Revenue
After several months of defining the buyer personas, outlining a new sitemap, creating wireframes, and designing mockups, we developed a new website on the HubSpot platform. Within the first week of launching the new website, we saw a huge improvement in the website's performance. Website traffic increased from all sources and contacts were converting on a daily basis. Within one week, we saw the following results:
1193% increase in visits from social media traffic
900% increase in contacts from organic traffic
340% increase in visits from referral traffic
100% increase in contacts from referrals
15% increase in visits from organic traffic
DISC Sports & Spine Center also gained 21 new SQL contacts that requested an appointment or to speak with the company within the first week of launching the website. This surpassed the goal of 15 new contacts for the entire month!
Over the course of almost two months, DISC Sports & Spine Center has received 81 new SQL contacts that have completed a form to request an appointment or to speak with someone at the centers. The blog has also received more than 5,500 views from weekly posting and organic traffic resulted in 48 new contacts due to improving the website's on-page SEO.
Our Impact
Our team was personally touched by DISC Sports & Spine Center physicians, not only while working with them on the website project but also through the treatment of a family member of a SmartBug employee. This individual became a patient of Dr. Bray's during the website project and was treated at the surgery center. While undergoing treatment, they met with 10 different staff members, all who knew about the redesign project and couldn't stop talking about the impact the website had had on the organization. These staff members were grateful that they could impact even more lives through connections made on the new website.
"We rarely — if ever — get the opportunity to spend time with the people who are impacted by our work. It's been very fulfilling to have experienced this, and I wanted to share their thanks with all of you at SmartBug." - Jen Spencer, CEO of SmartBug Media and family member to one of DISC Sports & Spine Center patients
Before working with SmartBug Media, the goal was to increase the number of surgeries generated from the website's online requests to five a month. After the website launched, Dr. Bray alone started performing three surgeries per day! The total number of surgeries performed per month has more than doubled since launching the new website.
See our full expertise in