By Rachel Moore
HubSpot's annual State of Inbound Marketing Report (SOIM) was recently released and, this time around, takes a distinctly different focus. For the first time, this year's report acknowledged inbound was no longer in its "early adopter" phase—it is a full-fledged and widely adopted marketing strategy that has outpaced outbound tactics around the world.
As the world of inbound marketing has matured, so has the SOIM report. Previous reports "tracked the practice and adoption of inbound marketing" and included information on how "blasting out interruptive ads and trying to pull people to your company" is no longer working and, instead, inbound tactics, which "use helpful content to attract visitors and get them to engage of their own volition," are the new norm. This year's report, on the other hand, largely stayed away from standbys of previous years like blogging frequency and success data, conversion rate by offer type, and so on. While the 2015 report contains an enormous amount of content, in comparison to previous years, surprisingly little of it is about, well, content.
That's not to say content strategy and content marketing were completely absent from the report—there were three interesting insights in the realm of content worth mentioning: that marketing content creation is no longer limited to in-house writers, that content from varied sources generates the highest ROI, and that there are regional differences between inbound marketers' concerns as they relate to the internationalization of content.
Let's explore each of these three insights:
1. Marketing content creation is no longer limited to in-house writers.
Inbound marketing is all about creating compelling content that attracts buyer personas and helps convert the right traffic into leads and customers. However, creating all this content can be a big undertaking for organizations—especially those with more than one persona or with limited internal content creation resources. This year's SOIM report showed an increase in the number of organizations that use agency partners and freelancers in order to provide marketing content: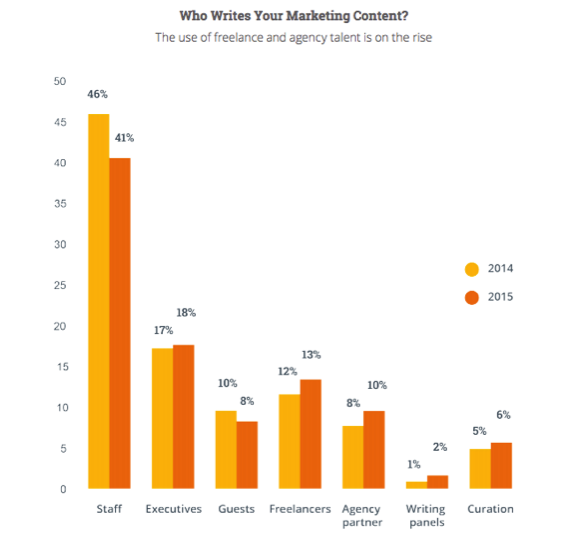 Why go the freelancer or agency route? Depending on your industry, employing an agency (especially one that uses professional writers) can make it possible to publish a consistent volume of high-quality content on a regular basis. And with the greatest benefit from blogging not seen until you have 300 or more published posts, having a partner on hand in order to help create that content (blog posts or otherwise) is a huge boon to ongoing inbound success.
2. Leading marketers' content comes from in-house and out.
Building off the finding that organizations are no longer limiting their content creation opportunities to in-house staff, this year's SOIM report found marketers also see the greatest ROI from using varied content creation sources as well.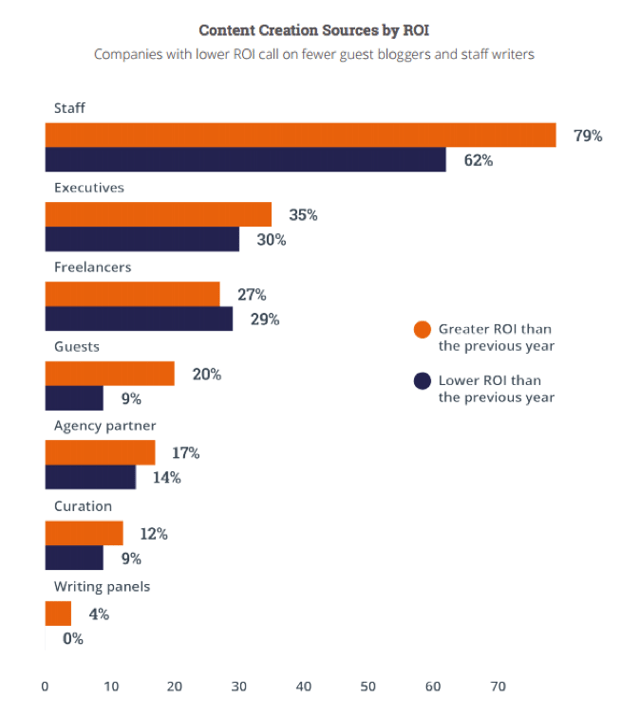 While we do see agency partners and freelancers on this list, notable additions are guest content creation (from internal sources, like executives writing articles, as well as true external guest writers) and content curation. These tactics make the list for good reason: Guest content not only produces additional traffic and lead-generation assets, but it's also a great way to build industry relationships as well as inbound links, which can be a great asset to your SEO strategy—while curating existing content can be a fantastic way to quickly produce valuable new content on an expedited basis.
3. Regional differences exist regarding marketing challenges and content strategy.
As inbound becomes more of a "household name" in the US, it's gaining steam (and a lot of it) internationally as well. In fact, this year's SOIM report gathered data from more than 150 different countries and across five regions and found that, worldwide, inbound is at least three times as popular as outbound.
While inbound marketing is being used—and being used effectively—on a global scale, there are some regional differences between the greatest challenges that marketers face. In terms of content, one of the most interesting differences was that while creating content tailored to specific audiences was a strong concern for respondents in the Asia Pacific region (not including Australia and New Zealand) as well as Europe, the Middle East, Africa, and Latin America, it was significantly less of a concern for marketers in North America and Australia/New Zealand.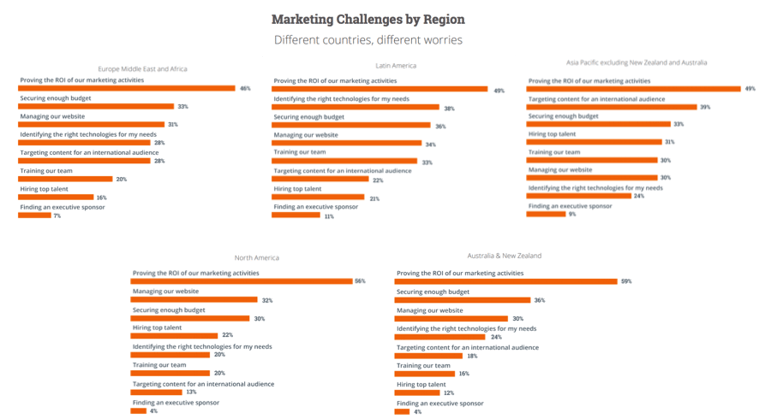 Thinking about things from a linguistic perspective, this really isn't that surprising. A 2012 Harvard Business Review study found that "English is now the global language of business" and that "more multinational companies are mandating English as the common corporate language…in an attempt to facilitate communication and performance across geographically diverse functions and business endeavors." Because the main goal of making content accessible for international audiences is to make it available to and accessible by as a large an audience as possible, the companies that already speak English (i.e. those in the North America and Australia/New Zealand regions) aren't terribly concerned with translating their content to foreign languages, while those in regions where English is not the predominant language do find this more of a focus.
While the 2015 SOIM report did not focus as heavily on content as it did in previous years, there were still some interesting takeaways regarding content creation strategies and the internationalization of inbound's implications for content creation.
Did you read the SOIM report? What were your most interesting takeaways?