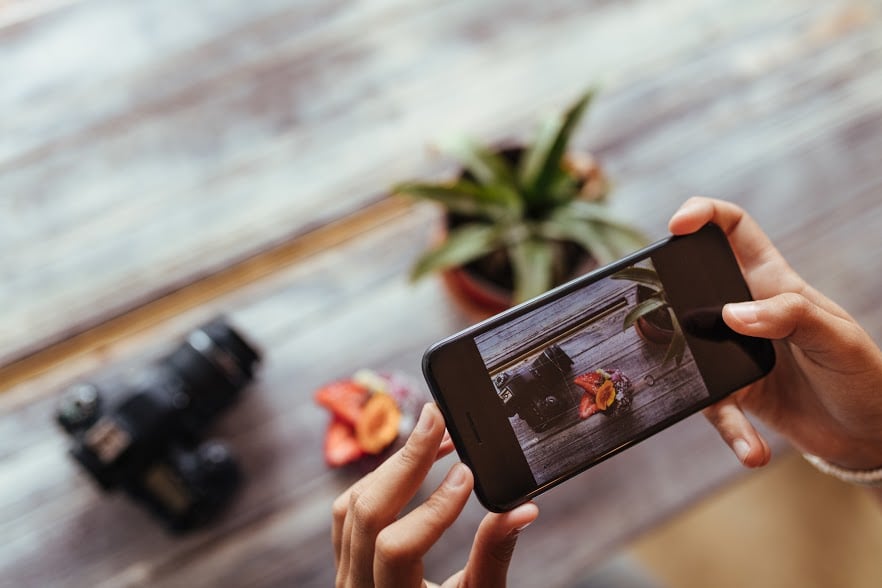 When to Use Photos vs. Illustrations on Your Website
September 3, 2019
---
Just because the design phase of your website launch or redesign may not officially begin until your copy has been approved doesn't mean that you should be ignoring the creative side of your website until then.
Considering that 48 percent of people believe that a website's design is the number one determinant of credibility, your design decisions should be given a lot of weight. In fact, there are many design-oriented questions that will need answers. One of the most important decisions you'll have to make is this one: Photos or illustrations?
Unfortunately, there is no simple answer. Both photos and illustrations have their own benefits and their own constraints. Rather than start your decision-making process by focusing on these, I urge you to start thinking through your options differently. Start by considering which type of imagery would best resonate with your personas.
Using Photography on Your Website
Over recent years, using photography on websites has become the norm for many businesses. When you consider the advantages and use cases for photography, it's not hard to see why. Photographs allow you to:
Stir up emotions: By using photography, especially photos of people, a website becomes more personable and relatable. Looking at a senior care community's website, I think to myself, That woman could be my grandma. Or looking at a coworking site in Bogotá, That woman could be me. The photos make the company's services less intimidating and more personal.
Establish credibility: There are a number of ways that photos can be used to add credibility to an organization, including using real photos of the company's employees, providing a behind-the-scenes look at an office location, or using a before/after timelapse to demonstrate results.
Generate understanding: The phrase "a picture is worth a thousand words" might be overused, but there's certainly something to it. Especially if the bread and butter of your business has to do with complicated, proprietary, or new and innovative products, actual product photos—or even stock photos that demonstrate similar products or outcomes—can help users contextualize and better understand what your products can help them accomplish.
A quick note on stock photography: It's become the norm to use stock photography on websites, and although that isn't necessarily a bad thing, it means that if you plan to use stock photos on your site, you'll need to keep an eye on what your competitors use to make sure you're not using the same images.
You can still use photography to differentiate yourself from your competition, but in order to do so, you'll want to use custom photography as much as possible. This will ensure not only that all imagery on your site is totally brand-appropriate, but also that the photography you showcase on your site will be unique to your company.
Using Illustrations on Your Website
The world of illustrations can be a complex one. Illustrations run the spectrum from large, beautiful pieces of art to small, simple icons. Regardless of the type of illustrations you might want to use on your site, there are a number of benefits to using illustrations.
Illustrations make the abstract tangible: If your website focuses on something more nebulous, like a service, lifestyle, or idea, there aren't specific product images that can accomplish the same effect. That's where custom illustrations come in. Much like cologne or perfume commercials attempt to portray a specific feeling rather than the actual scents they're selling, illustrations do the same. Illustrations can make an intangible feeling tangible.

Custom illustrations stand out from the crowd: This is true of larger illustrations more than smaller icons. Because illustrations have the ability to convey not only a product's capabilities, but also the aesthetic and visual tone of the brand, they are able to make an impact. Just like product shots one brand to another can be quite similar, it is the visual brand and aesthetic that stick out and make a lasting impression.
Illustrations are trending: A number of well-known organizations in the design space (think 99designs, Mockplus, Designmodo, and InVision) come out with their design predictions on a yearly basis. Gearing up for 2019, nearly all mentioned a number of illustration-oriented design trends, and many of the sites leading the charge featured custom illustrations.
Why wouldn't you want to feature custom illustrations on your site? Two reasons:.
Custom illustrations are, you guessed it, custom, which means creating them takes time. Because many website launches or redesigns operate on a highly accelerated schedule, you need to ensure that you have the time you'll need to fit the creation of custom illustrations into your calendar.
Although designing a site to be in line with trends demonstrates the modernity of your organization, trends change quickly and drastically. If, for example, design trends for 2020 were to move away from custom illustrations, would your company website be able to keep up? If not, your website will go from cutting-edge to super dated, super fast.
What's the Verdict?
Well, unfortunately, there isn't one. But that's not a bad thing! Many sites use a mixture of photography and custom illustrations—and you can, too. Ultimately, though, as you deliberate over photography versus illustration, you need to ensure that your images meet the following criteria:
They are on brand.
They are modern (they don't need to be trendy, but they do need to not be dated).
They accomplish what they need to accomplish. Whether it's portraying a complicated emotion or demonstrating something specific, what's most important is that the images satisfy their purpose.
When it comes to your new website, be sure to select the image style best suited to your brand.

About the author
Kristen Patel was formerly a CRO Strategist at SmartBug Media. She joined the team with years of inbound agency experience under her belt, and two Bachelors of Science in International Marketing. While technically based in Maryland, she's often on the move (2018 will bring her to Guatemala, Belize, Mexico... and that's only through February!). Read more articles by Kristen Patel.
Subscribe to get our new blogs delivered right to your inbox
Other insights you might like