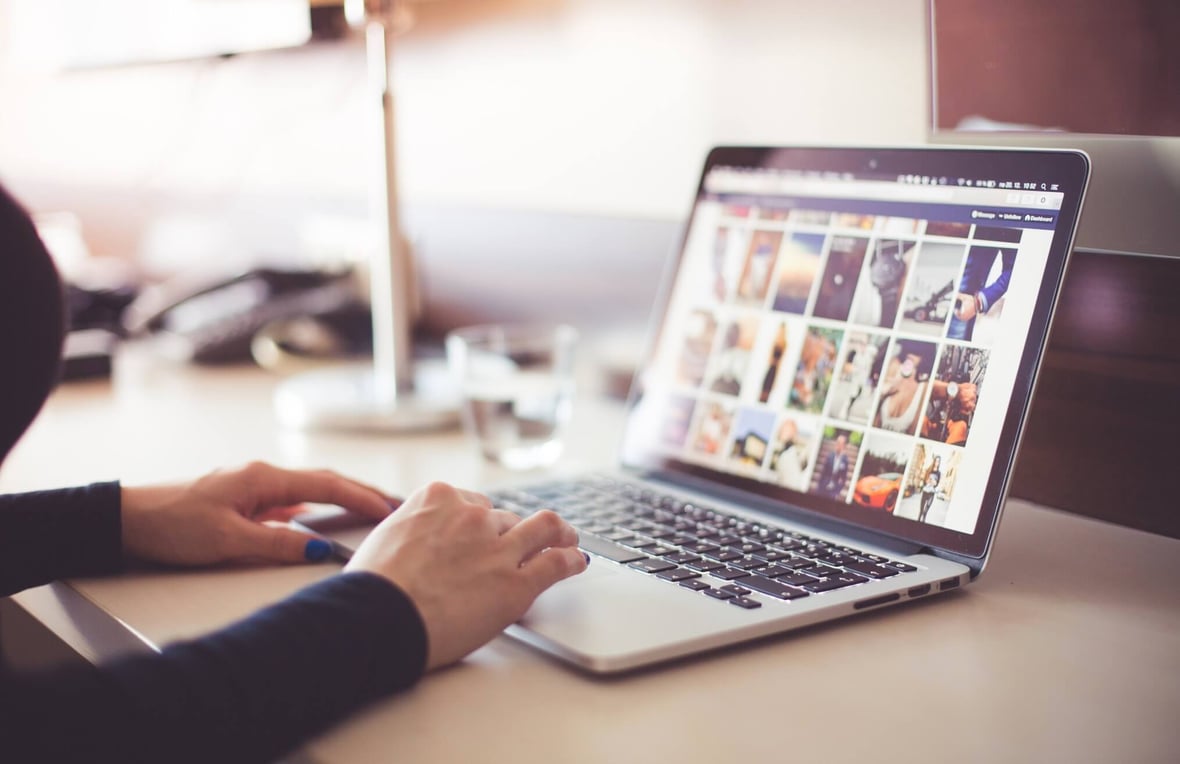 How to Choose the Right Stock Photos
December 19, 2017
---
Stock photos: Important marketing tool or necessary evil? Alas, the answer is a little bit of both.
We've all seen stock photos of professionals in a business setting laughing at the camera, holding up random charts, or giving an enthusiastic thumbs-up. Or we've cringed at the staged images of a desktop or laptop with a random cup of coffee strategically placed next to it. Spotting a non-authentic, staged, shouldn't-this-come-with-a-picture-frame photo is super easy. Yet, your content still needs some sort of artwork—according to the MDG blog, content featuring compelling images averages 94 percent more total views than those without.
Good stock photos—authentic-looking ones that won't make you gag—are out there. Here are some strategies for finding images that won't ruin your marketing efforts or site design:
Basic Tips
Keep these basic best practices in mind when choosing a stock photo:
Select imagery that reflects the content you are trying to communicate, even articulating the message and evoking emotion—not just something that's "pretty."
Use well-lit photos—images obviously shot with good lighting in mind. And make sure the photos you choose are consistent in lighting so they seem like an actual set.
Use high-res, high-quality images—anything less could harm your brand.
Use relevant, up-to-date imagery.
You can edit images in Canva or Photoshop by adding transparent color overlays or blurring or cropping them.
Not sure if a stock photo you choose has been overused to death? Tineye is a handle tool in which you upload a stock photo into a search and find out how many times this image has been used, along with a list of all the websites it's being used on. This might help you get an idea of how others are using the photo and how you portray it.
People
When searching for people in stock photos, seek out "candids"—natural poses in which the subjects aren't perfectly posed. Consider objects around the image, the subject's expression, what the subject is wearing, what the subject is interacting with, and so on. If you want to draw attention to an element on the page (such as a CTA), consider having the person in the stock photo facing the element to draw more attention to it.
Brand credibility
If your stock images seem fake, your brand's trust could be at risk. Images should reinforce your brand's voice, style, and mood, and even reflect your audience. Check demographic data and your personas, and use that info to pick images of people at the right age and income.
The right purpose
If you are looking for a technology photo, rather than using an awkwardly cropped image of someone's hand on a keyboard or table, find a picture of an entire person interacting naturally with a device in an authentic setting.
Stock photos for blogs might be different than the one you use for a hero image or case study. For example, if you want to apply text to a top of a hero image, choose photos that are text-friendly, meaning you can apply text on one side or the other with enough breathing room so that the copy is easily readable and doesn't obstruct the main focus point of the image.
See the Difference, Know the Difference
The following two images are stock photos, and both upon first glance and on deeper review, you can see how the first one fails and the second one succeeds.
This is the typical cheesy stock photo of professionals in suits smiling at the camera. Besides it being obviously staged, there is too much contrast between the lighting behind the subjects. Also, their suits give off a stark, cold feel. These "employees" might be happy for the camera, but the vibe emanating from the picture is that they will go back to their cubicles and be miserable until the end of the day.
Here's a professional in a modern office, posing naturally (if posing at all), interacting with someone off camera. A person is cropped on the right side to give the photo a more candid feel, as if this took place during an actual meeting. This type of photo can be possibly used in a hero image thanks to the negative space on the left side (where the subject of the photo is conveniently facing), which can be used to include text or a CTA.
Free Stock Photos
Here are some sites where you can find free photos:
Premium Stock Photos
Using a premium stock service such as Getty Images or iStock will help you narrow your search for the type of image you are seeking. Filters cut down the amount of results. For example, a filter could include orientation, which gives you a selection of vertical, horizontal, or landscape photos. This feature comes in handy when finding images for specific layouts such as hero images—you won't be forced to awkwardly crop or distort the image to fit your design.
Other filters include number of people in the image, location, image type, and color. By choosing colors that work with your color palette, your chosen photos will seamlessly blend into your layout.
Some premium photo services that are available include:
Getty Images - One of the most famous and well-known stock photo sites on the web, Getty recently acquired iStock and offers different tiers of subscription plans, ranging from team subscriptions to stock credits for individual image purchases.
Shutterstock - Another option that includes millions of royalty-free stock photos, illustrations, and vectors.
Adobe Stock - Designers can access photos directly from Sketch, Photoshop, and other Adobe programs.

About the author
Amanda Singleton was formerly a Senior Designer at SmartBug Media. With over 8+ years experience in the field, she has an innate sense for clean design and is a strong advocate for the user. Read more articles by Amanda Singleton.
Subscribe to get our new blogs delivered right to your inbox
Other insights you might like