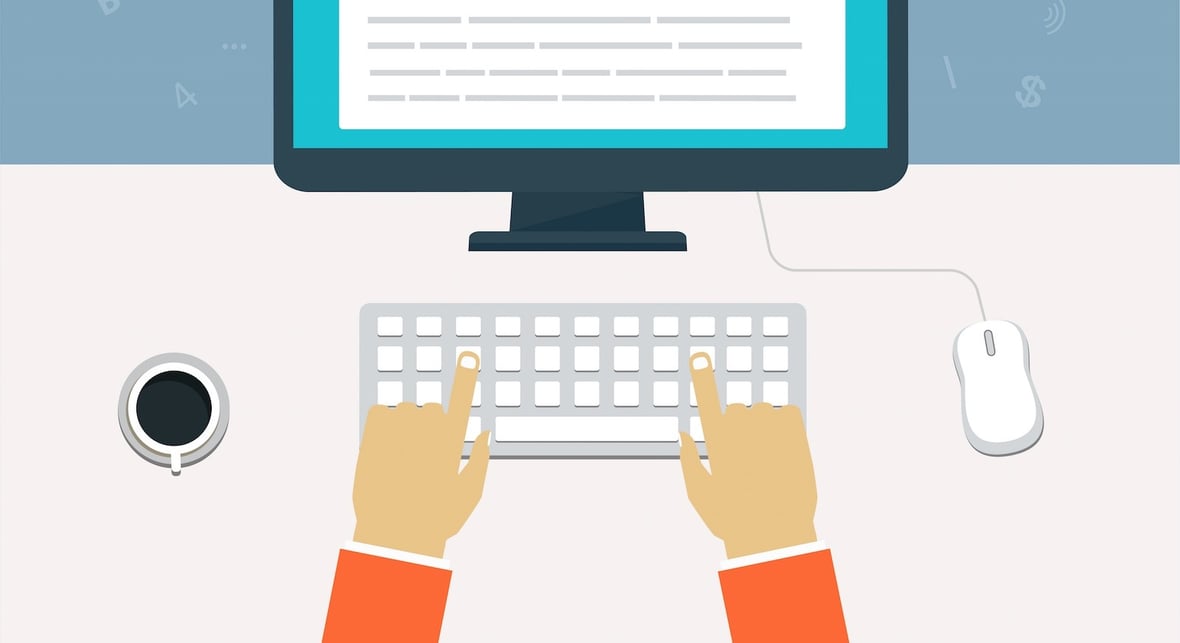 State of Inbound Analysis: Takeaways for Your Blogging Strategy
December 25, 2015
---
By Juli Durante
HubSpot's seventh annual State of Inbound report analyzes data from thousands of marketing and sales professionals and reports on the lead-to-customer lifecycle that both parties are tasked with refining.
The report found that three out of four marketers—75%—"prioritize an inbound approach to marketing." Maybe because, according to the report, inbound campaigns show higher return on investment (ROI) than outbound, regardless of company size and budget.
Just as it should be with your inbound strategy, blogging is a key component of this report. Here are some blogging highlights and how to apply them to your efforts:
Proving ROI is Key.
Marketers recognize that all efforts need to be tied back to the return they've contributed, especially if they want additional budget to support those efforts in the future. Reporting ROI for blogging can be a bit trickier than reporting for a broader source like PPC, but it's not impossible. Fortunately, if you're using HubSpot, you can create a list and reports based on page views. Here's how to start your list: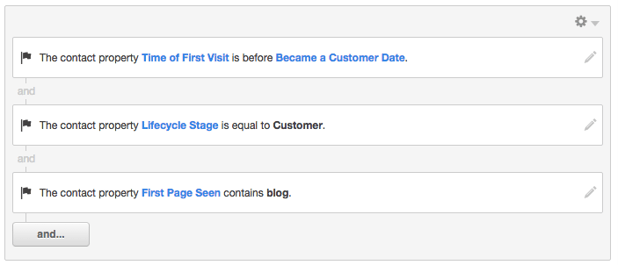 Some key considerations for this list:
We want to make sure our list pulls customers who visited the blog before becoming a customer, so we'll make sure their "Time of First Visit" is before the "Became a Customer Date."
We only want to list customers right now, but you could create this list for any lifecycle stage if it supports your marketing goals.
This list uses "First Page Seen" to pull those who visited the blog first, before other site pages. You may also want to explore the "Page View" filter and pull in everyone who has visited a URL containing "blog" (or the identifier you use in your URL).
Another option for reporting in HubSpot is the Attribution Report, available in the Enterprise version of the tool. With this report type, you can use a built-in recipe "Website Content & Blog Posts That Generate Leads" and modify from there to suit your needs.
Blogging Isn't Overrated.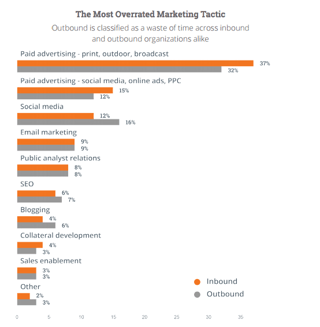 Marketers have been talking about blogging for a while now: Is blogging an overrated strategy? According to the marketers surveyed, no way. The leading "overrated" tactics were advertising (first print/outdoor/broadcast and then social, online, and PPC), followed by social media. Blogging was one of the least overrated tactics for marketers practicing inbound and outbound strategies.
As a marketer, it's easy to get bogged down in the details of blogging and put it off in favor of more unique projects. But don't abandon your blog—it's an essential part of generating traffic and converting leads.
One caveat of this question: As marketers reported their own "overrated" activities, they may be speaking to their personal success or failure with a specific strategy. For example, it's notoriously difficult to track ROI from print advertising, which has led many to label it "overrated." Similarly, without the proper reporting infrastructure, it can be difficult to track performance for paid ads or social media. Don't write them off yet—first explore how they contribute to your goals, how to measure ROI, and whether or not working with an agency partner will help you see better results from these powerful but often misused channels.
It's Okay to Ask for Help.
While the traditional approach to inbound instructs marketers to create their own content about their brand, not everyone is comfortable writing, and many marketing teams don't have the time to add extensive writing projects to their task lists. This year, State of Inbound found that more marketers are asking for help with content creation: While 59 percent of marketers are using an in-house approach to content creation, in the form of contributions from staff or executives, 32 percent are using an outside source, from guest blogging to freelancers to agency partners.
If writing isn't at the core of what you do well, or if you need some outside help to ensure you're regularly publishing fresh content, it's a good choice to find a reputable, knowledgeable partner who can regularly deliver content that meets all inbound and SEO best practices.
Write On! Keeping The Blogging Going.
If, like me, you can't resist a good blogging pun (WRITE on—get it?), sitting down to write is probably a natural part of your day. If you don't fall into this boat, don't be ashamed. There's nothing wrong with finding different ways to produce content and leaving the blogging to someone else. If you're having trouble blogging, try:
These productivity tips to get you in the right zone to work
This playlist of great workday jams
Interviewing your team for new content ideas
Outsourcing your blog writing to executive, sales, or customer service teams
Working with an agency to create new content
Remember—businesses are "three times as likely to see a higher ROI on inbound marketing campaigns than on outbound." If you've gone "all in" with adopting an inbound marketing strategy, use these blogging takeaways to guide your publishing and meet your goals.

About the author
Juli Durante was formerly a team lead and marketing strategist for SmartBug Media. She has been using HubSpot and practicing inbound marketing since 2011, first as a one-woman inbound marketing team and then at SmartBug. A born and bred Jersey girl, she's a graduate of Rutgers University where she studied Anthropology, Art History, and Classics, making a very natural transition to digital marketing. Juli's education helped her learn more about research, analysis, and Jasper Johns, which she applies today when planning and measuring campaigns. She's particularly passionate about CRO and website optimization. Read more articles by Juli Durante.
Subscribe to get our new blogs delivered right to your inbox
Other insights you might like