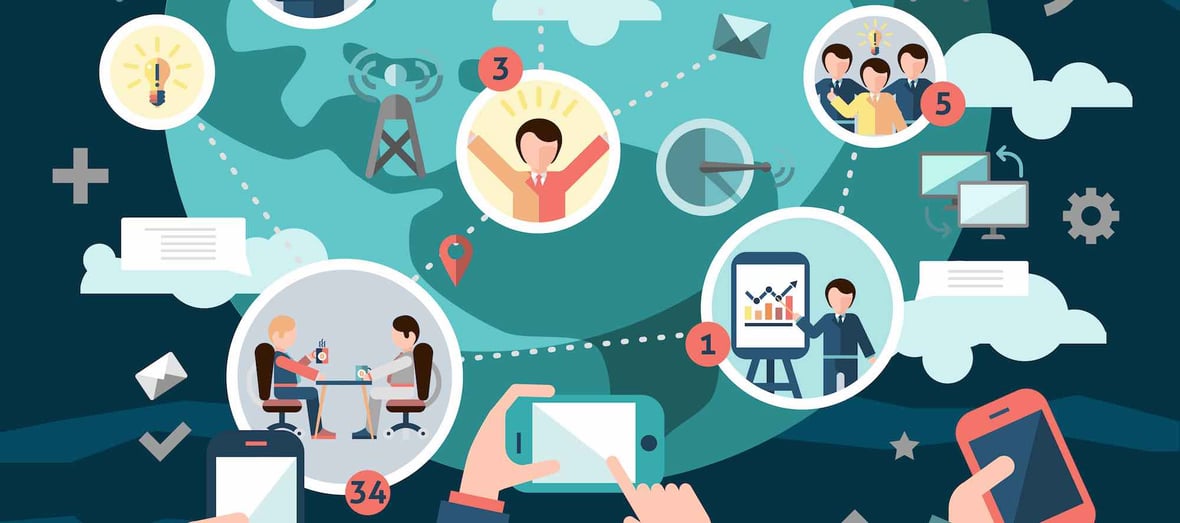 Social Media Strategy: LinkedIn Tips for Professional Networking
April 21, 2016
---
By Juli Durante
LinkedIn, recognized by most as "the business social network" is also the third-highest visited social site, behind Facebook and Twitter. Because of its professional tone, it's often an ideal platform for B2B social media strategies. But beyond brands, LinkedIn is the place for you to network about your industry, career, expertise, and just about every aspect of your work life. Plus, when executed correctly, your personal networking can also translate into company-level results.
Where do you get started with LinkedIn networking for your social media strategy? Check out this recommended approach:
1. Optimize Your Profile
Like most other social sites, LinkedIn makes your profile page the center of your existence on site. As such, there are a number of optimizations you can make to your profile to make it more successful. Here are some key areas to address, from the top down:
Profile Picture
First thing's first: people want to know who they're talking to, even virtually. Add a clear photo of yourself so they can put a face to your name. If you don't have a professional head shot, that's okay; look for a photo of yourself that is clear, high resolution (not pixelated), and lets people see a glimpse of your personality.
Headline
The next profile optimization is to update your headline. LinkedIn gives you the option of writing your own or using your current job title. On my LinkedIn profile, I've gone for a hybrid that simplifies my current title but still lets viewers know what I do. Depending on your networking goals, one or the other may be more appropriate. If you're a job seeker, you may want a more open ended headline that speaks to your skills and experience than a specific statement about your current role.
Location
Location is a somewhat simple choice: depending on where you're located, you might choose a metro area (as I've done) or a specific town. If I lived in Brooklyn, I'd probably list that over "Greater New York City Area," but because I'm living in a small town in the 'burbs, the metro area just makes more sense.
Vanity URL
Just as with other sites, you can create a vanity URL on LinkedIn. You can see full instructions here, just remember to keep your URL professional: your first name or first initial with your last name is a good choice. If that's not available, just keep it simple and memorable.
Other Areas to Consider
Once you get beyond basic information, LinkedIn Lets you supply a summary, List work experience and projects, include volunteer experience, and showcase skills and recommendations. You'll want to build out your:
Summary Section
This is an open-ended section - you can write whatever you want! Depending on your networking goals, it's a good idea to include information about yourself and your experience, the kind of work you're looking for (if any), and perhaps your company (especially if you're in a sales or senior leadership role).
Experience
The "experience" section on LinkedIn is the most like a traditional resume–with the additional ability to add projects and recommendations for a particular role. You may want to link to design samples, a blog you contribute to, or details about a particular project. Think of the "Experience" section on LinkedIn like a combination of a resume and a portfolio, all in one!
Groups
Once your profile is in top shape, it's time to start looking at how you can engage and network in LinkedIn's Groups. While my gut instinct was that there are approximately one gajillion groups on LinkedIn, it turns out there are actually 1.7 million groups to choose from. They exist for everything from user groups to volunteer causes to more traditional networking groups and more. Basically, if you can think of it, there's a group for it.
And while you might have been publishing company content to LinkedIn groups to get more visits to your website, groups are also a powerful networking tool. Instead of simply sharing links back, think about building rapport within those groups: help others when they ask a question, offer unbiased feedback in industry groups, ask questions or post discussion topics that don't include links back to your site. All of these options will help you network and get to know other group members.
Publishing
In addition to profiles and groups, LinkedIn now has the Publishing Platform. It's open to all - even you! When you publish on LinkedIn, you have the ability to share long form content that positions you as an innovative thinker and news source in and beyond your network. LinkedIn Pulse is the perfect place to publish the content that seems like "not quite the right fit" for your corporate blog. The content on this platform tends to be more thought provoking and even controversial than what a company might publish. Other readers can comment with their thoughts, and you can (and should!) reply.
To get started, navigate in LinkedIn to "Interests" and click on "Pulse." Then, you'll see the "publish a post" button on the top right.
Commenting, Liking, and Engaging
Finally, when thinking about networking on LinkedIn in general, remember it's always a good idea to engage with others. In groups and in your timeline feed, like posts you think are noteworthy, comment when you have a question or addition to the content, and join conversations where you have expertise to offer. Remember, you can't win the game if you're not playing.
What are your best networking tips for LinkedIn?

About the author
Juli Durante was formerly a team lead and marketing strategist for SmartBug Media. She has been using HubSpot and practicing inbound marketing since 2011, first as a one-woman inbound marketing team and then at SmartBug. A born and bred Jersey girl, she's a graduate of Rutgers University where she studied Anthropology, Art History, and Classics, making a very natural transition to digital marketing. Juli's education helped her learn more about research, analysis, and Jasper Johns, which she applies today when planning and measuring campaigns. She's particularly passionate about CRO and website optimization. Read more articles by Juli Durante.
Subscribe to get our new blogs delivered right to your inbox
Other insights you might like