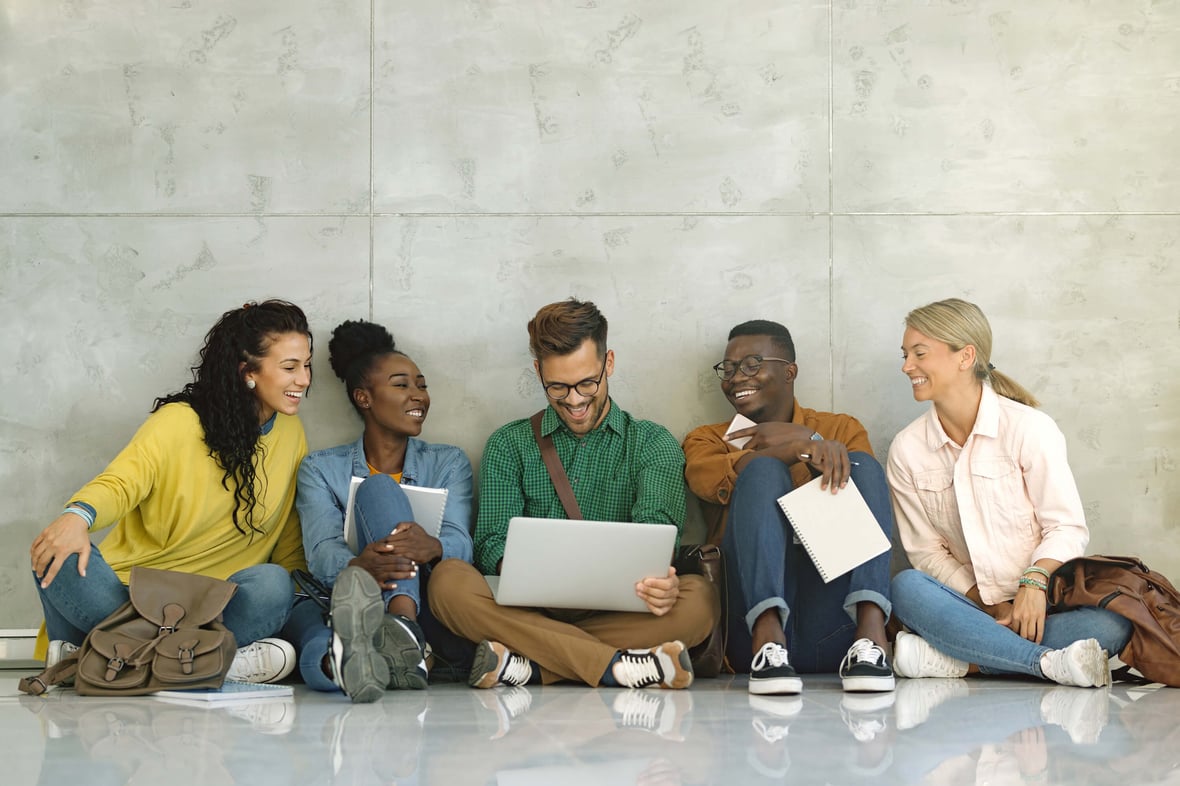 How to Transform Higher Education Marketing for the Digital Landscape
June 11, 2021
---
By Sarah Mead
Higher education is a unique and competitive landscape—one that pushes marketers to continuously think outside the box to have their brand stand out in a crowded marketplace. Now more than ever, with online degree options readily available and more people taking unconventional pathways in their education, the pressure is on.
Other challenges can mount in the form of limited resources, siloed teams with differing priorities, inadequate technology structures, and changes in legislation, to name a few. Plus, many long-standing institutions grapple with the need to please stakeholders by upholding traditional marketing tactics that are considered "tried and true."


Is It Time to Break with Tradition in Higher Education Marketing?
It's not always necessary to break with tradition. In fact, there is tremendous value in reflecting on historical efforts to make informed decisions moving forward. After all, how can we innovate and invent when we don't know the path that got us to the present?
Rather than making the assumption that it is necessary to break with tradition, perhaps it's time to refocus historic higher education marketing tactics so they are intentional and measurable. Traditional efforts still have a home—and they can be amplified with digital marketing.


How to Transform Higher Education Marketing Tactics for the Digital Landscape
We've taken a few tried-and-true higher education marketing tactics and provided some ideas on how to make the most out of your marketing efforts. As we all know, marketing is not one-size-fits-all—so take these ideas as inspiration and identify the ones that make sense for your institution.
Strategy #1: Build Relationships with High Schools and Educational Consultants
Relationships are key to any good marketing strategy, as referrals play a crucial role in building new business. According to commonly cited research conducted by Nielsen, 92% of consumers trust referrals from people they know. Keep building loyal relationships throughout the year with these tactics.
Marketing tactics to further enhance this strategy:
Leverage personalized videos in your email outreach. People crave connection, and they will appreciate seeing the person on the other end of the email thread. Incorporating video into your strategy is an excellent way to increase engagement with your team.
Enroll your contacts into year-long nurture workflows. Map out your strategy based on the academic year and share helpful content with contacts. Incorporate automated email, phone, and even direct mail touchpoints along the way.
Strategy #2: Purchase SAT or ACT Lists
I can't go on the record and say that I always recommend purchasing lists, as I'm a big believer in organically gathering qualified leads who you can connect with along the way. That said, this is an acknowledgement that many institutions do lean on SAT and ACT lists to connect with new leads. If you are to pursue this strategy, here are a few recommendations.
Marketing tactics to further enhance this strategy:
Develop account-based marketing (ABM) campaigns that specifically target your SAT or ACT lists. This can be a multifaceted approach that includes targeted ads, personalized videos, and automated sequences. If budget allows, consider adding a direct mail tie-in to your strategy and sending prospective students something unique and attention grabbing.
Leverage smart content in emails and landing pages to take your ABM to the next level. In other words, customize the content that appears based on audience segmentation by persona, location, or any other criteria that is relevant to your institution.
Strategy #3: Attend Off-Campus Events
In-person college fairs and other recruiting events play a pivotal role in recruitment efforts. However, some teams fall short by failing to use targeted (and automated) outreach beyond the events and tie efforts back to digital to properly determine return on the event. Consider augmenting your existing efforts with the following tactics.
Marketing tactics to further enhance this strategy:
Save time for busy admission and marketing teams with automation of all kinds. Use a marketing automation system to trigger email nurtures before, during, and after events. This will expand your touchpoints beyond one conversation and keep you top of mind for students.
Create custom landing pages for attendees and incorporate personalizations when sending post-event emails. This will make them feel like you built a custom experience specifically for them.
Tie social media into your presence. Have a fun visual at your booth (maybe even a photo booth!) and incorporate a hashtag that can be shared to different networks. Simultaneously host an alum takeover to keep momentum going and foster new connections.
Strategy #4: Visit On-Campus Events
On-campus events will always have a home. What better way to show off your product than getting someone to do it in person? One important thing to keep in mind is that many prospective students—notably international students—may not have an easy way to visit campus. This is a key pool of prospects that we don't want to neglect in our marketing.
In addition to the strategies noted above for off-campus events, here are some other ways to amplify the school-visit feeling in an online environment.
Marketing tactics to further enhance this strategy:
Create a calendar page that allows website visitors to book tours online and pair prospects with student ambassadors or teachers who can take them on a real-time tour through key parts of campus.
Host ongoing coffee and conversations—or similar intimate forums—that allow a few prospective students to have a facilitated discussion with current students or alumni. You can do the same for parent-to-parent interaction.
Add video chatbots to key pages on the website to connect prospective students in real time with current students or ambassadors, so they can get any questions answered.
Strategy #5: Employ Outbound Advertising
Outbound efforts still have a place in marketing, especially as it pertains to raising brand awareness. However, the biggest obstacle we continue to face is proving ROI on a given outbound campaign. If you are going to run outbound ads, be sure to think about the intent and how you will measure success so you can be smart about marketing spend in future years.
Marketing tactics to further enhance this strategy:
Ensure that your outbound efforts tie back to your digital campaigns. First, this allows for brand consistency. And second, by mentioning a specific campaign landing page link in your assets, you'll be able to track attribution.
Have an interactive piece of content at the heart of the campaign to drive interest and encourage submissions. This could be an interactive quiz or assessment, or anything that has a gated component and allows you to collect an email. That way, you can continue to share content and stay in touch with the prospect.
Complement your efforts with paid social campaigns. Again, this will help you drive a cohesive message for your school across more platforms, and will drive leads back to your website.
Optimize your campaigns for local SEO to ensure you are being found in key geographic areas. Furthermore, consider a geofencing campaign so your collateral is seen by your target audience.
Strategy #6: Utilize School Magazines and Print Collateral
When you enter a college admissions office, odds are that you'll see print collateral in key places for visitors to read while they are waiting. However, school magazines and print collateral can be very costly pieces, and you could fill an entire year of one employee's time with the work it takes to compile and publish.
If school magazines and print collateral still have a place in your organization, here's a new perspective on how you can look at their role in your marketing strategy.
Marketing tactics to further enhance this strategy:
Start by thinking about your institution's content strategy, rather than the deliverables that will be produced. Let's say you want to be the leading school for architecture. Conduct SEO research to find keywords and topics that will help you stand out in this area, and publish blog posts, pillar pages, and gated content on this topic. A majority of your content should be written with the intent of being helpful, rather than self-promotional.
Repurpose your online content into a print version. You can publish a shortened version and share the link to read the full article online. This will also give you data on whether your print materials are driving traffic.
Amplify the stories and content you create with social media marketing.
Strategy #7: Manage Your Reputation
As we've seen time and time again, reputation can make or break an institution's position in the market. Notably, this is a big factor for international student populations. According to the 2019 International Student Survey published by QS Quacquarelli Symonds, 32 percent of prospective international students said that a high ranking was a deciding factor when choosing a university.
Schools are held to high standards and as such, reputation management is a crucial element in the marketing mix. Here are a few ways to ensure that your organization's reputation continues to be upstanding.
Marketing tactics to further enhance this strategy:
Audit top-ranking online websites and look for ways to optimize your presence. Beyond the directories, reach out to contacts at organizations such as U.S. News to find opportunities for featured stories.
Invest in a public relations program that targets key school-related publications to get byline placements and articles. Identify topics that are relevant to your prospects, such as career outcomes.
Look for backlinking opportunities to your website, such as guest blog posts on school blogs and other renowned university publications. These backlinks will build up your school's reputation—and your SEO.
Run campaigns to solicit five-star reviews from existing students. Look for the key moments in their journey—such as the first day of school, graduation, or homecoming—to send net promoter surveys and requests to leave reviews. You can mimic a similar approach with alumni and other key stakeholders.
Ready to Get Started?
As a higher education marketing professional, you don't have to reinvent the wheel with your marketing strategy. Instead, it may be time to look at what you've done historically to find inefficiencies and uncover new opportunities to reach prospective students. Above all, make sure every tactic and strategy has a measurable goal and attribution attached, so you can make smarter decisions with your time, budget, and resources for years to come.

About the author
Sarah Mead is the Associate VP of Client Services at SmartBug and plays a key role in building and maintaining excellent client experiences that result in happy customers. She is tirelessly passionate about leading her team members to achieve personal growth and success. Outside of work, you'll find Sarah teaching yoga, enjoying the outdoors, taking care of her plant collection, traveling far and wide, and grooving to the latest independent radio hits. Read more articles by Sarah Mead.
Subscribe to get our new blogs delivered right to your inbox
Other insights you might like