Guide
The Ultimate Guide for Higher Education to Achieve Inbound Success
Looking to boost online applications and supply enough leads for your enrollment counselors to hit enrollment numbers? This guide will help you embrace inbound marketing and lead you to a digitally driven approach to reach students in those online spaces where they're interacting most frequently.
Download Now
Today's students are comfortable conducting their own research online. Traditional marketing alone is no longer in line with modern students' behaviors, and if your university's marketing team doesn't have a solid strategy to engage prospective students online, you're likely to lose them.
With a little work, higher education marketers who embrace inbound can race ahead of the competition, quickly grow leads, and reach students in those online spaces where they're interacting more frequently.
In this guide you'll learn to:
Use inbound to increase your post-pandemic enrollment rate
Unlock digital marketing strategies that lift conversions
Create content your prospective and current students crave
Understand inbound marketing best practices and secure long-term growth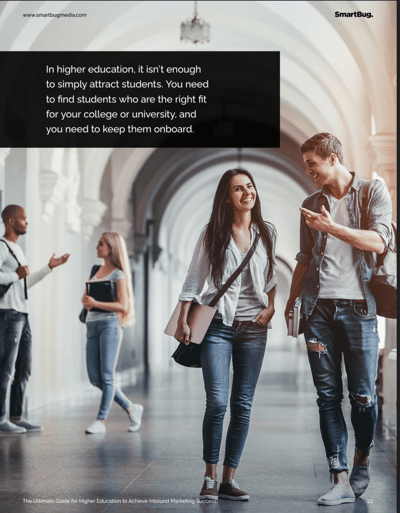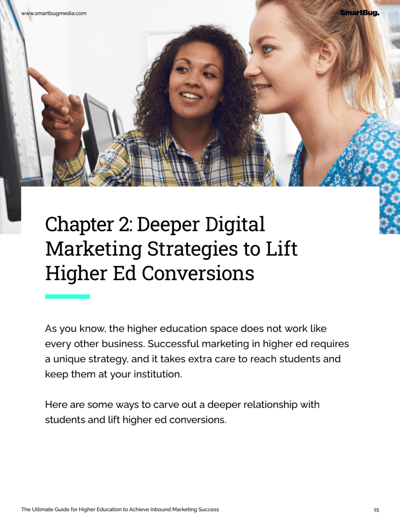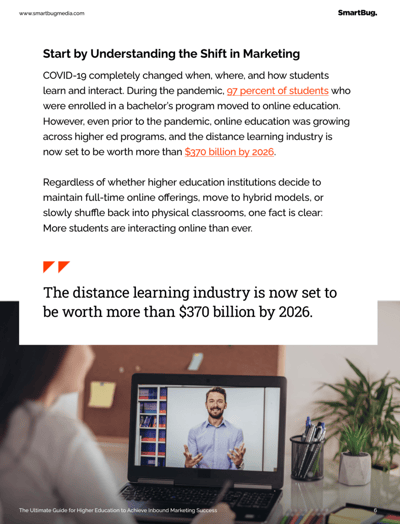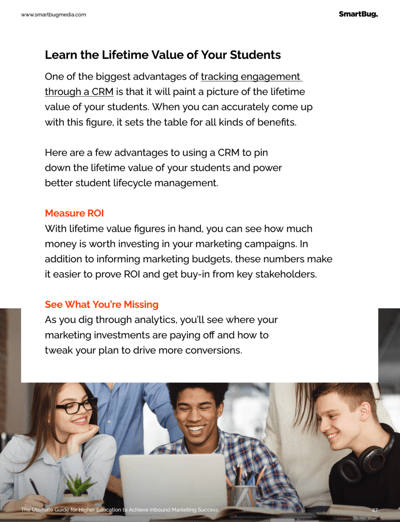 As many schools are stuck relying solely on traditional ads to reach students, higher education marketers have a golden opportunity to connect with prospects where they're living and interacting: in a digital world. With inbound marketing, you can use content, data insights, and admissions information to land more leads and skyrocket enrollment, improving your students' online experiences at every moment along the way.
Attract and keep the right students by:
Understanding the buyer's journey
Creating compelling content to their needs
Building out conversion paths
Why do I need to give my information?
We collect and use information for purposes such as enhancing your experience; enabling purchases of goods and services; performing administration and technical support; marketing communications and promotions; processing product or offer inquiries; informing you about special offers; conducting surveys; enabling you to enter sweepstakes, contests, and other promotions; creating aggregated information about demographics and usage patterns; subject to your explicit permission, sharing your information with third parties.
What are some effective inbound strategies I can use to attract and engage prospective students?
There are several parts of inbound methodology that you can use to attract and engage prospective students. This includes content marketing, which includes content such as blog posts, e-books, articles, videos, and other resources students can use to learn more about your institution.
Other strategies include:
Search Engine Optimization (SEO): This ensures that your website is associated with the proper keywords that your potential students are searching for.
Social Media: Social media interacts with your SEO and content marketing efforts to allow you to amplify your reach to current and prospective students. It also lets you interact and engage with students on a more personal level.
Email Marketing Campaigns: Email marketing campaigns involve providing information and content that can help new students navigate the process of learning about and applying to your institution, drive conversions to capture new information, and determine if your institution is a good fit for them.
Conversion-Oriented Website Design: Most importantly, your website, unlike enrollment, never sleeps. Focusing on strong conversion paths that drive students to learn more about your organization and sign up for helpful newsletters, content, and announcements drives more enrollment as your institution becomes a valuable guide for your potential students.
Remember, your institution may have unique target audiences and goals, so it's important to tailor these strategies to align with their specific objectives and prospective student profiles.
Should I hire a higher education marketing agency?
Hiring a marketing agency can be a strategic decision for institutions looking to enhance their marketing efforts and achieve their goals. Here are some reasons you may want to hire an agency:
Limited Internal Resources: If your institution lacks the internal expertise, resources, or time to execute new or existing marketing campaigns, hiring a marketing agency can provide the necessary support. An agency has teams with diverse skill sets and experiences, allowing them to handle your campaigns successfully.
Need for Fresh Perspective and Innovation: Agencies always have an ear to the ground and an eye to the horizon. They will be able to assess your current strategies, identify areas for improvement, and introduce innovative techniques to your existing campaigns. Additionally, agencies often have insights and knowledge from working with other clients that can benefit your institution.
Desire to Stay Ahead of the Competition: In today's competitive landscape, staying ahead requires continuous adaptation and innovation. A marketing agency can help you stay abreast of industry trends, emerging technologies, and the needs and preferences of your potential students. They can develop strategies and tactics that differentiate your institution and position it as a top choice among prospective students.
Specific Goals or Initiatives: If your institution has specific marketing goals or initiatives, such as increasing student applications, launching a new program, expanding international recruitment efforts, or improving brand awareness, a marketing agency can provide specialized expertise and tailored strategies to achieve those objectives. They can develop and execute targeted campaigns that align with your institution's unique goals and audience.
Digital Marketing Expertise: Digital marketing plays a vital role in attracting and engaging prospective students. If your institution lacks expertise in areas such as search engine optimization, social media advertising, content marketing, or email marketing, hiring a marketing agency with a strong digital focus can help you maximize your online presence and reach the right audience effectively.
Measurement and Data Analysis: Good marketing agencies collect data to measure and analyze the performance of marketing campaigns. With their experience, they can provide valuable insights into campaign effectiveness and ROI. This data-driven approach helps optimize marketing strategies and allocate resources more efficiently
Time-Sensitive Projects or Campaigns: If your institution has time-sensitive projects or campaigns that require immediate attention and a focused effort, hiring a marketing agency can provide the necessary resources so your team can focus on longer-term goals.
How will you use my personal information?
We may use or disclose the personal information we collect for one or more of the following business purposes: To provide you with information, products, or services that you request from us. To provide you with email alerts, event registrations, and other notices concerning our products or services, events, or news that may be of interest to you. To carry out our obligations and enforce our rights arising from any contracts entered into between you and us, including for billing and collections. To carry out our obligations and enforce our rights arising from any contracts entered into with our clients. To improve our website and present its contents to you. For testing, research, analysis, and product development. As necessary or appropriate to protect the rights, property, or safety of us, our clients, or others. To respond to law enforcement requests and as required by applicable law, court order, or governmental regulations. As described to you when collecting your personal information or as otherwise set forth in the CCPA.
We will not collect additional categories of personal information or use the personal information we collected for materially different, unrelated, or incompatible purposes without providing you notice.
Ready to grow Student Enrollment with Inbound Marketing?
Simply fill out this form to get access to your own copy of the higher ed guide to inbound success