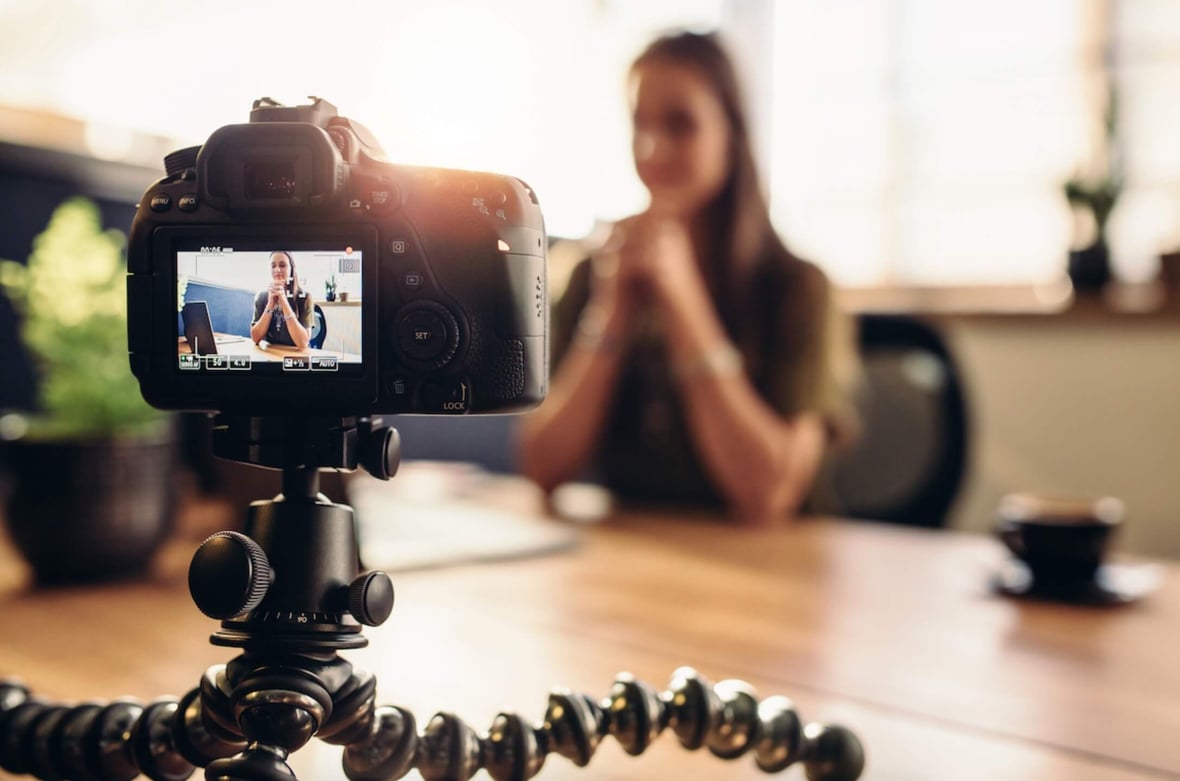 Selling Your Senior Living Community Through Video
January 10, 2020
---
By Emma Bennett
Video has taken the sales world by storm, and rightfully so. One minute of video is equal to 1.8 million words to your audience, and brands that use video marketing grow their year-over-year revenue 49 percent faster than brands that don't. Senior living should be no different.
When you're promoting your senior living community, it's crucial to connect with the prospects you're seeking to engage.


The Power of Video
According to a Cisco study, online videos will make up more than 80 percent of all consumer internet traffic (85 percent in the U.S.) by 2022. Will your company be in the mix? Here are a few benefits of videos in sales:
Higher response rates
Engages viewers
Drive organic traffic
Build trust
SEO benefits
Mobile friendly
Increases transparency
People are much more likely to purchase a product if they watch an explainer video. In senior living, making an explainer video may seem more difficult because you're not selling a singular product, but the same principle applies. When you give prospective families and residents the option to see inside the community—explain what life is like there—before they tour, you're setting yourself up for success.
Although sales teams often get left out of the video marketing experience, the following ideas can help you incorporate video into your sales process. When it makes sense for your community, have your sales team use video "voicemails", tour/demo-style videos, and hand-off videos in their process.
Video "voicemail" responses are a great way to create a personalized response to online inquiries and questions from prospects, without having to endure the hassle of setting up a meeting or call. The same goes for sending prospects a community tour video or creating a quick hand-off video for your sales team to share with the care directors at your community before someone moves in.
Generate Senior Living Leads Through Video
At first glance, most people think of videos as top-of-funnel content that boost brand awareness, but videos have even more power.
If you're reading this blog, you're probably at least vaguely familiar with inbound marketing and know that you can (and should) gate your premium content to help generate leads. Although that works for e-books and infographics, gating video content for senior living communities could be more detrimental than helpful when trying to collect leads. Instead, try using strategic calls to action (CTAs) in your videos.
If you're anything like me, you hate when an ad pops up in the middle of a video you're trying to watch. That's why you should be strategic about your CTA placement. Marketing video tools like Vidyard and Wistia allow you to add pop-ups and forms to your videos that enable you to collect information at the end of videos without interrupting your viewers' experience.


Creative Marketing Video Ideas for Senior Living
Now that I've convinced you to add video marketing to your senior living community sales and marketing plan, it's a great time for some ideas to get you started. Although each senior living community is different, the industry as a whole can agree that focusing on the residents is always a great idea.
Here are eight video ideas that can help you start telling your community's stories:
Resident spotlights
Employee spotlights
Q&A with your care director, head nurse, and so forth
FB Live with your engagement director
Virtual tour of your community
Welcome video for new residents and families
Videos specific to care options, common questions, and so on
Record events and create a recap blog and email to send to your audience
You don't need fancy equipment or complicated storyboards to start creating great video content for your senior living community. With the ideas above and the examples of real videos in the wild, you'll be creating videos in no time. Just don't forget to track your video metrics—but that's a post for another time!


Videos in Action
The Arbor Company provides senior living in upscale and caring environments with options for independent living, assisted living, and memory care, and it's harnessing the power of video in its marketing and sales efforts. Arbor uses video throughout the entire funnel and speak to its audience in ways that appeal to them. These two videos are just small samples of what you can do with inbound marketing and video:


Assisted Living Video:



This video—which is embedded on the homepage of Arbor's company website, as well as the landing pages of each of its assisted living communities—has garnered 16.2 thousand views with a 42 percent average engagement rate.


Arbor Company Culture Video:



A culture video is a great way to provide a glimpse of what it's like to live in your community. Arbor's culture video is part of the banner of the company website and has racked up nearly 10 thousand plays and a 34 percent average engagement rate.
Whether it's using video to describe levels of care or to document the process of construction at a community, The Arbor Company is letting video do the talking.

Now that consumers are willing to spend more time watching a video than reading text, The Arbor Company has jumped on the opportunity to expand its reach and appeal to their audience. Using video to showcase moments of everyday life in a community can have a much deeper impact than using other forms of content.
HumanGood offers senior living and affordable housing for seniors over 55. It's using video in a different way that still reaches its audience. HumanGood hosts its videos on YouTube (more than 500 million hours of videos are watched on YouTube each day).



HumanGood uses resident stories to portray its quality of services. HumanGood created a playlist on its YouTube channel solely for these stories. Any good video marketing strategy uses videos that focus on stories, and HumanGood nails that here.


Repurposing Your Videos
The best part of using videos in your sales and marketing plan is that video content can easily be repurposed. Don't let your videos only be used for one initiative.
If you're doing a live Q&A session with your care or nursing director, take that recording and flesh it out into a blog. Then you can send out an email to your lead database with a link to that blog (that includes the video itself) and create content that your entire audience can enjoy.
Here are a few other ways you can repurpose your videos:
Tweet quote snippets.
Share screenshots as images.
Compile the concepts into an infographic.
Create additional video content by trimming short clips from the full-length video.
Now that you have a few ideas of how some of the biggest names in senior living are using video to promote their communities, you can get started. Already using video in your sales and marketing efforts? We'd love to see your work. Tweet us your videos at @smartbugmedia.
About the author
Emma Bennett is an Inbound Marketing Strategist based out of Norfolk, NE. With experience as an account manager and content strategist at a B2B inbound marketing agency, she has a passion for writing and loves to share inbound and digital marketing best practices. Her role at SmartBug has allowed her to develop expertise in the senior care and financial industries Read more articles by Emma Bennett.
Subscribe to get our new blogs delivered right to your inbox
Other insights you might like