By Andrew Macey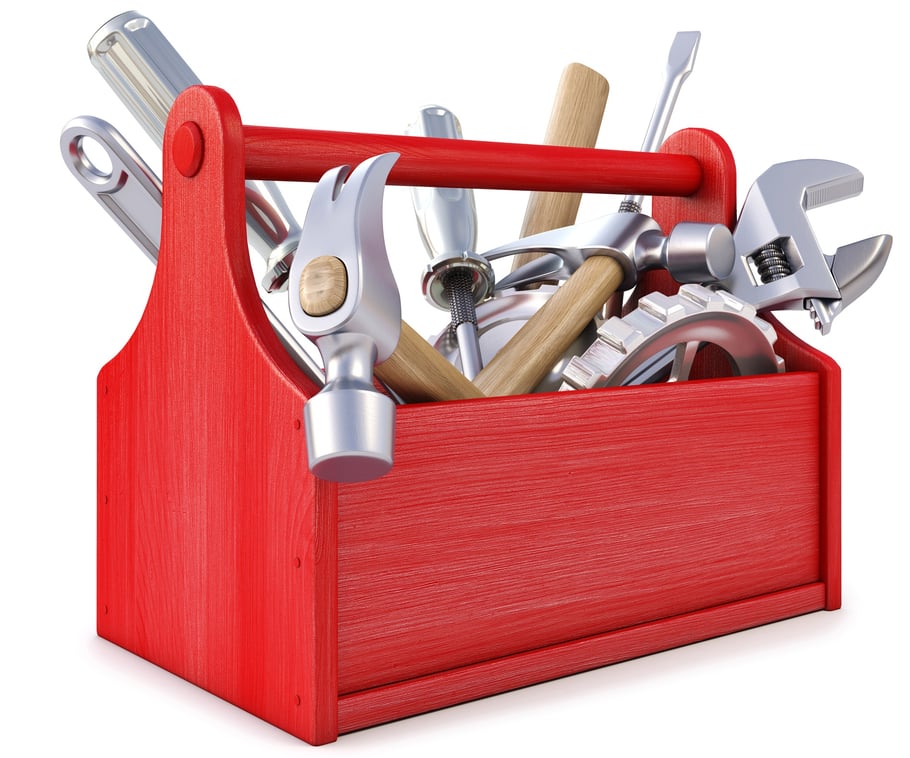 Nowadays, more and more companies of various sizes and industries are putting in place sales enablement programs. Until recently, the focus was either on marketing, generating qualified leads, or closing these leads into new business. As we've discussed in the past, true sales and marketing collaboration is the key to success. Aligning both departments gives each team further advantages to success. In this case, marketing has the ability to learn from sales, understanding more about the buyer's journey, and can work to drive in the right new leads. On the other hand, sales' alignment with marketing provides further context as to the leads that are being generated and how to best follow up.
Sales enablement accelerates this relationship by focusing on content and engagement across the entire lifecycle of a lead. The two departments can work together to provide the sales team with the collateral and content needed to better close deals and better organize opportunities for improved qualification and productivity.
In order to successfully implement and run this program, it's important to have the right sales enablement tools at your fingertips. Focusing on content, organization, and productivity, the right solutions will enable your sales team to sell better, quicker. Here, we will discuss some great sales enablement tools that all marketers should consider.
HubSpot
HubSpot is a fantastic tool for marketers across many departments. When bridging the gap between sales and marketing, having multiple tools under one roof will streamline the entire process. HubSpot is great for that exact reason. Within its marketing automation software, lead nurturing workflows are designed to improve lead follow-ups, resulting in fewer manual emails needed by sales reps. Additionally, lead scoring and lifecycle stages are essential to qualifying and prioritizing high-value leads. Utilizing these tools, your team can focus more on the day-to-day management of leads and only engaging with those who are sales-ready and who fit your target buyer personas.
In addition to the marketing solution, HubSpot has also recently launched its sales product. Integrating fully with the marketing platform, the HubSpot CRM and additional tools comprise another sales enablement solution that all small to medium-sized businesses should consider. With this software, sales reps have instant access to all new leads who are converting in real time, and reps can customize and organize these leads to best suit their processes. Multiple "views" within the HubSpot CRM allow reps and management to filter and display leads and opportunities for better reporting.
To further the lead management capabilities, sales reps are provided with a number of applications that allow them to conduct all of their prospecting and follow-ups in one environment. This includes an integrated calendar, which connects and shows availability for each rep. This is similar to many calendar applications; however, it utilizes the email templates from HubSpot's CRM. Another great feature is the Sequences tool. Like the marketing software's workflows, the sequences provide sales reps with a series of email templates that can be sent as a series. This increases the productivity of reps significantly by eliminating the standard Day 1, Day 3, and Day 5 emails that they might be used to sending manually. Once an email has been responded to, or a meeting booked through the calendar app, the contact is removed from the sequence, making it a seamless process.

In addition to email-related applications, HubSpot has built a dialer into the sales product as well. Here, sales reps can call prospects and leads with the click of a button, with audio recordings and notes automatically logged as a task. As you can see, HubSpot is truly an all-in-one sales enablement tool. Deeply rooted in organization, productivity, and qualification, it should be high on the priority list of any marketer.
Salesforce.com
Salesforce.com has evolved significantly from just a CRM into a suite of sales enablement tools for larger, enterprise businesses. Although there are many facets to its toolset, the CRM is a great option for marketers with certain needs. Unlike the HubSpot CRM, Salesforce.com is great for enterprise businesses or large sales teams. As a marketer, if your sales team has multiple territories, a team of more than 20 reps, and requires custom organization and routing of leads, this might be a great sales enablement tool for you. Salesforce.com allows organizations to truly customize the CRM to their needs. With their own organization tools, contacts can be qualified and distributed among sales team members quickly and efficiently. Another great aspect is the API functionality. Many large sales organizations aggregate data and leads from multiple sources. Many of these can be seamlessly integrated with Salesforce.com, providing new leads and further information on existing contacts.
For larger, more customized sales processes and teams, I would certainly recommend looking into SalesForce.com as a CRM option. It integrates very well with HubSpot's marketing tool and can be an extremely useful tool within your organization to increase close rates and hit revenue targets.
Box
Another important piece of the sales enablement puzzle is content management. Due to the fact that most sales enablement programs are tasked with providing sales with the most compelling and useful collateral to aid in the sales process, there needs to be an easy way to organize and store this content for the whole team. Box is a sales enablement tool that does just that. For many larger sales teams, reps are located across multiple offices, possibly across multiple continents. In that case, internal files and storage locations become cumbersome and inaccessible. A cloud-based content management system such as Box gives reps the ability to access their content on the go with mobile devices both on and off site. Additionally, it is extremely helpful for marketers, who can easily update this content whenever needed. As messaging improves or additional industries are targeted, more content will be needed, and existing content will most likely need to be updated. Box provides the tools needed to keep all new and existing content orderly and accessible across the entire organization.
Google Drive
Similar to Box, Google Drive is a sales enablement tool that most marketers have probably used in one way or another. The main value here is centered on content as well. Google Drive allows you to easily share content with employees within a company as well as externally with prospects and partners. Updating and auto-saving in real time, you never have to worry about older versions of a document being sent, and organization is extremely intuitive. Finally, the Google drive mobile apps are a must-have for all marketers and sales reps to easily access and edit their content and collateral on the fly.
E-signature and Quoting Tools
As leads move through the sales pipeline, there is the need for project quotes, proposals, and, eventually, contracts. For years, these were done in an old-school way, with PDFs being signed, scanned, and emailed back. Adding an e-signature and quoting tool to your arsenal will certainly streamline this process, especially when edits are needed and quotes are reworked quickly.

One great product here is PandaDoc (www.pandadoc.com). PandaDoc is an all-in-one solution for contracts, proposals and quotes. It has an extremely user-friendly interface, which integrates seamlessly with HubSpot and other marketing automation tools. Giving your sales team easy access to all proposals and quoting mechanisms will allow it to breeze through the contract-writing process, which can often be a bottleneck.

Similar to PandaDoc, Bidsketch (www.bidsketch.com) is another great proposal tool for all sales teams. It also easily integrates with HubSpot as well as CRM systems and looks extremely professional. This product provides templates and layouts that look great and can be customized to match the branding of your business. Another great feature in Bidsketch is the series of email updates that each sales rep receives after sending out a proposal. You will get a heads-up when a contract has been opened and again when it has been accepted. This is another fantastic tool that no sales team should be without.
Conferencing Systems
As leads move through the sales pipeline, more and more members of the team become involved. Often, these team members are across multiple departments, possibly in different offices. To effectively run demos and sales meetings, a solid conferencing tool is important. Being able to screen-share, record, annotate, and chat within a Web meeting allows sales teams and prospects to collaborate and get all the information they need.

One of the most popular Web conferencing tools is GoToMeeting (www.gotomeeting.com). GoToMeeting has been one of the leaders in Web meetings for many years, and it's clear why. It is an extremely easy-to-use program, allows many users to join seamlessly, and provides great audio and video quality. Additionally, it integrates very well with other systems such as CRMs and file-sharing tools.

Another system to consider for hosting Web meetings is Zoom (www.zoom.us). Zoom is a lightweight, sleek conferencing application that is easy to install across your entire organization. One great feature is the mobile app. Many sales reps are on the go, and being able to easily connect to conference meetings from wherever they are is a huge advantage. Furthermore, Zoom has a great chat system built in. Similar to an instant-messaging program, Zoom gives your entire organization the ability to interact both in groups or "rooms" but also individually. For remote teams, this is great functionality to keep the team close and connected.
Sales Enablement Resources
As the concept and utilization of sales enablement continues to evolve, it's important that all marketers stay up to date with the latest trends and tools available. One great resource to subscribe to is the HubSpot sales blog. This is a great resource that discusses not only tactics for better selling, but content and enablement campaigns that can drive better close rates. Whether or not you're a user of HubSpot's marketing or sales tools, this is a must-read for marketers looking to accelerate their sales enablement programs.
Another great resource is the Salesforce.com sales blog. Like the HubSpot blog, this offers productivity tips, sales operations advice, and helpful content designed to improve sales and new business acquisition. Be sure to subscribe to its weekly emails to stay in the know with all of its expertise.
Finally, a fantastic resource for sales enablement tools and knowledge is a partner agency. Many agencies specialize in sales enablement and can help with strategy, content creation, and software implementation. If you're looking to start up or optimize an existing sales enablement program, consider reaching out to an agency. It can work with you to understand where the gaps lie in your current process and what tools can yield success, and it can help you launch campaigns that can significantly impact your revenue.
What other sales enablement tools and resources have you found helpful? Share what you've learned by tweeting us by @smartbugmedia.