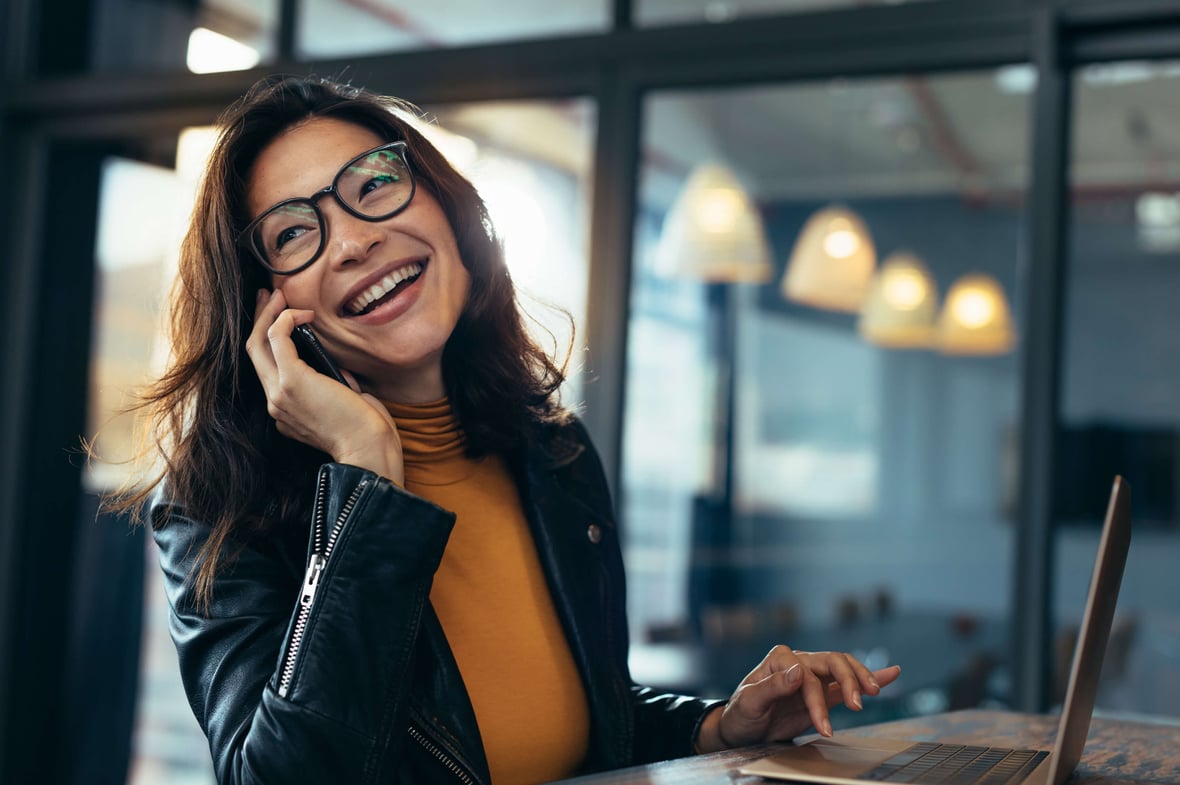 Building a Foolproof Sales Enablement Strategy
October 8, 2019
---
Let's talk about building your sales enablement strategy. It may not come as a surprise to you that, on average, sales reps spend less than 36 percent of their time actually selling. To meet your quotas, you need to empower your sales team to make those hours count and find ways to cut down on the time they are spending tracking down data and content.
We can start by defining what sales enablement looks like for your company.
Sales Enablement (noun) / \ˈsāl\ En`a´ble`ment - The act of delivering information, collateral, and processes to your sales team to help them better connect with your prospects and leads to drive more sales
Now that is a pretty broad definition.
For your company, a sales enablement strategy could encompass one (or more) of the following goals:
Shorten the sales cycle
Close larger deals
Establish upsell or cross-sell strategies
Improve trust and brand strength in the market
Reduce client churn
Build a better customer experience
Break out into new markets
Grow your sales team
Take a minute to think about which of these goals is most important to you. Your top goals should guide every decision you make as you build your sales enablement strategy.
With those goals in mind, your next step is to think about what process improvements will have the biggest impact. You don't need to lock down the specific tactics you want to use in your sales enablement strategy just yet, but these foundational ideas will help you ask the right people the right questions to make sure you are moving in the right direction:
Improving communication between your sales and marketing departments
Standardizing processes for lead qualification and handoff from marketing to sales (and vice versa)
Training your sales team on how to engage leads from inbound sources versus outbound efforts
Reporting joint efforts for closing the loop on all of your lead generation efforts
Adopting new channels for lead generation
Implementing new technology to enhance some or all of the above
Maybe you are looking to solve for more than one of these points, in which case, kudos! That means you're dedicated to supporting your sales team and knocking your quotas out of the water.
Before we get ahead of ourselves, let's also talk about where you are now and where you need to go. HighSpot has a great five-stage maturity model to start gauging your focus areas.


| | | |
| --- | --- | --- |
| Stage | Company Focus | Sales Team Focus |
| 1. Ad Hoc | Whole focus on customer acquisition; minimal planning and structure; frequent firefighting. | Rep efficiency and effectiveness is low. |
| 2. Reactive | Content scattered across many systems and poorly managed; customer engagement is uneven. | Reps waste time they should be using to sell; onboarding is slow, turnover is high, and attainment is low. |
| 3. Managed | Content is organized and up to date; reps have defined onboarding and training processes. | Attainment improved; onboarding is faster; more time is spent selling. |
| 4. Data-Driven | Closed-loop used to measure content and training effectiveness. | Attainment, onboarding time, deal conversion, and deal velocity exceed industry norms. |
| 5. Optimized | Closed-loop used to measure content and training effectiveness. | Industry-leading results for attainment, onboarding time, deal conversion, and deal velocity. |
HighSpot's 5 Stage Maturity Model
OK, now that you're thinking strategically, let's look at preparing your team.


Who Should Be Involved in Building Your Sales Enablement Strategy?
You may be thinking, "My sales team is already working on key objectives for our organization. How can I allocate time and resources toward a new sales enablement strategy?"

I challenge you to instead ask yourself, "If I am trying to empower my team, why would I ask them to split their time between doing their job and working on this new project?"
Part-time focus means partial success.
That doesn't mean your sales team should not be a part of the sales enablement strategy-making process. Their insight on current challenges is invaluable. For example, a rep might say, "I always get asked for references between Phase 2 and Phase 3, but it takes some time to get them lined up. I'd like to be able to send them something industry-specific in the meantime."
For your sales enablement strategy to flourish, you need to start by appointing a dedicated manager. This person will drive the goals, tactics, and performance of your program.
Next, you need to include all of your organization's key decision makers for planning and assessing your strategy while your sales enablement manager builds out your processes. Yes, every single one.
Because sales enablement is a strategy that directly affects the department that keeps much of the organization running—sales—you can bet that there will be lots of heads turning in your direction. Here's a quick list of who should typically be at the table and the role they should play:
Sales Leadership: This one is a no-brainer. The head of the sales team is easily the most important person for incorporating new ideas and strategies and analyzing existing sales data.

Marketing Leadership: Because sales enablement works best when sales and marketing work together to create the right kind of messaging and content, the head of marketing is another key leader. Both sales and marketing leadership are also key players for determining how well-aligned sales and marketing efforts are—all the way from a lead generation standpoint, which directly affects how many leads will be passed to the business development team for potential sales readiness.

Executive Leadership: These are the people who have big goals in mind and hold the reins to big budgets, so getting their buy-in is crucial. If you can't align a sales enablement strategy with the goals and budgets of players such as the CEO, CFO, and COO, your strategy likely won't last long.

Your Agency: If you're working with an agency, bring it into these conversations. Not only will these experts know a lot about your content, sales, and marketing processes, but they'll also have insights from other clients and similar organizations in your industry that you can seriously benefit from. In addition, they often offer some third-party objectivity that is a nice complement to internal teams.
Now that you have an idea of who should be at the table when building out your strategy for sales enablement, it's time to take a long hard look at your current marketing and sales relationship.

Assessing Your Sales and Marketing Relationship
Consider your current marketing and sales teams. Are they in alignment? Are they both aiming for the same business goals?

Here are a couple of questions to get you started:

Do you have clearly defined rules and criteria for your prospects? Your sales and marketing teams should be clear about what qualifications define leads, MQLs, SQLs, opportunities, and any other statuses you might use internally. Understanding what qualifies each contact in your pipeline will help all parties understand their roles.
Do you have a formal sales and marketing service-level agreement (SLA) in place? Ensure that both of your teams are held accountable and everyone is on the same page when it comes to goals and expectations. Not only should your teams understand your criteria for the different stages of your pipeline, but they should also understand who is responsible for next steps when a prospect reaches a certain threshold in their Buyer's Journey with your company. Documenting this in an SLA will help align your teams and create better accountability.
Do you have clear lines for cross-departmental communication? You probably know right off the top of your head whether your sales and marketing teams are communicating on a regular basis. They should be talking about lead quality, trends they see in questions prospects have or problems they are looking to solve, content that is resonating the best with each of your personas, time it takes to move leads through the Buyer's Journey, and more. Cross-departmental communication between your sales and marketing teams should include regular updates on upcoming content creation, pipeline health, and KPIs as they tie to your company's goals. Think about how you can better facilitate this type of communication, whether through an ongoing conversation on an internal system, formalized reporting on a regular basis, or a dedicated meeting time.
>> Related Content: How Content Marketing Fits into a Sales Enablement Strategy
For sales enablement, it is critical that your goals are tied to direct KPIs from the sales and marketing departments so you can monitor performance over time. These could be number of leads generated, conversion rates through your pipeline, or average time to close, among others.

Make sure you set benchmarks and key milestones when building your ongoing initiatives so you can see what's working and what isn't. To do this, you may need some additional support.


Sales Enablement Tools to Boost Your Strategy
As you continue to assess and build out your strategy, make sure you also evaluate available technology that can enable your teams to reach their goals.

To successfully implement and run your sales enablement strategy, it's important to have the right sales enablement tools at your fingertips. Take a look at how your marketing and sales funnels work together, and where technology fits in.


Type of Platform

Marketing Funnel

Sales Funnel

Marketing Automation Platform
Attract
Prospects/Discovery
Convert
Lead/Solution Identification
Sales Enablement Solutions
Close
MQL/Solution Evaluation
SQL/Opportunity
Delight
Customer
As you strategize your plan of action for reaching your sales enablement goals, technology should play a key role. From creating content to communicating interdepartmentally, to prospect outreach, the right tools can make or break even the best strategy. Sales and marketing automation, intelligent CRMs, and contract management tools can further empower your teams to focus on making meaningful connections with your prospects.
(Feel like you already have your bases covered? Check out this article: 5 Powerful Ways to Improve Your Sales Enablement Tech Stack)


Having multiple tools under one roof will streamline the entire process of bridging the gap between sales and marketing. HubSpot is great for that exact reason with its CRM, marketing and sales automation tools, content management system, and more. Here are some notable features:
Qualify and prioritize leads with lead scoring and pipeline management tools
Automate processes for standardized lead nurturing and prospecting with programmable sequences for emails, SMS, and call reminders
Allow prospects to book meetings directly with sales reps and BDRs for consultations, demos, discovery calls, and more
Log calls with prospects and leads with the click of a button, saving audio recordings and notes automatically onto the contact record in the CRM
Customize reporting dashboards for sales activities, website analytics, contact conversions, and more
Route leads within sales and cycle leads back to marketing from sales
Share files internally and with prospects using HubSpot's organized file manager
Salesforce has evolved significantly from just a CRM into a suite of sales enablement tools.
Salesforce allows organizations to truly customize the CRM to their needs. With sales-specific organization tools, contacts can be qualified and distributed among sales team members quickly and efficiently. Another great aspect is the API functionality. Many large sales organizations aggregate data and leads from multiple sources. Many of these can be seamlessly integrated with Salesforce, providing new leads and further information on existing contacts.
Plus, Salesforce integrates with HubSpot, Marketo, and many other marketing tools to ensure data is being shared between your departments.


Analytics and Reporting
You may find a need for additional tools to pull specific data to report on your sales enablement efforts. CallRail, for example, is a great tool for call tracking and form attribution reporting. When your leads are coming in from many different sources, tracking the channels that are performing best can inform what efforts should be included in your sales enablement strategy.
If you are tracking data from a variety of systems, you may want to consider a reporting tool like Databox. Databox can pull data from many tools to create customized dashboards of all of your KPIs in one place.


E-Signature and Quoting Tools
As leads move through the sales pipeline, there is a need for project quotes, proposals, and eventually, contracts. For years, these were done in an old-school way, with PDFs being signed, scanned, and emailed back. Adding an e-signature and quoting tool to your arsenal will certainly streamline this process, especially when edits are needed and quotes are reworked quickly.
One great product for this is PandaDoc. PandaDoc is an all-in-one solution for contracts, proposals, and quotes. It has an extremely user-friendly interface, which integrates seamlessly with HubSpot and other marketing automation tools. Giving your sales team easy access to all proposals and quoting mechanisms will allow your team to breeze through the contract-writing process, which can often become a bottleneck.
Similar to PandaDoc, Bidsketch is another great proposal tool for sales teams. It also easily integrates with HubSpot, as well as other CRM systems, and looks extremely professional. This product provides templates and layouts that look great and can be customized to match the branding of your business. Another great feature in Bidsketch is the series of email updates that each sales rep receives after sending out a proposal. You will get a heads-up when a contract has been opened and again when it has been accepted. This is another fantastic tool that no sales team should be without.


Conferencing Systems
As leads move through the sales pipeline, more and more members of the team become involved. Often, these team members are in multiple departments, possibly in different offices. To effectively run demos and sales meetings, a solid conferencing tool is important. Being able to screen-share, record, annotate, and chat within a web meeting allows sales teams and prospects to collaborate and get all the information they need.
A great starting point when evaluating web conferencing tools is Nextiva, who were just rated the best overall business phone service by U.S. News and World Report. Nextiva's leading-edge business communications suite gives you the ability to video conference with customers and teammates, get instant insights on who is calling you and their prior conversations with your company, and auto-log each interaction directly into Nextiva's built-in CRM. Nextiva also offers other advanced features such as a Mobile App, Call Analytics, and HD Hold Music, so you can offer your prospects and customers the best experience possible.
Another one of the most popular web conferencing tools is GoToMeeting. GoToMeeting has been one of the leading tools in web meetings for many years, and it's clear why. It is an extremely easy-to-use program, allows many users to join seamlessly, and provides great audio and video quality. Additionally, it integrates well with other systems, such as CRMs and file-sharing tools.
Also consider Zoom, a sleek conferencing application that is easy to install across your entire organization. One great feature is its mobile app. Many sales reps are on the go, and being able to easily connect to conference meetings from wherever they are is a huge advantage. Furthermore, Zoom has a great built-in chat system. Similar to an instant-messaging program, Zoom gives your entire organization the ability to interact both in groups or "rooms" as well as individually. For remote teams, this is great functionality to keep the team close and connected.


Get Rolling with Your Sales Enablement Strategy
We know, enacting your sales enablement strategy is no small undertaking. To make it easier to build out your plan, we created a Sales Enablement Playbook that will help keep you organized. Check it out below!

About the author
Molly Rigatti was formerly an Inbound Marketing Strategist in Charlotte, NC. With the help of her mini Aussie, Remington, she is dedicated to helping businesses reach their goals through inbound marketing and sales enablement campaigns. She's helped businesses in many different industries around the country and enjoys the challenge of staying up-to-date on all things HubSpot. Read more articles by Molly Rigatti.
Subscribe to get our new blogs delivered right to your inbox
Other insights you might like