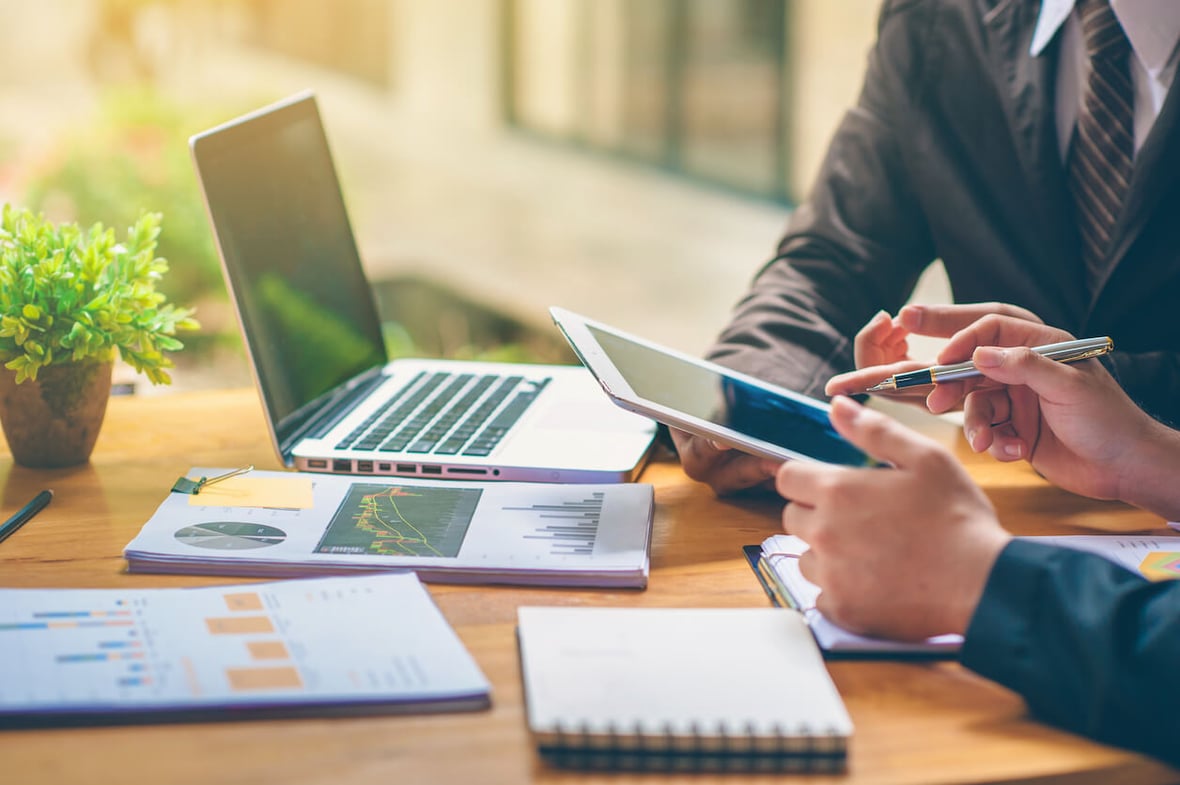 How to Build Your Sales Enablement Strategy
July 20, 2020
---
Providing your sales reps with the tools, materials, and content needed to drive leads will ultimately enable them to secure more opportunities and revenue for your business—and more opportunities and revenue are the end game of sales enablement.
Sales enablement, in its most simple application, is the holistic process of providing your business's sales team with the devices they need to seal more deals. These devices can include information, data, tools, and validating content to sell your products or services to the right audience—and do so expertly.
The good news is, your strategy for sales enablement isn't an ominous task to dread and worry about. There are simple steps you can take to build an effective strategy that will wow your customers, drive more sales, and motivate your sales team.


A Great Sales Enablement Strategy Can Be Achieved in 3 Easy Steps

Step 1: Develop Concentrated Reporting and Analytics Processes
Everything in the contemporary world (especially sales) is driven by data. In order for the data to work for you and your team, it needs to be used in a systematic way. Data mastery and interpretation are integral parts of building a sales enablement strategy.
There are several ways to go about data organization. Here are just a few to get you started in the right direction:
Reporting standardization:

Although reporting tends to vary from company to company, there should be a systematic process for sales reports. A well-organized process is the quickest way to gain inside information from your business data. Consistent, methodological reporting on key areas, such as deals won/lost, leads generated/nurtured, activities logged by sales personnel, and consultations delivered, will help bridge the gap that so often exists between sales and marketing.

Examine the sales process:

If the sales team is receiving a significant number of consultation requests monthly but few actually result in customers won, an investigation into the

sales process

is probably warranted. Auditing the sales process can uncover sales performance areas in need of improvement.

Lead qualification:

The sheer amount of information associated with individuals that may be poor fits for your company can be overwhelming.

Qualifying leads

is not only essential but it's an extremely worthwhile use of time for the sales team. CRM (customer relationship management) software often instantly uncovers quality companies and leads during a website conversion, notifying the sales reps in less time. Lower quality prospects can be moved to a queue for nurturing at a later date.
Step 2: Optimizing Sales Enablement Content
The marketers at your company are not the only ones that produce and optimize content. Many companies have sales departments producing just as much content as the marketing department! Personalized content is paramount for driving leads through the Buyer's Journey. Yes, the time spent creating content is time that can't be spent selling, but remember: Content is king, and time spent selling will be fruitless if there's no quality content to back up the benefits you are offering.
Let's take a look at some ways sales content can be optimized, effective, and time-efficient:
Organize your sales content:

Case studies, briefs on competitive intelligence, pricing information, guides, checklists, infographics, and e-books are just some of the sales content that should be organized and thoroughly examined. Housing content libraries on platforms, such as

Google Docs

or an advanced

CRM

, can make it easier to keep things organized and easily searchable. Keeping the library current will help support sales team success.

Case study creation:

The business or product you are selling needs strong successful

case studies

to establish the narrative of competitive advantage and success. On average,

62 percent of B2B buyers indicated

decisions were made based on online content available (which includes blog posts, case studies, and other long-form content). Your business should set a goal of having at least one case study, blog post, and/or long-form content offer within six months of a product or service launch. The case study should detail the product or service's advantages and the problem it solves for the targeted audience.

Utilize email templates:

According to

Oberlo

, an average of 9 out of 10 marketers utilize email marketing to organically distribute content. Because a sales rep is also a creator of marketing content, it's not surprising that many painstaking hours are spent attempting to create the perfect email. If a standard set of email templates is in place to quickly pull from, the sales team can exponentially increase their productivity straight from their inbox. Pro tip: Remember to leave room for customization in your email templates because no buyer is the same!
Step 3: Automation and Technology Usage
Just 10 short years ago, automation in sales didn't exist. Everything was manual. Today, a large number of hand-operated processes can now be automated. This paves the way for quicker and more agile sales team response times. There are several ways to harness the power of technology and automation to better serve your sales enablement strategy:
Enable Your Sales Team
Selling more effectively comes naturally when the sales team is empowered with resources, tools, content, and materials that serve them better. Efficiency is effortless, opening the gateway to more productive selling, higher revenue, and expanding the number of advocates for your brand or service.
Keep the lines of communication between your sales and marketing teams open—and get started on your sales enablement strategy.
Lucky for you, we've made getting started even easier with our free Sales Enablement Playbook. Begin implementation today and start setting your goals to pave the way to a new future where sales and marketing work together harmoniously.
About the author
Chantelle Stevenson was formerly an Inbound Marketing Senior Specialist at SmartBug. As a Hubspot/Database advocate and expert, investing in their training and knowledge of inbound marketing is something she takes great pride in. Outside of work, Chantelle likes to spend time with her family and horseback ride. Read more articles by Chantelle Stevenson.
Subscribe to get our new blogs delivered right to your inbox
Other insights you might like