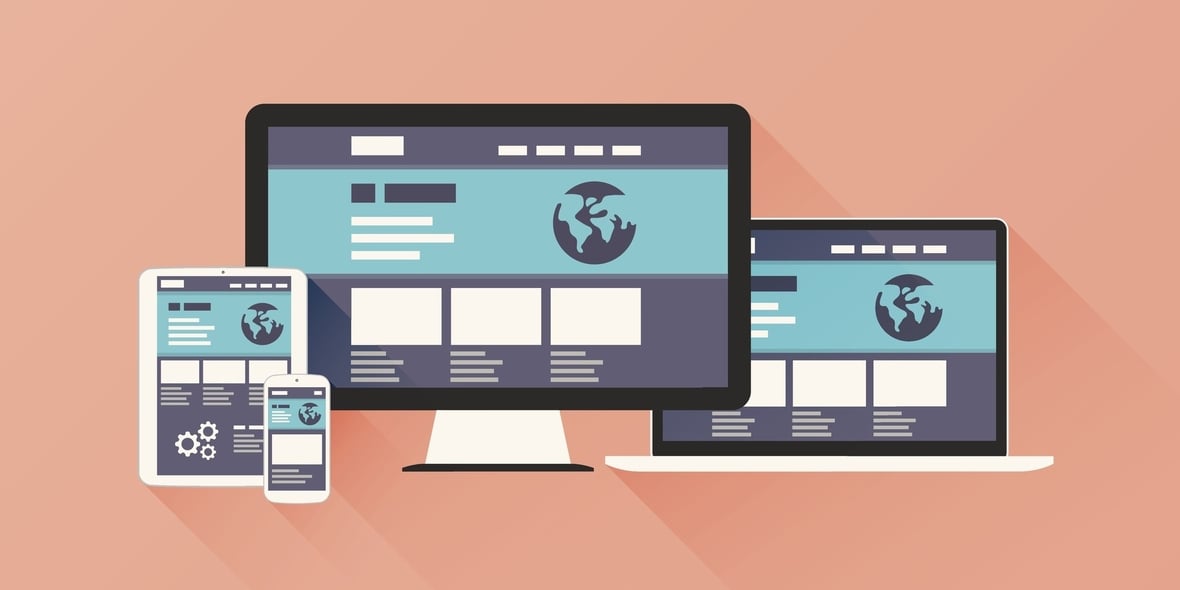 4 Powerful Ways Live Chat on Your Website Improves B2B Inbound Sales
February 9, 2017
---
By Jennifer Lux
With so many options to enhance the user experience and create more value for visitors on your website, how do you evaluate and prioritize opportunities? Which enhancements will keep your brand competitive, most impact the bottom line, and support inbound sales?
Today, more than ever, there are endless tactics to attract leads and convert them into customers. Live chat is a vital component of an inbound marketing strategy. According to the American Marketing Association, live chat increases conversion by 20 percent and results in a 305 percent overall return on investment.

While more traditionally a B2C conversion tactic, there is much evidence that all consumers ultimately behave in the same way and that B2B businesses will see just as much return on investment when implementing this support channel. This post will outline the reasons why live chat is a critical component to generating sales-ready contacts.
1. Build trust on the path to purchase
Decision-makers and their teams search online to first understand their problem and then to evaluate solutions that ultimately solve it. As they move from the awareness stage to the consideration stage along the buyer's journey, live chat can build buyer confidence. When a potential customer is unclear about the details of your offer or needs to reaffirm that your solution offers what he or she is looking for, having an instant answer to questions will begin to position you as an authority and trusted partner. Further confirmation from a Bold Software Survey (cited by Telus International) reports that 77 percent of live chat users agree that chat tools positively improve their attitude towards the company they interact with online.
Professionals across generations now make decisions using information from digital platforms and have a strong preference toward chat as an online resource. Telus International reports that, of both Gen Y and Gen X consumers (professionals between the ages of 18 and 40), 20 percent use online chat when they visit a website. This growing channel is preferred by these generations over baby boomers and seniors, who use chat half as often. With the shifting demographics of the workforce, chat will be instrumental to remaining competitive across the digital landscape.
2. Educate along the buyer's journey
Education is the basis of inbound marketing, and the capability of live chat to answer questions creates a personalized buying experience. This hyperpersonalization of content, which includes a live-chat expert overcoming specific objections and redirecting the lead toward highly targeted content—such as product pages or blog articles—can help fill in gaps and accelerate the buyer's journey. Leveraging content via live chat can support conversion in ways similar to sales enablement.
Longer sales cycles are especially common for B2B organizations where a variety of stakeholders may need to weigh in. These industries can specifically benefit from online chat, which delivers a personalized, positive brand impression and resolves potential objections during the consideration phase.
Measuring the micro-conversion of online chat engagement as an indicator of interest provides insight into how purchase-ready your leads might be. This touchpoint in the buyer's journey can be an important attributing factor to a macro-conversion, such as a new client acquisition.
3. Build the customer experience with micro-moments
Tony Zambito, author and modern authority in buyer insights and personas for B2B marketing, reminds us: "Instead of using technology to automate processes, think about using technology to enhance human interaction."
This human interaction is more widely known as the customer experience, or the sum of all interactions between a brand and its buyers or potential buyers, over the lifetime of the relationship.
More than ever, this experience is built on micro-moments, which Google defines as "intent-driven moments of decision-making and preference-shaping that occur throughout the entire consumer journey." In these moments, customer expectations are high, and brands with a strategy to deliver digital answers on demand will have an advantage over the competition. Successful hyperpersonalization of the buyer's journey supports a positive brand experience and inbound marketing success.
Moreover, leveraging subject-matter experts on live chat can significantly impact the bottom line. In some incidences, a simple live chat can evolve into screen-sharing, video chat, a product demo, or a sales call as prospects build trust that you can meet their needs. Live chat provides a touchpoint and micro-conversion opportunity as prospects move from consideration to decision, as outlined by HubSpot below.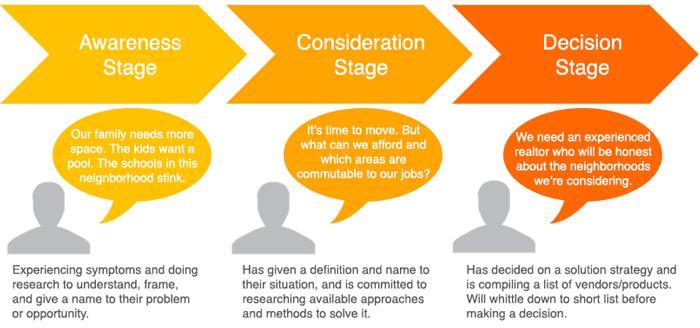 4. Define website optimization priorities
The foundation of inbound marketing is a well-performing website that helps an audience move through the buyer's journey. Feedback via this digital chat tool is invaluable, and visitor questions via live chat can provide insights, including:
Content needs
Clarification of pain points
Motivators for buying (price, features, customer support)
Product/service feedback for new product development
Not to mention, live chat makes a website dynamic and interactive, which is essential to improving site engagement metrics, such as increasing time on page, decreasing bounce rate, and supporting conversion goals. Especially if your company is committed to growth-driven design, these customer insights can help prioritize your site updates, using data to drive decisions. Ongoing website updates positively impact the buyer's journey for all visitors—whether or not they engage in live chat.
Live chat's return on investment
The impact any tool has on the bottom line ultimately drives the decision to implement. While using live chat to assist the buyer's journey is important, it's also essential to add it to your support customer stack as a means to delight your current customers and create brand evangelists. Live chat impacts your bottom line in these key ways:
Reduces overall customer service costs by resolving questions quickly
Minimizes phone expenses
Helps combat customer support agent burnout by creating a platform to manage multiple conversations simultaneously, instead of managing support escalations on the phone
Improves the customer and prospect experience and positively impacts Net Promoter Score, which gauges brand loyalty
Not to mention, according to a benchmark study by TELUS International, chat can increase customer lifetime value, as it allows for more frequent, targeted transactions, because it positions trained chat agents for upsell and cross-sell opportunities. In addition, having someone respond immediately to specific needs and direct solutions is a form of lead nurturing invaluable to moving a prospect through the buyer's journey. The specific ROI, as reported by TELUS International, can be found below.

Source: TELUS International, Online Chat: What You Didn't Know
No matter the benefits of live chat, the success of this channel will depend upon the partner or vendor that delivers the service. Selection criteria, such as the quality and training of agents and system features, are critical to ensuring the benefits outlined in this article. Two live-chat B2B platforms making a big splash are LiveAgent and Tagove. A couple popular chat options that integrate directly with HubSpot are SnapEngage and Pure Chat.

About the author
Jennifer Lux was formerly a Team Leader and Marketing Strategist at SmartBug Media. She has over 15 years of marketing and business development experience – in agency, in-house, and consulting roles. Jennifer has a Bachelor's degree in Neuroscience. Read more articles by Jennifer Lux.
Subscribe to get our new blogs delivered right to your inbox
Other insights you might like