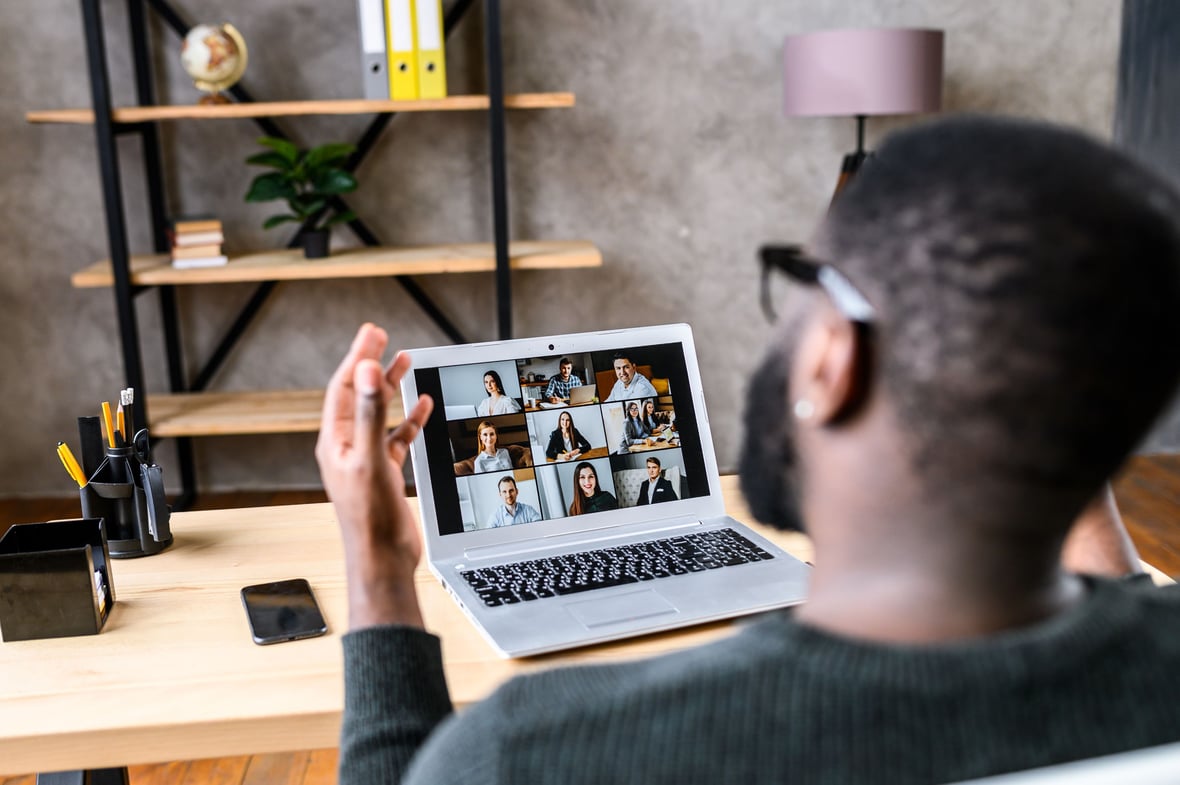 Remote Teams 101: How SmartBug Runs a Fully Remote Employee Training Calendar
November 23, 2021
---
By Sarah Mead
Have you ever gotten the impression that everyone in your position knows something that you don't? If you have, you're not alone. There's something to learn in every position, which makes prioritizing ongoing training almost as important as the job itself.
Although company-wide training sessions have their benefits, they risk not being relevant to everyone in attendance. For this reason, they need to be supplemented with small-group sessions on a variety of topics and certification days.
In January 2021, the team at SmartBug Media® kicked off small-group training sessions on both broad and niche topics, topical events in the industry, and more. We leave it up to the individual to determine whether or not these weekly training sessions fill a missing spot in their professional education. Ultimately, the goal in each training session is to have meaningful conversations and plenty of "aha" moments, and to keep lecturers at a minimum to leave more room for interactive learning.
With nearly a year of remote training sessions under our belt, here's our approach to providing marketers with the benefits of ongoing education.


The Benefits of Remote Training
According to research performed by SurveyMonkey, roughly 86 percent of employees report job training as an important aspect of their career. To many professionals of younger generations, the why is as important as the what. In other words, they want to know:
How they are contributing to the bigger picture
What they need to know to fill in the gaps of their skill sets
How they can be facilitators of trainings to share the knowledge they possess
To contribute to these expectations, remote training sessions provide the following benefits:


1. Colleague Interaction
In a remote working environment, training sessions provide an opportunity to connect and collaborate with colleagues who are not part of their direct team. Not only does this open up an opportunity to learn across departments but it also allows colleagues to interact in a medium other than a chat platform.
Socializing with colleagues strengthens the quality of workplace relationships and fosters an organization-wide sense of connection.


2. Ongoing Touchpoints Available by Date
Rather than having to spend the extra time outside of working hours to research external training sessions, SmartBugs in inbound strategy, design, content, web development, PR, sales enablement, and marketing automation can choose from a number of training sessions categorized by technical skills, tips for client interaction, office hours, and information pertaining to the industries we serve.
Although the majority of these training sessions are not mandatory, they give marketers an opportunity to fill in knowledge gaps so that they can better serve their teams and clients. A part of learning which training sessions to create comes from feedback from our marketers, so if a training topic isn't on the list in the current month, it is likely to be there in the following.


3. Guidance from Senior Roles
Many of our training sessions are led by marketers in senior roles who have extensive experience in the topic. Because we intend for each training session to be collaborative rather than prescriptive, training sessions often begin with a presentation from the expert that then segues into group sessions where attendees interact through an applicable activity or free-form discussion.


4. Broader Perspective
Ongoing training provides an opportunity to break down barriers between teams. While it can be easy to stay in one's lane and stick to the skills directly related to the job, we encourage our marketers to have a macro-level understanding of SmartBug's processes.
When the inbound team understands how they align with paid media, or when the editorial team sees the metrical results of organic traffic caused by content, our marketers have a better understanding of how to serve our clients across the board.


5. A Chance to Get Outside
You read that right. When you work for a fully remote company like SmartBug, you can attend from anywhere—even on a walk around your neighborhood—and on any device. This is part of our dedication to a flexible work environment that prioritizes work-life integration so that our marketers can create memories while doing great work.


Planning and Creating Training Content
The training calendar for each month seeks to address the following questions:
In which areas could our marketers use a boost?
What are the most sought-after subjects based on feedback from our marketers?
What type of training aligns with key deliverables tracked around quarterly business reviews?
How can our marketers become experts in their client industries?
How do we better identify opportunities to bring in new partners?
The answers to these questions vary, and our approach to creating training sessions around them vary in formality.
For example, while many of the training sessions directed toward technical skills to better serve our clients are lesson-based and formal, other training sessions, such as recent changes to HubSpot, have an open-house format where marketers can talk through ideas and ask plenty of questions.
Most recently, we introduced a series called "Industry GrowthBugs" where marketers attend sessions that have a knowledge-share approach. This gives marketers the opportunity to come with questions and new information that foster a training community based in involvement and engagement rather than lecturing and note-taking.


SmartBug's Ongoing Commitment to Ongoing Training
As we look to 2022, we plan to expand our training opportunities by taking the content that we have created (and recorded) and formalizing the information for a practicum. As we scale and grow as a company, our marketers can complete tiers in certain technical and client-specific topics to stay aligned and well-informed.
Interested in working with a company that's dedicated to professional growth? Check out our open positions.

About the author
Sarah Mead is the Associate VP of Client Services at SmartBug and plays a key role in building and maintaining excellent client experiences that result in happy customers. She is tirelessly passionate about leading her team members to achieve personal growth and success. Outside of work, you'll find Sarah teaching yoga, enjoying the outdoors, taking care of her plant collection, traveling far and wide, and grooving to the latest independent radio hits. Read more articles by Sarah Mead.
Subscribe to get our new blogs delivered right to your inbox
Other insights you might like