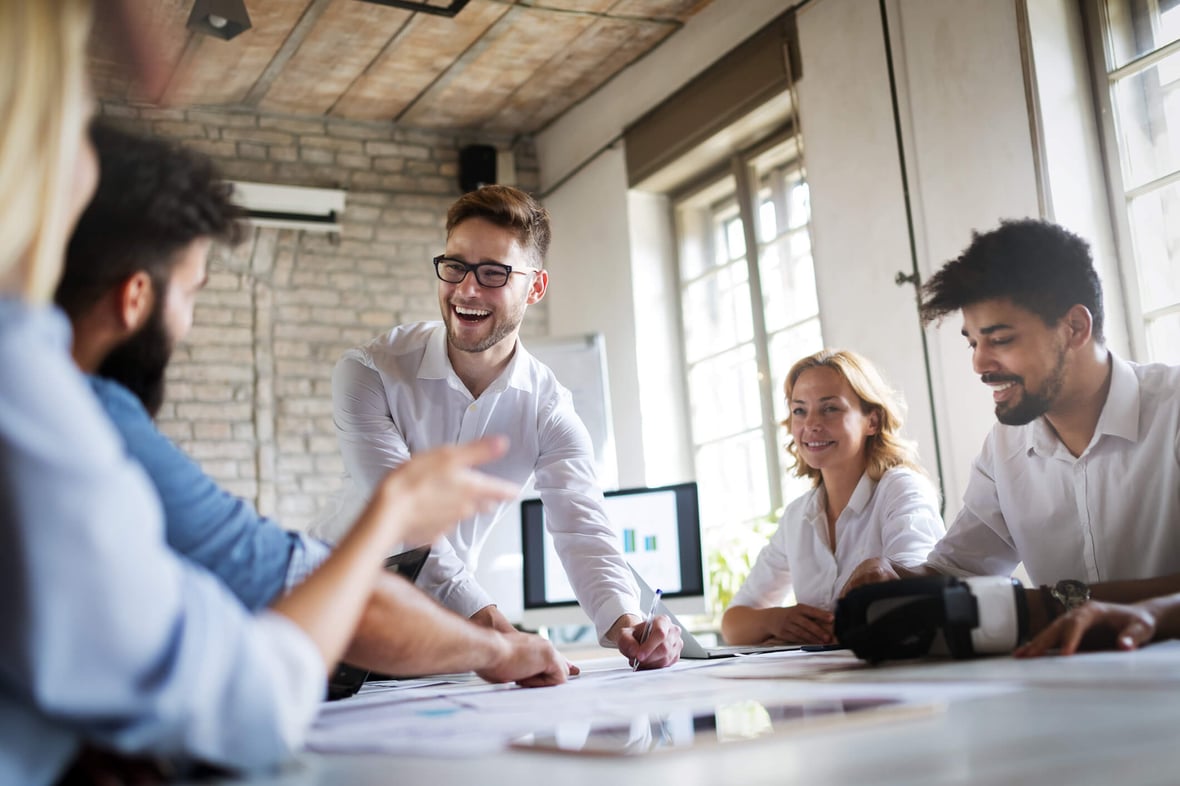 4 Ways to Drive Operational Efficiency with Revenue Operations
April 9, 2021
---
By Drew Cohen
Revenue operations (RevOps) is quickly turning into the go-to route to boost operational efficiency and profit. Better yet, technology is making it possible to see higher returns than ever before.
However, not all business leaders understand the nature of this new RevOps landscape and the best ways to use RevOps to chisel out the most efficiency. Luckily, there are four clear ways to squeeze more efficiency out of your revenue operations efforts ... as long as you approach this new framework the right way.


What Does Effective Revenue Operations Look Like?
To lift operational efficiency, revenue operations need to line up all of the pieces of your customer experience team, including sales, marketing, and customer success.
What does an effective revenue operations vision look like?
Successful revenue operations will align sales, marketing, and customer success by making sure data and context is flowing through the organization. You can't afford to lose those customer success conversations when marketing picks up a lead—or at any point during the Buyer's Journey. Instead, revenue operations should reach across departments and build automated systems that ensure you're covering as many people as possible, delivering the best experience across departments, and avoiding any speed bumps along the way.


How to Prepare Your Revenue Operations Team for Success
Not sure where to start with revenue operations? You're not alone. Because RevOps is a relatively new role, most business leaders who decide to focus on revenue operations end up feeling overwhelmed when it comes time to launch. Here are some foundational steps to setting your revenue operations program up for success:


Match Up Your RevOps Vision
When companies start designating leaders to revenue operations, they often run into a problem. Where within the organization should your revenue operations leaders sit? Should they be a part of marketing, sales, or independent from all departments?
The answer is simple: Where your RevOps team operates doesn't matter. What's important is that your whole team fully understands revenue operations and shares a unifying vision. As long as everyone recognizes that revenue operations' goal is unifying and aligning the entire operation across sales, marketing, and customer success, who your revenue operations team answers to shouldn't matter much.


Smooth Out Your Tech Stack
It doesn't matter how unified you think your teams are, if technology is disconnected it will be impossible to maximize your company's operational efficiency. Unfortunately, half of companies say their new employees don't have automatic access to all of the apps they need.
There are two primary ways you can clean up your tech stack and build a single source of truth:
All-in-one CRMs: There are customer relationship management (CRM) platforms built to promote shared information across teams. For instance, HubSpot's CRM acts as a backbone that holds cross-departmental info. Support teams can use a services hub, sales conversations are logged back to the CRM, and marketing interactions are also fed back to that single source of truth. To find an all-in-one tool, ask yourself, "If I buy this piece of software, what need will it fill and what systems of mine can this integrate with?"
Integrations: Even if you have a less intentional CRM or platform, you can also streamline technology with integrations and migrations. These are handy ways to add more connectivity to a system without having to ditch that original platform and start from scratch.
How to Use Revenue Operations to Lift Operational Efficiency
So, you have a revenue operations team in place, and your technology is capturing and sharing information across departments. Now what? Here are some areas to focus on if you want to drive operational efficiency and growth with revenue operations:


1. Establish Lead or Company Scoring
Leads and companies won't offer the same opportunities and returns across the board, and your team members will have unique strengths and advantages. Your revenue operations team can burst open the revenue pipeline by identifying how well a lead matches your offerings and making sure the best leads are dealt out to the right people.


2. Perfect Deal Flow
Timing is critical if you want to squeeze the most profit out of your team's efforts. That's why it's important to boost deal flow by making sure potential prospects have opportunities created for them at the right time. The best revenue operations teams will automate that process and use connected technology, along with proactive administration, to deliver the best content at the right time—both for the prospect as well as the salesperson working the opportunity.


3. Master Sales Automation
Free trials are pivotal for some business' success, particularly software as a service (SaaS) companies and other product-heavy businesses. In an efficient RevOps environment, you can use technology to personalize the lead's experience. For instance, when a lead signs up for a trial, you can set up systems to send an email sequence that helps them get the most out of their trial. Or maybe they haven't logged in yet, so you set up processes that move them into a new branch of the workflow. Other components of sales automation to consider might include sales templates or sequences that allow salespeople to initiate pre-built cadences for their assigned contacts.


4. Set Up Custom Event Triggers
With a clear vision of revenue operations leading the way, you can also use custom event triggers to lift operational efficiency. For instance, if your business is a SaaS platform, you may dig into the number of logins that a lead is making during a trial or demo period. In this case, you may want to track logins and set up custom education campaigns based on low log-in triggers. Or, you might decide to track engagement with an on-demand webinar and feed that information to your sales, marketing, or customer experience teams.


See How RevOps and Marketing Are Colliding
If you want your revenue operations efforts to catapult operational efficiency, it takes research and a clear understanding of where RevOps is moving. We found groundbreaking info through our newest state of RevOps report: Where RevOps & Inbound Collide in 2021.
Download our full report now to see where RevOps and marketing are converging to spark the biggest opportunities.

About the author
Drew Cohen was formerly the Senior Director of Revenue Operations at SmartBug. Drew developed strategies for organizations in both B2C and B2B verticals. He has unique experience in private-equity owned organizations, early-stage technology startups, sports & entertainment and healthcare. When not marketing, you can find Drew yelling at his television during any Philadelphia team's sporting event. Read more articles by Drew Cohen.
Subscribe to get our new blogs delivered right to your inbox
Other insights you might like