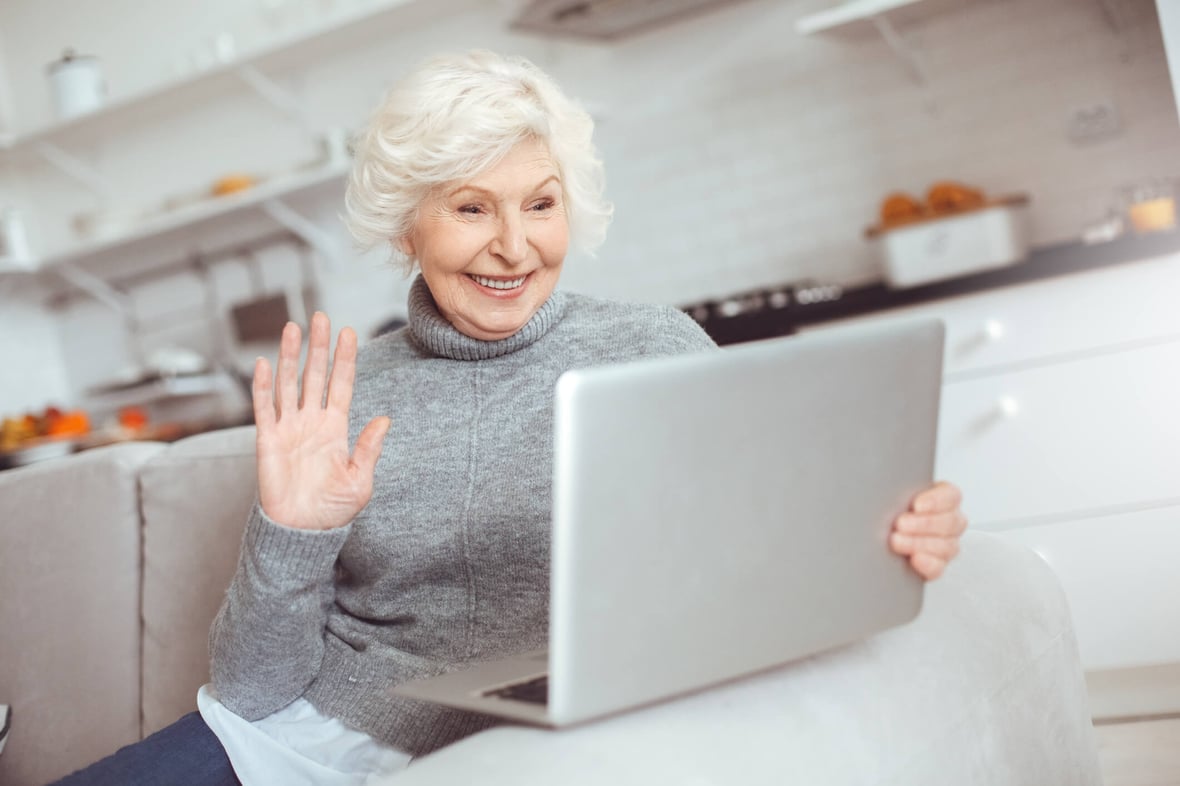 7 Tips to Keep Your Senior Living Leads Engaged After a Tour
October 8, 2020
---
By Megan Golden
Engaging with your senior living leads after a tour might be the deciding factor on whether or not your contact is ready for the next step: setting up a move-in date.
With the ongoing COVID-19 pandemic, most senior living communities have understandably shifted their tours from in-person to virtual. Therefore, next steps, questions, and concerns can no longer be addressed on the spot at the end of the tour. This makes the post-tour engagement process more difficult.


Pros of Virtual Tours for Senior Living Communities
However, the quick shift from in-person to virtual tours hasn't been entirely negative. Virtual tours enable the following:
A wider audience to be reached: You can share virtual tours via email to prospective residents and their loved ones around the country, immediately allowing those contacts to forward the tour to their friends or family members, as well.
24/7 access to tours: Sharing ungated

virtual tours on your website

allows anyone to access them at any time, no appointment necessary. Virtual tours essentially eliminate the wait time and can shorten the consideration stage of the Buyer's Journey.
Time-saving for staff and leads: Skipping the appointment cuts down on travel time, or time away from work, for your potential residents or their family members, while simultaneously allowing staff members to work on other projects instead of leading tours.
7 Tips to Engaging with Senior Living Leads After a Tour
What about the personal connection in-person tours add? We share our tips to engaging senior living leads after a tour with a personal touch below.
Tailor your content. Set up post-virtual tour

lead nurture campaigns

based on

persona

. Setting up by persona allows you to personalize content and tailor it to that persona's interests, worries, and common questions. For example, if your persona is looking for a senior living community for their mother, make sure content addresses their common questions and concerns.
Be open to questions. Add a

chatbot

to your virtual tour page which can be set up to answer FAQs. Or, if you don't already have one, add an FAQ page to your website and link to these FAQs from your virtual tour page. The FAQs can also be shared in your lead nurture campaign and inspire blog topics.

Bonus: For an additional personal touch, encourage leads to ask questions via a form on your FAQ page or by responding via email.
Share resident and family member testimonials. Video testimonials add a personal touch by allowing your lead to relate to real people in your community.

Videos

can be shared on virtual tour pages, social media, or within your lead nurture campaigns.

Bonus: If your residents or their family members from your testimonial videos are willing to be contacted by potential customers, share their contact information so your lead can speak directly with people they relate to.
Have your staff or sales team follow up with a Q&A session. Q&A sessions can be over the phone or in a virtual meeting room. It might be worth asking if your lead prefers a one-on-one session or an "open-house" meeting with a few other potential residents or their families. A virtual "open-house" meeting can allow leads with similar questions to get answers or discuss common concerns.
Encourage social media engagement. Add social icons to your virtual tour pages, or add a CTA at the end of your videos to encourage viewers to visit your social media pages. Make sure your social pages share current events in your community and update followers frequently.

Content idea: Don't be afraid to "go live" on social media. You can share mini clips of resident rooms or common areas, have staff members discuss community activities, or answer common questions.
Target leads via your paid social media campaign

. You know your lead is looking for a solution that best fits their needs. Keep your community top of mind by addressing their concerns with your

paid social media ads

. Verbiage that includes words such as "pros and cons," "compare," or "versus" often align with the decision stage of the Buyer's Journey.

Encourage your leads to look at your reviews.

Beyond testimonials, adding a reviews page to your website or linking to an outside source where current residents or their loved ones have reviewed your community adds a level of credibility to your community. Additionally, it allows prospective residents or their family members to learn more about your community.
As virtual tours continue to gain popularity, having a plan in place to engage leads on a personal level will help guide them through the decision-making process and ultimately to set up a move-in date.

About the author
Megan Golden is an Inbound Marketing Strategist for SmartBug. She has had previous experience with strategic campaign planning, content development, and implementing inbound marketing campaigns. She really enjoys collaborating with coworkers and clients and seeing new ideas develop into successful marketing campaigns. Read more articles by Megan Golden.
Subscribe to get our new blogs delivered right to your inbox
Other insights you might like