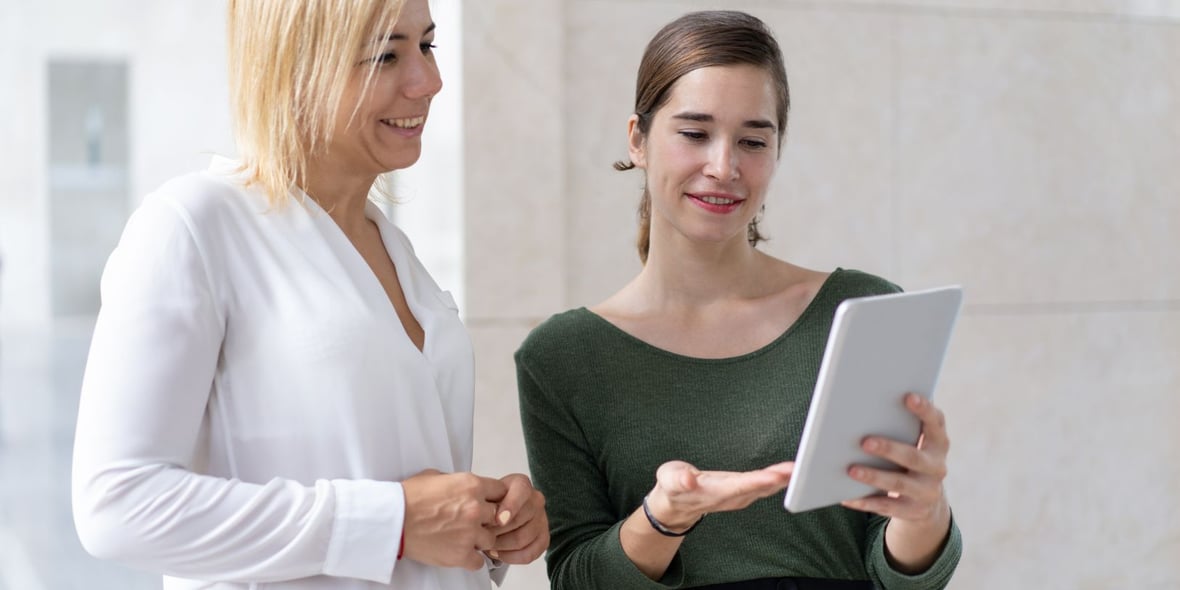 Sales enablement can empower your team to sell smarter and more successfully. One of the primary ways you can set up your sales reps for success is by creating highly relevant and easily accessible content. Let's explore how you can use sales enablement content to empower your customers, equip your sales team, and drive more sales.
What Is Sales Enablement Content?
Sales enablement content is any content (written or multimedia) used to aid your sales team in educating and converting prospective customers. By delivering the right content at the right time, your sales team can educate customers and close more sales.
This content falls into two main categories, depending on its audience:
Internal sales enablement content includes any materials a company creates for its own sales team to consult. For example, this might include talking points to help them successfully navigate sales calls or educational materials on products and pricing.
Customer-facing sales enablement content (which we'll focus on in this article) includes any materials you create for customers to inform and nurture them through the sales funnel.
Sales enablement content can take many forms, including:
Printed materials (e.g., pamphlets, one-pagers, catalogs)
Blog articles
E-books
White papers
Videos
Infographics
Case studies
Testimonials
Email campaigns
Interactive content/quizzes
And more!
The Role of Sales Enablement Content
Content is a key part of any successful sales enablement strategy. It works alongside other factors, such as analytics and tech tools, to help sales teams succeed. Many aspects of sales enablement work behind the scenes, but content is front and center for the customer.
A 2020 survey found that, for the average B2B customer, the buyer's journey involves consuming 13 pieces of content, with eight of those content pieces coming directly from the vendor. You may find that a different number of highly relevant and well-placed/timed content pieces seals the deal for your company.
Why do customers want content, and why do you want them to have access to it? Two main reasons:
Allowing customers to get their hands on the right information can make life easier for your sales team. You can look forward to having shorter, more focused conversations with prospects and no longer answering the same questions repeatedly. That's because of another key benefit sales enablement content delivers...
It can lead to more qualified buyers. Customers who thoroughly understand their problem and understand your solution are far more likely to commit.
You can cash in on these benefits by creating content that informs and nurtures customers in a variety of ways. For example, consider creating content that:
Answers frequently asked questions or addresses common hangups
Educates prospective customers on your value proposition
Digs into the details of your products or services
Compares your brand to a top competitor
Highlights new product features or service offerings
Shares real-life examples of how your product has helped other customers
Sales enablement content can play an important role before, during, and after a sale. Customers become more informed and more confident buyers, and your sales team is there to run with that momentum, turning qualified prospects into loyal, enthusiastic customers.
Tips for Highly Effective Sales Enablement Content
Ready to make the most of your sales enablement content? Follow these tips.
1. Make it relevant.
Great sales enablement content should be buyer-centric. That means you're careful not to waste anyone's time with fluff but instead create content that's highly relevant to your audience. What are their burning questions about your product? What are the concerns that may be keeping them from buying? What's that missing puzzle piece you can supply to help them get the full picture? Use sales enablement content to address these gaps.
2. Make it accessible.
Make sure sales enablement resources on your website are well organized so they're easy to find. This content should be accessible to both your sales team and to customers. For your sales team, having quick access to content (ideally, they should be able to find relevant content within one minute) can help them nurture prospects and close deals. For customers, having access to information throughout the buyer's journey puts them in the driver's seat, helping them make an informed decision they can feel confident about.
3. Make it part of the process.
Encourage your sales team to make content a key part of their selling strategy and process. As they communicate with prospects, they should look for opportunities to share resources. Even if they want to explain the information in their own words, a follow-up resource can help drive the information home and remind the customer of key information they may otherwise forget.
Supercharge Your Content Strategy to Drive Sales.
The adage "Content is king" continues to ring true. Customers today want to be informed before they make purchases big or small, and sales enablement content can provide that information. Your sales team can use content as a highly effective tool in their arsenal as they nurture customers through the buyer's journey.
Ready to supercharge your sales enablement efforts and drive unprecedented success? Look no further! Download SmartBug's Sales Enablement Battlecard now and equip your team with the ultimate tool for winning in today's competitive landscape. Unleash the power of targeted strategies, refined messaging, and data-driven insights to boost your sales performance.

About the author
Rebekah Goode is a SmartBug copywriter based out of Dayton, OH. Rebekah holds a Master of Arts in writing and has over five years of agency experience as a content marketer. She is passionate about helping brands connect with their target audiences through written content of all kinds, especially long-form copy. In her free time, you can catch Rebekah baking; listening to podcasts; practicing karate; tackling DIY projects with her husband, Aaron; and trying to keep up with their fun-loving one-year-old, Daniel. Read more articles by Rebekah Goode.
Subscribe to get our new blogs delivered right to your inbox
Other insights you might like