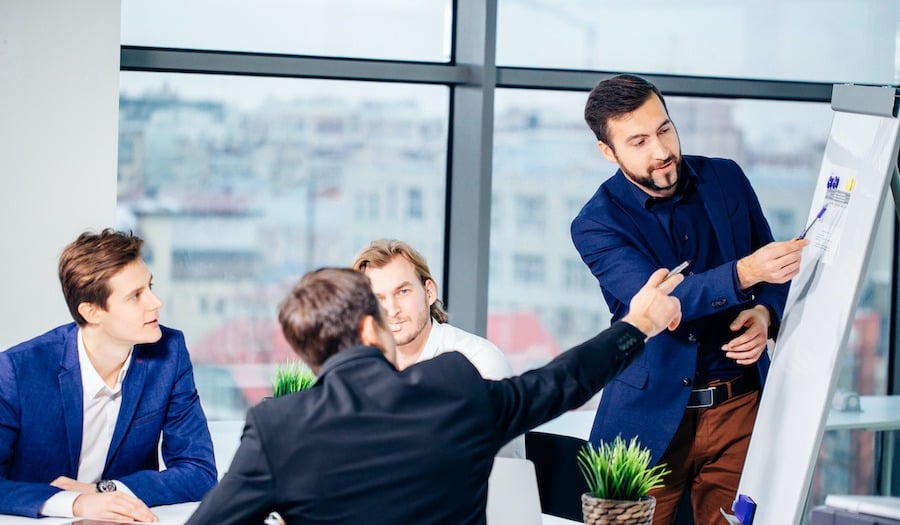 Let's cut to the chase: A sales battlecard is an internal document, typically a one-page cheat sheet, of high-value talking points created specifically to help your sales team close deals. In fact, 86 percent of CI leaders at software companies enable their sellers with battlecards.
At a high level, sales battlecards should:
Be easy to skim on the fly during conversations with prospects
Include responses to common objections and frequently asked questions
Focus on your company's most impactful value propositions
Provide facts and statistics to back up your claims
Be used by your entire sales team to ensure consistency
A battlecard is not:
A long-form script
Based on opinions
Set in stone after the first draft
To be used once in a while
Traditionally, battlecards have been viewed as sales enablement tools for aggressively selling against a specific competitor. Although this is a common use for battlecards, other applications may be a better fit for your sales team:
Comprehensive
Product- or service-specific
Partnership-specific
Persona-specific
Challenge-specific
How to Make a Sales Battlecard
Let's look at what goes into creating this sales enablement resource.
1. Talk to your salespeople and sales leaders about their needs.
Before you can create a new battlecard, you need a clear idea of what sales challenge you are looking to address. Here are some common challenges you could help diagnose and handle:
Your newest salespeople need guidance on your overall competitive advantage and value propositions.
Sales reps have a hard time selling against a specific competitor.
The details and benefits of a new product, feature set, or service are complex or difficult to describe.
Your prospects don't understand the value of your partnerships or integrations.
Your team struggles to break into a new market.


2. Set a goal.
On a basic level, a battlecard is a sales tool that empowers sales to close deals. Based on the challenges you uncovered above, what sales goals can you set to monetize your battlecard's performance? Some examples include:
Increase contract value by 5 percent
Increase upsell success for new products or services by 10 percent
Bring in seven new customers per quarter from a specific vertical
Lose 15 percent fewer deals to a specific competitor
3. Collect the details.
No one person or department should be the gatekeeper of your battlecards. Rather, you should collaborate with sales, marketing, customer service, operations, and product subject-matter experts to collect information.
You will need input from these different roles to maximize the impact of your message. For example, the sales team can provide insight on common questions asked by prospects, the operational or product team can provide insight on capabilities, and the marketing team can provide insight on high-converting value propositions.
When gathering information for your battlecard, explore the following:
Customer profile(s) and persona details
Product or service overview
Wow factor features and offerings
Top pain points you solve
Common prospect "aha" moments
Top objections from prospects
Pricing details
Competitor-specific talking points
Unique value proposition(s)
Relevant case study or use case details
Weaknesses or potential drawbacks
4. Draft your messaging.
Once you've gathered all of the details you need to address your sales team's needs, it's time to start drafting the actual messaging used on the battlecard. Your salespeople will use this document to prep for sales calls and reference it during conversations with prospects, so remember to keep your messaging short and sweet.
Here are some best practices for battlecard messaging:
Use bullets: This will help reps quickly find the details they need in a pinch. Although this is an internal document, skip jargon and marketing-centric headers. Use phrases like "top features," "pricing," and "customer stats."
Keep it conversational: Give reps the ability to read straight off the battlecard with messaging written in your brand's style, tone, and voice.
Base messaging on persona needs: Anticipate your personas' expectations and expertise when you choose certain terminology (for example, highly technical terminology versus benefits-focused terminology).
Back claims up with evidence: Using case studies, customer quotes, and performance metrics will make your value propositions more persuasive.


5. Design a template.
Creating a consistent layout that can be used or adapted for your battlecards will support your sales team's adoption of battlecards. Why? Because they'll know where to find particular information. For example, if your pricing details are always in the top right corner, your sales team will be able to answer pricing questions faster because they won't have to hunt for the information they need.
Here are some best practices for battlecard design:
Limit it to one page: This will prevent reps from needing to scroll or click through a document during conversations with prospects.
Clearly separate sections and use obvious headers: This will help reps quickly find the information they need to answer a prospect's question.
Brand it: Using your brand's fonts and colors will make your battlecards feel more official and convey the importance of the document to your team.
Here is an example of our competitive sales battlecard: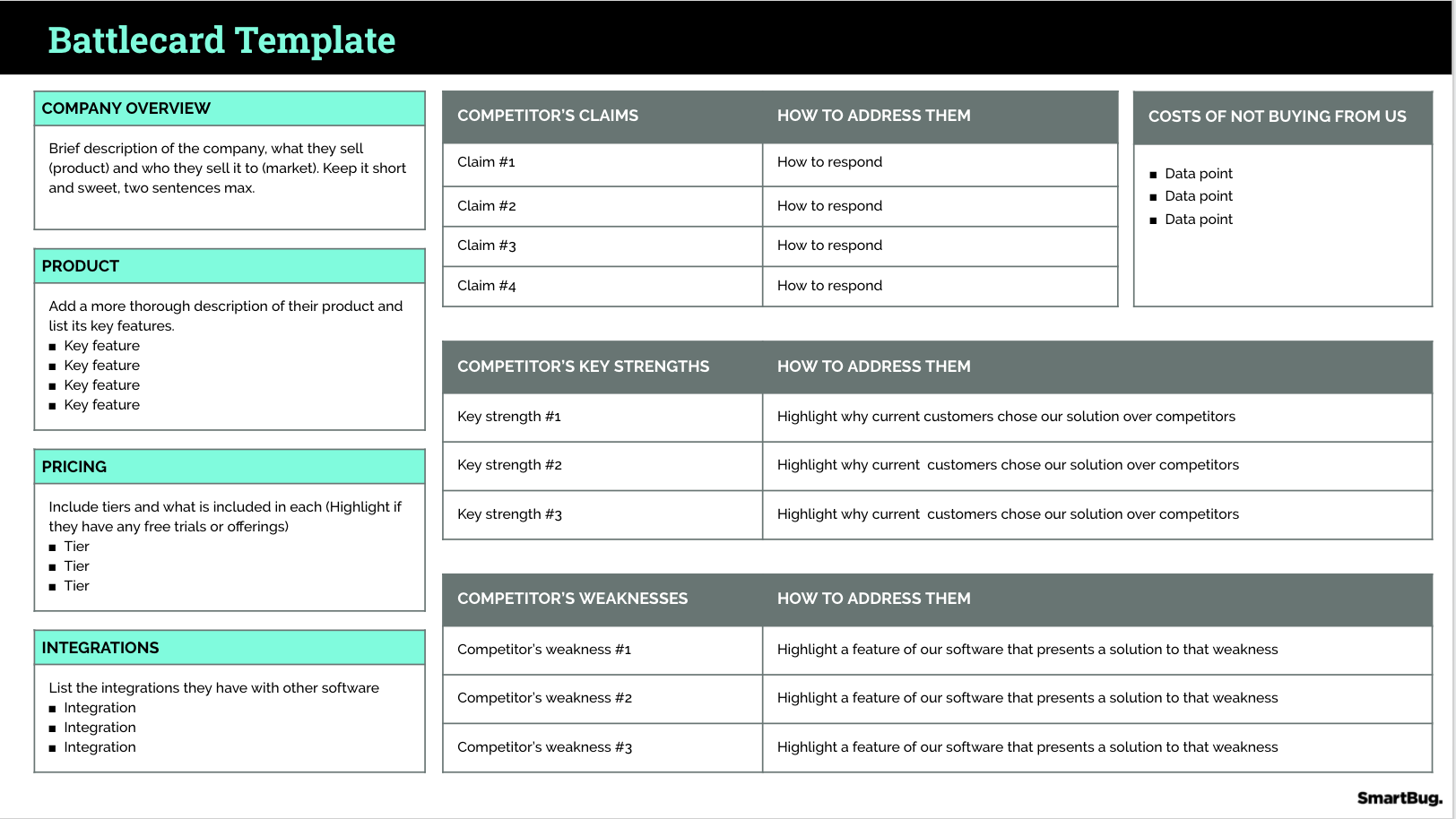 Get your own template here.
How to Use a Battlecard
Setting clear expectations with your sales team about how, when, and why to use your new battlecard is critical to its success. Your sales managers should help determine your own best practices for using a specific battlecard. Sales reps commonly use battlecards in two ways:
The key is to train your sales team. Training should include mock sales calls with leadership to test the accessibility and ease of use. Recording the calls and reviewing them internally can also be a great way to improve performance for the sales team. You should strongly consider any requests for design changes that the sales team makes during training.
Follow these best practices to ensure the successful use of your battlecards:
Make battlecards easily accessible.
Store your battlecard somewhere the sales team already spends their time. Typically, the best option is within your CRM where salespeople take notes and update lead records. If your team has to dig to find the battlecard in messy shared folders or, even worse, their desktops, it may be hard to get the team to fully adopt your battlecard as part of their process.
Track battlecard usage.
Consider using a tool such as HubSpot Documents to track stats like the number of opens to get an idea of how often the battlecard is used.
Make battlecard updates regularly.
Your battlecards are not perfect. Over time, you may find better value propositions, new company details, or different competitors that require updates to your messaging. This document should evolve with your sales team's confidence, abilities, and goals.
Sales battlecards are a powerful tool that can greatly benefit your sales team.
They are concise and organized documents that provide sales representatives with key information about your products or services, as well as insights on how to win against competitors. By leveraging sales battlecards, your sales team can have a strategic advantage in the field, enabling them to confidently engage with prospects and close deals more effectively.
This blog was originally written on June 25th, 2020 and has been updated since.
About the author
Viole Morales Viole Morales is a passionate marketer from El Salvador. With over 9 years of experience in digital marketing, customer success, and account management, she enjoys learning new marketing trends, managing and cultivating good relationships with her clients, and enabling them to achieve their goals through digital marketing strategies. Read more articles by Viole Morales.
Subscribe to get our new blogs delivered right to your inbox
Other insights you might like