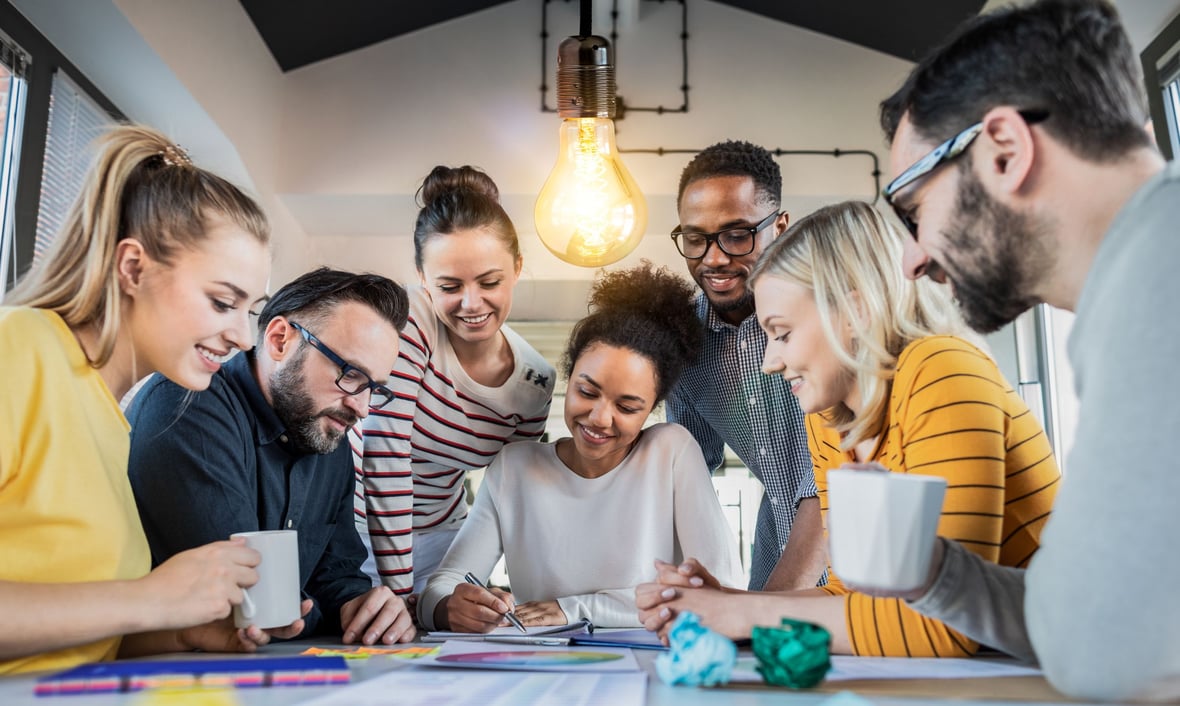 By Ale Melara
CRM platform implementations and migrations are not as hard as you may think. They can be daunting, though, and take longer than they should. This is especially true if you have no action plan in place, if you don't know which team members should be involved, and if you don't have a defined timeline.
My fellow SmartBug® Jessica Vionas-Singer wrote an article on why CRM implementations fail, to provide you with a broader picture.
Whether you are just getting started with HubSpot (as your first CRM platform), or you're migrating from your current marketing automation platform into HubSpot, there are four defined phases that will help you run a smooth setup.
1. Account Setup
Follow these five steps to set up your account:


Step One: Invite your team.
This is where you add users to your portal, create teams, and give special permissions if needed. Once you invite users, they will receive an email with instructions to set up their own account.
Follow the screenshots below, and you are good to go:



Check out this step-by-step guide on how to create, edit and import existing teams.


Step Two: Set up your domain settings.
Connecting your domain to HubSpot means anyone navigating the web will be able to access all the HubSpot content you publish. This includes when you publish HubSpot pages, blog posts, knowledge base articles, and web versions of emails.
Pro Tip: Before you connect your domain, check your URL's structure, verify you have access to the CNAME records in your DNS provider, and make sure you have your SSL certification. Keep in mind that HubSpot does not provide SSL certificates for domains that exceed 64 characters.
Check out this step-by-step guide on how to properly set up your domain in HubSpot.


Step Three: Install the HubSpot tracking code, and filter out your internal traffic.
What is a HubSpot tracking code, and why is it important? Well, every HubSpot account is given a unique code that helps HubSpot track their website traffic.
If you have pages hosted externally, the HubSpot tracking code must be installed manually. If you need one, check out this step-by-step guide on installing your HubSpot tracking code.
You may need some additional setup to ensure that HubSpot is gathering analytics for all your domains and sub-domains. Follow these steps to ensure you're not only tracking site traffic, but also that you're filtering bot activity and updating your cookie-tracking settings.


Step Four: Set up marketing email settings and make sure you're complying with CAN-SPAM.
Connecting your email is a two-part process:
Connecting your inbox
Adding your email extension
Check out this step-by-step guide on how to connect your email to your HubSpot account.
Once you have your email set up, you must make sure all the marketing emails you'll be creating comply with the CAN-SPAM (Controlling the Assault of Non-Solicited Pornography and Marketing) Act of 2003. This means all your emails should have a footer that includes the following:
Your Company name
The physical mailing address of your business (street address, city, and state)
A link that enables contacts to manage their email subscription preferences
See this step-by-step guide for how to set up your CAN-SPAM email footer information.


Step Five: Connect your social accounts.
Connecting your social accounts will not only allow you to create and publish social posts from the platform, but it also helps you track audience engagement. HubSpot allows you to connect the following networks:
Facebook
Instagram
Twitter
LinkedIn
YouTube (Marketing Hub Enterprise only)
Check out this step-by-step guide on how to connect your social accounts to your HubSpot portal.


2. Technical Configuration
Now that you have your account set up and your team is starting to get familiarized with the CRM, it's time to get your data into the portal.


Step One: Map your data.
Before you actually start importing your data, make sure you audit your current data so you're starting with a clean and organized database. Here are a few questions our SmartBug team asks clients before they start working on migrating data:
For those migrating from an existing CRM:
Which standard fields do your salespeople currently use for Companies, Contacts, and Deals/Opportunities?
How many custom fields do you have? What is the field type of each? What are the field options? Which object(s) are they tied to?
Are there fields no one is currently using that can be eliminated?
For those creating a new CRM:
Beyond standard fields (e.g., First Name, Last Name, Email, Company, and so forth), what other types of information are your salespeople currently tracking?
Can this information be standardized? For example, if salespeople are using a spreadsheet and typing in whatever industry makes sense to them for each customer, could you implement a predefined drop-down list of industries that the salesperson could choose from, instead?
Are there fields that some salespeople are tracking that others are not? Would those fields be a "nice to have" or a "have to have"?
For both:
What information would be nice to have when a person fills out a form on your website?
How are salespeople determining the priority of leads? How are they marking (or are they marking) propensity to close?
Step Two: Import contacts into HubSpot.
This is where the fun actually starts! It's time to import all your historical data into HubSpot. You can import data about the people you work with, and basically anyone who interacts with your company, all of whom will be your contacts. You can also import information about the companies or sales deals you've got going on.
Pro Tip: If you are importing your contacts from a spreadsheet or directly from Gmail contacts, make sure you create a column for every property you want to import data into.
Check out this step-by-step guide on how to import your contacts into HubSpot.


3. Hubs Setup: Marketing, Sales, and Service
Now, where will you be migrating your data into? HubSpot has five "products'' you can migrate your data into:
CRM: Your contact database
Marketing Hub: Your marketing assets, like landing pages and emails
Sales Hub: Your active deals, sequences, call recordings, and so forth
Service Hub: Your support tickets and ticket pipeline
CMS: Your actual website, forms, and so on
We have divided this phase of the HubSpot setup into five main steps:
Step One: Discuss the handoffs from marketing to sales to service.
It is extremely important and beneficial for your company's bottom line that all your teams are connected. The first step is to develop a service-level agreement (SLA), which leverages an effective way of communicating and sharing lean data.


Step Two: Create deal pipelines and stages.
Deal pipelines will help you predict revenue and identify any issues within your sales process. Your deals need to match your sales process in order to be most helpful, and this is where deal stages come in.
Two things need to happen when you are developing your deal stages:
You need to give them a name.
You need to assign them a probability, which is the likelihood that a deal in that stage will end up closing.
Check out this step-by-step guide on how to set up and customize deal pipelines and stages.


Step Three: Connect your calendar to HubSpot and set up a meetings link.
You can connect your Google or Office 365 calendar with the meetings tool and allow prospects to book time with you. Follow the screenshots below, and you are done:
Check out this full step-by-step guide on how to set up the meetings tool in HubSpot.


Step Four: Create email templates, sequences, and snippets.
Email templates:
What are they? Once you build an email, you can save it as a template and use it again in the future.
How do they work? You can personalize and edit the content of a template before sending it to a specific list or recipients.
Want more info? Access a step-by-step guide to creating and sending email templates.
Sequences:
What are they? Sequences are a series of targeted emails that are coordinated through a specific time period to nurture your contacts or prospects.
How do they work? Sequences are often used as a lead nurture campaign.
Want more info? Access a step-by-step guide to creating and editing sequences.
Snippets:
What are they? These are short, reusable (kind of like a template) blocks of text that can be deployed for chat conversations, emails, or contact and company records, saving you time.
How do they work? They help you quickly pull important details about your offerings, products, or services when you're writing an email to a prospect or responding to a chat conversation. When you save them, use the hashtag (#) symbol and a keyword (shortcut) that your team can easily remember.
Want more info? Access a step-by-step guide to creating and using snippets.
Step Five: Determine if a round-robin or team meeting link will need to be created.
You can either create a group availability or a round-robin meeting link. Determine which best fits your team's goals, and create the appropriate link.
Check out this step-by-step guide on how to create a team meeting link in HubSpot.


4. Lead Flow and Support Flow
This final setup phase will get you up and running with the visitors that come into your website moving forward. It involves gathering, storing, and analyzing visitors' contact information.


Step One: Create and embed forms on your website.
You can easily add forms to your HubSpot pages or to pages you've created on an external site. If you will be sharing your form on an external site, there are two ways to do this:
Embedding the form code onto your existing page
Creating a standalone form page that you can link to
For more information, see how to set up and style a HubSpot form on an external site and how to embed a form in a smart rich text module.


Step Two: Set up lead flows.
Lead flows allow you to monitor your visitors' activity on your site, and they help you determine which offers are getting the most responses and subscriptions. These insights show you how to best interact with your prospects.
Lead flows are a call to action (CTA), a landing page, and a thank-you page all in one. They enable conversions without visitors leaving the page they are browsing. You can use lead flows for:
Blog subscriptions
Content offers, like e-books
Webinar signups
Demo or trial links
To create a lead flow, head to Marketing > Lead Capture > Forms.

You will then need to choose a type—whether you need a regular form or a pop-up form. In this case, you'll choose pop-up form.


Step Three: Create lists to segment your leads.
The lists tool in HubSpot will allow you to create lists that you can use to send targeted marketing emails or customer satisfaction surveys, or enroll contacts in a workflow. You can create lists for specific object types, either contacts or companies—but not both. They are created based on property values such as lifecycle stage and other characteristics like activity type (e.g., page views).
Check out this step-by-step guide on how to create and use lists in HubSpot.


Step Four: Set up your ticket pipelines.
Ticket pipelines will track your customers' interactions over time. This tool includes a default support pipeline that will help you manage your ticket statuses.
Check out this step-by-step guide on how to customize ticket pipelines and statuses in HubSpot.


Step Five: Set up live chat.
Installing a live chat on your website is one of the most effective ways to boost your conversational marketing efforts. A chatflow with a live chat will connect your website visitors with members of your team in real time.
If you want to create automated responses, you'll need to create a chatbot instead. This involves a slightly different process than installing just a live chat.
Check out this step-by-step guide on how to create a live chat in HubSpot.


Let's Get Started
If you are just getting started with HubSpot and are looking for where to start, look no more. Just follow this simple four-step HubSpot setup plan to run the process smoothly and effortlessly. To make things even easier, you can download our free HubSpot Implementation Checklist that walks you through these exact same steps.
After reading this, if you want more expert insight and guidance, SmartBug's team of HubSpot implementation experts are available to chat anytime.

About the author
Ale Melara is a Sr. Content Marketing Manager based out of El Salvador, Central America. Ale is our very first LATAM employee. She's worked remotely for the past 5 years and she's had different roles in sales and marketing. In her free time, she works on creating educational videos around digital marketing for her "Inbound Nomad" social accounts where she promotes traveling the world while being a full-time marketer. Read more articles by Ale Melara.
Subscribe to get our new blogs delivered right to your inbox
Other insights you might like