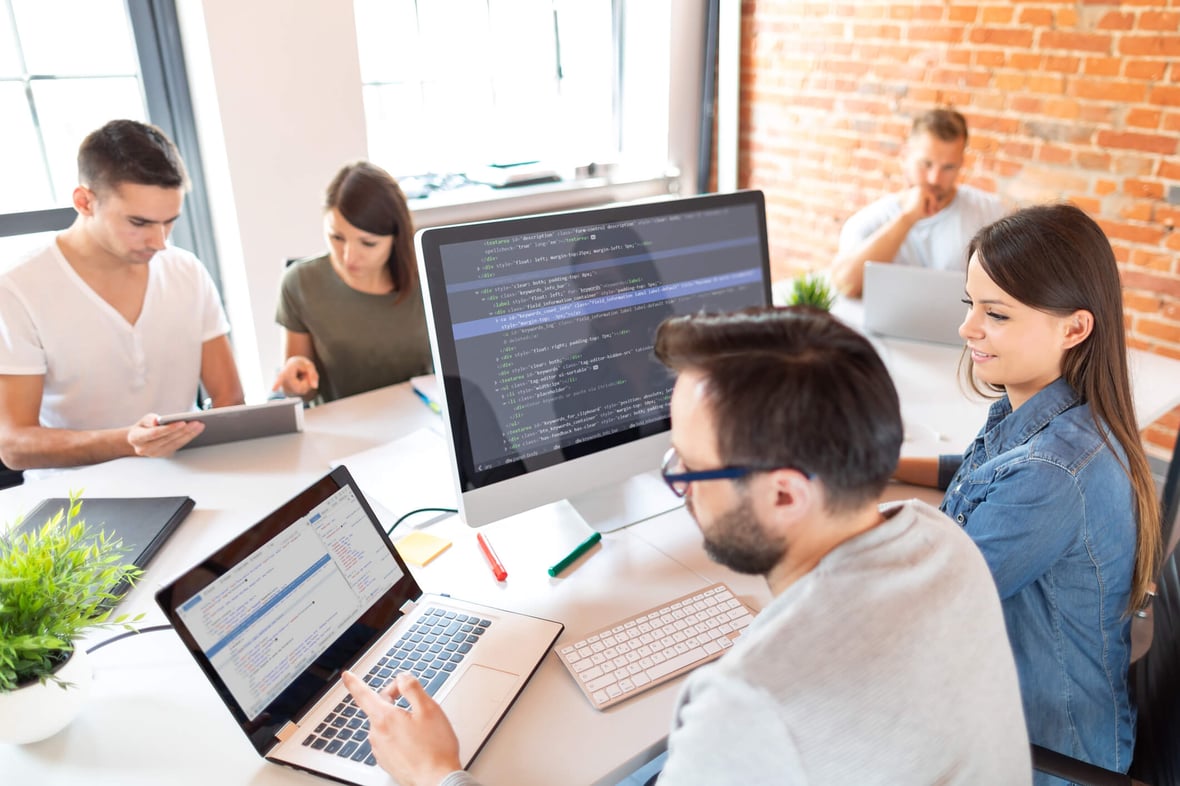 In this article, we'll look at four pros and four cons of migrating your WordPress website to the new iteration of HubSpot's content management system, named CMS Hub. The goal is to reveal the pain points and benefits of each platform so that you can make an informed decision based on what fits your business or project best. We'll start with the cons first and then move toward the many benefits of the HubSpot ecosystem.
Cons
It Certainly Isn't Free
There is no getting around having to pay for HubSpot. Unlike WordPress, which is free and open source, HubSpot is a paid solution for marketing automation and website development. Within the HubSpot ecosystem, you pay for a variety of services related to the CRM, marketing tools, sales and reporting tools, and CMS website hosting platform, among other add-ons and features.
Users can also choose different service packages depending on whether their company is small or tends to fit into the enterprise category. The CMS alone is $300 per month, with additional marketing features often taking you above $1,000 per month—and much higher for enterprise-level clients, depending on the features a user would like to add on.
Although the cost is a drawback, users are also getting great value from the product if they can collect and utilize the data to grow their business over time. Simply put, good tools will always be valued at what the market deems reasonable, and HubSpot has proven its worth by helping many clients grow their businesses using inbound methodology.
The Drag-and-Drop Editor Has Some Drawbacks
With the release of CMS Hub in April of this year, HubSpot added a drag-and-drop page editor. After building templates and extensively testing the new editor, we found a handful of issues that will hopefully be improved upon in the coming months.
The first issue is code bloat, which we detail in this blog post. Simply put, by using the drag-and-drop editor, HubSpot needs to create 3-4 times the amount of HTML markup compared to a simple HTML template.
When there is a large HTML-to-text ratio, this often gets flagged by SEO and page speed tools as non-performative. At the end of the day, whether this is important to you will depend on your individual use case. For instance, if you are building pay-per-click landing pages, for which SEO value is less relevant because you are paying people to visit the page, you may care less about code bloat. In the same regard, if you are able to save thousands of dollars by building a site yourself from templates, that may ultimately be worth the trade-off, depending on your business use case.
A secondary drawback is that the tool is not easy to use. Although HubSpot has compared it to popular drag-and-drop editors such as Beaver Builder, Wix, and Elementor—ranking its own tool at the very top—its assessment may not be entirely accurate.
For one, the default modules that come with HubSpot out of the box are limited. In order to get extended functionality, you likely have to head to the HubSpot marketplace and purchase a theme or plug-ins.
The biggest drawback, however, is that HubSpot's drag-and-drop editor is not intuitive and doesn't allow the user to add mobile stylings. Initially, when the drag-and-drop builder was released, I went through the official documentation and built my own template. However, after creating a page from the template, I struggled to easily create columns and drag in modules because it was unclear where the end user needs to click. On top of this, the module sidebar that is used during this process is often automatically hidden when you're working in the builder, and you must continuously reopen it to get back to the panel.
The biggest oversight, however, is the fact that HubSpot allows the end user to put in stylings such as padding and margins but doesn't take into account what this looks like on a mobile device. For instance, many websites have a clean aesthetic while using white space, but a user might add 100 pixels to the top and bottom of a section, only to realize that the spacing on their phone is much too large and causes unnecessary scrolling and a poor user experience. With time, HubSpot is constantly improving its tools, but at this stage, as of July 2020, the experience still feels a little preliminary.


Fewer Custom Integration Options
Being that HubSpot is a managed solution for hosting your website, it allows only so many integration abilities that can actually live in the ecosystem. For instance, HubSpot has fairly limited user authentication abilities that come standard with most CMS packages, requiring the user to move to a higher service level for the most basic user registration functionality. Compare this to WordPress, which has this functionality in its core framework—users can simply purchase a learning management system plug-in for a few hundred dollars and build their own miniature university on WordPress fairly quickly.

HubSpot does have extensive API connections that allow users to pull data from and push data to the HubSpot ecosystem, but people will generally need to have complicated integrations live on an external server and pull HubSpot data into that implementation. The issue here is that you simply can't get all of the features HubSpot offers by merely using the APIs on an externally hosted website.
With CMS Hub, however, HubSpot is making inroads into allowing additional features to be brought into the HubSpot environment via serverless functions. Simply put, this allows a program or script to run externally and be accessed by HubSpot for rendering, which, in turn, allows developers to build complex systems in which the data can be pushed to HubSpot while still maintaining HubSpot's security integrity because the server-level code exists in the cloud
Developers Are More Niche and Expensive
Because WordPress is open source, dominates the landscape for web development frameworks, and is more commoditized and well-known, you can find WordPress developers at a much cheaper price. HubSpot developers tend to be more niche, being that HubSpot is a smaller platform and requires a paid subscription for access to all of the tools you'd need to learn how to develop with.
Although many front-end developers can certainly learn the HubSpot platform, working with developers such as those at SmartBug Media® who specialize in this craft will provide you with a better-built solution that takes inbound marketing principles into consideration and is more likely to be future-proof rather than a website that is hacked together by a developer who is unfamiliar with the nuances of the ecosystem.
Pros

All Your Data in One Place for Marketing Automation
The biggest pro for moving over to HubSpot from WordPress is the fact that your main marketing automation tools will be connected in one system. Although WordPress is free, in terms of marketing automation, it means that you have to piece together multiple tools to get the same features. For instance, for your SEO, you would have to pick a plug-in such as Yoast or The SEO Framework. For forms, you might pick the popular plug-in Gravity Forms but soon realize you need to track those conversions with a different tool, such as OptinMonster.
You can see there is a constant need to compare and try out dozens of marketing tools, and disabling or re-enabling them to find something better might disrupt your whole workflow. Even worse, when plug-ins connect with other plug-ins, they create dependencies that don't allow you to upgrade to new plug-ins that might be better without risking losing access to past data or the ability to compare data. To put it frankly, WordPress is often a jumbled mess of plug-ins, and with many of them, you have no way to validate their security and are constantly at risk of being hacked.
Having all of your marketing tools under one platform vastly simplifies your workflow. For instance, in HubSpot, you can use the built-in CTA tools to track your visitors' clicks throughout your website. Those same visitors are also tracked on page views, form submissions, and exit intent, all within one easy-to-use system that gives you full reports on a user's behavior, with each of the tools working together to share data and attribute it to a user.


Completely Managed Service
One of the best parts about being in the HubSpot ecosystem is that it is a managed service for web hosting. This means that you don't have to worry about hosting the website on a server such as GoDaddy or Bluehost, and you avoid all of the server management or security issues that come along with having your own hosting solution.
The biggest benefit of hosting your site on HubSpot is security. HubSpot has extensive security protocols with backup servers. As previously mentioned, WordPress plug-ins often have security vulnerabilities, especially if it's a smaller one-off plug-in used to accomplish a specific goal rather than a well-known plug-in that has been thoroughly tested.
This issue is complicated to an even greater extent if you forget to update your plug-ins fast enough for security patches, or if you can't update your plug-in because the newest version may not be compatible with your system or other plug-ins unless you update those as well. However, we would be remiss not to mention that there are solutions that you can use for WordPress, such as WP Engine, that have extra security and managed hosting. These solutions obviously come at an additional cost, but they do help mitigate a few of these security issues.

Ease of Use for Developers
As a developer who started off their career in WordPress and had reservations about moving into the HubSpot ecosystem, which I assumed would be limiting, I have to say that developing in the HubSpot ecosystem is actually preferable to WordPress.
One of the biggest benefits of developing in the ecosystem is that the framework has built-in staging servers that allow you to preview new website pages without having to push them live, in a way that will automatically replace previous versions of those pages if desired. This has an added benefit in that when you're replacing an existing page with a new staged page on HubSpot, all of the tracking analytics for that page will be kept intact.
HubSpot also comes with built-in version control systems so that a developer can easily see not only what a previous version looks like, but also which user has made changes. Beyond this, HubSpot also shows you all the dependencies in the system. For instance, you can see which pages use a certain template, or which templates use a specific CSS file.
HubSpot has also done a great job with its back-end templating language, HubL, which is based on the templating engine Jinja. HubL is extremely well documented and allows the user to pass in dynamic tokens and server data to their website's front end using a simple and intuitive syntax. For instance, you could pull in blog feeds, database fields, contact properties, or page-level data with little effort, and doing so is certainly less complex than in WordPress, which would require you to edit in PHP in a much less syntactically friendly or easy manner.

Ease of Use for Content Creators
The ability to edit pages from within the HubSpot page editor is a much better experience overall than with WordPress. Developers in WordPress use tools such as Advanced Custom Fields to create inputs for end users to enter in content; however, you generally don't get the same experience as with HubSpot.
One of the great features of HubSpot's page editor is that you can click a certain section—for instance, a banner—and you will immediately see all of the fields that are associated with that module. For the banner, you may see an H1 field, image background field, and CTA field. On the WordPress side, it may not be as intuitive, because the editors generally don't give you a visual representation; you'll merely see fields or a general layout from a page builder that doesn't actually show you what the rendered page looks like from the edit screen.

Conclusion
Hopefully this breakdown of the pros and cons of the two CRMs can help inform your decision of whether to make the migration from WordPress to HubSpot. By analyzing your short-term and long-term goals based off your budget and marketing needs, you should now be armed with the information needed to make a more educated decision for your business.

About the author
Evan Futterman was formerly the Director of Development at SmartBug. With a Business degree in Computer Information Systems, Evan has both the technical and business knowledge to deliver the quality SmartBug Media clients expect. When not doing web development he can usually be found outside exploring the outdoors. Read more articles by Evan Futterman.
Subscribe to get our new blogs delivered right to your inbox
Other insights you might like