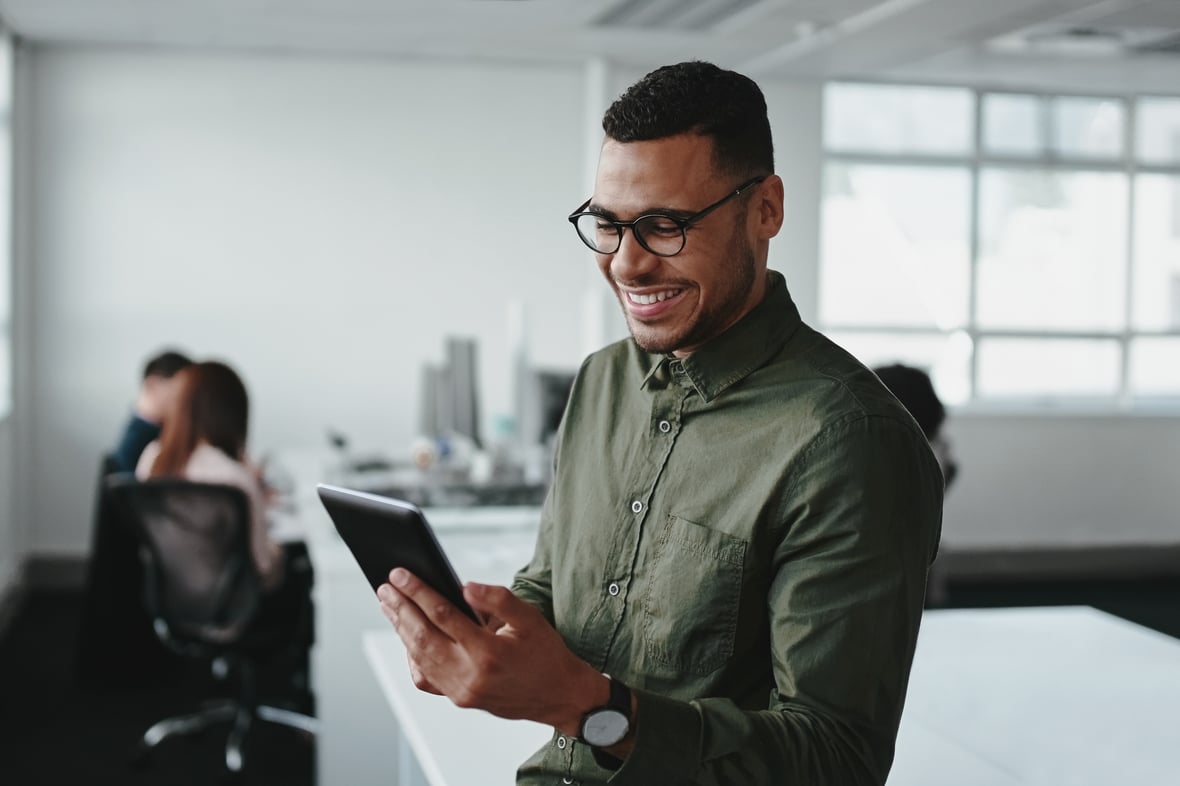 How to Boost Your Conversational Marketing Strategy with Chatbots
October 19, 2020
---
By Kristen Deyo
The goal of conversational marketing is simple: help encourage a dialogue with customers quickly, seamlessly, and on a large scale. The better an organization is at facilitating this conversation—while removing roadblocks, answering questions in real-time, and personalizing the experience—the closer that organization is to turning that visitor into a qualified lead. In fact, companies automating conversational marketing witness a 10 percent increase in revenue after a 6-9 month period.
Traditionally, companies have relied on things like Google Ads, social media, and email marketing to get messages out en masse in hopes of reaching their audience. With this method, the message may resonate or it may not. When chatbots burst onto the scene, they provided an easier way for businesses to get in front of their prospects and help them move through their Buyer's Journey more seamlessly and in real-time. Not only do chatbots help facilitate a conversational marketing strategy, but the conversations enabled by chatbots have also been much more relevant and helpful for customers and prospects.


What Is Conversational Marketing?
Using chatbots in conversational marketing is still relatively new. We're all still trying to figure out how to use chatbots most effectively and provide value to our customers and prospects. For those just embarking on your conversational marketing journey, I like this simple definition from Qualified: "Conversational marketing helps you connect with hot prospects at exactly the right time through tools like live chat and chatbots."
Conversational marketing is one of the quickest ways to help move buyers through your marketing and sales funnel. Through the use of chatbots, your company is able to capitalize on the power of real-time conversations in order to build relationships and create a more personalized experience with customers and prospects.


Conversational Marketing Statistics You Need to Know
Conversational marketing has been on the rise in recent years, with 2021 expected to see some of these trends continue to rise. Here are just of the few reasons why chatbots in conversational marketing are so worthwhile, directly from Aum:
80 percent of businesses are expected to have some form of chatbot automation instilled into their company by the end of the year.
86 percent of online shoppers prefer proactive customer support, something that conversational marketing chatbots can offer immediately.
36 percent of companies are now using live chatbot functions for marketing, sales, or customer service inquiries on an everyday basis.
In addition to the stats above, chatbots in conversational marketing can help with the following:
Saved time and resources
Lead and revenue generation
Improved user experience
After-hours support
5 Ways to Use Chatbots Across Your Website
Boosting your conversational marketing strategy using chatbots is easier said than done. For the purpose of this blog, we're going to focus on ways to use chatbots effectively across your website, although there are some cool ways to leverage chatbots on social and other platforms. Here are some strategies and ways you can start using chatbots:


1. Communicate with new website visitors
This is undoubtedly one of the most common use cases—and the chatbot we're all most familiar with. You navigate to a website, and upon arrival a chatbot offers some general assistance. Visitors may be ready to engage, or they may not. However, it's important to give new visitors at the earlier stages of their Buyer's Journey the opportunity to engage directly with your company without the pressure of needing to have a very specific reason. Here is a great example from American Well:



When visitors are in the awareness stage, they have not yet identified their pain point. They are doing general research and may have general questions. Giving them the opportunity to ask those questions as they flow through your website is important. American Well does a great job of allowing visitors to self-select where they are at in their Buyer's Journey and get the information that matters most to them.


2. Lead qualification
Chatbots offer a more immediate way to qualify leads, in addition to forms used on your website. Lead qualification can take up the time and bandwidth of your sales and marketing team, so why not let your chatbot do some of the heavy lifting? Here are a few helpful lead-qualifying questions for your chatbot from Nutshell:
Are you a [BLANK]? (Blank could be business owner, role/title, and so on)
Tell me more.
What brought you here today?
What do you know about [PRODUCT]?
Do you want some help with that?
Why are these questions helpful in qualifying leads on your website? They help determine who the lead should connect with in your organization, what the lead is looking for to see if your products are the right fit, and the lead's level of intent (gathered through specific questions) which can be passed on to the sales team.
The best part is that after you've qualified leads with the above questions, you can add a form to the chatbot itself to capture email information for someone on your team to follow up later. This gets the necessary information to your sales or business development representative (BDR) team quickly, so that the conversation is warmed up when they reach out.


3. Personalize the customer experience
The more you can accurately personalize the user experience with your chatbot, the better. I emphasize accurately, as I (and I'm sure some of you) have fallen victim to sites attempting to personalize their chatbot using the wrong first name or company name. Make sure you can reliably use data from your platform of choice to accurately deploy personalization tokens.
When personalization works, it really does warm up the experience. Think of it this way: If you were to visit a store in person and have a great experience, and come back days later to be remembered by name or based on what you may have been looking for the last time you were in, it enhances your experience. Chatbots have the ability to do this virtually by remembering your name, company, or the fact that you visited before. Here are a few chatbot greetings you could include for repeat visitors:
Hi [FIRST NAME]
Learn how we can help [COMPANY NAME] do [XYZ]
Hey, you're back!
Remember, we want to give the best possible experience we can, and that means paying digital attention to who has visited us in the past and personalizing their experience.


4. Provide customer support
When thinking about your conversational marketing strategy, it's important not to forget about your customers. They, too, want to engage in conversations with you that are quick and seamless. A chatbot can be a great way to help existing customers who may have customer support questions that require immediate answers, instead of requiring them to log a ticket and wait for someone from your customer support team to reach out.


Here is a great example from one of our clients, Corporate Screening, that features a chatbot that offers the engagement option for new visitors or existing customers. For those coming to the website quickly looking for support, customers can select that they're looking for support, enter their first name, and be on their way.


5. Promote a product or service offering
Instead of applying a general chatbot to your website, it's important to think about the intent a visitor has on each page they visit and ensure that the chatbot is aligned with where someone is on their Buyer's Journey. If a website visitor makes it to one of your product and/or service pages, why not leverage a chatbot to qualify these visitors and offer more helpful information.
I love this example from HubSpot on their live chat product page, that shows how to align your chatbot with a visitor's intent:


This chatbot is set up with the understanding that if someone navigates to one of your product pages, chances are they are interested in learning more. Eliminating friction and creating the path of least resistance is exactly what HubSpot has done here. They make it easy for visitors to learn more about pricing, get started quickly, or engage with the bot on another topic in case they were directed to this page by mistake.


A Word of Caution with Your Chatbot
While we could certainly write a whole blog on mistakes to avoid when building your chatbot, there is one that I thought was worth mentioning in this blog. Remember that people engaging with your chatbot know that it is a chatbot, and nothing can ruin all of the use cases above more than pretending the chatbot is in fact a human. Visitors are smart; treat them as such.
Chatbots give you a unique opportunity to connect with website visitors in real-time, help convert more leads, close deals and offer better support for your customers. Chatbots are also an integral part of executing your conversational marketing strategy and can help you get closer to your leads and customers.
About the author
Kristen Deyo was formerly a Director of Marketing Strategy at SmartBug based in Kingston, Ontario, Canada. She has 8+ years experience developing strategies for primarily B2B SaaS/technology companies and hyper-growth startups. She holds degrees from Queen's University (Cha'Gheill!) and the St. Lawrence School of Business. When not digitally plugged in, you can find her enjoying a good happy hour or planning her next adventure. Read more articles by Kristen Deyo.
Subscribe to get our new blogs delivered right to your inbox
Other insights you might like