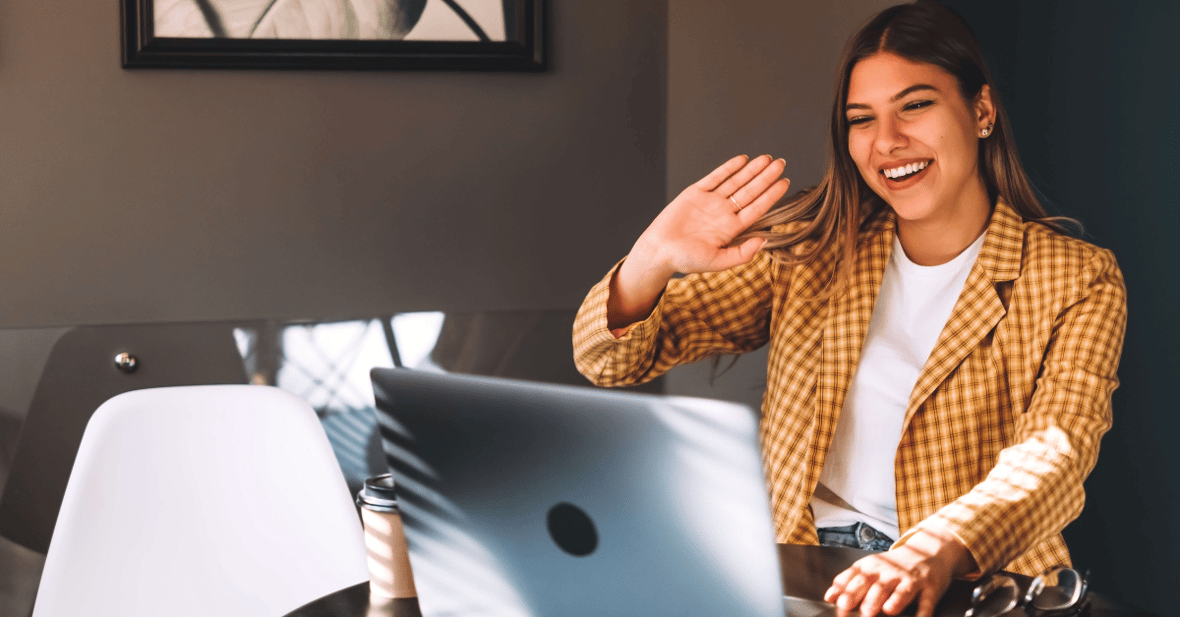 By Amy Simpson
HubSpot has quickly become one of the most powerful software tools for businesses worldwide. And it's no wonder why: HubSpot is packed with the capabilities and features businesses need to uplevel all aspects of marketing, sales, and customer service.
The HubSpot platform includes five different hubs: Marketing Hub, Sales Hub, Service Hub, CRM Hub, and Operations Hub. Every one of them has multitudes of beneficial features, reports, and automations that your business can use to build the best experience possible for your customers. Each hub is beneficial on its own, but they become even more powerful when used together.
What Is a HubSpot Partner?
Many businesses are ready to maximize the power of HubSpot but are lacking the resources, time, and expertise necessary to manage the platform. If this sounds like you, you're not alone. HubSpot has partnered with hundreds of agencies and solutions providers for this very reason: to provide a network of trusted partners for businesses like yours.
Over the past several years, HubSpot's Partner Program has grown rapidly. With so many partners to choose from in the directory, how is a company supposed to choose which HubSpot agency would be the best to work with? Below are a few steps to help you decide.
Discover If the Agency's Services Match Your Needs
Before you jump into your search, first create an inventory of all the things you need an agency to assist you with. Here are a few questions to start brainstorming:
Are you a new or existing HubSpot user?
Do you need assistance with one specific area, or are you looking for a full-service partner?
Do you need help with HubSpot integration work?
What is your budget, and is it flexible based on finding the right fit?
Agencies' offerings vary in scope from web design to full-service digital marketing. If you have a certain budget in mind, look and see if the agency you're interested in offers different pricing levels and packages to fit your budgetary and marketing needs.
Decide If Location Is Important to You in a HubSpot Partner
Is it important for you to hire an agency in the same town as you? Or do you just want the best agency for you, regardless of its location?
There are pros and cons to each approach, and the right one for you depends on your needs. If meeting in person doesn't matter to you, you may want to consider an agency with a distributed team because they tend to look for the best talent, no matter where they are.
Also, as much of the workforce remains remote, you may want to look for an agency with remote capabilities to meet your level of communication needs while remaining flexible and efficient. A remote team that's distributed geographically gives the benefit of availability in multiple time zones.
Research the Agency's Track Record
When it comes to finding the ideal HubSpot partner, results matter. Here are the top things to look for to determine which agencies stick out from the rest:
HubSpot Partner Rating
The easiest way to determine the track record of a partner agency is by scanning through the star ratings in the HubSpot Solutions Directory. HubSpot shows their partners' ratings on a scale of 1-5 stars. You'll ideally want an agency as close to five stars as possible.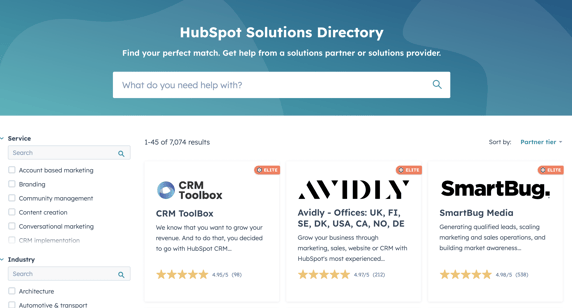 HubSpot Partner Reviews
Similar to the star rating, be sure you're reading through HubSpot reviews of the agencies you're considering. These are real-life reviews from current or previous clients, and they can provide great insight that you can't always get from the agency's website.
In addition to avoiding poorly reviewed agencies, you'll want to stay away from agencies with inconsistent reviews as well as those with super-short, non-detailed reviews. Look for those with consistently positive feedback and specific compliments on the values that matter most (think: "wonderful to work with," "meets deadlines," and "significant ROI").
HubSpot Partner Tier
HubSpot also has a partner tier program designed to not only highlight partner agencies that spread inbound messaging to the most clients but also showcase those who have implemented inbound marketing tactics to the highest standards. This is another useful tool in deciding which agency is best for you.
Partners are tiered in the following categories: Gold, Platinum, Diamond, and Elite. Any tier is a great indicator of expertise, but the Elite tier is the best of the best.
Certifications and Awards
When browsing agencies, you'll want to make sure the agency's employees are HubSpot-certified and have passed courses including Inbound Certification, HubSpot Certification, and Contextual Marketing Certification, among others.
Not only that, but you'll also want to look for agencies with various awards and accreditations that prove success. Basically, ensure the team you'll be working with can practice what they preach.
Case Studies and Client Success Stories
Lastly, your business will want to take a look at any case studies or client success stories from the agencies you're considering. The agency you choose needs to be able to produce real results for your company, so read into real-life examples of various HubSpot successes they've had.
Pro tip: Look for a case study that features a business similar to yours, whether it's the same industry, company size, or pain points.
Look for a Cultural Fit
Let's face it: Relationships matter. An agency partner could be extremely credible and appear to fit your needs, but if they don't seem like people you could work with on a daily basis, then your partnership won't be successful.
Your agency partner should be just that: a partner. They shouldn't dictate your strategy but rather be an extension of your pre-existing team. They should understand your business, customers, and challenges on a deeper level and be able to make trusted decisions for your company.
Look for an agency that shares the same core values that you do. Pay attention to how you feel when you're browsing their website or chatting with a sales rep. Enjoying who you'll be working with is crucial to a long-term partnership that fosters success.
Are you currently looking for a HubSpot Partner Agency? What criteria are you using in your selection? If you're deciding between multiple agencies, click here to download a free marketing agency comparison chart to help you make the right decision for your business.
This post was originally written in 2019 and has been updated since.

About the author
Amy Simpson is a Senior Marketing Specialist at SmartBug based in Wilmington, North Carolina. She brings comprehensive agency experience and specializes in project management, reporting and analytics, and operational expertise. Outside of work, Amy enjoys traveling the world, soaking up the sun at the beach, and fostering dogs for a local animal rescue. Read more articles by Amy Simpson.
Subscribe to get our new blogs delivered right to your inbox
Other insights you might like