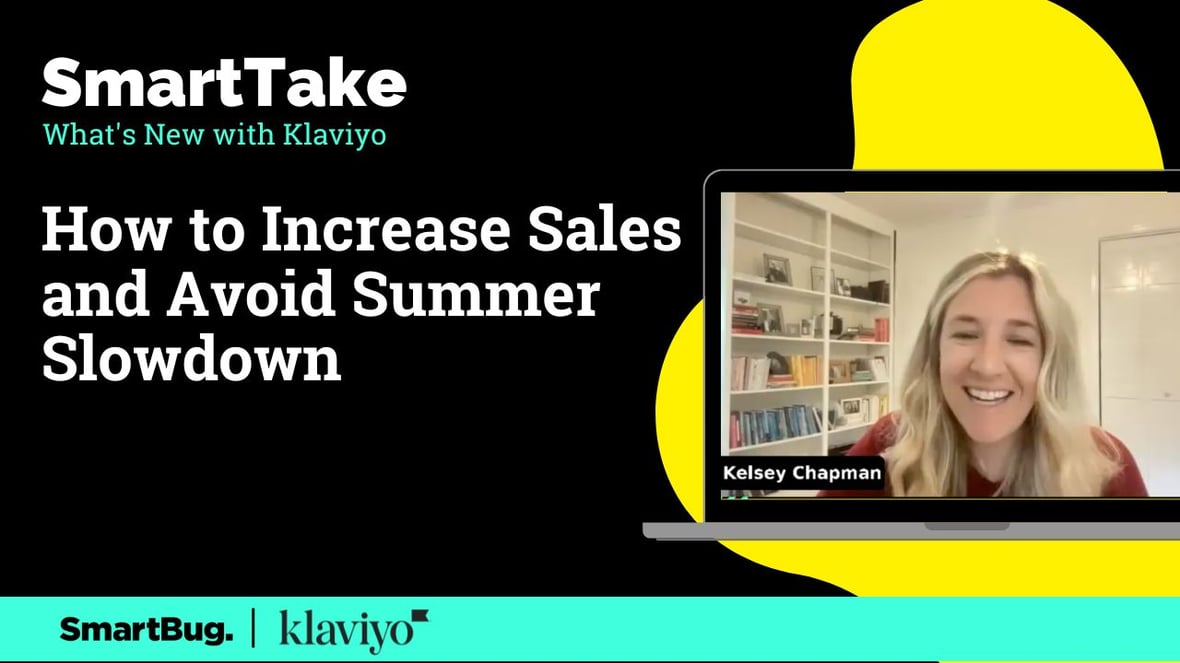 By Kira Renee
In our recent Klaviyo SmartTake webinar, we discussed how brands can effectively avoid summer slowdown by leveraging holidays and personalized campaigns through Klaviyo. Our panel discussion featured Allie Guertin, Principal Partner Success Manager at Klaviyo; Kelsey Chapman, E-Comm Marketing Strategist at SmartBug Media; and Kira Renee, E-Commerce Product Marketing Manager at SmartBug Media. These experts broke down summer marketing ideas and real client examples to help you get the most out of your marketing efforts. Let's dive in!
How Can You Combat the Summer Slowdown?
Many e-commerce brands find that their sales drop in the summer months. However, most of those brands primarily focus on BFCM (Black Friday, Cyber Monday) and neglect opportunities to generate revenue throughout the rest of the year.
Memorial Day is undoubtedly a significant promotional day for e-commerce brands, but the summer calendar boasts many other holidays you can take advantage of based on your brand and audience preference.
To effectively leverage holidays for marketing, choosing the ones that align with your brand's values is crucial. For a skincare brand, focusing on summer holidays like summer kick-off can be an excellent opportunity to highlight your products. Likewise, if your target audience is solely women, skipping Father's Day campaigns might be wise. Aligning your marketing strategy with relevant holidays can amplify brand awareness and conversion rates.
With Klaviyo's new campaign calendar feature, you can toggle on U.S. and U.K. holidays and visualize when you're sending campaigns against the upcoming holidays. Guertin breaks down this feature and how it can be utilized in the video below.

Who Should Your Summer Promotions Be Targeting?
This is a big question for brands—and, rather than spend too much time on it, many end up promoting to their entire lists. This isn't the worst strategy, but you'll be missing out on the opportunity to utilize your customer data and segment your audience. Segmentation is often underutilized, especially for individual campaigns.
Sending emails to your VIP list is a crucial step for improving ROI during busy months. With a plethora of emails filling inboxes, it's essential to send them to those who will increase the likelihood of conversions. But there are many other segments you can include in your send list.
Think about what data you've been collecting, and identify what segments exist or which segments you can create to help get more personalized and create that one-to-one messaging during the summer holidays. There may be a group of customers who primarily shop during the summer months or customers who shopped your Memorial Day sale last year. These are groups we definitely want to make sure we promote to. As Guertin says, "Let's not forget that we have so much data that we should be utilizing when we're identifying who we're sending to."
Summer can also be a great time to broaden your segments to connect with more customers. Guertin and Chapman explain this strategy in the video below.



Summer Marketing Ideas
When selecting holidays to promote and audiences to target, we don't need to limit our content strictly to the history and theme of that holiday. For instance, when planning a campaign for Independence Day, you don't need to exclusively focus on the holiday's history and significance. By staying too literal, brands overlook the opportunity to engage in meaningful conversation.
Dive a little deeper into the summer theme and figure out what really resonates with your consumers during this time of year. Guertin notes that not figuring out summer strategies means not just leaving money on the table but essentially giving that business to competitors, so even if Memorial Day or July 4 don't spark great ideas, it's worth thinking through what summer events you can leverage. In the video below, Guertin provides a clear explanation of how to achieve this.



Find ways to make your content resonate with your customer during this time of year. A collagen brand could provide summer smoothie recipes using its collagen powders, or a skincare brand may discuss the importance of protecting our skin from the sun. As our panelists have said, make the conversation relevant and authentic, and your audience will be engaged.
How Do I Nurture My Summer Customers So They Are Primed for BFCM?
To effectively discuss nurturing, you have to first examine deliverability and sender reputation. If your brand experienced a slowdown during winter, perhaps you expanded your engagement and segments in the summer. Regardless of whether or not you underwent significant changes in your sending habits, it's likely that your reputation would have been affected to some degree.
Refer to Guertin's video below to identify what to review in your Klaviyo account.



If you want to improve your email inbox placement after a sale, Klaviyo segmentation can help. For example, if Gmail is sending your emails to spam or promotions folders instead of the primary inbox, you need a strategy to restore your sender reputation and boost your placements above 30 percent.
Chapman has an effective segmentation plan to achieve this reputation boost, which is demonstrated in the video below. By taking action, you'll climb out of those unwanted folders, and your contacts will see your emails where they belong: front and center!



You'll also want to compare your messaging from previous sales to ensure you are staying consistent and not misleading your customers. If you tell your customers in the summer, "This is our biggest sale ever," but then have an even bigger sale come BFCM, customers who purchased in the summer may feel ripped off. You want your messaging to stay cohesive so as to not provide a negative experience for your customers.
In Guertin's words, "Compare your messaging and make sure it's consistent so that leading up to Black Friday and Cyber Monday, you're communicating something that's actually accurate."
E-commerce brands of any size can effectively combat the summer slowdown by strategically leveraging holidays, personalizing summer campaigns, and employing data-driven insights. By focusing on these elements and nurturing your summer customers, you'll be well prepared for the BFCM season ahead. To stay informed about the latest industry benchmarks, actionable tips, and best practices in email and SMS marketing, register now to be notified of upcoming SmartTake webinars with Klaviyo. Don't miss out on valuable insights that can help elevate your brand's marketing strategy and drive business growth.

About the author
Kira Renee Kira is our E-Commerce Product Marketing Manager at SmartBug. She believes in a people-first and data-driven marketing approach. Previously working with many reputable e-comm brands, building their online brand presence and teaching companies how to enhance their marketing strategy to be customer-centric. When she's not creating a stellar marketing strategy, you can find her enjoying a crisp sour beer surrounded by her hundreds of plants and receiving cuddles from her Labradoodle. Read more articles by Kira Renee.
Subscribe to get our new blogs delivered right to your inbox
Other insights you might like