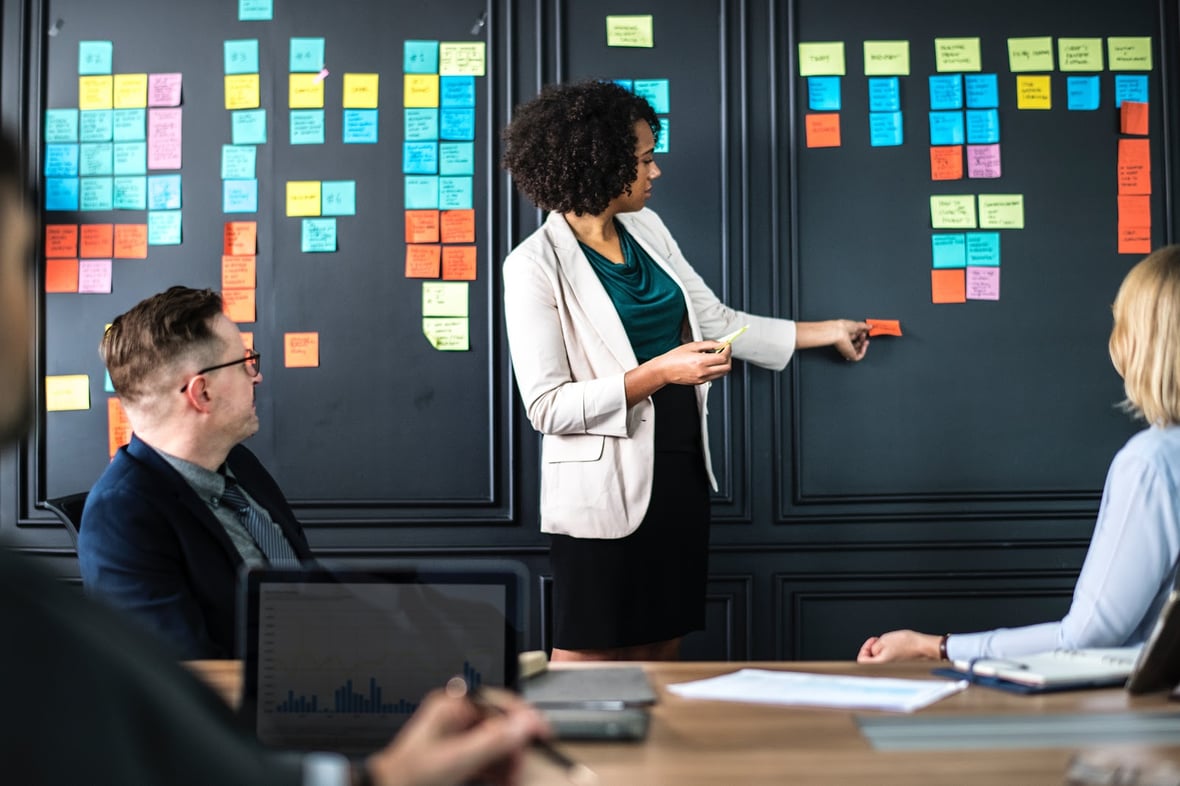 9 Attributes of High-Performance Website Copy
May 10, 2019
---
By Catey Miller
You're putting some thought into how to attract visitors to your website; maybe you're taking on a full redesign or maybe you're working with a UX specialist to make tweaks to an already eye-catching site. Visual elements are important for lead generation, and visitors may come for a well-designed graphic or a unique page layout. But they stay—or don't—for engaging copy. As you're working on content creation or revision, keep in mind these nine attributes of high-performance web copy.
1. It's easy to navigate.
No piece of content exists in a vacuum. Before you start drafting copy for a new website or landing page, you need to identify how each new asset will fit into the big picture of your site and think about whether visitors will be able to find the new content intuitively.
Some companies have their web developers create navigation maps and wireframes; others begin the design or redesign process with a content outline or audit and use that outline as a roadmap for creating the site infrastructure and page layout. No matter what order of operations you follow, cross-departmental collaboration is key. Web strategists and designers can offer insight into UX best practices, project contingencies, and web design possibilities, but it's your content development team's job to make sure the proposed layout makes sense from a narrative perspective.


2. It follows a logical flow.
Each webpage you create should adhere to an internal logic in order to give your website visitors the information they need in a way that makes sense to them. Most landing page heros feature a headline, which should capture visitors' attention with a simple persona-driven value proposition, and a subheader, which should support or expand on that proposition in some way.
As the user scrolls down the page, the subheaders and content should get more specific. A logical statement-and-explanation, macro-to-micro content structure on a webpage helps usher readers down the page and streamlines comprehension. No matter what page format you use, make sure that the copy, design, and layout exist in logical harmony.


3. It's benefit-driven.
Too often, brands list product features or service offerings on their website in a way that is informational, but leaves visitors wondering what's in it for them. Although these details are important, simply presenting the facts about what you have to offer won't drive lead engagement or conversions. To make sure your copy resonates with your target audience and helps visitors connect the dots between their personal situations and your solution, use your buyer personas' pain points, goals, and challenges to help you decide what key benefits and features to highlight.
Imagine for a second that your company sells vacuum cleaners. You want to highlight the wand attachment tool on your newest product. Rather than including it in a bland list of features on the product page, draw the reader in by communicating the value the attachment can provide to them specifically: The wand attachment tool empowers you to vacuum hard-to-reach places without exerting any extra effort.


4. It's succinct.
When you are passionate and knowledgeable about your company and its offerings, it's easy to get carried away with web copy. You can flex your creative muscles and show off a little when writing blog posts or premium content offers, but writing B2B web content is an exercise in selectivity and restraint. In a world full of distractions and saturated with buying options, brevity is king. If your copy is too complex, too wordy, or too sprinkled with insider jargon, your audience will quickly leave to read something else.
Remember that your goal when writing web copy isn't to tell visitors everything they could ever want to know about your brand and solution. Instead, focus on highlighting the most salient details in a way that will resonate with your target audience.
Meet them where they are in their journey, and don't assume they share your passion for the content. Also, keep in mind that as of 2018, 52.2 percent of web traffic is mobile. Prospects don't want to try to find the info they're looking for in the middle of a wall of text on a palm-sized screen. When in doubt, stick with digestible chunks of straightforward language that's familiar to your audience.


5. It's well-formatted.
In addition to keeping your copy succinct, make it skimmable by formatting it for quick comprehension. Use headers, subheaders, bullet points, and white space to break up text and highlight key information. If you need to compare options or features, consider creating a visual aid, such as a table or comparison chart, that can help you communicate more in fewer words.
As you paste copy into the webpage template, make a point of previewing what each section looks like on a mobile device. If the desktop page format doesn't translate well to a mobile screen, work with your design team to craft a dynamic, mobile-friendly version of the page to boost conversions. Mobile pages tend to leave less room for copy, so be smart about what content you migrate and how you pare it down.
6. It outlines a clear conversion pathway.
Good website copy is like a tour guide. Along with telling you what to focus on at different points in your journey, a tour guide lets you know where to go next and sets expectations for each new experience. Similar to leading a tour group, writing web copy demands that you know where you want people to go and what you want them to see along the way.
On a landing page, for example, your visitors' final destination is the call to action (CTA). What questions do you need to answer for them so they'll be ready to take the action you want them to take? How can you prepare them to make that decision? If a landing page is gated, your "tour" should tell prospects what the offer is, what benefit it will provide, and what they're going to learn or get in return for their contact information. When the prospect finally arrives at the CTA, there should be no room for ambiguity. Write a compelling transition and use active language that lets them know what to do and what to expect.


7. It changes.
There's no need to adjust your web copy every day, but even the best copy has a shelf life. Your business and your customers will evolve, as will content trends, preferences, and technology.
To ensure that your web copy keeps up with industry changes, think of content creation as a dynamic process rather than a one-off project. Use performance metrics to identify areas for improvement and conduct A/B testing when applicable to determine what messaging appeals most to your audience. If you periodically revamp your existing content and take advantage of growth opportunities, your site performance won't plateau over time.


8. It tells a story.
Even though you're not writing an article or e-book, it helps to think of web copy in narrative terms. Collectively, all the pages on your website should tell a story. Your company and your solution play supporting roles in this story, but they're not the protagonists—your audience is.
As you write your "about" page and mission statement, think of how you can center your brand narrative around your customer. For instance, rather than saying, "We provide personalized customer service," you might say, "You are the most important part of our business, and we are committed to providing you with personalized customer service." This small shift in narrative perspective will go a long way toward helping prospects see themselves as part of your brand's story and picture themselves as your customers.


9. It's SEO-optimized.
Visitors won't be impressed by your high-performance web copy if they can't find it. By optimizing your web copy to be found organically, you'll help search algorithms correctly archive your webpages and serve them up to users in relevant results.
Before you begin writing, research keywords and common alternatives that you can include in your copy. Whenever possible, work your main keyword into your page title and use related or alternative keywords at other points on the page. Keep in mind that keywords shouldn't be too repetitive or shoehorned in; take advantage of instances where they fit naturally into the narrative, but never force a fit. At the end of the day, your copy needs to appeal to real people, and they'll notice your copy for the wrong reasons if too many keywords are making it sound stiff or robotic.
You may be new to the website redesign process, but that doesn't mean you have to make rookie mistakes. To learn more attributes of successful websites and get tips on where to focus your SEO efforts and what mistakes to avoid, download the e-book below.
Kaleidico
About the author
Catey Miller is a Senior Copyeditor based in Wilmington, NC. She has a BFA and an MFA in creative writing and writes YA fiction when she's not copy editing. She worked as a freelance editor for SmartBug Media starting in Nov. 2017 and was promoted to senior editor in March 2019, and she is happy to bring her editorial expertise to the world of Intelligent Inbound marketing. Read more articles by Catey Miller.
Subscribe to get our new blogs delivered right to your inbox
Other insights you might like