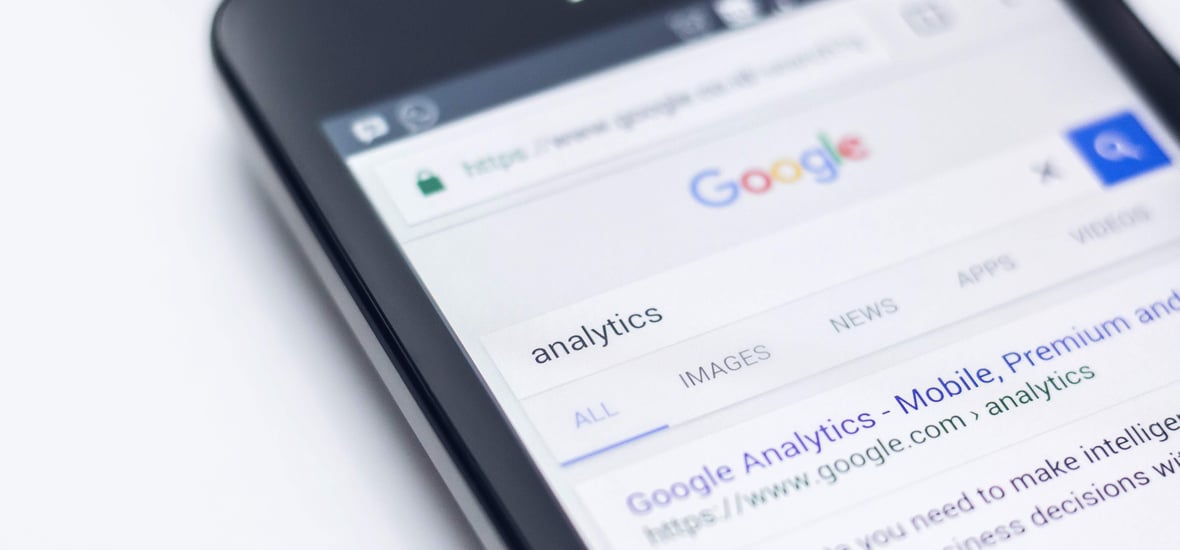 Google Analytics vs. Hubspot: How Should I Track My Inbound Marketing KPIs?
September 7, 2017
---
By Jennifer Lux

"What gets measured gets improved."
These wise words were coined by Peter Drucker, a prolific writer known as the founder of modern management. His core philosophy is also one we subscribe to at SmartBug Media, as keeping a constant pulse on marketing analytics is an necessary key to unlocking client success.
Since Drucker's heyday, we've experienced a revolution in how buyers and sellers work together and today, there is no shortage of analytic tools and platforms to measure marketing success—–especially inbound marketing KPIs. Two of the biggest platforms that provide necessary data and yield actionable insights include HubSpot and Google Analytics. You may wonder whether you need both, and how to get the maximum benefit out of their combined analytical power. We've got you covered. But first, let's start with the basics.
What inbound marketing KPIs should I track?
Before diving into options for analytics, let's get on the same page with what must be measured for proper iteration and ultimate success. Some of these inbound marketing KPIs are going to provide direct, clear insight into the success of your inbound marketing efforts while others are going to provide indicators and trends, or help identify patterns forming on your website and/or along the path to purchase. Here are 14 key KPIs to include in your ongoing inbound marketing analysis:
Incoming traffic sources
Blog traffic
Blog conversions
New blog subscribers
Leads (marketing-qualified leads, sales-qualified leads, and sales-accepted leads)
Visitor-to-lead ratio
New visitor conversion
Inbound links to posts
Social shares
Average session duration
Pages per visit
Bounce rate
Cost per conversion, per channel
Revenue from inbound marketing
In addition, look for trends and patterns in:
Exit pages - What pages are causing visitors to leave? Which ones have the highest number of bounces and which have the highest bounce rate?
Blog topics - Which topics resonate with your audience? Do posts around "business strategy" get more traction or do newsjacking articles result in blog traffic spikes?
Once you've created buy-in across your organization about how you'll measure the success of your inbound efforts, it's time to track, analyze, and synthesize data into optimization opportunities and next steps. Leveraging data from HubSpot and Google Analytics in combination yields the ultimate data-crunching powerhouse and offers a true strategic advantage.
What does Google Analytics provide that I can't get in HubSpot?
While HubSpot provides tremendous clarity into what's happening along the buyer's journey and provides Ferrari-level horsepower when it comes to lead nurturing, there are a few metrics only found in Google Analytics. Those include (but are not limited to):
Average session duration - Measured in minutes, this is an indicator of content value, engagement, content quality, and the usability of your site. From an organic traffic (and SEO) perspective, it also tells you how aligned your website is with your audience's search intent.
Average pages per visit - Just like average session duration, this metric provides information on usability, user experience, and how well your site is set up to support the buyer's journey. It also provides insight into how compelling your CTAs are, whether they are well placed, and if internal linking is effective to keep visitors engaged. Technically, you could put together custom reports in HubSpot to gather this information, but it's much easier to view on the Google Analytics platform.
New visitor conversion - While this information requires setting up goals in Google Analytics, and also could be put together in HubSpot with detailed list criteria, it's important to understand how visitors first engage on your site. Your evangelists or those who have confidence that your site will provide value over time will behave differently than new visitors, and those insights are key to further optimizing your site to support your inbound marketing KPIs.
Event tracking - While the key to leveraging Google Analytics to its fullest capability lies in the ability to customize it, the power of event tracking is in the granular insight it provides into the user experience. Sure, you can customize events in Google Analytics to provide much of the same information available in HubSpot, including form completions, CTA clicks, and new blog subscriptions. However, if you want to truly understand your website and mobile site visitors, setting up events in Google Analytics provides tremendous value.
Curious whether your visitors are scrolling down and reading your entire blog post? Would you like to see how often a visitor clicks or taps a social share button (and on which platforms)? Do you wonder what percentage of people visit your pricing page after an e-book form completion? Would you like to measure what percentage of viewers watch your entire video? And most importantly, from the perspective of inbound marketing KPIs, are you curious where in the funnel your leads are dropping off, abandoning the buyer's journey, and/or skipping important steps along the path to purchase? These insights are possible with event tracking in Google Analytics, and are supercharged by setting up goals and related goal funnels.
How should I use Google Analytics and HubSpot together to support my inbound marketing KPIs?
Modern marketers are often asked to also be analysts (AKA data nerds). The intuitive nature of HubSpot can help quickly identify monthly trends, especially involving data along the buyer's journey and how visitors interact with your website and marketing efforts. However, if you want the ultimate flexibility in reporting, visibility into micro conversions, ability to drill down deep into aggregate user behavior, and insight into the specific activity on site pages, Google Analytics is as necessary to HubSpot as peanut butter is to jelly. Or maybe almond butter and honey. Or margaritas and salt. You know, those things that just really belong together.

About the author
Jennifer Lux was formerly a Team Leader and Marketing Strategist at SmartBug Media. She has over 15 years of marketing and business development experience – in agency, in-house, and consulting roles. Jennifer has a Bachelor's degree in Neuroscience. Read more articles by Jennifer Lux.
Subscribe to get our new blogs delivered right to your inbox
Other insights you might like