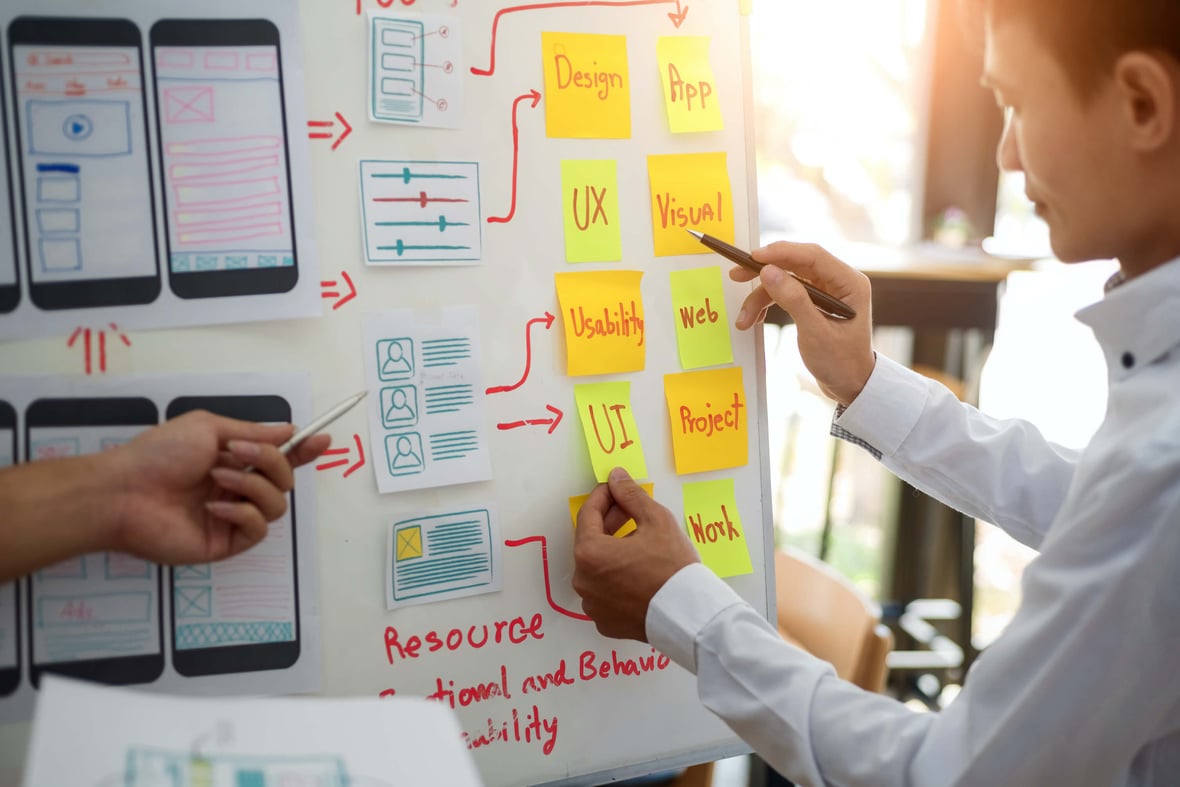 Custom vs. Templates: How Should You Build Your Website?
January 15, 2020
---
Websites are a wonderful thing: They serve as a digital home where brands of all sizes can demonstrate their services and products, as well as their character and personality.
A website is a vital asset for every business because it opens your company up to the world beyond your geographic location, allowing more people to find, engage with, and buy from you.
So, your team has decided that your site is ready for a refresh or perhaps it's time to build a site as you prepare to launch a new brand—regardless of the reason for putting work into your digital home, you have two paths to choose from: a custom website or a templated website.


Custom Websites

A Quick Rundown
For the most part, custom websites are just that: completely customized and unique to your brand and your brand alone.
In today's crowded digital space, it's easy to spot a custom site—the level of thought and work involved makes it stand out, especially from competitors.
From the design to the written copy to unique user features or media formats, every component on each page is thoroughly planned with the help of buyer, user, branding, and competitor research. This research ensures that the brand's target audience will be able to easily navigate the site and be guided to conversion.
Building a custom site from the ground up means that there is also a certain level of scalability and adaptability present that can match your brand's growth. When compared to templated sites, the number of unique pages, layout, and design is more flexible and can be adapted to meet your brand's unique needs while maintaining cohesion across the entire site.
This adaptability can be especially beneficial for those that are launching new product offerings or services or running A/B tests for better conversion rates or customer experience.
Growth-driven design (GDD) can help fast-growing or quick-to-launch brands go live quickly while testing making adjustments after. Custom sites especially make following the GDD approach easier, because with templates you're typically locked into page layout and structure.
When it comes to SEO, custom sites tend to perform better in Google search results. Optimizing your site for search goes beyond keyword research; how your site is built and coded can affect your site's user experience, load speed, and overall performance, each which can Google considers when site ranking. Working with a team of talented developers means that your site will be built with development and SEO best practices in mind.
Custom sites that follow up-to-date web development processes and best practices also ensure that your site will be responsive across different browsers and devices, ensuring that visitors using your site will have an excellent user experience regardless of whether it's on a phone or a desktop.


Custom Website Pros and Cons
Pros
Stand out not only in terms of design but also in terms of user experience and flow
GDD-friendly and can grow with your business
More search engine friendly and tend to rank higher in search results
More responsive across browsers and devices
Cons
Typically come with a higher price tag
Require more time to launch
Templated Websites

A Quick Rundown
Templates—sometimes called "themes"—are pre-coded pages that you can purchase to build out your new site. Templates enable brands to build a complete website by simply opening the template in the desired CMS and popping copy and imagery into already developed sections.
The world of template development has grown exponentially, with entire businesses like Wix and Squarespace providing emerging brands with quick and often inexpensive ways to easily launch a site. For small businesses operating with small budgets, templates are a great resource for establishing their brand online.
However, limitations exist when it comes to customizing templates. Packages allow brands to apply style preferences such as colors, fonts, and logos, but unless you're working with a creative agency that can make adjustments to templates, the level of customization typically stops there.
Pre-coded templates mean that brands may be stuck in terms of how far they can scale their site to meet their business needs. For example, although template packages often have several necessary pages like a homepage and basic content pages, they may lack other important components for a website such as a landing page. Adding this would require either a separate template or a custom landing page, both of which could create a lack of cohesiveness across the site and interrupt the user flow.


Template Website Pros and Cons

Pros
Smaller upfront cost
Numerous design and layout options
Shorter timeline to launch
Don't require extensive HTML or CSS knowledge
Cons
Limited adaptability and flexibility
May not be responsive


What's Best for Your Brand?
While some brands opt for a completely customized site, smaller brands can see success with template packages. And it's becoming more common for brands to take advantage of both development options: customizing priority pages like the homepage while using templates to fill out the rest of the site. The path you choose ultimately depends on your brand, its needs, and the digital home it wants to welcome visitors into.
Happy building!

About the author
Chelsea Boice was formerly a Junior Web Project Manager at SmartBug. She has over 5+ years supporting B2B and B2C organizations with inbound, email, and social marketing campaigns. She currently resides in Barcelona and in her free time, she enjoys salsa dancing, traveling, and true crime podcasts. Read more articles by Chelsea Boice.
Subscribe to get our new blogs delivered right to your inbox
Other insights you might like