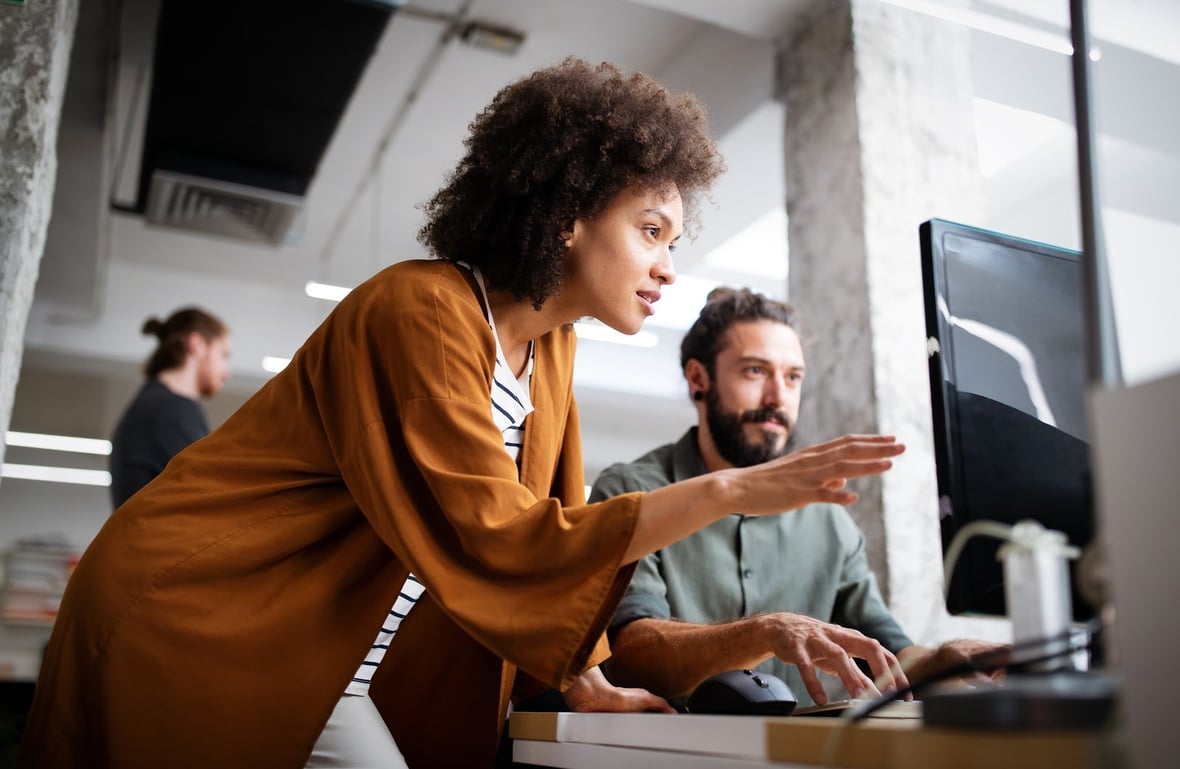 A Guide to ABM Funnel Metrics
February 25, 2021
---
By Sarah Mead
Take a moment to imagine your ideal in-house marketing team. How is that dream team performing, and what are they achieving?
Here's what I see: Marketing is consistently exceeding their SMART goals; return on marketing efforts and progress towards key performance indicators (KPIs) are simple to track; and sales and marketing work side by side as a well-oiled machine.
Step back to reality and come to realize that many marketing teams are facing the same types of common challenges that prevent us from bringing this dreamworld to fruition. To name a few:
Lack of visibility into marketing attribution and understanding which channels are right for their organization
Lack of historic data to properly set benchmarks and KPIs
Lack of technology to align marketing and sales efforts
Lack of time to be proactive rather than reactive with marketing
By being more strategic with our marketing strategy and spend, we can overcome many of the aforementioned obstacles. One essential strategy to place at the forefront of the mix is account-based marketing (ABM).
Overcoming Challenges with Account-Based Marketing
There are a number of effective marketing tactics, but among them, account-based marketing seeks to break down data, technology, and team barriers. Not only this, but ABM is an essential part of realizing return on investment (ROI) on your marketing spend and truly forces your marketing team to think strategically.
HubSpot says it well: "ABM helps your business work and communicate with high-value accounts as if they're individual markets. By doing this—along with personalizing the Buyer's Journey and tailoring all communications, content, and campaigns to those specific accounts—you'll see greater ROI and a boost in customer loyalty."
Simply put, a well-defined and executed ABM strategy can help your team reap the following benefits:
Clear understanding of marketing ROI and attribution
Consistent monthly reporting and tracking of KPIs so your team can build out benchmarks and track accordingly
Better use of integrated marketing technology
Proactive approach to marketing (rather than reactive)
Smarter spend of your future budget
Enhanced brand identity and awareness, with more exposure in front of key stakeholders and accounts
Planning Your ABM Strategy
Before you can determine which metrics will matter most to your team, you'll want to follow these steps in planning your approach to ABM.


Step 1: Set your campaign goals.
Of course, these will vary based on your business, personas, growth strategy, and revenue targets, but may fall into one of these categories:
Brand awareness and education
Demos/consultations booked
Trials started
Cross/up-sells
Converting free trials to monthly recurring revenue (MRR)
Step #2: Identify your audience.
During this stage, you'll want to use your ideal customer profile (ICP) to categorize your target accounts into like groups. This is a prime time to lean on enrichment tools such as ZoomInfo to help optimize your outreach.


Step #3: Determine your approach to ABM.
Once you've landed on your audience segmentation plan, you will want to decide how to structure your ABM outreach. This generally takes one of three approaches:
One to one: Focusing on one account at a time
One to few: Focusing on 3-5 clusters of 5-25 accounts each
One to many: Focusing on several hundred accounts at a time
This article breaks down each of these approaches to ABM, and how to determine which one is best for your needs.


Step #4: Choose your channels.
Based on target audience, business type, and budget, you will want to determine which channels—digital and non-digital—will be most beneficial to round out your ABM strategy. More on these channels can be found below.


ABM Funnel Metrics that Matter
As you begin to bring your ABM strategy to life, here are some examples of sales and marketing tactics, along with measurable ABM metrics at each level of the funnel, that you can use to define success.


Top-of-Funnel Tactics and Metrics
Top of funnel should be focused on increasing engagement with your target accounts.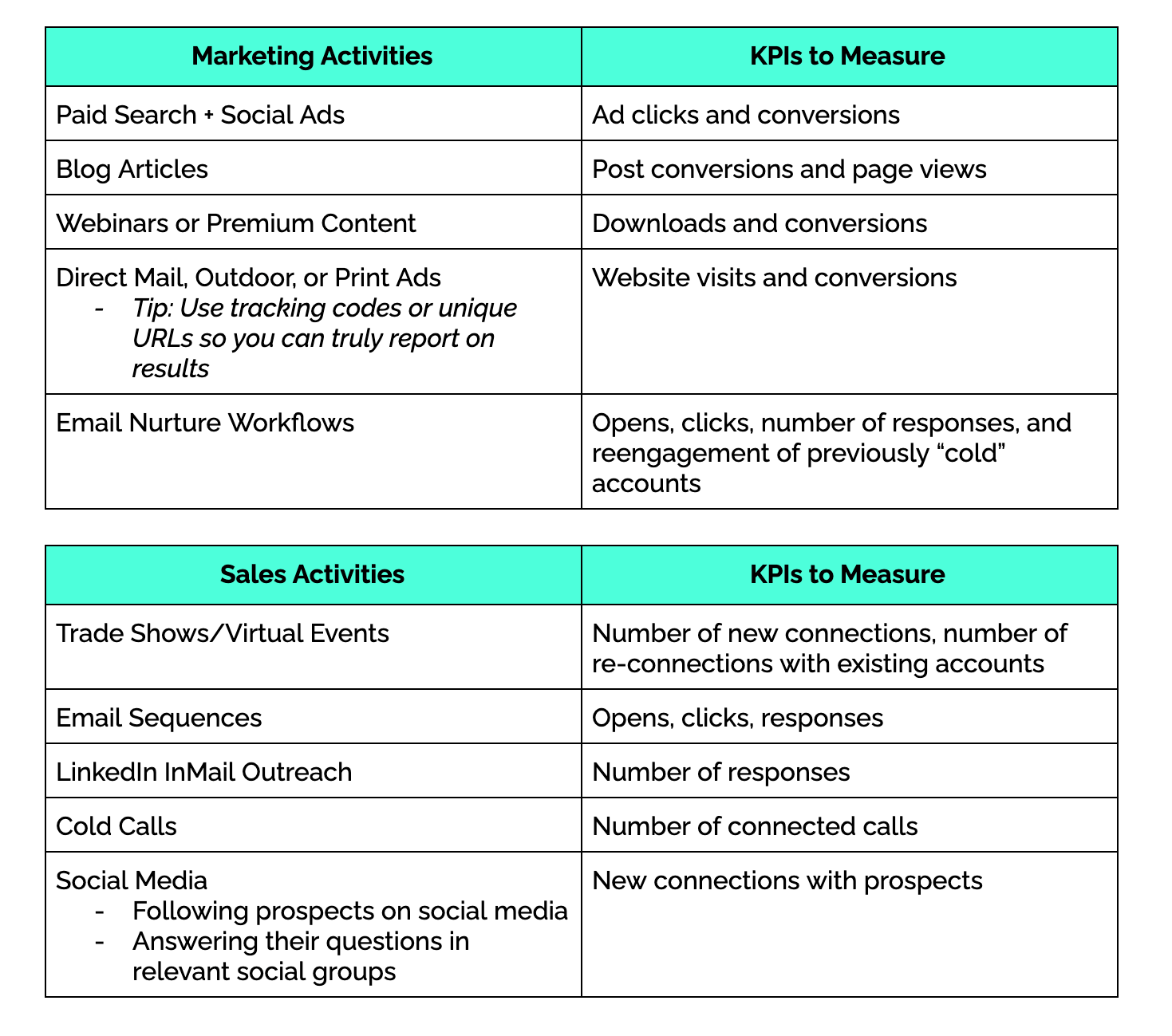 Middle-of-Funnel Tactics and Metrics
Middle-of-funnel tactics and KPIs should be focused on increasing the number of meeting, quote, or demo requests with your target accounts. The most important KPI above all is the number of new deals generated, but you can also look at each of these individual KPIs as well: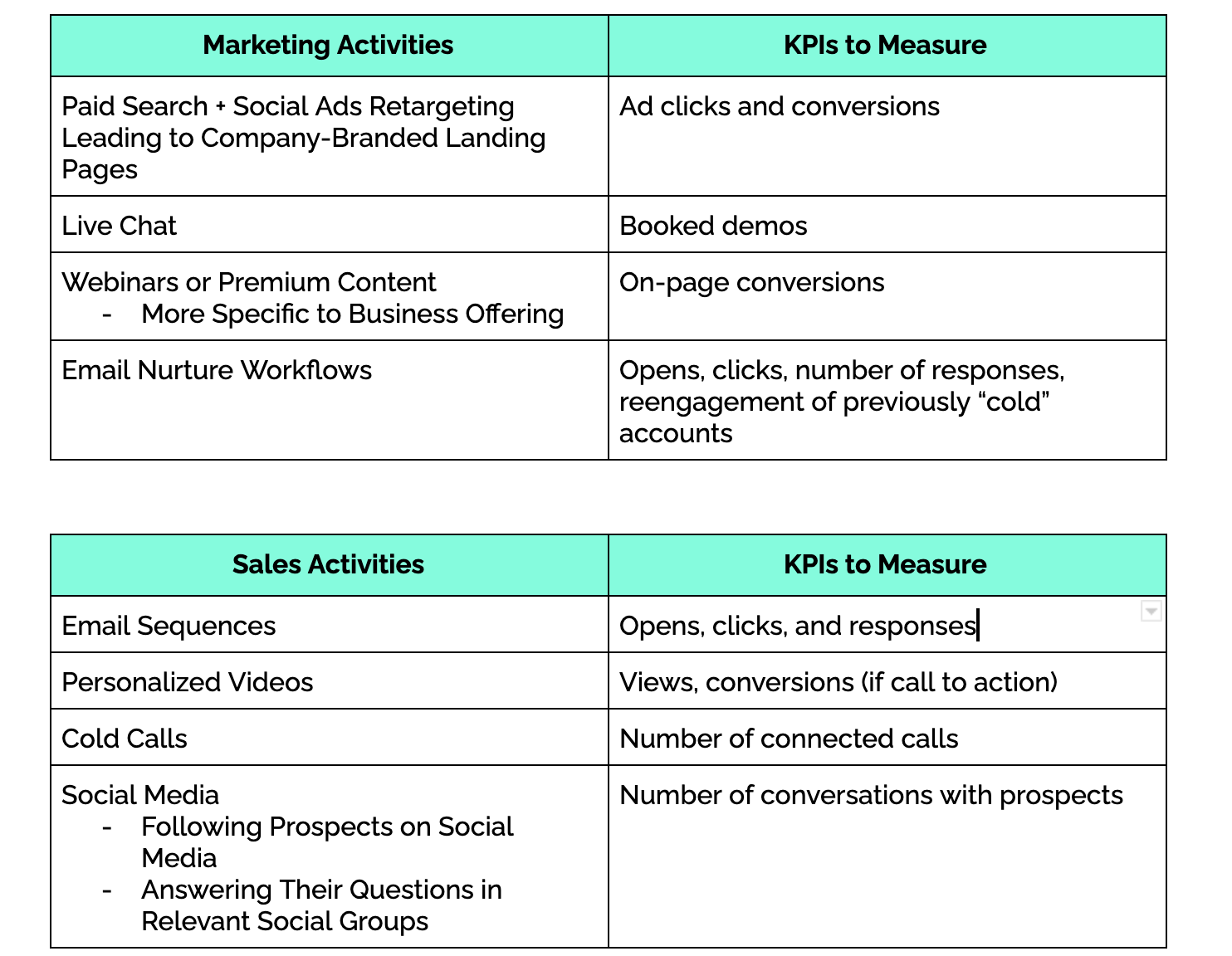 Bottom-of-Funnel Tactics and Metrics
Bottom-of-funnel tactics and KPIs should be focused on increasing the number of closed-won deals your sales team is producing from target accounts.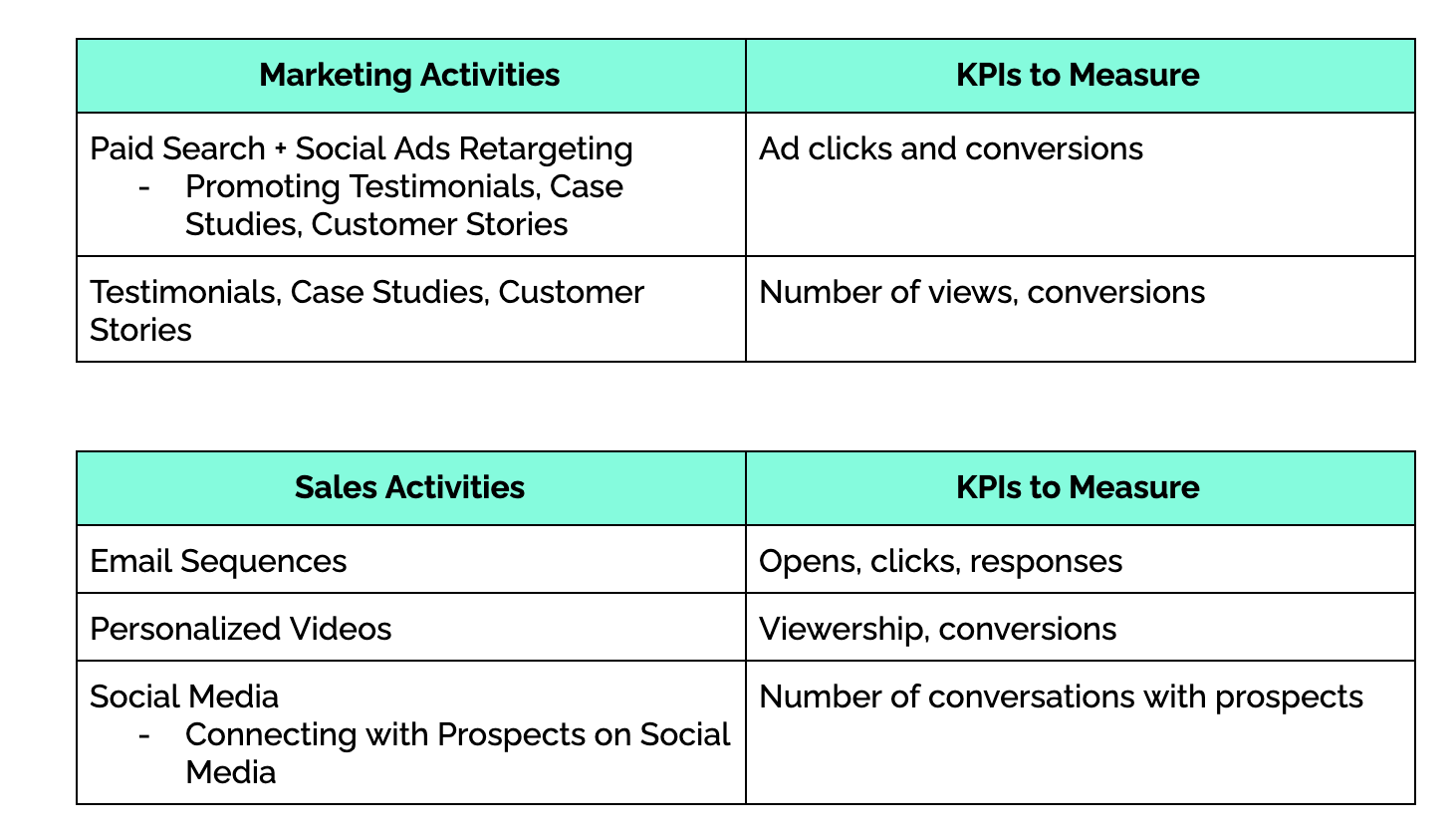 Whether you choose to leverage all of these channels or only a select few, always remember to keep the "why" and "how" in mind when you're strategizing: Why is this channel a good fit for my ideal customer, and how will I measure success? Once those two factors are known, the rest can start to fall into place.


Measuring Success of Your ABM Campaign
Your ABM campaign's success is only as good as the data you have at hand. It is equally important to be methodical about planning and executing as it is to be thoughtful about continuously reviewing your results. Using a marketing platform such as HubSpot or Marketo can allow you to track and execute all in one place.
Most of all, it's important to remember that your campaigns will be iterative, and you can continue to evolve your tactics based on the ebbs and flows you see with performance. If you take the time to plan, measure, and align your teams so you have a united front with your account-based marketing strategy, you're guaranteed to see success.

About the author
Sarah Mead is the Associate VP of Client Services at SmartBug and plays a key role in building and maintaining excellent client experiences that result in happy customers. She is tirelessly passionate about leading her team members to achieve personal growth and success. Outside of work, you'll find Sarah teaching yoga, enjoying the outdoors, taking care of her plant collection, traveling far and wide, and grooving to the latest independent radio hits. Read more articles by Sarah Mead.
Subscribe to get our new blogs delivered right to your inbox
Other insights you might like