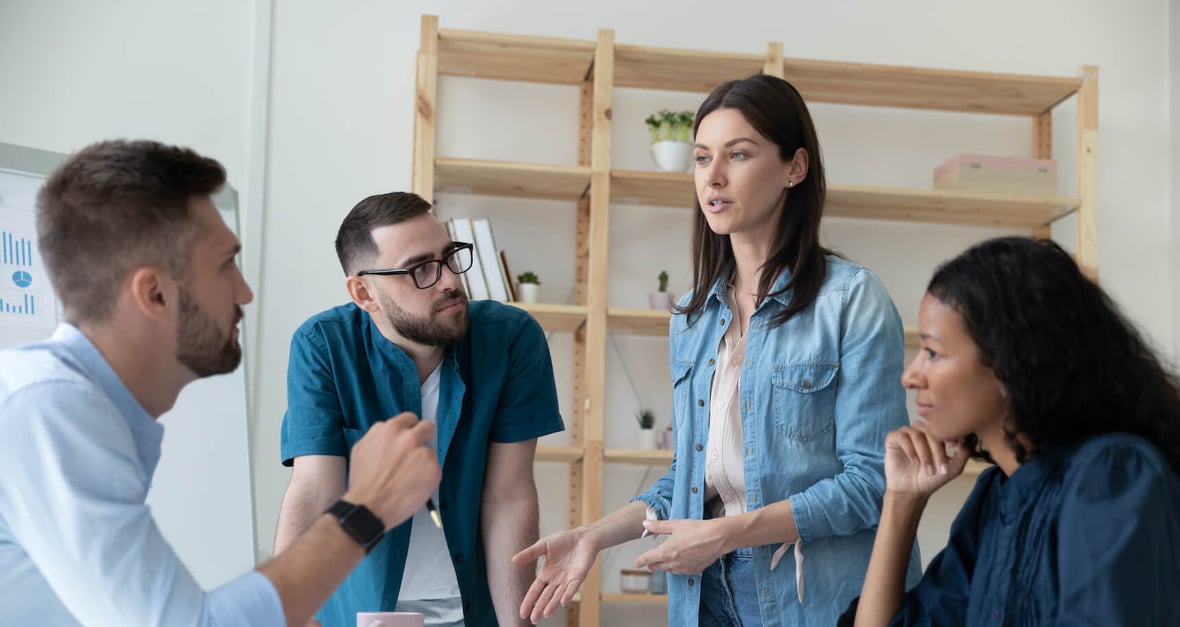 [2020] HubSpot ABM Features Explained
August 26, 2020
---
By Amber Kemmis
As you get started with account-based marketing (ABM), you'll undoubtedly need some key technology platforms to carry out your strategies and tactics. Recently, HubSpot added ABM features and functionality that will aid your ABM plans, and this is likely to be the start of HubSpot's path to supporting ABM strategies.
Before diving into this post, you may want to activate the ABM features within your HubSpot portal by following this knowledge base article from HubSpot. From there, you can follow along in this post with a hands-on perspective. These HubSpot ABM features are available on the Professional and Enterprise Marketing Hub packages. Yes, they come at no additional cost if you are on those packages!
As you follow along with this post, make sure you've activated ABM features with the following steps:
Navigate to Contacts > Target Accounts
Click "Get started"
Note that you must be a Super Admin or a user with account access permissions to activate the ABM features in your account.


Added Functionality
While some of the HubSpot ABM features are completely new tools within the platform, HubSpot's aim was to build most of the features within the interface of its existing functionality. This includes additional templates and properties in the workflow tool, contact and company properties, reports, lists, ads, and playbooks.
The following is a breakdown of the new ABM functionalities:


Additional Templates
Within HubSpot reports and the reports dashboard, you'll now find templates tailored to your ABM campaigns and analytics. You'll also find ABM-geared templates within workflows.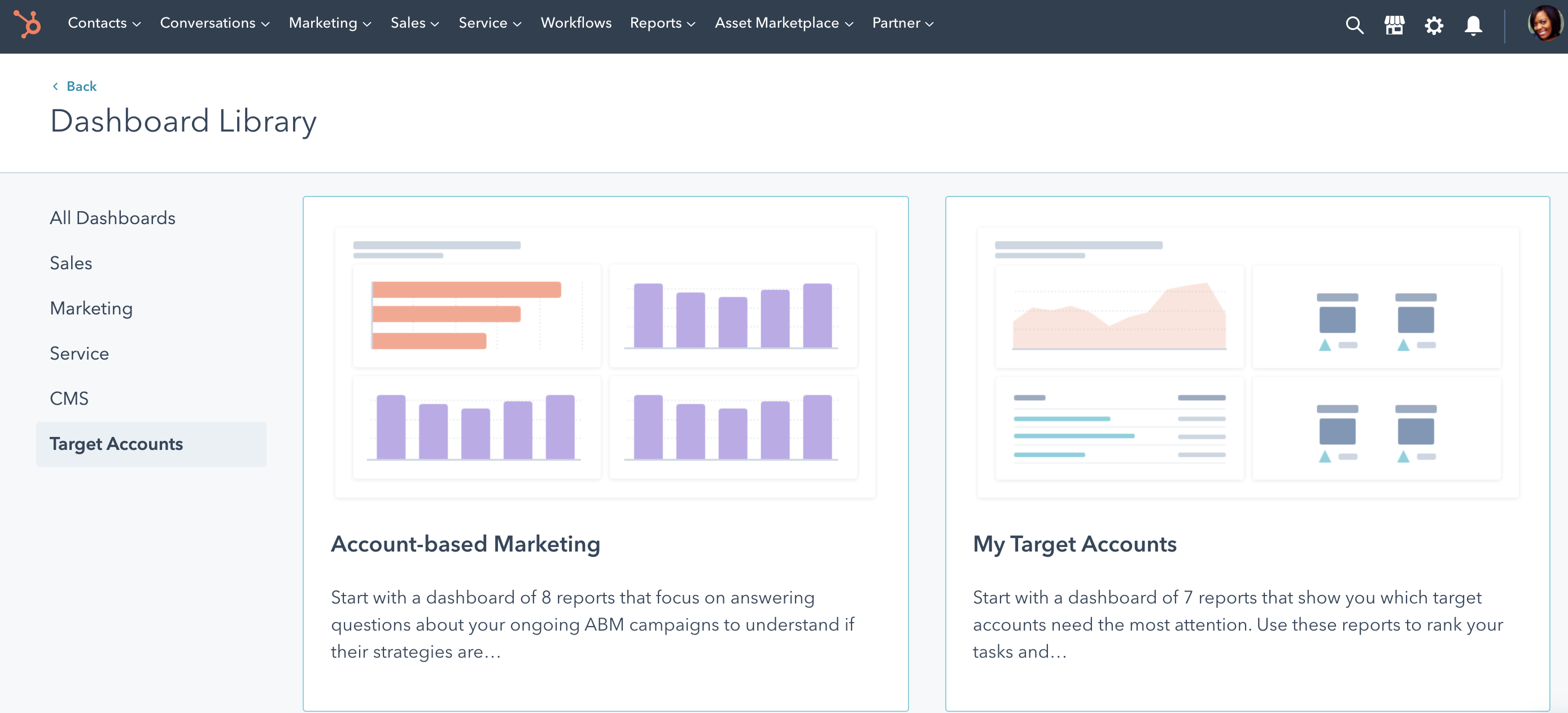 Properties
There have been a few default ABM properties added, which can be found at both the Contact and Company Records.
On Contact Records, you'll find the buying role. Contacts can have more than one role that describes what part they play in the sales process, and they can share the same role with another contact. The standard options, which can be edited, are Decision Maker, Budget Holder, and Blocker. The default values cannot be deleted.
On Company Records, you'll find several new properties, including the following:
Target account: This property identifies the companies that you are focusing on for your account-based strategy. You can update a company record's target account property value to True to indicate that the company is a target account. This will help pull them into your Target Account dashboard, which we dive into later in this post.
Ideal customer profile tier: This property helps you break your target accounts into three tiers. You may want to do this to align with your ideal customer profile, but you can also just think of your account tiers as a way to prioritize accounts. This property can be edited and defined as you see fit for your account-based strategy.
You can update these properties manually, use a workflow to update, or import a list to append contact and company information.
Lists
HubSpot will automatically create lists in your account once the ABM features have been activated. The lists that are automatically created to help you tailor emails, ads, or any campaign efforts include:
Influencers
Champions
Budget Holders
Decision Makers
Buying Role
Target Accounts
While lists are automatically created, you will want to have a manual, automated, or bulk update via a .CSV to help update the properties that feed these lists.


Company Scoring
According to a 2018 CEB Analysis study, the average buying group size is 10.2. With ABM, your goal is likely to engage as many of those involved in the buying process as possible. Company scoring allows you to measure engagement beyond a contact record to the company or account.


Playbooks
HubSpot offers an account-based selling playbook template. To create, edit, and delete playbooks, you'll need Sales Hub or Service Hub Enterprise seat and Publish and/or Write playbooks permissions.


Slack Integration
Leveraging the Slack and HubSpot integration, you can send certain commands and updates from HubSpot Sales to Slack that can be beneficial to your ABM strategy. This includes sending updates about a deal or company record to Slack through a workflow, feeding report data regarding target accounts, and sharing notes to Slack.


LinkedIn Integration
First, you'll find ABM improvements made to the LinkedIn Ads Integration that allow you to target accounts based on the account contact's tier, buying role, and status. Keep in mind as you use this feature that LinkedIn requires the list size to be at least 300 matched members.
Secondly, you can also connect HubSpot to LinkedIn Sales Navigator with native integration to help sales teams with one-to-one outreach.


New Features
The Target Account dashboard in HubSpot is the whiz-bang feature of HubSpot's ABM rollout. You can find it under the Contacts tab in the main navigation, as shown below.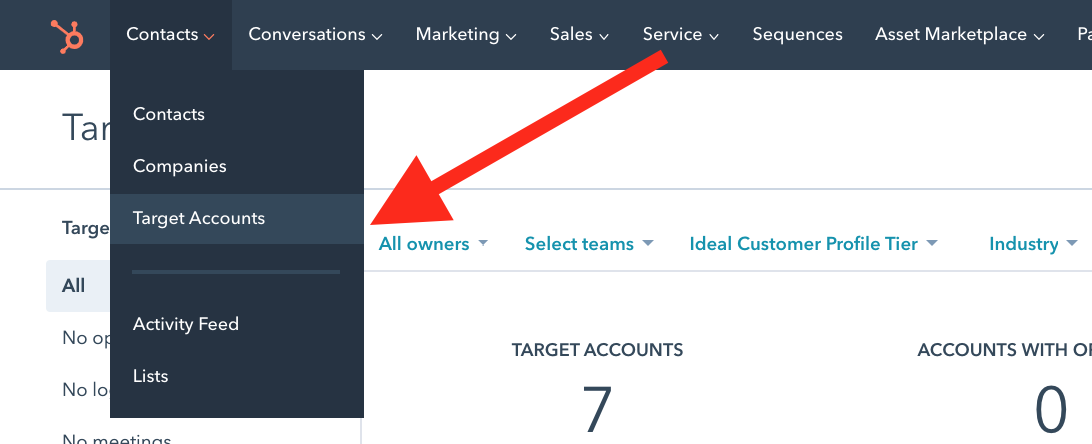 The Target Accounts dashboard is a hub for viewing your current accounts, filtering them down by multiple criteria, and viewing recommendations for new target accounts.

An account-based marketing strategy is centered around engagement and increasing pipeline velocity. In turn, the Target Account dashboard highlights columns with key information, including the following:
Count of associated contacts to the account
Count of open deals associated with the account
Sum of open deals associated with the account
Last touch, which shows past internal activity on a company such as logged calls, meetings, and direct emails
Last engagement, which includes the count of activities that you'd normally see in a contact's activity feed (for now, marketing emails and emails to more than one contact aren't tracked in engagements)
Scheduled, which highlights whether or not a meeting has been scheduled.
The Target Account dashboard is most valuable when you are also leveraging the HubSpot CRM, because you'll be able to see associated activities from both a sales and marketing perspective and also segment your target accounts based on CRM activities such as open tasks.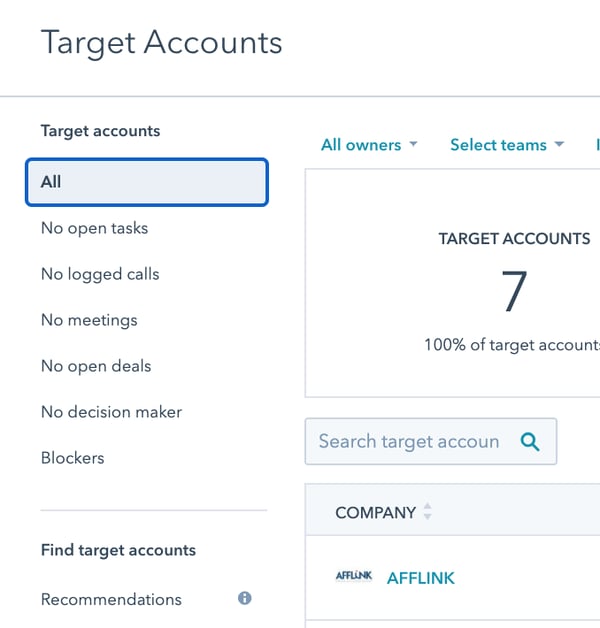 You can also drill into each account using the Account Overview. This drill-down can be found on the Target Account dashboard, and also on Company Records.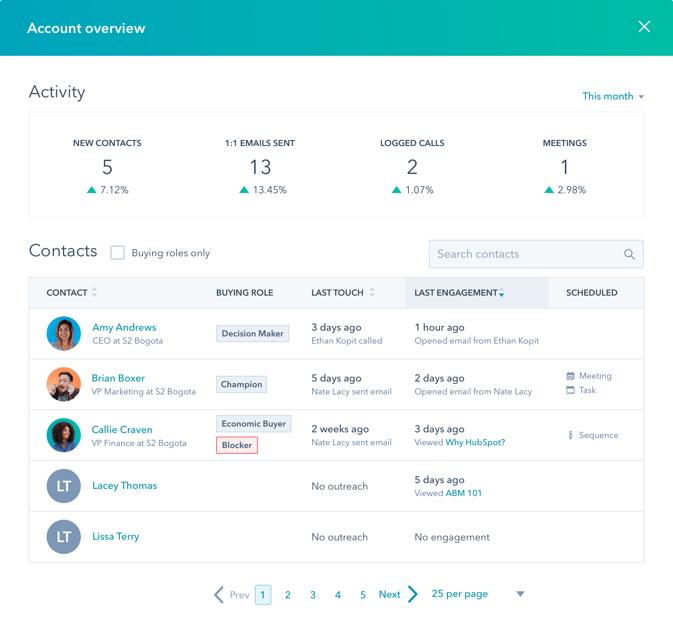 The Account Overview highlights key information about an account, including account activity, contacts, and associated buying roles. Using the Account Overview requires the HubSpot user to have a Sales Professional seat.
In addition to any Target Accounts you've selected by updating the Target Account property to True, you can also help to find new Target Accounts through the Recommendations tab.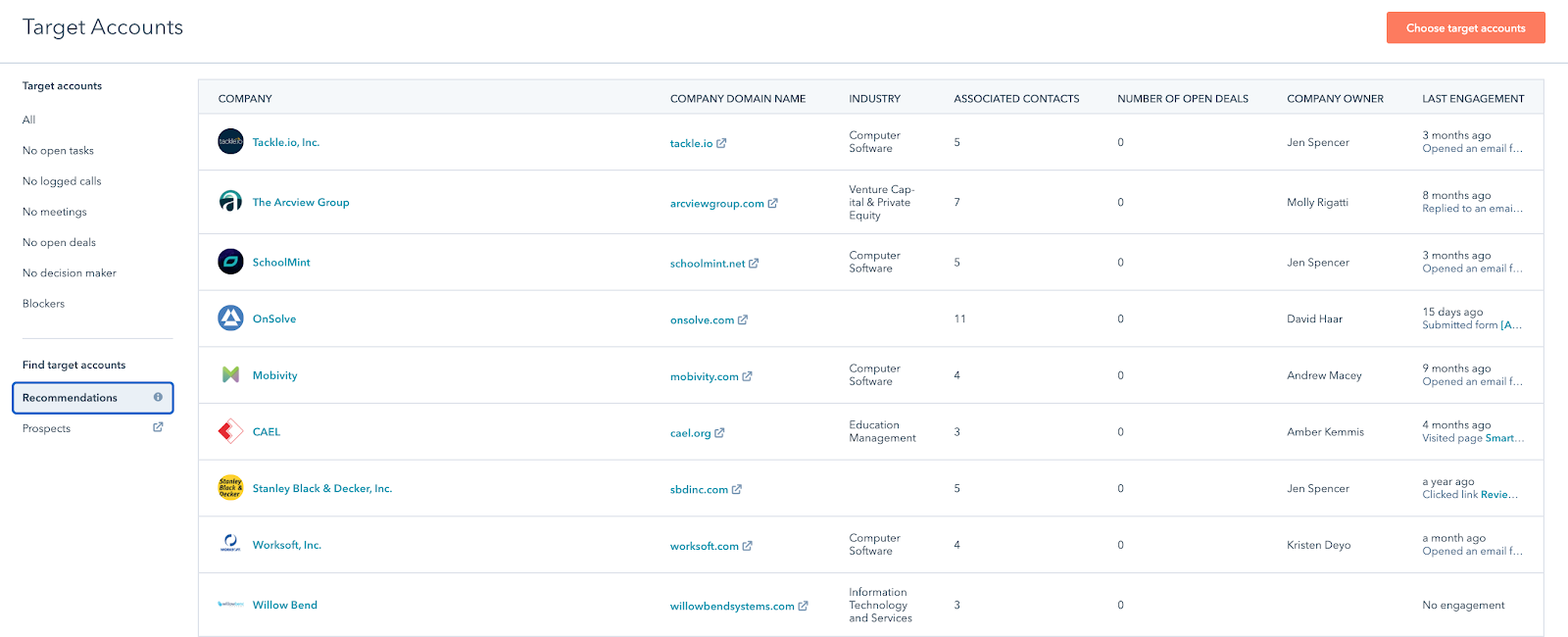 By leveraging AI technology, the recommendations tab looks at account engagement and similarity to your existing target accounts to serve up recommendations. The more you fine-tune your target accounts and track account engagement, the better the AI for recommendations will perform.
You now have a good grasp of HubSpot's ABM capabilities. Are you ready to get started with ABM, but you aren't sure where to start? Here are some additional resources that can help you on your journey. Enjoy the ride!

About the author
Amber Kemmis was formerly the VP of Client Services at SmartBug Media. Having a psychology background in the marketing world has its perks, especially with inbound marketing. My past studies in human behavior and psychology have led me to strongly believe that traditional ad marketing only turns prospects away, and advertising spend never puts the right message in front of the right person at the right time. Thus, resulting in wasted marketing efforts and investment. I'm determined to help each and every one of our clients attract and retain new customers in a delightful and helpful way that leads to sustainable revenue growth. Read more articles by Amber Kemmis.
Subscribe to get our new blogs delivered right to your inbox
Other insights you might like