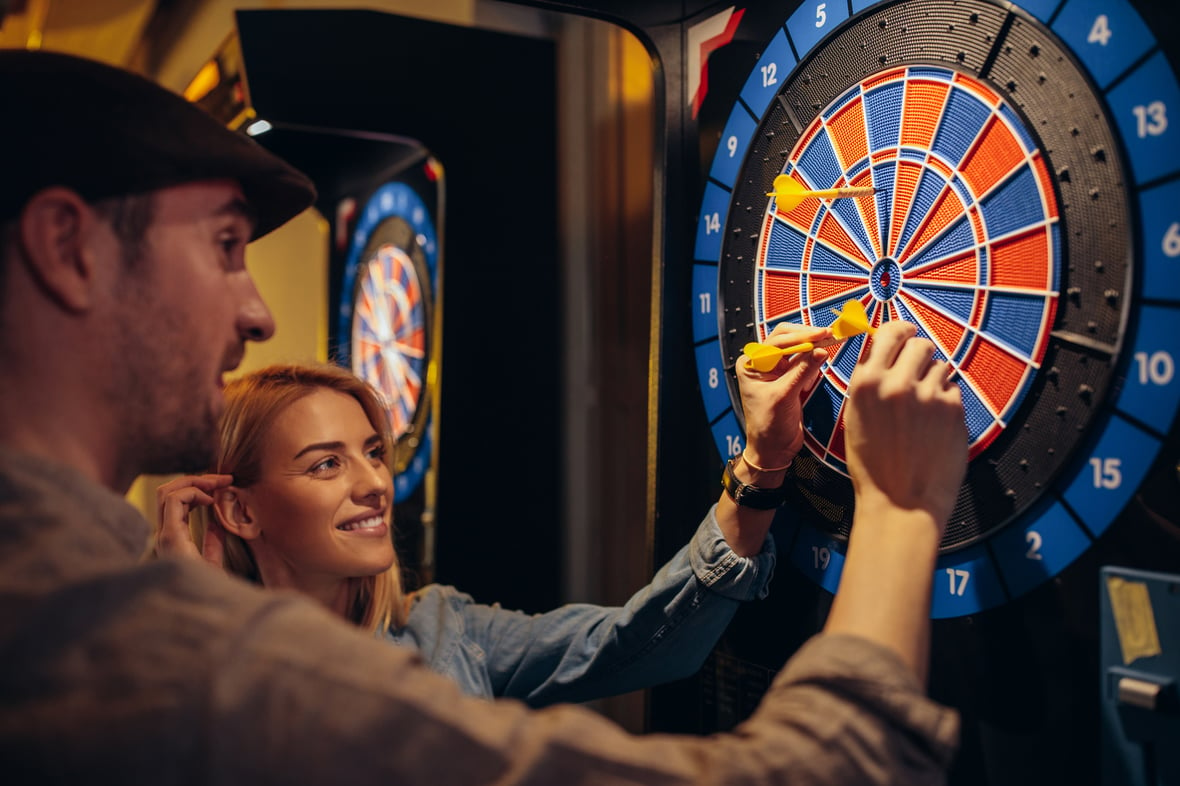 Understanding the Three Approaches of a Blended ABM Strategy
June 11, 2020
---
By Ale Melara
B2B marketers are always under immense pressure to fill the sales pipeline with qualified leads and to generate conversions.
I would say that the three most typical objectives a marketer gets from sales and management are:
"More leads."
"Better leads."
"Better conversions."
Account-based marketing (ABM) offers a way to address all of those objectives.
ABM brings high ROI and helps close more deals through an account-specific and targeted approach by focusing on MQAs (marketing qualified accounts) instead of MQLs (marketing qualified leads).
There are three different ABM approaches that can be implemented. In this article, we'll define each of them and how we can use them together in what is called a blended ABM strategy.
The Basics of ABM
What is ABM?
ABM focuses on identifying the target accounts that will provide the most value to your marketing and sales efforts. Data-backed and personalized communication is a key element for the success of this approach.
If you have a clear buyer persona and clear goals for who you want to bring in as your next customer, why not leverage your resources and existing marketing campaigns and focus on specific accounts that have already shown interest? While identifying these accounts, you'll be able to nurture your relationship with specific stakeholders and take a much more personalized approach that can result in greater ROI.
What is a blended ABM strategy?
There are three different approaches a marketer can take with ABM. Although they can be used separately, they can also be combined in a blended approach, which is an integrated strategy that provides both breadth and depth to your most important clients and prospects through different marketing tactics.
The following image shows how the ABM marketing funnel works in contrast to the traditional marketing funnel.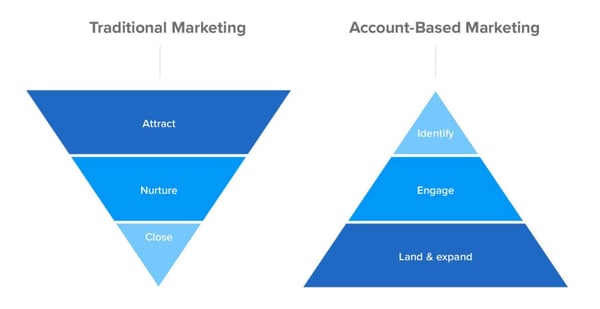 Image source: https://www.50marketing.com/account-based-marketing/
Instead of focusing on attracting a number of (unknown) prospects, the goal of ABM is to first identify a set number of (known) accounts to later engage/nurture and therefore expand or land a new business.
What Are the Advantages of a Blended ABM Approach?
We all have different types and tiers of customers and prospects that are in different stages of our funnel. The approach taken with each tier should, consequently, be different.
One of the greatest things about a blended ABM approach is that it can be used in different contexts and to achieve different objectives within your company.
You'll most likely have different goals across your organization, especially if you work with a cross-departmental team. For example, your company may be aiming to open new markets, provide new solutions, grow revenue, and/or ensure customer success. ABM can help achieve all of those objectives using a distinct approach for each one.
Additionally, ABM maximizes and contributes to the success of your traditional B2B marketing efforts.
Some of the metrics in which ABM outperforms traditional B2B marketing are:
Greater alignment between sales and marketing
Overall increase in lifetime value (LTV)
Increase in upsell and cross-sell opportunities
Higher return on sales and marketing investment
Higher close rate
Higher contract value
Increased customer retention rate
Understanding the Three ABM Approaches
There are three different ABM approaches that together encompass all of your possible customer tiers: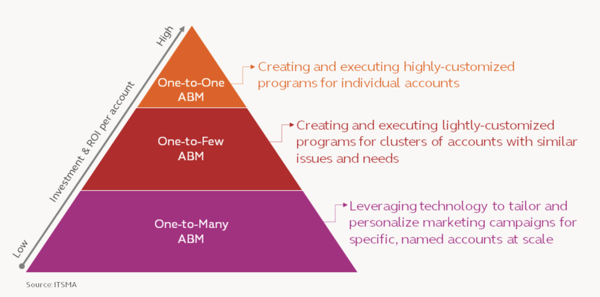 1. One-to-One
Starting at the top, with the highest level of personalization, investment, and ROI, we have the one-to-one approach. This approach focuses on one account at a time. There could be 5-50 existing accounts, with "accounts" referring to your current customers and open opportunities.
The one-to-one approach is relationship-focused and customized to each account. It is usually used to handle upsell and cross-sell opportunities. This is where a lot of renewals and upgrades happen.
Top tactics for the one-to-one approach:
Face-to-face meetings
Executive relationship programs
Direct mail
Custom content (videos, webinars, podcast)
2. One-to-Few
The one-to-few approach applies the same relationship-focused tactics of one-to-one to a target audience made up of groups of accounts. The accounts that form a group have the same business pain points and are often in the same industry.
This approach is still very targeted but a bit less personalized than one-to-one. The one-to-few is lead-focused and tied a bit more to the traditional demand generation model. There are still levels of personalization but it focuses on net-new accounts.
The one-to-few usually targets 3-5 clusters of 5-25 accounts each. The purpose of clustering your accounts into these sub-groups is to identify commonalities like what industry they belong to and if they have the same pain points and share similar issues and needs.
Top tactics for the one-to-few approach:
Email marketing
Direct mail
Webinars
Custom content (videos, webinars, podcast)
Website personalization
Events
3. One-to-Many
One-to-many is where the term "ABM at scale" is often used, and it's the approach where technology plays the biggest role. The one-to-many approach targets several hundred accounts at once that are strategically curated. Technology enables us to tailor the campaign to specific accounts.
This approach focuses on net-new accounts that are still targeted with some level of personalization.
Top tactics for the one-to-many approach:
Email marketing
Targeted digital ads
Events
Webinars
Paid social
Account-based content marketing
Understanding Account Segmentation
You might be wondering, How do I know which account should receive which approach?
The one thing to keep in mind with the accounts you select to go under each approach is that the business objectives align with what the marketing team can help support.
This is where marketing and sales alignment becomes extremely important. We must be able to identify where accounts fall across different teams and what types of programs they're getting served.
Existing partners fall into the one-to-one approach because it's relationship focused. We already have a relationship with these accounts, and therefore, know how to target them with personalized communication that encourages an upsell or renewal. It wouldn't make sense to add a prospect into a one-to-one approach because we barely know anything about them.
Prospects and customers both fall into the one-to-few approach. We already have a bit of information about them and have data to back up their behavior and interaction with our company.
Prospect

Industry

Healthcare
Manufacturing
Finance
For the one-to-many approach, we should focus on net-new accounts or prospects and target them based on the type of industry that they're in, their location, their sales stage, or the product they sell.
This is not a set-in-stone segmentation list. There are a lot of ways to think about account segmentation for example, you could also segment your prospects based on location, type of product they sell or stage of their buyer's journey.
Pro tip: Start small, with one particular segment, and slowly work your way up from there.
There's still a lot of unknown when it comes to picking and choosing the right approach, especially around segmenting your accounts. The great thing about a blended ABM strategy is that you don't have to use them all at the same time. Start small and focus on your business objectives.
If you want to know how a blended ABM strategy can fit into your inbound marketing efforts or if you want to make sure this is the right approach for your business, reach out to us. Our team of experts has worked on implementing ABM for a variety of companies in different industries.

About the author
Ale Melara is a Sr. Content Marketing Manager based out of El Salvador, Central America. Ale is our very first LATAM employee. She's worked remotely for the past 5 years and she's had different roles in sales and marketing. In her free time, she works on creating educational videos around digital marketing for her "Inbound Nomad" social accounts where she promotes traveling the world while being a full-time marketer. Read more articles by Ale Melara.
Subscribe to get our new blogs delivered right to your inbox
Other insights you might like