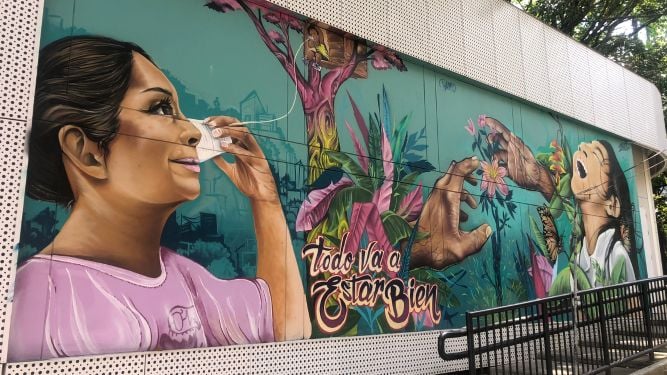 A Day in the Life of Working at a Remote Agency [Medellín Edition]
March 25, 2022
---
If living through a global pandemic has taught us anything, it's how to roll with the punches. In early 2020, with shutdowns and stay-at-home orders in place, companies were suddenly thrust into a work-from-home setup they weren't prepared for. Teams scrambled to digitize workflows and get Zoom up and running.
Two years later, after the initial hiccups of those early months, employees and employers have settled into a routine that's starting to feel normal. And the positive side effects speak for themselves: namely, a renewed push to finally achieve work-life balance, wherever that may be.
As far as 9 in 10 remote workers are concerned, there's no turning back. Remote work is here to stay.


Remote Life at SmartBug
For our team here at SmartBug, we've been all-in on all-remote since the very beginning.
With the basic logistics of working remotely in the books since 2007, we've been able to focus on growing and strengthening our culture.
So how do we do it?
Step-by-step onboarding and training simulation for new employees
Monthly IRL allowance to meet up with other SmartBugs
SmartBugapalooza, an annual meetup of all 200+ of us!
Fun Slack channels! (#pets, #bookworms, #travel-bugs ... but more on that later)
Regional happy hours!
And we're just getting started.


How to Make Remote Work ... Work for You
I always knew my dream job would allow me to write full time with the freedom to get out and explore the world. After graduating college, I spent the first few years of my 20s teaching English as a foreign language in South Korea and Spain. Last year, I found myself ready to pivot from several years as a freelance writer to a full-time copywriter role at a marketing agency. That's when I landed a job with SmartBug.
Fast-forward to today, and I've just returned from an eight-week stint in beautiful Medellín, Colombia. Known as the "City of Eternal Spring," Medellín boasts mild temperatures year round and lush greenery sure to entice travelers from around the world. The city has undergone massive transformation since the 80s and 90s. And, I may be biased, but Colombians are some of the nicest and most welcoming people I've ever met—the perfect opportunity to improve my Spanish!
Maybe Colombia's on your list, too. Or Tokyo. Or Hawaii. Or a cross-country road trip to explore state and national parks. The possibilities are endless.
Come along for the (bumpy chiva) ride as I show you the path I took to make working for a remote agency work for me, and how you can do the same.
Tip #1: Do Your Research: Wi-Fi and Tech
Expect the unexpected. Steady Wi-Fi was my number one concern when traveling and working. But with some simple planning, I was able to avoid the panic-inducing "searching for networks" in the upper right-hand corner of my screen.
Before booking accommodations, read reviews to assess the Wi-Fi setup, and even ask your Airbnb host to send an internet speed test. Consider traveling with an ethernet adapter and purchasing a local phone plan with a hotspot connection, just in case. Always travel with a portable charger (it's saved my life so many times!).
Tip #2: Explore Coworking and Co-Living Options
Make connections. As a solo traveler, I was looking forward to meeting other remote workers along the way. Lucky for me, Medellín has sprung up in recent years as a digital nomad hotspot for traveling professionals around the world. In the city, I stayed at a centrally located Airbnb that was walking distance from lots of great coworking spaces, like Semilla Cafe, which also hosts monthly book clubs, networking meetups, and language exchanges.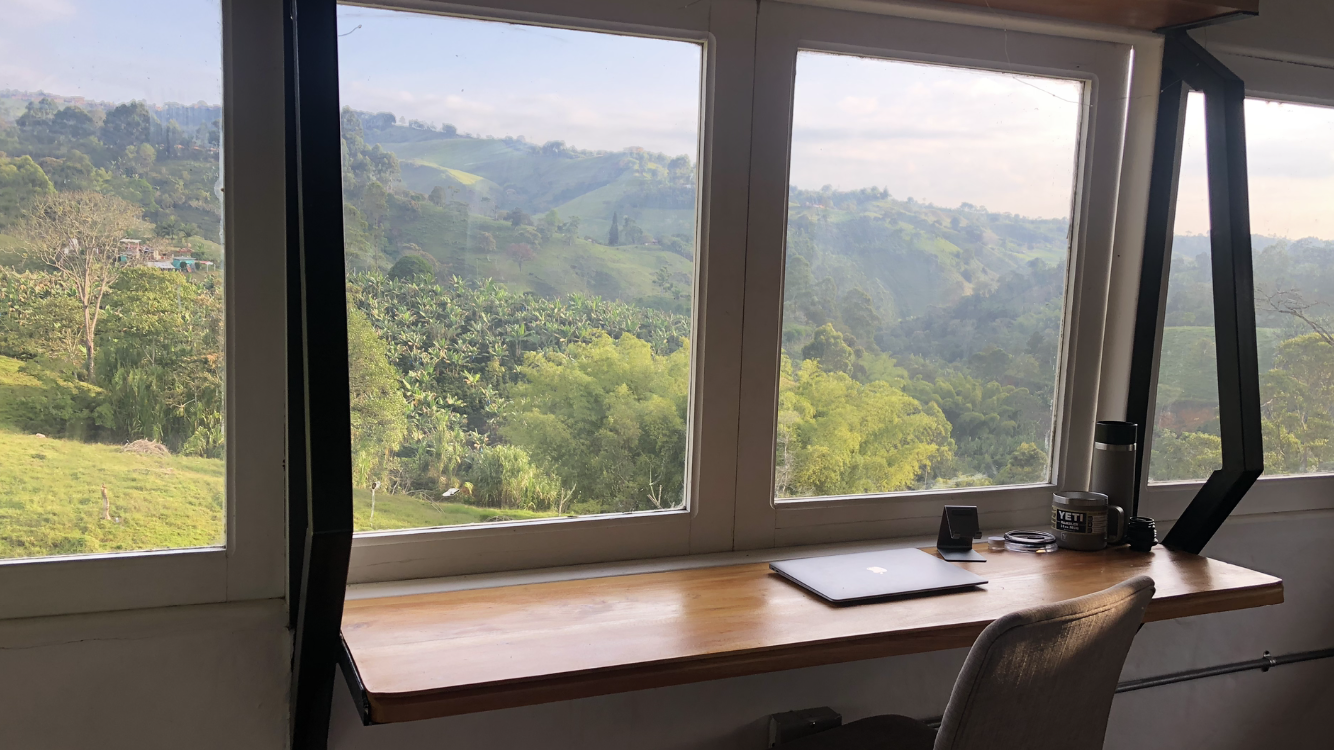 Tip #3: Use Flex Time and the Time Change to Your Advantage
Be strategic about your schedule. Medellín corresponds to the U.S.'s Eastern time zone, which meant I always got an early start to my day. By the time coworkers on the west coast were waking up, I had plenty of time to get ahead of copy revisions and client feedback.
SmartBug also offers employees flex time, which means our working hours are calculated monthly, not weekly. As a mostly weekend traveler, I leaned on flex time to maximize travel time without taking unnecessary PTO. I'd log a few hours on Sunday, then wrap up early on Friday, just in time to catch a bus to the next town or a metro ride across the city.
Tip #4: Connect with Coworkers Who Have Similar Interests
Get travel tips, tricks, and inspiration from your teammates! By joining SmartBug Slack channels like #travel-bugs, I could prepare for my trip and get travel and tech tips from colleagues I don't regularly cross paths with. There's no better inspiration than seeing photos of coworkers' travels around the world!
Y gracias al canal #spanishpractice en nuestro Slack, he tenido la oportunidad de practicar con colegas en todas partes del mundo y al mismo tiempo, saber más de la cultura en latinoamérica!


SmartBug IRL: Pinning Another Meetup on the Map
At SmartBug, we receive a monthly allowance to get together with other SmartBugs in our area for coffee, happy hour, rock climbing—you name it.
What better time to arrange an IRL meetup than during my time in Colombia? Fellow SmartBug writer McCoy Worthington and I got together for coffee and fresh maracú-mango juice—the perfect opportunity to swap travel stories. Getting there: mototaxi > bus > metro and later metro > bus > tuk-tuk back to Jericó.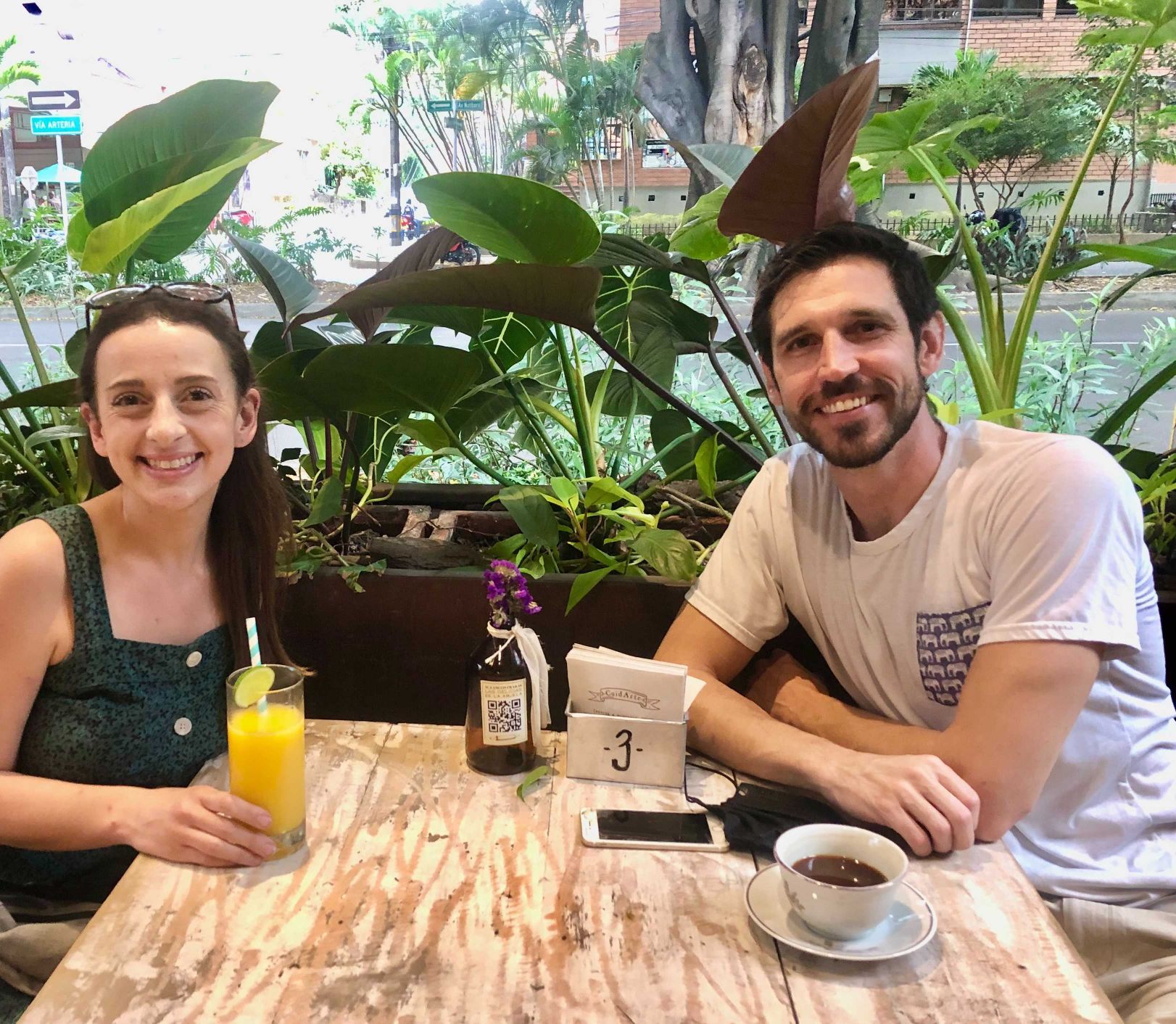 Find the Work-Wander Balance That's Right for You
When it comes to work and travel, there's no one formula to follow. But with the flexibility working for a remote agency allows, you can find the balance that's right for you.
Here's what a typical day working in Medellín looked like for me:
7:30 a.m.: Café con leche and a buñelo at an outdoor cafe
8:00 a.m.: Quiet morning! Check my calendar, upcoming tasks, and email
8:30 a.m.: Follow up with quick revisions and web project communication
9:00 a.m.: Dive into my first web writing project for the day
11:00 a.m.: Subject matter expert (SME) client call
11:30 a.m.: Grab lunch, then work from a local cafe in the afternoon!
12:30 p.m.: Editorial Team call
2:00 p.m.: Jump into web project No. 2 for the day
3:00 p.m.: POD meeting
4:00 p.m.: Wrap up web projects for the day and spend the afternoon exploring the city, on foot or by metro!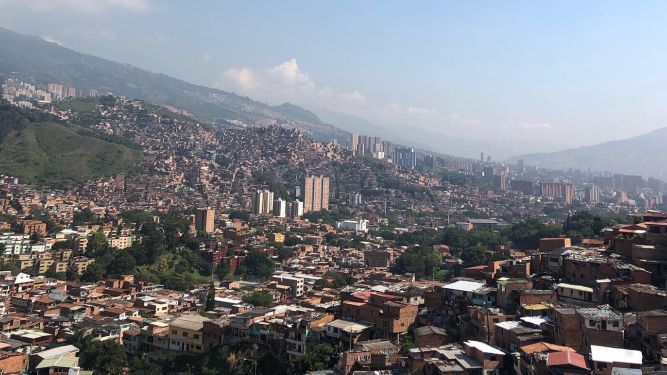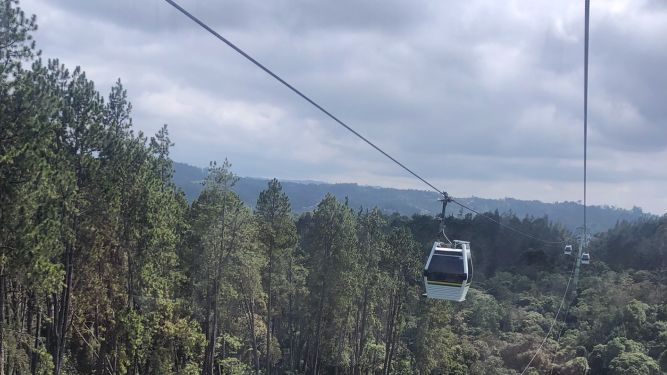 Medellín
Medellín has seen a dramatic and inspiring transformation since the violence of the 80s and 90s. Comuna 13 is a beautiful example of that shift. Getting there: metro > metrocable.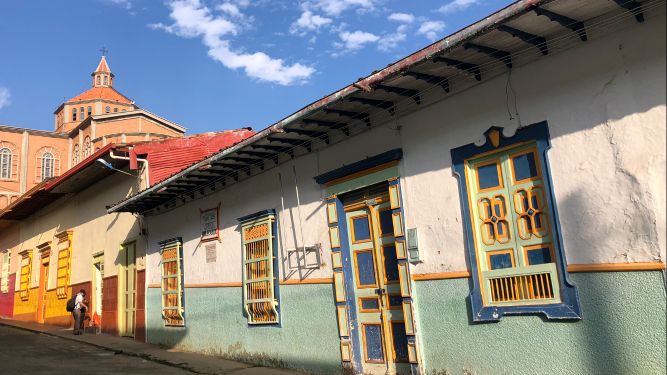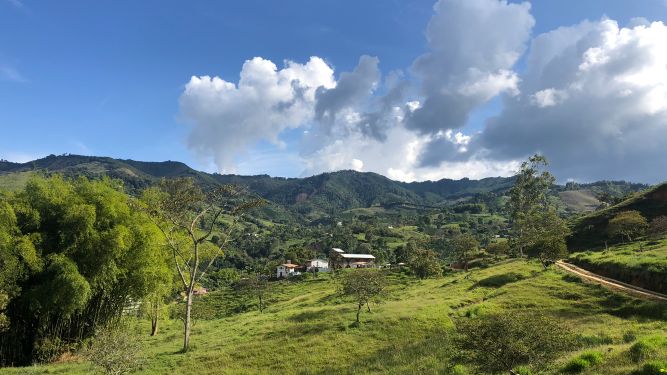 Jericó
Three hours outside of Medellín. Great opportunity to meet other remote workers from around the world! You can see my coworking spot in the distance. Getting there: mototaxi > horseback > tuk-tuk > bus.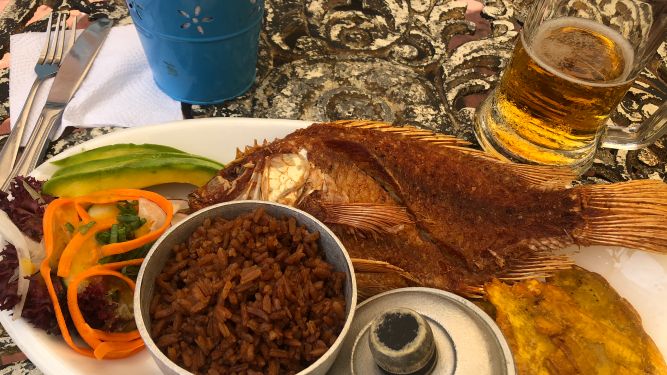 Cartagena
Soaring white skyscrapers converge with the traditional facades of Spanish colonial architecture in Cartagena's casco viejo. Freshly fried mojarra around every corner. Getting there: plane > taxi.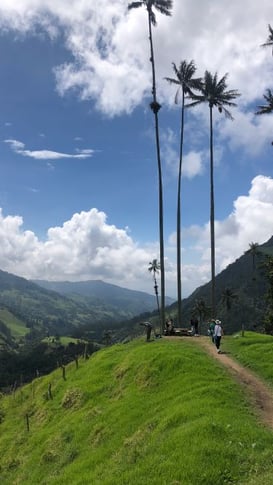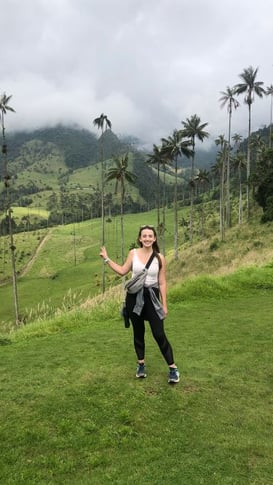 Salento
Salento is known for its proximity to Valle de Cocora, home to some of the tallest palm trees in the world. Getting there: mototaxi > bus > 4x4 Jeep.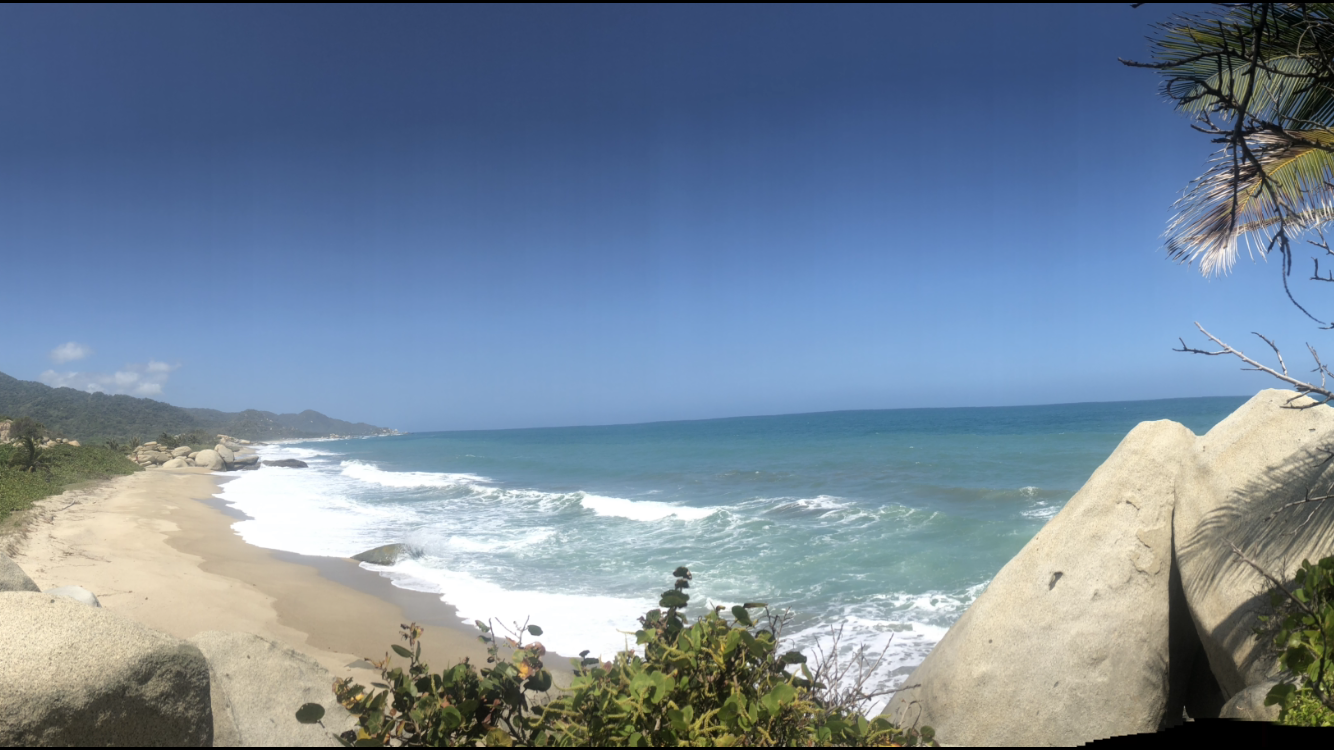 Minca
Located only miles away from the coast, Minca is a hidden oasis of greenery and waterfalls. Don't miss the opportunity to visit Parque Tayrona for a day's hike to the water's edge. Getting there: bus > taxi > mototaxi.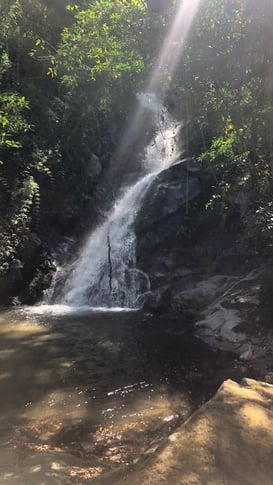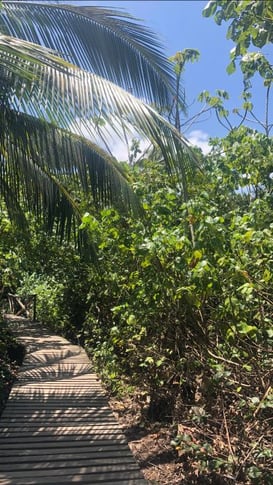 About the author
Cassie Schauble is a Web Copywriter at SmartBug Media. She has a background in content creation for immigration, education, and language learning non-profits. Since making the transition to the agency world, she's diversified her portfolio to include healthcare, manufacturing, and SaaS content marketing. Now, as Web Copywriter, she gets the best of both worlds: writing snappy headlines and witty one-liners while conducting research for even the most niche content strategy. In between projects, you can find her taking full advantage of the work-wander lifestyle that writing for a remote marketing agency allows. Read more articles by Cassie Schauble.
Subscribe to get our new blogs delivered right to your inbox
Other insights you might like