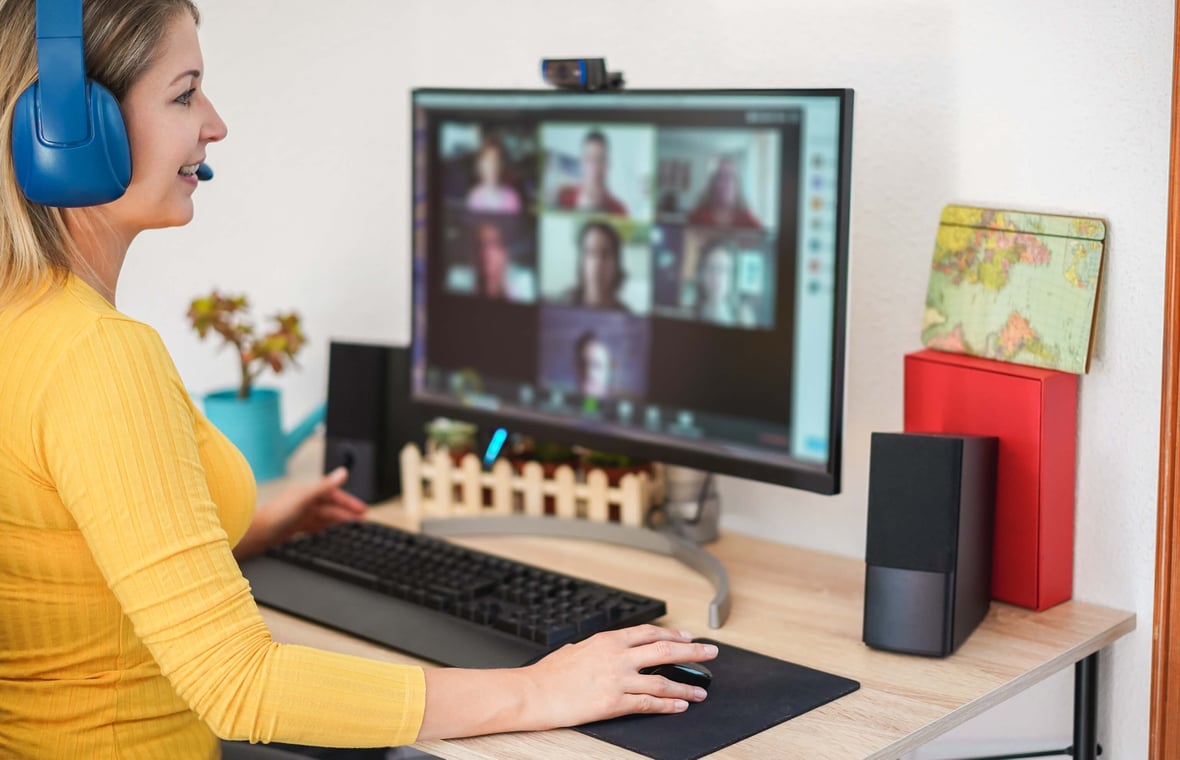 6 Tips to Build a Thriving Remote Work Culture
February 24, 2022
---
Many organizations learned over the past few years just how hard it is to build and maintain what they consider their "company culture" when it comes to remote work. If you're one of those organizations looking for ways to nurture bonds and relationships between the people in your remote workforce, then look no further!
SmartBug® has been a remote-only company since its inception in 2007, so we've had a lot of practice in fostering long-distance relationships. Here are some tips from our playbook for maintaining a robust, dynamic remote work culture.


1. Still have a happy hour.
The pandemic taught many of us that technology makes it pretty easy to keep your happy hour date with friends and family. The same should be said for watercooler talk, even if it has to be a little more planned than before.
Scheduling a company happy hour is simple and somewhat expected by most teams. Make it a habit to hold yours nearer to the end of the day so employees feel comfortable grabbing a drink to sip with their team. Be sure to encourage them to pick a comfortable spot, maybe away from their desk, and plan some icebreakers or virtual games in case the digital room is a little quiet. You can even plan themes in advance to build excitement. Don't think happy hour will work for your company or workforce? Hold a morning brew together instead!
How SmartBug Does It
SmartBug has been holding Zoom happy hours before it was cool (or necessary)! We have three time-zone specific happy hours so it's easier to meet up with coworkers based on your availability. We also have team- and department-specific meetups so you can spend time with people who relate to your daily agency life successes and challenges.
As for those who love morning brews? We have a tea and coffee exchange each quarter. What better way to get to know your coworkers than to learn their favorite way to caffienate and then have it delivered to their doorstep?

2. Encourage safe meetups IRL.
Meeting in real life (IRL) is a great way to really understand your team, so if you have an office, hosting a few in-person meetings a quarter could provide some remote work-life balance.
If you're remote only and spread apart, be sure to communicate where everyone is located. This will help employees who live near each other naturally connect in the digital world as well as help connect those who are using remote work benefits to travel into a place where coworkers live.
How SmartBug Does It
SmartBug has a searchable internal knowledge base that includes the location of every employee. We also make sure to emphasize where new 'Bugs live when they join the team. Usually that leads to immediate IRL plans, but it also helps those who are traveling to their area then or in the future know who might have insider advice on visiting. It's like having a whole network of locals to ask for recs!
We don't need much encouragement to meet up with one another, but SmartBug leadership happily offers a monthly budget specifically for IRL hangouts with our local or visiting teammates.


3. Keep the communication going.
Investing in a platform like Slack or Zoom Chat will provide a return. Organically, this digital water cooler will be used as much for fun banter as it will for advancing important client projects and tactics.
The best way to ensure both are accomplished is to organize your platform by team, department, client/project, and specific interests your team holds. Encourage everyone to bring ideas for those fun groups, too. The more people feel the team chat is for them, the more they will participate.
How SmartBug Does It
Our Slack is loud. No really, our Slack is filled with interest group channels that SmartBugs actually talk in. Do you love talking about the latest binge-worthy tv show? There's a Slack for that. Are you a gamer and want recs or advice on your build? There's a Slack for that too. Do you simply have the cutest pet in the entire world and would love some confirmation on how right your "opinion" is? Of course, there's a channel for that.
From Taco Bell enthusiasts to book lovers, we've got a group of people who are ready to nerd out with you. And I would be remiss if I didn't mention that our Shout Outs channel has multiple updates a day from SmartBugs appreciating other SmartBugs.


4. Encourage the right meetings.
There is no shortage of memes and jokes about unnecessary meetings. Although no one loves a day full of calls, remote working means you need a few on your calendar to build a tight-knit and efficient company.
Ensure you're choosing only necessary meetings by considering how your organization is structured and what projects or processes usually require multiple people to accomplish. For example, departments might only need monthly meetings to foster communication, while smaller teams that work closely on tactics might require weekly meetings.
How SmartBug Does It
We have biweekly team calls where we briefly discuss company updates but mostly unwind together, either playing games or chatting. We break our larger departments up into smaller teams so that processes like these meetings are more manageable, get the right attention, and allow for more opportunities to really get to know coworkers.
Additionally, we have built-in time for get-to-know-you (GTKY) calls. GTKY meetings are one-on-ones with any team member you don't get the opportunity to work with often. When new teammates join the company, it is encouraged by every level of leadership to spend at least 15-20 minutes video chatting with your newest coworkers.
BONUS SB HACK: We love The Art of Gathering by Priya Parker and have followed a lot of her advice!


5. Do the corporate traditions—but better.
It is not just tradition, but it's an expectation that between November and January, companies are to hold a celebration: The Office Holiday Party. It's the subject of favorite television episodes and irreverant movies, and it's the place to see your buttoned-up coworkers let loose.
You might feel that working in a remote company means having to give up this quintessential event, but that's not true at all. If you don't have an HQ, this could be a great way to meet up with employees in one central location in a new city. If you do, inviting all employees to meet under that roof for a few days of fun can do wonders for bonding.
How SmartBug Does It
When it comes to the holiday party, SmartBug's virtual solution is themed and ensures there's a can't-miss activity for everyone. For example, our 2022 White-Out Holiday Party included pub trivia, crafting, candle-making, white elephant gift exchange, paint-n-sip, wine and chocolate tasting, a game of Among Us, cocktail-making, bingo, and so much more!
For SmartBugs, though, it isn't the holiday party we look forward to most. We're counting down the days to the annual SmartBugPalooza. SmartBugPalooza, or Palooza for short, is an annual company-wide retreat focused on spending a few days together in person. It's held in a new city every year, so in addition to meeting up with coworkers, it's a great opportunity to see new sights and have new experiences. See how we Palooza!


6. Let employees onboard new employees and train their peers.
Depending on your company structure, consider how your tenured employees can help with onboarding and training new hires. This is especially great in remote-only companies where new employees are learning new processes and trying to meet their new coworkers from afar.
However, this shouldn't stop with just new-hire training. Consider holding employee-led lunch-and-learns or empowering employees to lead internal training sessions where teams come together to learn a new skill from their colleague. This would be a great speaking opportunity for the session leader, and it also gives good insight into the types of expertise your team possesses.
How SmartBug Does It
One of our core values is to "stay curious," and it means we value continuous learning. We have many events and benefits that support that, including our Training Calendar. Each month, employees organize interactive trainings on anything from ways to build internal process efficiencies to soft skill development.


Build a dynamic, robust remote work culture.
Remote teams have unique challenges when it comes to nurturing employee relationships, but they also have the distinct benefit of getting closer to people from diverse cultures and backgrounds, too. There are SmartBugs everywhere—we're talking from Nova Scotia to El Salvador, Alaska to Hawaii. And yet everyone is only a call away because we put a ton of time in fostering closeness. It can be done, and your team can do it!
Oh, and if you're looking for an opportunity to work for a company like SmartBug, why not become a SmartBug? That's right—we're hiring!
About the author
Marissa Litty-McGill is a Senior Marketing Specialist with 8+ years of marketing experience spans both B2B and B2C industries. Though she received her Communications degree in Journalism & PR/Advertising, she fell for marketing before even walking across the University of Nebraska at Omaha's graduation stage. When she isn't geeking out over inbound, she's exploring the world with her husband and dog. Read more articles by Marissa Litty-McGill.
Subscribe to get our new blogs delivered right to your inbox
Other insights you might like