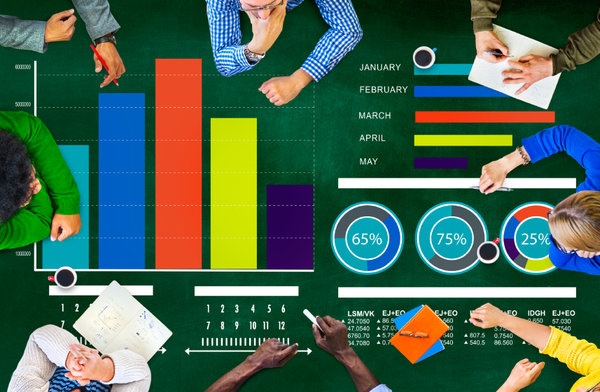 4 Characteristics of a High-Growth Marketing Team
August 6, 2015
---
By Aaron Riddle
Your marketing team is always running in a million different directions. Whether its sales support, internal campaigns or marketing to your customers, you or your team have a lot of items on its plate. How do we maximize all of our effort? How do we keep up with the organization we are apart of along with our customers and industry members?

Here are 4 high-growth marketing team characteristics with tips on how to bring these skills into your organization.
1. Clear, Realistic Goals
One of the first characteristics of a high-growth marketing team includes identifying, analyzing and creating clear and realistic goals for your organization. Whether its ROI, Monthly Revenue, # of Leads or higher traffic volumes, identify the right goals to further the growth for your organization.

Tip: Identify gaps and obstacles in your goal setting early to construct a concrete plan for what you are going to do and the expectations from your team.


2. The "Right" Amount of Communication
Along with your goals, a strong and highly productive marketing team begins with a great line of communication, not only through the ranks of the department, but through the entire organization and to your customers. This begins with having your internal and external communication very cohesive and interconnected.


Internal Communication: Internal communication within your organization begins with an understanding of your current organizational structure. By identifying your communication internally (Team Meetings, Marketing-Sales Meeting, etc…) you and your team can base your conversations and day-to-day tactics around these meetings to get questions answered to your campaigns and any feedback you may need to keep your deadlines.
Tip: Find the right flow for your internal meetings. Keep on track with your time and agendas to get the most out of your time off of your day-to-day tactics.


External Communication: Along with internal communication, your external communication becomes the finished product of your internal marketing strategy and your messaging to your customers and industry. How should we be posting on Social Media? How can we get feedback from our customers? How are our emails going? These common questions go hand in hand with your external communication.
Tip: With your external communication, you need to "try, try, try". Try something, see what works or doesn't, analyze your results and take the best pieces into your next "try". Each industry and market is different, by trying new things and finding what works for your team will help in communicating the right message to your customers and prospects.


3. Ability to Adapt
Marketing over the years has been an ever-changing industry and technology has not slowed this process down. Tools and processes over the past 30-40 years are either now obsolete or have gone digital to save time and resources. Having these abilities and the ability to adapt to business processes and new tools is becoming very commonplace to keep up with competitive markets.

Tip: Having an issue with adapting to new technologies? Many tools offer online training and have communities of people going through the same problem. Also, look at taking an online class at a local university or industry-specific certifications to keep your skills sharp.


4. Playing to Your Team's Strengths
Each and every member of your team (whether it's just you or 100) has an identifying trait that makes them stronger in one aspect over another.

Something that I've found interesting within marketing is fellow employee's college degrees vs. their current marketing position. I've worked with employees with degrees ranging from psychology, history, economics, journalism, computer information systems, art and even music!

Each one of these degrees bring a certain trait from your employees that can be leveraged. For example, your journalism major could go hand in hand with your content creation strategy, or your computer information systems employee may be great with analytics or integrating new tools and processes. By identifying these traits, you can help get the most out of your employees and also have them enjoy their work and contribution. Prior work experience is also a great way to gauge their strengths.

Tip: Ask your employees questions to find out what they enjoy most and where they would like to be in 1-3 years. Help by giving them a project or work in those respective areas to help further their careers and your teams growth.

All marketing teams are different and are investing their times and resources into different products and industries. Continue to set clear and realistic goals, find the right amount of communication, be able to adapt to all different strategies and tools and playing to who and what on your team you do best to keep your marketing team running at the right pace.

What types of characteristics are working within your marketing team currently or have worked in the past?

About the author
Aaron Riddle was formerly a Digital Project Manager at SmartBug Media. He has more than 9 years of marketing and project management experience helping organizations succeed in their digital marketing goals and objectives ranging from not for profits to large technology-based groups and businesses. Read more articles by Aaron Riddle.
Subscribe to get our new blogs delivered right to your inbox
Other insights you might like