By Amber Kemmis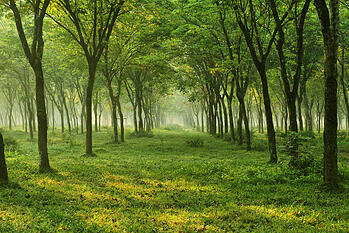 Aligning marketing and sales goals, although seemingly simple, can be difficult to do internally. In this case, it truly is hard to see the forest through the trees. From tried-and-true business processes to implementing new business software, your company can be challengedwhen aligning marketing and sales goals.
If you think your marketing and sales goals need to be aligned, here is how a marketing agency can help you out.
Develop Closed-Loop Marketing
According to research conducted by Demand Metrics, 80% of respondents who reported highly integrated sales and marketing systems achieved their revenue goals compared to 36% of those who report no integration. Thus, it is important to have personnel who know how to integrate sales and marketing systems. Internally, your marketing team knows their marketing automation software, while your sales team knows their CRM. However, a marketing agency has the expertise in both technologies and knows how to properly integrate the two. Through integrated marketing and sales systems, sales and marketing are able to share data with each other to help "close the loop" between the first lead interaction to the close of the sale.
Improve Communication
No, your marketing agency will not have your sales and marketing team sit in a circle and share their favorite hobbies as a "communication exercise." Instead, a marketing agency can help improve communication by getting both teams to come up with what is known in science as an operational definition. When is a lead ready to be handed-off to sales? What does our company consider as a lead in the first place? These are the types of questions that a marketing agency can help answer and operationally define. They know what differentiates an MQL and SQL, as well as other common necessary definitions, and will help your marketing and sales teams to develop common definitions for the goals created.
Third Party Advisor
As I stated in the introduction, it can be hard to see the forest through the trees. A marketing agency provides you with an objective, third party view to help evaluate and align current marketing and sales goals. With a marketing agency helping you align goals, your company can keep the peace between sales and marketing throughout the endeavor. In addition, marketing agencies are not involved in company politics, so they are able to interject when needed without causing turbelance.
Final Take Away
Marketing agencies, like SmartBug Media, have a team experts that know both marketing and sales dynamics. When you choose a marketing agency to help align goals, you want to make sure the company is equipped to help close the loop when aligning and achieving goals whether it be attracting visitors to your website or closing more sales.
At SmartBug, our consultants have experience working with companies at all different stages of growth and have worked with various sales and marketing processes. We know marketing automation and inbound principles that will ultimately help you to align goals between marketing and sales. With a typical marketing ROI of 200% for SmartBug clients, you can expect that goals will be aligned and met when choosing us as your agency partner.