Inbound marketing is a continuous cycle of creating, distributing, and promoting helpful content and resources to your potential audience and customers. The goal of inbound is to help prospective buyers solve an issue or answer a question so that they remember you when they're in the market for your product or service. As opposed to outbound marketing in which companies actively try to sell services through traditional media campaigns such as TV, radio, and retargeting, inbound marketing takes more of an audience-based, educational approach to catching prospective buyers on their own time through great content.

Gated vs. Ungated Content
When it comes to creating content, there are two ways you can distribute: You can "gate" the content behind a form, or you can leave it ungated and openly accessible. In determining whether to gate a specific piece of content, you need to consider the value you're providing readers.
What's the Difference?
Gated content requires users to share some basic contact information in exchange for the content. Example: A user shares his or her name, email address, company, and location in exchange for an article, infographic, e-book, and so on. The screenshot below is an example of gated content: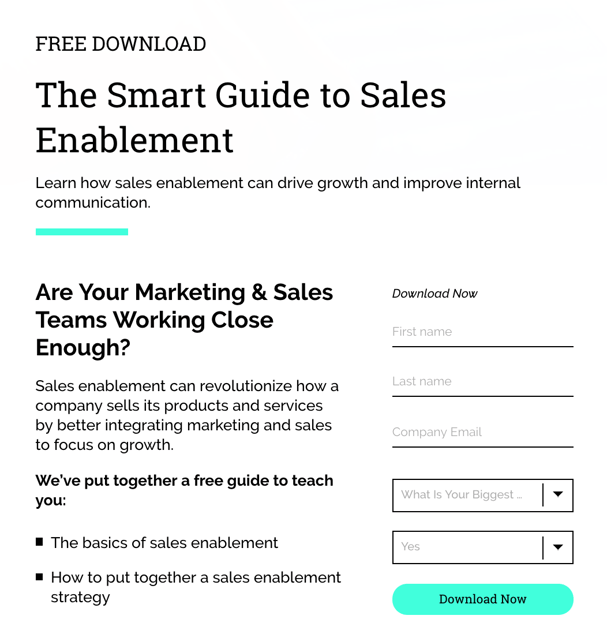 Ungated content is completely free and doesn't require the user to share any personal information in exchange for the content. Example: A user lands on your blog and downloads a PDF without giving you his or her name or email address. The screenshot below is an example of ungated content: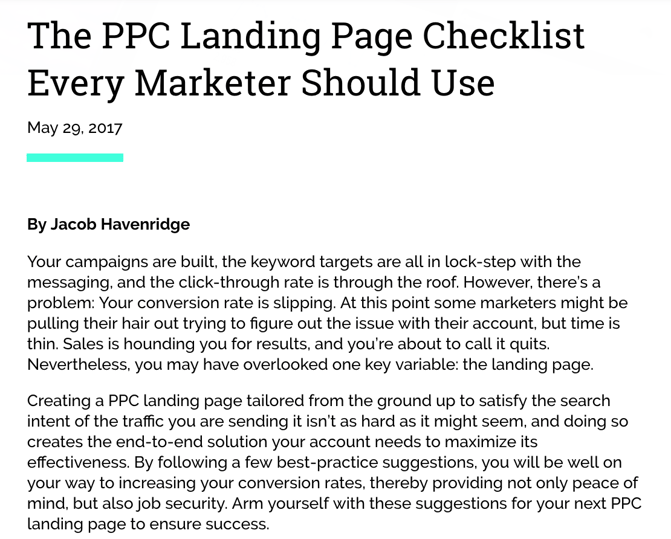 How Do You Develop Gated Content?
To determine whether to gate content, you need to take a little time to gauge the value of the content. For example, if you're investing time and resources to create an extremely helpful, all-inclusive "how-to" guide for your customers, you can most definitely capture contact information in exchange for the content. And in the world of sales and marketing, contact information is the most valuable commodity. By continually gathering contacts and building a database of user activity, you begin to build a list of leads for your sales team to work with in the future.
So, where do you start? How do you determine the type of content that will be helpful to potential customers? You work with your sales team.
Your sales team is your boots and ears on the ground; they're the people working directly with potential customers, and they know the questions that clients are asking, the problems that they encounter, and the issues that they need help with. In fact, one of the best ways to brainstorm content ideas is to sit down with your sales team and ask them all the questions they receive on a daily basis. Doing so will give your content creation team a variety of topics that you can build content around, from helpful blog articles to in-depth ebooks and webinars.
Examples of Content That Should Be Gated Include:

White papers

Checklists

E-books

Webinars

Infographics
Examples of Content That Can Be Ungated Include:

Blog articles

Interviews

Case studies on the company website

Basic product/service overviews
How Does Gated Content Help Sales?
In the world of inbound marketing, there's nothing more valuable than generating sales qualified leads and, ultimately, customers. Sales qualified leads, or SQLs, are those companies or individuals who have moved through the buyer's journey and are closest to making a decision on a product or service. They are the leads most likely to turn into a customer today.
Gated content helps sales teams tremendously because of the context it gives on a call. A salesperson, for example, can call on a prospect who has downloaded an e-book and talk specifically about any questions that the prospect might have, if he or she found it helpful, if he or she is currently in the market to buy, and so on. As opposed to outbound sales in which there's cold calling and there's absolutely no context for a call other than to make a sale, inbound marketing takes a much more consultative approach, and it's that gated content that can help give salespeople the context to have a great first call.
Why Getting Your Sales Team Involved Matters
It's not enough to have your marketing team members brainstorm topics they think would be helpful and base content on that. And it's not enough to write all of your content based on keyword research. To find the ultimate success in content marketing, you need to involve your sales team. Find out the questions that the team is asked, the objections that clients have, what content the team has used in the past that has been helpful for clients—and let them show you where to start.
Another key reason to get salespeople involved in this process is to help determine the most valuable information that they would need captured on the form to download. Remember that your salespeople will ultimately be calling on these leads, and knowing what information will be most helpful to them on those initial calls is key.
Your sales team is the most vital part of your business, and it needs to be involved in the content creation process. The sales team's involvement in content creation helps produce better content overall and helps align sales and marketing so that everyone is on the same page and can work toward the same goal.