Where to Find a Speaker for Your Next In-House Webinar
March 30, 2016
---
We've already covered a variety of topics regarding webinars: different types, how to promote your events, creative ideas to up your attendance rate, setting up the integration with HubSpot and GoToWebinar, and more. However, one thing we haven't talk about yet is getting a speaker for a webinar, which arguably is the most important piece other than the topic, of course.
When most marketers begin planning a webinar, they think that someone inside the company has to present. There are actually pros and cons to having an internal presenter versus an external presenter (i.e. someone from outside your company), or even a panel with a mix of both internal and external presenters:
| | | |
| --- | --- | --- |
| Internal Speaker | External Speaker | Panel |
| Pro: Establishes your company as a thought leader | Pro: If the external speaker is well-known, this fact gives credibility to your company | Pro: Best of all worlds: establishes your company as a thought leader, brings a built-in audience, and gives your company credibility |
| Pro: Easy to find and get a "yes" (if there's management buy-in) | Pro: Brings a built-in audience | Pro: A variety of perspectives are presented, which audiences appreciate |
| Pro: Know that they are committed | Pro: Less time spent internally to develop content | Pro: Internal speaker only has to develop part of the content |
| Con: Will take a considerable time to develop content | Con: May need to give an honorarium or pay a speaker fee | Con: Difficult to get all panelists together for dry runs, content discussions, coordinate logistics, etc. |
| Con: Prospects may be less likely to attend because they think it's going to be a product pitch | Con: Less direct conceptual connection to your company | Con: If the subject is particularly good, it may be difficult to cut down to an hour given multiple speakers |
Given the pros and cons of each approach, typically a well-rounded webinar series will include speakers from each category.
One more note on internal speakers – you can pull in a marketing person to discuss market trends as an awareness-stage webinar. You can pull in salespeople with particular experience in 'x' to discuss the pros and cons of one approach versus another for a consideration-stage webinar. You can pull in product people for a decision-stage webinar demonstrating your product.
Point being, you can get an employee from just about anywhere in the company to speak. However, take the time to make sure they are a good speaker or train them up until they are. Don't make your audience sit through any presentations with a poor speaker; it will reflect poorly on your company.
Okay, now on to where to find external speakers for your next webinar. At one point in my career, I remember feeling like I didn't even know where to start when it came to looking for people to present. You just need to get a little creative and do a little sleuthing…
Best Places to Find External Speakers
1. Partners
Your company undoubtedly has several partner companies that offer a product or service that relates to your product or service (without competing) and has overlapping audiences with your company. (If you don't, you should work on that, but that's a topic for another blog post.)
Check out your partners' websites and see if they have a webinar series or a blog. Would any of the topics be interesting to your leads or target audience? Call up your partner and chat with them on the idea of co-promoting the webinar to both their database and yours.
And since you are already partners, it shouldn't be too difficult to get them to say "yes."
2. Analysts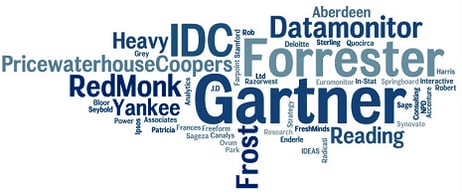 Many companies contract with analyst firms such as Gartner, the Aberdeen Group, Forrester Research, etc. for access to their research reports and/or to conduct custom research. These agreements often contain extra analyst hours that can be used however the company wishes or may include a specific clause for their analysts to give or participate in a panel on a webinar. In either case, make sure to get the most of your agreement by scheduling an analyst who has knowledge in your industry and credibility to bolster your company's reputation.
If your company doesn't have a yearly agreement, a one-off project is an option with most firms and can range from the analyst simply presenting, to dual-promotion (where an analyst firm emails their database, and you email your own) to the firm handling all the logistics, including the webinar software, promotion, and registrations.
3. Customers
Do you have a list of power customers who love you and/or your product? If not, consider creating one by chatting with your sales reps and customer support team – they are often in the trenches and know what customers are advocates or have agreed to be references. You can also create a customer satisfaction survey and pull your happiest customers from there.
Then call them up and ask if they'd be interested in giving a webinar with your company! (You may need to bribe them with a free upgrade or a year of extended support, if needed.)
What do customers present on? Usually a case study format works well: the problem that the customer was facing, the solutions they considered to solve the problem, the criteria they used to make the selection, and what benefits they achieved once they selected your product.
If you are a software company, another direction is to have your customer demonstrate how they use your product and walk through it step-by-step. This works well for both demonstrations that are straight-out-of-the-box, as well as people who are using the software in new, interesting ways.
Many of these customer-given presentations are the best social "proof" your product can get and are especially effective in the consideration stage for new leads.
4. Industry Contacts
A super easy way to get some suggestions of who to ask to give your next webinar is to ring up some of your industry contacts (customers, partners, analysts, press, etc.) and ask them who they would recommend to give a webinar. People love to be helpful and will be flattered you asked their opinion. Try couching this question as "Who do you think we should approach about giving our next webinar where the speaker is so good (or well-known) that there is no way you would ever miss it?"
5. Slideshare
Slideshare is absolutely excellent resource for finding experts on just about any topic. Once you've found a presentation with a topic that will resonate with your target audience, look up the person who uploaded the slides and contact them. The best part is that the creator of the presentation has likely already given that talk and will be open to giving it again. Depending on the speaker's company, profession, and/or topic, you may need to offer an honorarium or speaker fee for their time.
6. Conference Schedules and TED Talks
Conference schedules and TED talks are another fantastic place to find subject-matter experts. Every industry has niche conferences that are geared toward a specific aspect of business usually with a plethora of speakers well-versed on the topic. Most conference agendas are easy to find and list the speaker and/or company next to the talk they will be giving. Again, because they have already given (or are going to give) a presentation, the content is already developed and your chance of a "yes" to giving the same presentation to your audience is more likely.
7. Google Search
Finally, a good, ol' fashioned Google search will often set you in the right direction of blogs, podcasts, and/or other webinars with authors who have new and interesting things to say in your marketplace. Whereas Slideshares and conferences will lead you to speakers who are already established, try searching Google for some up-and-coming youngsters with a fresh perspective on a topic.
Check out this article by Kelvin Newman on the Event Manager Blog for some other great ideas: http://www.eventmanagerblog.com/finding-conference-speakers!
---
Don't get stuck in a rut by assuming that every one of your webinars has to be given by an internal resource. By being a bit creative and doing some research, you can find excellent speakers who are willing and able to present your next webinar!
Do you have any other suggestions for finding external speakers for your next event?

About the author
Jessica Vionas-Singer was formerly the Senior Director of Client Success at SmartBug Media where she lead a team of SmartBugs who focus on HubSpot onboarding for clients new to the system and other project-based work, oversaw new employee onboarding, and rolled out new process and procedures within the Client Services department. She fell in love with marketing at her first job at a technology company specializing in credit evaluation software. Her background includes more than 20 years of marketing experience in content creation and lead-driving tactics, online presence and blog creation, social media engagement, budgeting and project plans, webinar and trade show event management, public relations, comprehensive promotional campaigns, and analytics. Jessica has a BS in Sociology from Montana State University – Bozeman. Read more articles by Jessica Vionas-Singer.
Subscribe to get our new blogs delivered right to your inbox
Other insights you might like