What Is Progressive Profiling?
Progressive profiling is the progression of collecting a prospect's information through additional questions on subsequent forms.
As we know, having too many questions on a form field can decrease lead conversions, so you shouldn't ask for all of the information you want at once. With progressive profiling, marketers gradually gain lead intelligence (from subsequent form data) for qualification and nurturing without sacrificing conversion rates because leads aren't turned off by the amount of information they are asked to provide.

How Does Progressive Profiling Work?
Within marketing automation tools like HubSpot, progressive profiling is made possible through the functionality of forms. When a visitor fills out a form on a website landing page for the first time, they are required only to complete a few form fields. The next time that visitor fills out a form, cookie tracking allows you to replace any of the form fields you've already collected from the contact with new form fields. The image below displays progressive profiling on the HubSpot platform.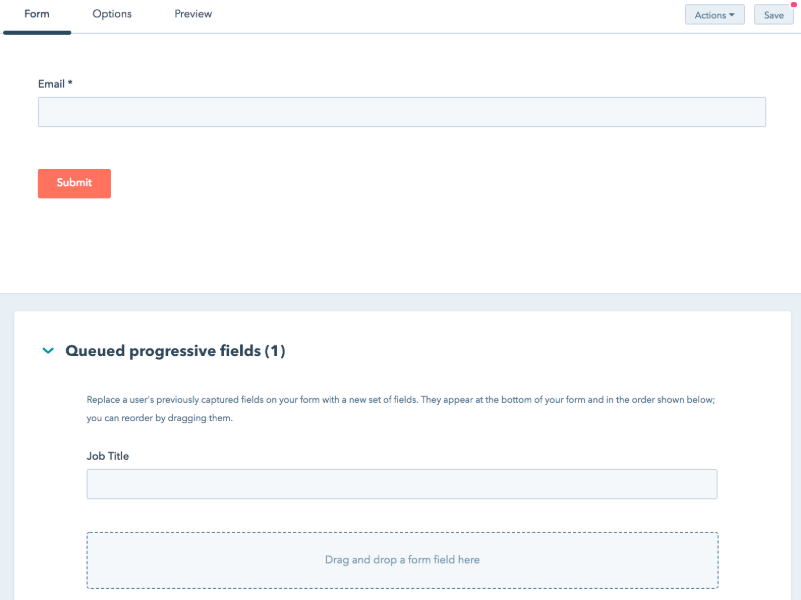 Here's an example of a typical sequence of progressive profiling:

On the first form your visitor completes, you ask for fundamental information such as the following:


First name
Last name
Email
On the second form completion, you request additional information for targeting and qualifying the lead, such as:
Before progressive profiling, marketers would often create a different form for each stage of the buying cycle or based on the type of content offer. They did this because it provided conversion data for each of the forms and allowed them to match the amount of information requested to the value of the goodies on the other side of the form. For example, you probably wouldn't ask for a phone number on a form for a how-to guide. Now, with the help of progressive profiling and tech capabilities of most automation platforms, you can use the same form for different stages of the buying cycle and content offers without sacrificing lead intelligence or conversion tracking.
However, you should proceed with caution when thinking about combining all of your forms into one massive progressive profiling engine. For example, a form field for one persona may not be relevant to another persona. In this case, you can rely on other automation tactics like field dependencies or use a unique form. As another example, if a visitor's first conversion on your website is with an offer like a consultation, you will not want to use the same form as you did for an e-book because basic information like email or name may not provide enough information for sales to properly follow up.
So It's a Form Thing?
Before you conclude that progressive profiling happens only in the realm of form completions, think again. Though the concept became popular when automation tools launched the functionality, progressive profiling just broadly means that you are gradually gathering the necessary data needed for marketing and sales to move a lead further through the funnel. Thus, you should also think about other ways beyond forms that allow you to progressively build the profiles of your contact database.
One way to accomplish this is through implicit data like user behavior on your website or engagement on social media. In other words, you can learn just as much about your contacts through implicit data as you can through the explicit data they provide on forms. As you think about ways to build better lead intelligence, keep in mind the implicit data you might already have, as well as explicit data beyond form completions like critical demographics that might be available via a data enrichment tool like Datanyze.
When used wisely, progressive profiling allows marketers to gather necessary information, as well as build lead intelligence on repeat conversions. In a nutshell, it enables marketers to capture lead data without being annoying or invasive. Learn about some additional benefits here.
Have you implemented progressive profiling? How has it worked for your company?
Originally written on July 17, 2014. Content was updated in January 2023.