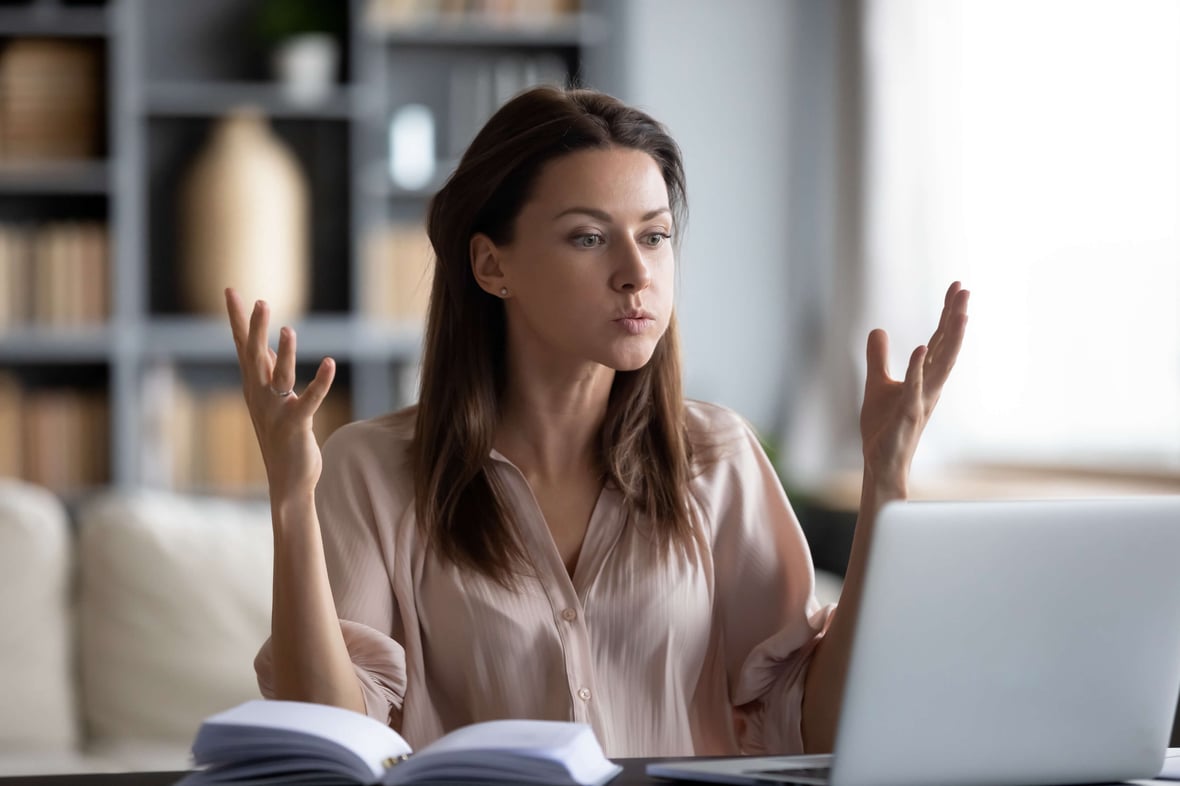 What to Do When Your Website's Organic Traffic Suddenly Drops
June 8, 2023
---
As a CMO, you know how important it is to maintain good organic traffic to your website. Organic, or unpaid, website traffic often accounts for the highest percentage of website traffic, and a sudden drop can be detrimental to your digital marketing strategy. This is why it's vital to understand what might cause a sudden drop in organic traffic and how to rectify it.
Common Reasons for Organic Website Traffic to Dip
There are a few common reasons why your website's organic traffic may have taken a sudden hit. Below, I'll outline four common reasons why your organic website traffic might plummet and offer the solutions you need to regain (and maintain) your website traffic.
1. Google Algorithm Update
Google is constantly updating its algorithm to ensure users get high-quality and highly relevant search results. These updates can sometimes cause a sudden, significant drop in organic traffic. The Panda, Penguin, and Hummingbird updates are some of the most significant past updates that caused considerable changes in Google's algorithms.
Helpful hint: Visit Google's Search Status Dashboard for a list of confirmed algorithm updates.
To recover from a significant drop in traffic caused by an algorithm update, check whether you have content that violates Google's quality rater guidelines. Review your website's metrics and identify the affected pages. Once you identify the problematic pages, edit or delete the content that violates Google's guidelines. You can then request a recrawl of your webpages, and if you've made satisfactory changes, your organic traffic should start to increase over time.
2. Poor Website Design and Navigation
A poorly designed website and unintuitive navigation can significantly affect your ranking, which leads to a drop in organic traffic.
Your website navigation needs to be user-friendly, logical, and mobile-friendly! Your website design should also be user-friendly and guide the user to a solution. That said, it's arguably more important for your website to be optimized for a fast loading speed and minimal technical SEO issues. Technical SEO issues such as broken links and error pages can lead to a decrease in search page ranking and result in decreased traffic.
To fix these issues, you may be able to make some small adjustments to your website and start seeing results fairly quickly. However, depending on how outdated your website is, you may need a complete redesign.
I would suggest starting with a quick SEO audit to pinpoint simple optimizations that might get you some quick wins. Confirm that you have a responsive web design that works for both desktop and mobile users. Make sure your website is user-friendly and fast-loading with no broken links. After reviewing those things, I'd look into improving your website's navigation and layout to enhance the user experience.
3. Competitor Activity
Competitors can significantly impact your organic traffic by making changes that help them rank higher than you. If your competitors are doing a better job at keeping their websites updated, optimized, and complete with information relevant to your target audience, it could lead to a sudden drop in your organic traffic. You might be doing a lot right internally, but don't forget to look up and out; being aware of what your competitors are doing is essential for sustainable digital marketing success.
To keep your competitors at bay, pay attention to their activities and the tactics they implement. Compare what you see to your own strategies and techniques, and continue to make sure your website is optimized efficiently. Look for ways to innovate and come up with fresh, appealing ideas to stay ahead of your competition.
4. Loss of Backlinks
Loss of backlinks can be a major contributor to your website's organic traffic suddenly dropping. Backlinks are an important factor in search engine optimization, but they must be acquired legitimately. If you've been participating in link-buying schemes or using black-hat techniques such as keyword stuffing, the chances are that your backlinks will be removed by Google or other search engine bots and their penalty algorithms. This can result in a sharp decrease in organic search rankings and overall traffic.
However, there is some good news: If you've lost links because of unnatural activities such as buying links, it's possible to regain them eventually. Start by identifying which of the backlinks you lost were due to illegal activities or techniques, and then work toward building new quality backlinks for your website. Ensure that any new backlink strategy follows all ethical guidelines set out by search engines, such as Google, to gain higher organic rankings and avoid penalties.
One of the most common ways to obtain backlinks is by creating quality content that will naturally encourage others to link back to your website. This content can include articles, blog posts, research reports, how-to guides, and more. Additionally, you can reach out to other organizations or influencers in your industry and ask them for a link exchange. Directory listings and social media sharing are two more methods of gaining backlinks. Whether you focus on one or all of these efforts, go in with ethical intentions so you can get long-term benefits from these links without worrying about any penalties from search engines.
5. Website Security Issues
If your website is not secure, Google and other search engines will majorly ding you, which almost always leads to a significant decrease in your organic traffic. Additionally, if your site gets hacked, your organic traffic can drop suddenly, making it harder for you to recover your rankings.
To recover from a sudden, security-related drop in traffic due to security threats, install an SSL certificate, implement or improve your website security software, and optimize your website's plug-ins. Make sure that all your site's plug-ins are updated to the latest version; older-version plugins can have vulnerabilities that can lead to an attack.
You Can Recover from a Drop in Organic Rankings
Experiencing a sudden drop in organic traffic can be frustrating, but it's not the end of the world. By digging into the reasons why your traffic may have plummeted and taking action to rectify the situation, you can quickly recover your lost traffic.
Start by identifying the issue, evaluating your current strategies, and implementing solutions that align with your website needs. Ensure that your website is updated regularly, remains relevant, and is user-friendly. Monitor your competitors, be alert to any Google algorithm changes, and always prioritize the security of your website.
By following these tips, you'll be well on your way to recovering your lost traffic and achieving sustainable digital marketing success!
About the author
Tabitha Young Tabitha is a Director of Client Strategy at SmartBug Media. She is well-versed in implementing marketing strategies for many industries including SaaS, healthcare, consumer services, automotive, and more. Outside of work, you'll find Tabitha traveling with her husband, taking her 2 corgis on adventures, and researching a Costa Rican retirement plan. Read more articles by Tabitha Young.
Subscribe to get our new blogs delivered right to your inbox
Other insights you might like