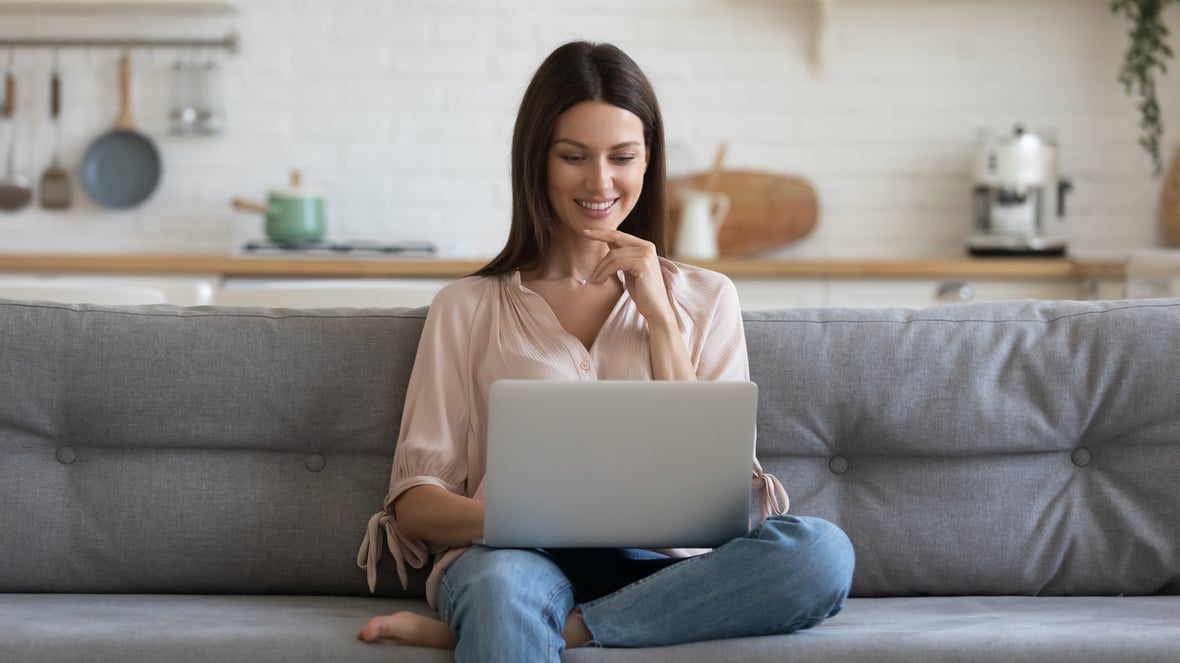 6 Ways to Lower Your Website's Bounce Rate
May 12, 2020
---
It can be overwhelming to stay on top of so many different website metrics while figuring out how to adjust your website to improve them. Your website bounce rate is one of those key measurements. Knowing your bounce rate can give you additional insight into how your visitors are interacting with your site, which in turn gives you opportunities to lower it.
Before we look at how to lower your bounce rate, here's a quick primer:
What Is a Bounce?
A bounce is when a visitor opens a page on your website and does one of the following:
Exits immediately.
Clicks on a link that takes them to a different website.
Clicks the back button to return to the previous page.
Stays on the page for 30 minutes without interacting with any of your page elements.
How Is a Bounce Rate Calculated?
The bounce rate is calculated by dividing the number of visitors who bounced by the total number of visitors and multiplying that number by 100. If 1,000 visitors visited your website and 300 of those visitors bounced, then your bounce rate is 30 percent.

A website bounce rate is determined by the number of visitors who leave a website after visiting only one page (or not engaging with that page), while a webpage bounce rate is determined by the number of visitors who land on that particular page but don't engage with it or visit any other pages after that one.
Your website's bounce rate is a relative metric. You shouldn't take the rate at its numerical value and deem it good or bad. Some pages could have low bounce rates—generally indicative of stellar website performance—and others could have bounce rates closer to 100 percent, but that doesn't mean that those second webpages are terrible.
To determine whether or not your bounce rate is concerning, consider the following:
Research from RocketFuel found that most bounce rates land somewhere between 26-70 percent, and HubSpot has found different averages based on the type of page:
Content websites: 40-60 percent
Lead generation pages: 30-50 percent
Blogs: 70-98 percent
Retail sites: 24-40 percent
Service sites: 10-30 percent
Landing pages: 70-90 percent
It's worth diving into your Google Analytics and looking at "Time Spent on Page" and "Average Session Duration."
When does it make sense to have a high bounce rate?
Optimized landing pages with a brief form that meets visitors' expectations are expected to have a high bounce rate—visitors will fill out the form and then leave. Similarly, if you've created pages that clearly answer your visitors' questions, a higher bounce rate is less of a cause for concern.
If your visitors are spending a good amount of time on a page but haven't engaged with it (such as by viewing a video or clicking a link), it's likely that the content is relevant to their search but does not encourage any further interaction. This means there's an opportunity to add more interactive elements on the page.
If your website has a higher-than-ideal bounce rate, that doesn't mean you need to entirely redesign it. Here's how to lower your website bounce rate by making adjustments to your existing pages:
1. Align the Page with Visitor Expectations
High bounce rates don't mean your webpages are performing poorly, but rather that there are opportunities to engage with your personas and facilitate more on-site interactions.
Here are three ways in which you can engage with your personas and meet their expectations.
If visitors aren't ready to take the next step, try to engage with them higher in the funnel. Present them with relevant top-of-the-funnel content, so that you'll be top of mind when they are ready for that final step.


If visitors go idle, retarget them later on. Yes, they will still bounce, but you may be able to bring them back when they are more engaged and interested in reading and downloading your content.


If visitors disappear because you answered their question, well, first of all, good work. Visitors will remember that you provided answers, and they may return later on, assuming there is longer term potential. Second, you have an opportunity to present the visitor with a similar or follow-up topic/offer/blog/Q&A to try and keep them from bouncing.
2. Optimize Your Page for Search
The meta description for your webpage is a valuable tool to tell people what your webpage is all about. Your description should be written in a natural (non-spammy) way and compel the person searching to click.
You can reduce misaligned expectations by ensuring that your page title, URL, and meta description match your on-page copy. In addition, ensure that your targeted keywords are used in your meta description and throughout your content in appropriate and relevant ways.
When the right visitors find your site, they are more likely to find your content valuable, as well as to stay on your website and interact with it.


3. Create an Enjoyable User Experience
It's important to make your website intuitive for visitors to navigate and find the information they're looking for.
Your navigation should clearly label each area of the website and should also be optimized for any screen. You don't want visitors to leave your site simply because they couldn't find the page they wanted.
Additionally, avoid distracting CTAs or advertisements on your website. Too many pop-up ads and forms can be cumbersome and overwhelming as your visitor scrolls down the page. If you use pop-up forms, implement them thoughtfully so that they show up when the visitor expects more information.
Finally, make sure the text on your pages is formatted for readability. Digesting long sections of content is difficult, especially on mobile. Help your reader navigate down the page by providing subheadings and bullet points that break up the content and highlight important concepts or ideas.


4. Ensure That Your Site Loads Quickly
Loading time is a critical measure for websites—the slower your website loads, the more likely visitors are to abandon your website. Nearly half of consumers expect a page to load in two seconds or less—and 40 percent of those consumers will leave your website if it takes more than two seconds to load. Furthermore, your search rankings in Google can benefit from a faster loading speed.
To speed up your page loading time, avoid using auto-loading multimedia such as videos; use Google's AMP framework to load the mobile-version of your website quickly. You can also check out Google's PageSpeed Insights to identify page-loading opportunities specific to your website.


5. Provide Additional Related Content to Encourage Click-Throughs
You can prioritize key webpages through internal links within content. This can be done on blog posts and standard webpages where you want to provide the reader more information on a certain topic. Internal links significantly increase page views and can drive visitors deeper into your website. Be sure to use compelling, keyword-rich anchor text to show the topic of the next page but also provide SEO value.
Encourage qualified visitors to convert through content downloads and sales-related offers. To accomplish this, add enticing CTAs to key webpages and blog posts. Be sure to align the content based on personas in order to be most relevant and yield the highest click-through rate possible. These offers will keep visitors engaged and on the site longer, ultimately converting them into leads.


6. Build Credibility with Your Content
You want to build a website that visitors regard as credible and knowledgeable. This is one of the strongest ways to reduce your bounce rate. Your content should be compelling, match visitors' intents for visiting your website, and help move them down the funnel by providing valuable information.
A common reason why visitors tend to bounce—especially when coming from an organic search—is that they don't feel like they belong or that your site can't provide enough value. To minimize this, be sure to have a clear value proposition on your homepage. When visitors land on your site, it is important that they can tell exactly what you do and who you help. This will ensure that your personas do not leave your site immediately.
Visitor expectations can widely vary. They may be visiting for the first time, returning, or looking for specific information. When your website easily guides these visitors in the right direction, they'll be more likely to stay on your pages and engage with your website than to leave disappointed.
This post was originally created in June 2019 and has been updated since.

About the author
Heather Quitos was formerly an Inbound Marketing Senior Specialist at SmartBug Media. She is dedicated to crafting persona-driven campaigns with career experience in B2B and software sectors. She has an undergraduate degree in journalism from the University of Wisconsin and received her master's in business administration from Marquette University. In her free time, you can find her trying new recipes in the kitchen. Read more articles by Heather Quitos.
Subscribe to get our new blogs delivered right to your inbox
Other insights you might like