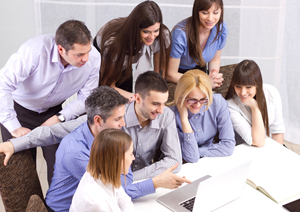 Creating Compelling Content Marketing in 6 Steps
May 16, 2013
---
By Ryan Malone
Content marketing is the core component of inbound marketing. It consists of creating pertinent and compelling content consistently — for carefully targeted buyer personas. It focuses on all stages of the buying process, awareness through to brand evangelism.
When you have compelling content on your website and are promoting it via email, news releases, Facebook, LinkedIn, Twitter, Instagram, Pinterest, you will make real connections with your prospects and customers.
But how do you go from so-so content to compelling content? Try these six steps:
Know Your Personas
It is probably not the best use of resources to create an amazing web page or blog post customized with bright colors and busy fonts with pictures of females ages 15-25 when your product is a hair loss cream.
According to HubSpot, a buyer persona is defined as fictional representations of your ideal customers. They are based on real data about customer demographics and online behavior, along with educated speculation about their personal histories, motivations, and concerns.
Need help in defining your personas? HubSpot offers a free template to help walk you through the process and create a presentation to share.
Connect Via Their Problem
Traditional marketing spent much of its time touting the wonders of their brands and products. Today's savvy consumer doesn't care if you've got the prettiest logo, website or brochure. They want to know if you can resolve their problem, fix their pain or provide what they need. Post a link to your problem-solving blog post on Facebook and Twitter. Upload a picture of a happy customer on Instagram. Pin that gorgeous product shot on Pinterest with a link to the product page or a blog post. Create the connection and show how their problem will be solved.
Tell A Story
Testimonials are gold for marketers. If you can create product evangelists, they will share the good news of the pain that your product or service resolved on all their networks. They will recommend your firm when their friend posts, Does anyone know a good ? Ask satisfied customers if they'd be willing to write a testimonial that you can post on your website and share on social media. Most consumers and professionals are aware that it's not just good publicity for you — it's good for them.
Visuals Rock
According the Nielson/Norman Group, when a customer or prospect lands on your web page, you have 10-20 seconds to catch their attention or they are moving on.
With approximately 65% of the population labeled as visual learners, creating a good balance of text content and creative visuals is essential to ensuring a lower bounce rate. Great visuals can include photos, infographics, charts, graphs, drawings, calls to action (with text and graphics).
Be sure to work with design professionals to create compelling and balanced layouts and color schemes. Just because your favorite colors are brown and yellow, it doesn't mean they should be the colors of your website and other visuals.
Make It Emotional
Making an emotional connection with your audience can be the difference between building a loyal following and a customer that buys once and never returns.
Gallup scientists
, in fact, have found without a strong emotional bond, satisfaction is meaningless.
So how do you make that emotional connection? Create and actively participate in the places that your customers frequent be it Facebook, Twitter, Instagram, Pinterest, LinkedIn or industry specific blogs and forums.
If your company is viewed as one that will communicate with and take care of its customers you will begin to create that emotional bond that consumers search for and companies covet.
Set Goals — And Blow Through Them!
Some goals you can set are quantitative, some are more esoteric. The C-Suite will appreciate the quantitative ones and you can demonstrate the effectiveness of the developing relationships with connections that you build.
Content marketing goals be annual, quarterly, monthly or daily and can include:
Attract XX new prospects

Participate in XX discussions

Earn authority

Form XX strategic partnerships

Improve search ranking by XX%

Generate traffic with XX inbound links

Listen to and learn from customers

Build customer loyalty

Test XX new ideas
When you consistently create compelling content and utilize it across all mediums content marketing can make all the difference. Need help in developing a content marketing plan? Contact SmartBug Media. We'll help you make the connections.
What content marketing method has been successful for your firm?

About the author
Ryan Malone is the founder and Chairman of the Board of SmartBug Media and is a veteran of Deloitte & Touche, Seagate and several venture-backed technology companies. When he's not leading SmartBug and helping clients build high-octane marketing organizations, he's loving his wife and daughters and unsuccessfully learning the guitar. Go Terps! Read more articles by Ryan Malone.
Subscribe to get our new blogs delivered right to your inbox
Other insights you might like